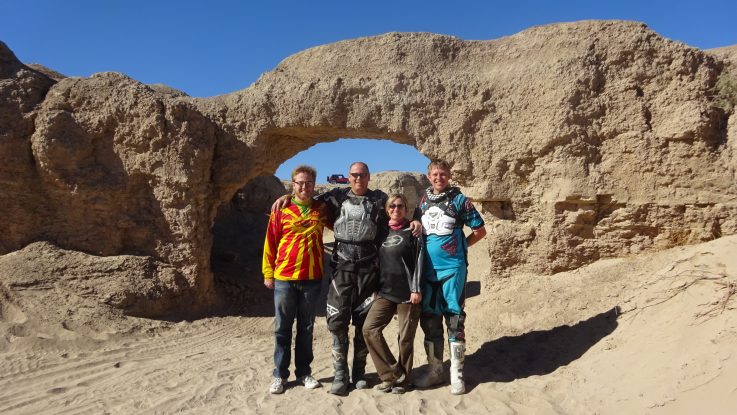 The "X-Games"
I recently got to speak with Maureen Milne, F446881. Maureen and her husband Mark are part-time RVers based out of Chandler, Arizona. RVing runs deep in the Milne family and has been a central theme of their marriage. If there's a chance for adventure, they're ready to hit the road in their RV!
Over the years, the couple has earned the nickname "X-Games" from their friends. They swim, snow ski, water-ski, hike, bike, kayak, white-water raft, ride dirt bikes, off-road, run marathons, and complete triathlons. What do they not do?! If it's an outdoor activity, they've probably tried it. RV travel fits naturally in their lives; they easily travel to their adventures and have a home base as they explore recreation areas.
Getting Started
Mark grew up camping. At just three months old, he went on his first family outing in a 1963 Chevrolet Corvair van. His family of five eventually upsized to a 22-ft. 1974 Dodge Sportsman Class C motorhome, nicknamed "Old Yellow."
When Maureen met Mark, she jumped right into his family's adventures, accompanying his family on several RV trips, mostly to their place in Mexico.
"They had a covered patio on a river lot about 40 miles south of the border that is the absolute best place to water-ski," Maureen said.
A move from California to Arizona led them to the first RV of their own: a 1994 Four Winds Majestic Class C motorhome. This rig was perfect for their growing family of two sons, Jeff and Kevin. Jeff took his first RV trip at seven weeks old, and Kevin took his trip at three months. The family traveled to Mexico twice, took several river ski trips, and ventured out on a two-week trip to Yellowstone in the Majestic.
"We only had it one year. We joke that it evicted us," Maureen said, laughing. She said, "We had lots of problems, and it broke for good after the Yellowstone trip."
The Minnie
Maureen recalled their next RV, a beloved 2002 Winnebago Minnie Class C motorhome they owned from 2001 to 2014. "I loved that thing. We really got our use out of it. You name it and we did it with that motorhome," she said.
She wasn't joking either. The Minnie transported the family to beaches from California to Canada; activities such as football tailgating at Arizona State University, dirt bike races, and desert riding trips; mountain camping; and the Albuquerque International Balloon Fiesta.
Maureen told me they are "practicing for retirement." They hope to become full-time RVers one day. For now, it's clear they enjoy long weekends, summer vacations, or anything in between in their 2010 Tiffin Phaeton motorhome. They've escaped to the Arizona mountains during summer heat waves, Lake Havasu for boating, riding trips with fellow Polaris off-road vehicle owners, and family events such as weddings and graduations. Each year they spend Thanksgiving in the California desert, which Maureen affectionately calls their annual "Turkey in the Dirt."
The Story Continues
Kevin is getting married this fall at a farm in Queen Creek, Arizona, that has a small RV park. They've booked 11 of the 20 sites for family and friends with RVs. The sign it was meant to be? Kevin's fiancé grew up riding dirt bikes and camping, so she fits right in with the Milnes' adventurous lifestyle.
With so many unique RVing adventures over the years, Maureen was inspired to share their experiences with others. She also likes to share RV-friendly recipes. You can read her blog. She also posts stories and pictures on Facebook and Instagram.
I'm inspired by this FMCA couple's sense of adventure. Maureen promised me a "white-knuckle ride" in their Polaris RZR two-seater the next time I am in Chandler. Can't wait!

P.S. Check out these pictures of their great adventures!
[ngg_images source="galleries" container_ids="12″ display_type="photocrati-nextgen_basic_thumbnails" override_thumbnail_settings="0″ thumbnail_width="240″ thumbnail_height="160″ thumbnail_crop="1″ images_per_page="20″ number_of_columns="0″ ajax_pagination="0″ show_all_in_lightbox="0″ use_imagebrowser_effect="0″ show_slideshow_link="1″ slideshow_link_text="[Show slideshow]" order_by="sortorder" order_direction="ASC" returns="included" maximum_entity_count="500″]