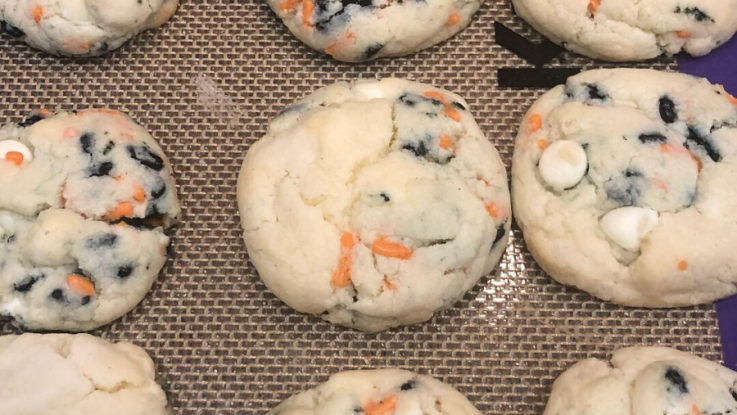 Why Cake Mix Cookies?
I love cookies anytime, and I really do mean anytime.  So much so that it's completely normal for me to bake a batch or two before we go on a trip.  Weekends may just be brownies or a cobbler, but anything longer than that calls for cookies.  Bonus if they can be hidden in the freezer so they last longer. That's why I love cake mix cookies so much.
Cake mix cookies are the nice little surprise in your pantry.  All you need is a box of cake mix, an egg and maybe one or two additional ingredients.  I always have a box of french vanilla cake mix in the pantry.  Except today, I just looked and that spot on the shelf is EMPTY!  Never fear, I've already added it to my grocery list.
Cake mix cookies are super easy in the RV as well.  They don't make a lot, usually around two dozen, so you're not in the kitchen long at all.  Two dozen cookies probably isn't enough to completely derail a diet either, so at least I won't eat them all in one sitting.  I kid.
Baking in the RV
One of my favorite recipes is from Simply Gloria.  It's a basic recipe that can be jazzed up for whatever your occasion calls for.  This time I made them for a Halloween party.  Mark's brother and his girlfriend were having a party and we were going to be in California so of course we were going to be there.  I didn't have any cookies stashed in the RV freezer which meant I needed to make some.  I don't keep cake mix in the RV, so off to the store we went.  Two boxes of cake mix, sprinkles and a bag of white chocolate chips later and we were ready to get our bake on, RV style.
Baking in the RV is the same as in a home kitchen, just on a smaller scale oven wise.  I'm lucky that I have two ovens in our Phaeton; the traditional propane one and the fancy micro-convection one.  But I only have one cookie sheet and two silicon mats which meant a few more oven batches for this double recipe.
My Process
The recipe is easy, both at home and in the RV. 
Start by melting your butter.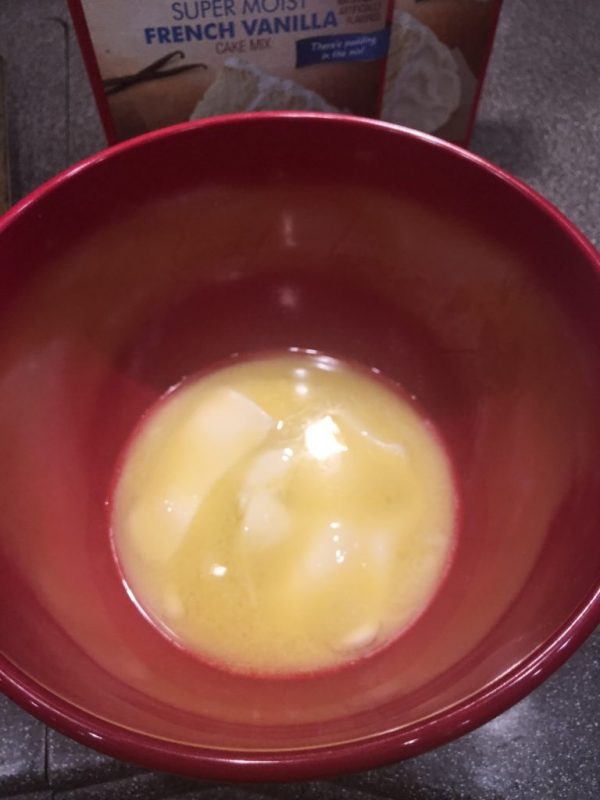 Then stir in the cake mix, the beaten egg, and rum extract.  I didn't have rum or almond extract – just good old vanilla. That's what I used and they were as good as always.     

Next up comes the fun. First, we're going to add the white chocolate chips.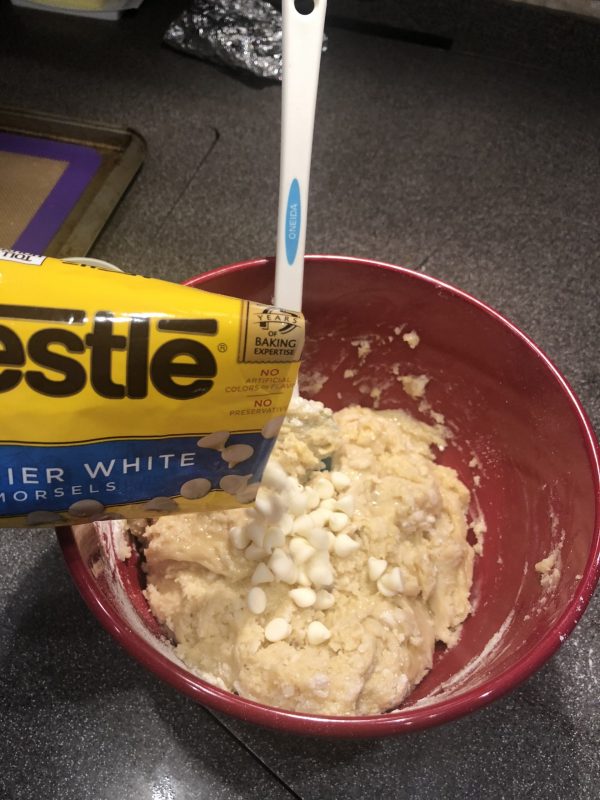 You can customize your sprinkles for whatever occasion you want.  I've made these with red, white and blue for Independence Day and with red, pink and white for Valentine's Day.  This time I used black and orange sprinkles (the last package of black and orange sprinkles at the grocery store).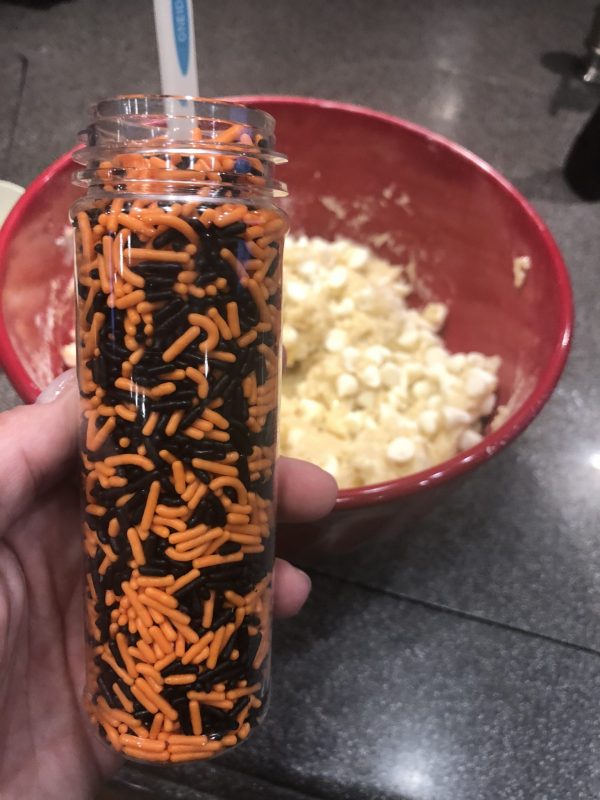 The recipe calls for one teaspoon of each color you use but I've never actually measured the sprinkles.  I pour and stir until it's festive enough for me.  Today, I wanted them to scream Halloween so I poured the entire bottle in.  I'm guessing it was about a half-cup.  I like that there are black and orange sprinkles throughout.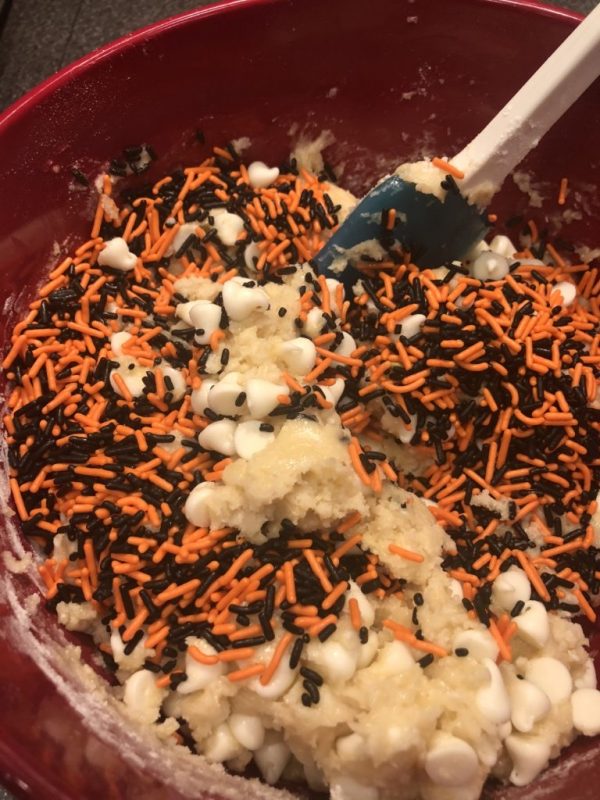 When making these cookies, I use a teaspoon to spoon some dough then rolled them into little balls.  I placed the balls on the silicon baking mats that I keep in the RV.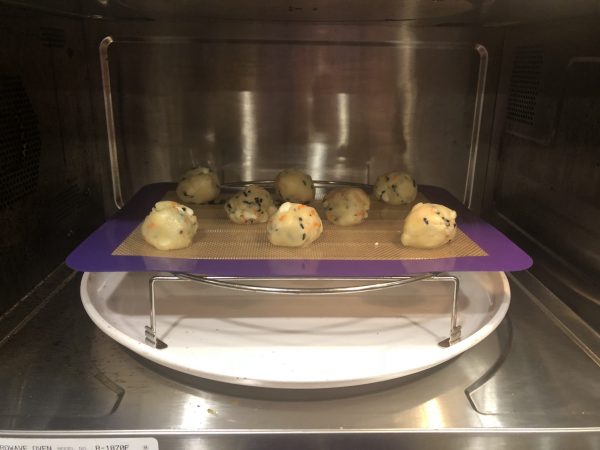 These are good because they are rigid enough to hold cookies in the micro-convection oven without a cookie sheet.  I put the mat on the cookie sheet in the propane oven purely to save my fingers from getting burned.  It's next to impossible to pull out the silicon mat without touching the oven rack.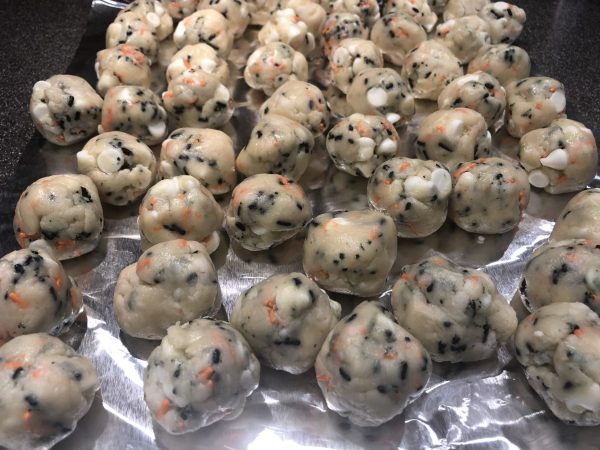 While the first batch was in the oven, I spooned and rolled the rest of the dough.  I baked the cookies for 8 minutes then let them sit on the silicon mats for another 6 or 7 minutes while they finished cooking.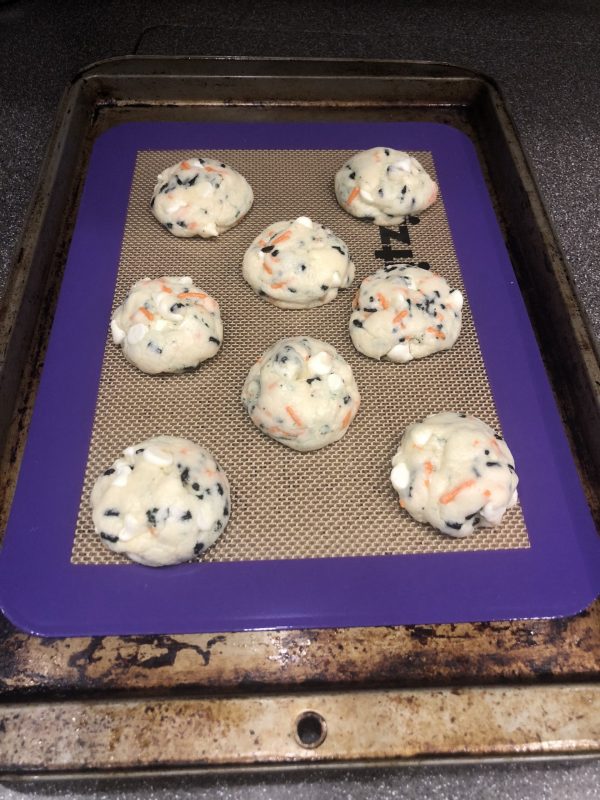 The key with cake mix cookies is to not let them get very brown or they will be dry.  Letting them finish cooking on the cookie sheet finishes them just right.
Enjoying the Cookies
I can't describe how good the RV smelled.  Since it's a smaller space, the wonderful baking aromas stay contained and don't dissipate throughout the house.  Every time I bake in the RV, the smell reminds me of walking into a bakery when you want to close your eyes and just smell.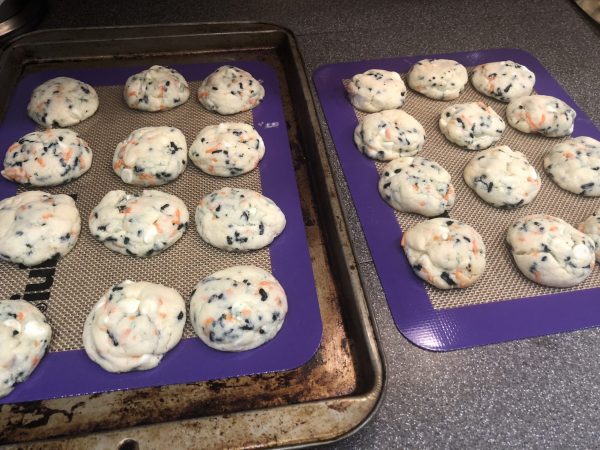 I'm happy to report they were a big hit at the Halloween party.  The King and Queen of Dilly-Dilly Land loved them as did our Pirate hosts. The Jolly Green Giant (my husband Mark) kept trying to eat them while we were getting ready! 
It's time to keep a box of cake mix and some sprinkles in the RV.  You never know when a festive cookie itch will strike and you must be prepared.
The Recipe

Recipe Credit:  Simply Gloria
One Box French Vanilla Cake Mix
1/2 cup butter, melted
1 egg, beaten
1 teaspoon rum or almond extract (I use 1/2 teaspoon vanilla)
1 cup white chocolate chips
1 teaspoon of each color sprinkles you choose
Melt butter in a microwave safe bowl.  Stir in cake mix.  Stir in beaten egg and extract.  Add chocolate chips and sprinkles and stir.
Spoon and roll cookie dough into small balls, place on cookie sheet and gently press to slightly flatten.  Bake in a preheated 350-degree oven for 8-10 minutes.  Remove from oven and let finish cooking on cookie sheet for 5-7 more minutes.
Try not to eat them all in one sitting.  Store in a tightly covered container.
Make them yourself
Did you try to make these cookies at your home or in your RV? How did it go? Comment below!
Meet the Family
I'm Maureen Milne, F446881 . I'm a mom of two (now grown-up!) boys, ages 26 and 24. My husband, Mark, and I have been married 30 years. We are an adventurous family; our friends call us "X-Games."  We are avid hikers, cyclists, and skiers (both snow and water). Mark does triathlons and we run in 4-5 races a year. We've been RVing together since we were teenagers in 1984. I share our RVing adventures on my blog, M&M Hit The Road. I also post stories and pictures on Facebook and Instagram.