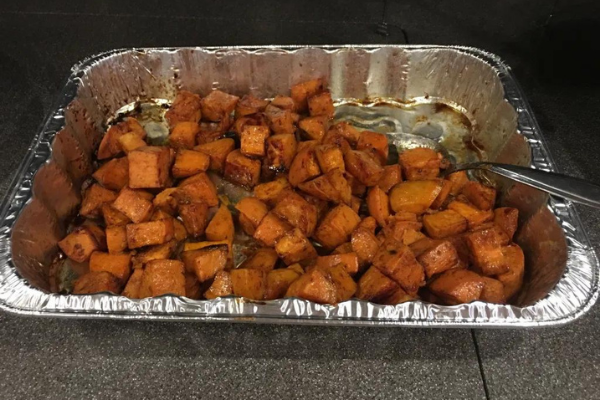 I love sweet potatoes. Yes, I mean love. Not as much as chocolate but close. They are my "chocolate" vegetable. I eat them baked and plain. I don't even put butter or brown sugar or melted marshmallows on them, just plain. I like them in a casserole, candied like Aunt Loretta does them, mashed and so on. You name it with a sweet potato and I'm in.
God bless Mark, picky eater that he is, and he's still game to try any sweet potato recipe I throw at him.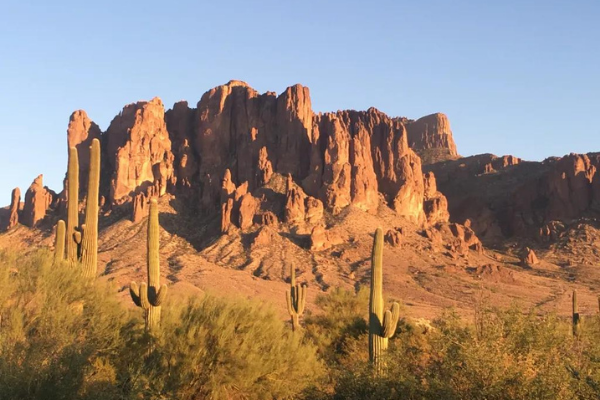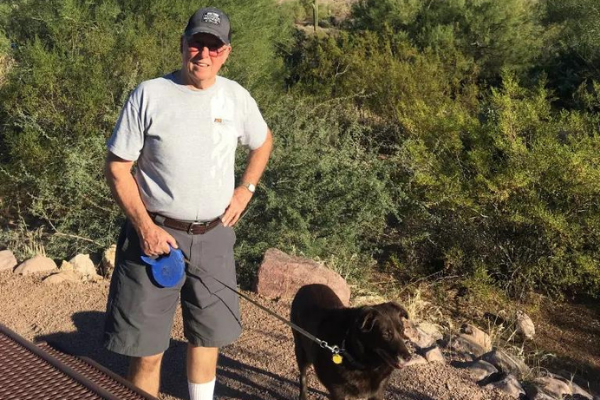 We just got back from a quick weekend to Lost Dutchman State Park with my dad. It's a beautiful place, right at the base of the towering Superstition Mountains. It's a quick trip but feels like we are far away. We like taking my dad on hikes while we are there. He walks a few miles every morning through his neighborhood and enjoys our hikes.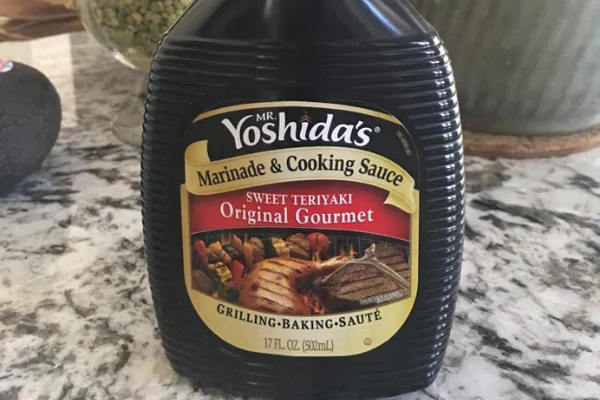 Tri-tip was on the menu along with a salad and sweet potatoes.  Allow me a little digression here.  We buy our tri-tips at Costco in the two-pack.  They really do have a great meat selection.  Anyhow, when we get home, I put each cut of meat in their own freezer Ziploc bag.  I pour some Yoshida's in, make sure to maneuver it around to touch all parts of the meat, then seal it and toss it in the freezer.  Then the easy magic happens.  When you put it in the refrigerator to defrost, you're also marinating it.  Perfect, perfect, perfect for camping.   Easy with minimal cleanup.
 Back to our original programming: sweet potatoes.
Diced pieces of potato tossed in honey, butter and cinnamon cooked just right with the inside a little soft.  Yummy, I tell ya.
Cooking Classy is a website you should follow.  I've not found a recipe yet that I don't like.  She gets 100% credit for this recipe.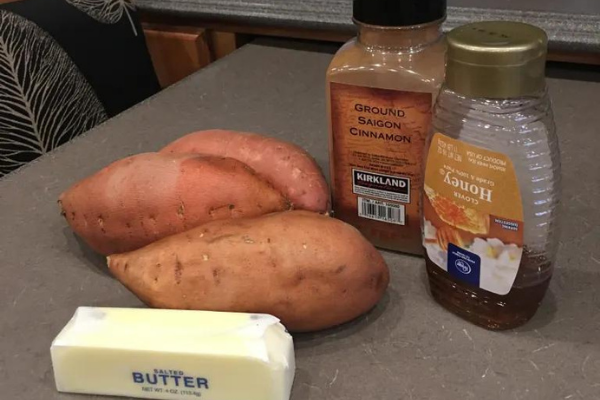 Start by melting the butter and stir in the honey, cinnamon and salt. Then, peel and dice the sweet potatoes about one-inch size as this will help speed the cooking time. After dicing, I put them right into a foil 13×9 baking dish. I keep foil pans in the RV for easy clean up.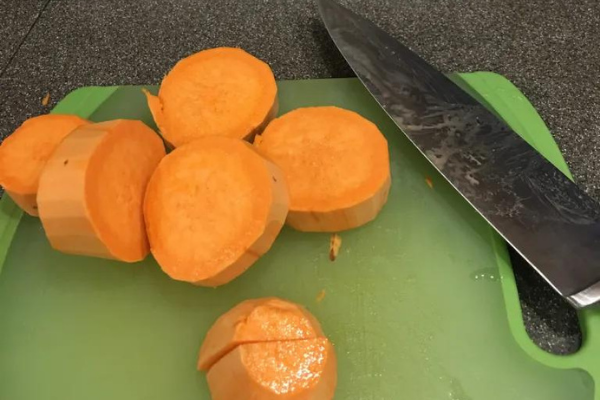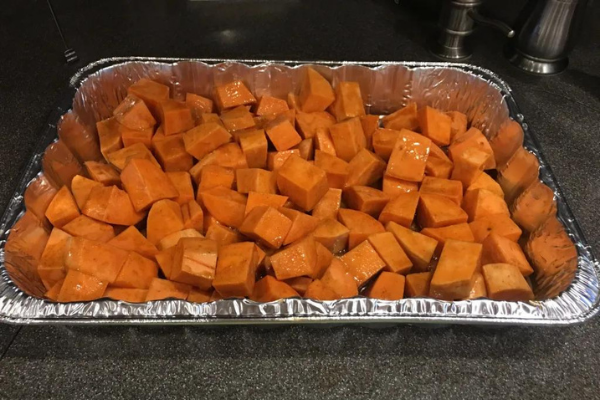 Then I poured the butter mixture over the potatoes, gave them a good stir and put them in a 350-degree oven for 50-55 minutes. You'll need to stir them twice during cooking to make sure the honey doesn't burn. I set the timer for 17 minutes twice and 16 minutes the last time. Before serving I gave them one last stir.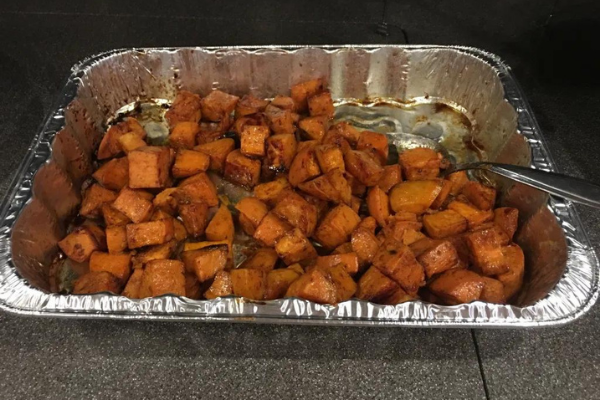 Oh my gosh these were good. Really, really good. The potatoes were a little soft inside yet somewhat firm on the outside. The honey and cinnamon gave the right amount of sweet. There was nothing else to add, nothing. As we were eating, I was thinking of our next trip and making them again. That, my friends, is the sign of a good recipe.
Since the maiden voyage of this recipe was in the RV, it passes the RV- friendly test with flying colors. It's even dry-camping RV friendly!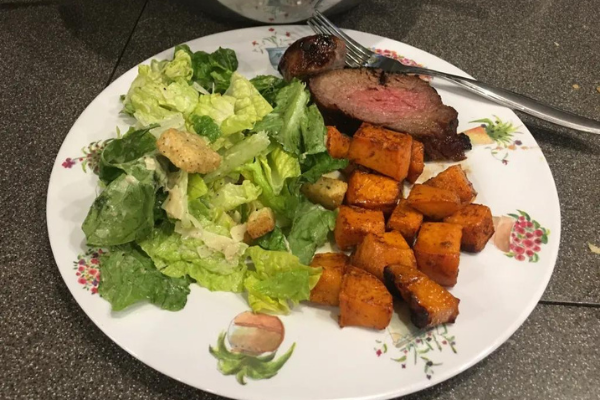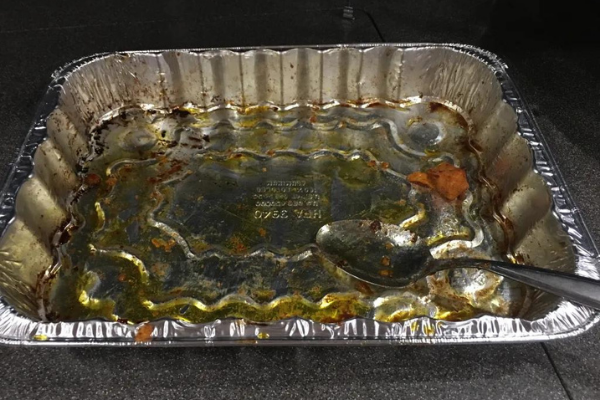 You can double the recipe to feed a crowd as well.  How about at Thanksgiving as a new and fabulous way to serve the traditional sweet potato. You'd probably need to increase the cooking time a bit or just use a larger baking dish.
Honey Butter Sweet Potatoes
Recipe Credit:  Cooking Classy
2 1/2 sweet potatoes or yams, peeled and diced into 1-inch pieces
5Tbsp unsalted butter, diced into 1 Tbsp pieces and melted
3Tbsp honey
1tsp cinnamon
1/2tsp salt, or to taste
Preheat oven to 350 degrees. Spray a 13-by-9-inch baking dish with non-stick cooking spray.
In a small mixing bowl, whisk together melted butter, honey, cinnamon and salt.
Place sweet potatoes in baking dish, pour honey butter mixture over top and toss well to evenly coat.
Spread into an even layer (they will overlap) and bake in preheated oven until soft, tossing at 17 minutes and again at 34 minutes (twice during baking), about 50 – 55 minutes total.
Meet the Family
I'm Maureen Milne, F446881.  Mark and I are becoming empty nest veterans and you know what, we enjoy it!  We are always on the lookout for the next adventure, our friends call us the X-Games family. We are avid hikers, cyclists and skiers (both snow and water).  Mark does triathlons and we run several races a year.  We've been RVing together since we were teenagers and we love traveling with our two grown sons.  I share our RV adventures, RV friendly recipes, wonderful campgrounds and more on my blog, M&M Hit The Road.  You can also find our fun on Facebook, Instagram, Twitter and YouTube.