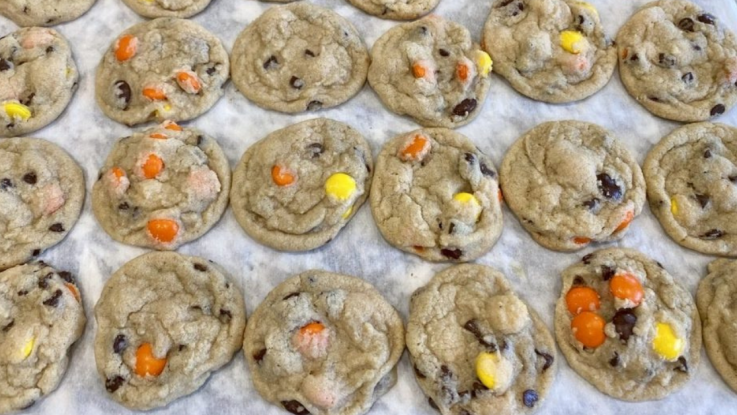 I've been on a cookie kick lately.  Not eating.  Well, not eating as much as I'd like.  My cookie kick has been all in my head.  I've been thinking about cookies, pondering them, and conjuring up ingredients for cookies.  I've already confessed to you my love, absolute love for chocolate chip cookies.  I've become a little obsessed with using the same base and different add-ins.  Some recipes were immediate successes, while others took a couple of tries to get it right.  I'm looking at you, candy corn cookies.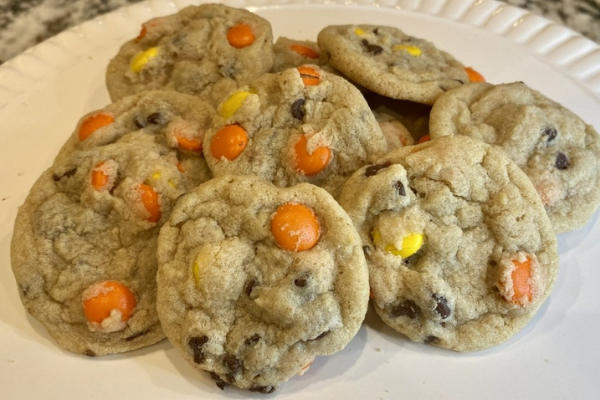 These were an immediate success, even with a purchase blunder.  I can't be the only one who thinks a "share it" sized bag of candy should have more than 1 1/4 cup of candy.
Turn on the oven and let's get baking!
Melt your butter and let it cool slightly.  While the butter is cooling, sift the dry ingredients in a small bowl. Sifting the dry ingredients gives the right amount of fluff for perfectly structured cookies.  I could eat these either way, batter by the spoonful or as a warm cookie.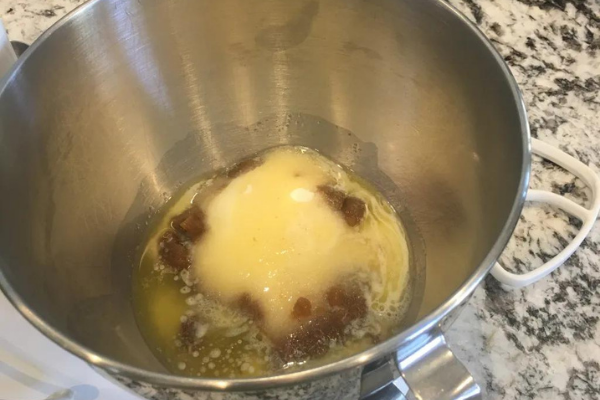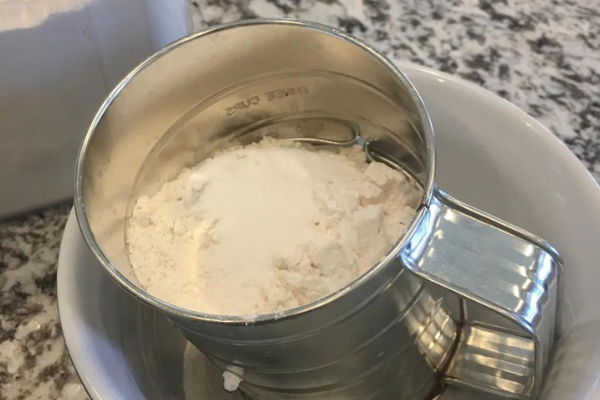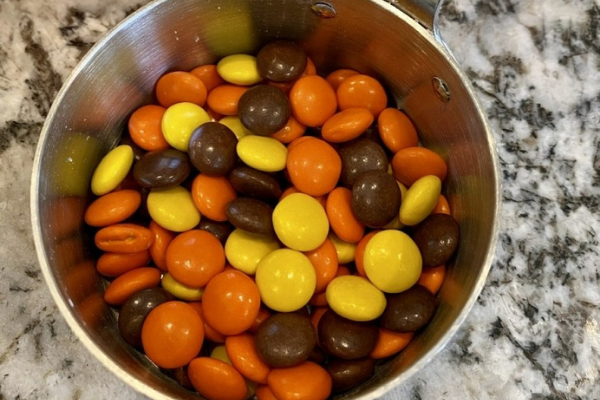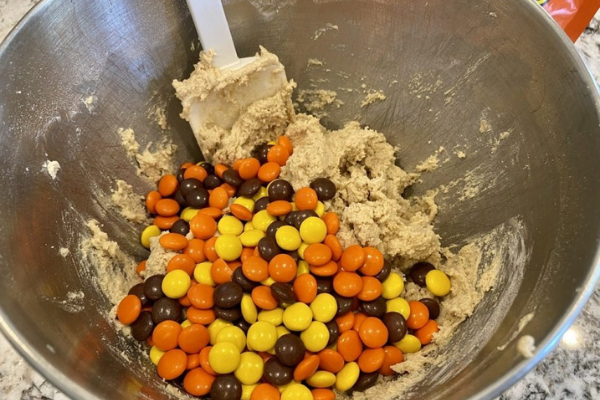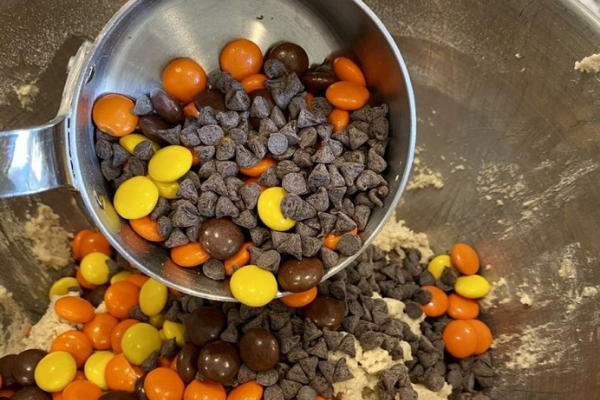 When the butter is slightly cooled, cream it with the sugars until light and fluffy.  Add eggs and vanilla and mix well.  With the mixer on low, slowly add the flour and mix until just combined.  Stir in the Reese's Pieces by hand.   You can imagine my dismay when I poured one cup of candy onto the dough and looked into the bag to find not much left.  Now what?  I have a variety of baking chips in the pantry, including peanut butter chips.  But I thought their color was too bland, as I wanted these to pop.  Hmm, I always have mini chocolate chips, because we make these amazing energy bites all the time.  As I stared at the bag, I thought these might just be perfect.  There would be little bits of dark chocolate mixed in with the pretty colors of the Reese's chips.  This might just work!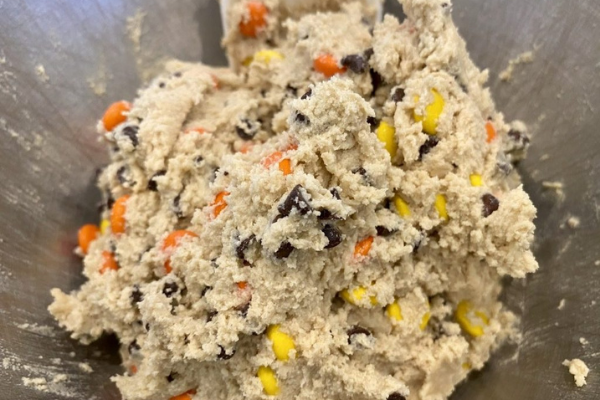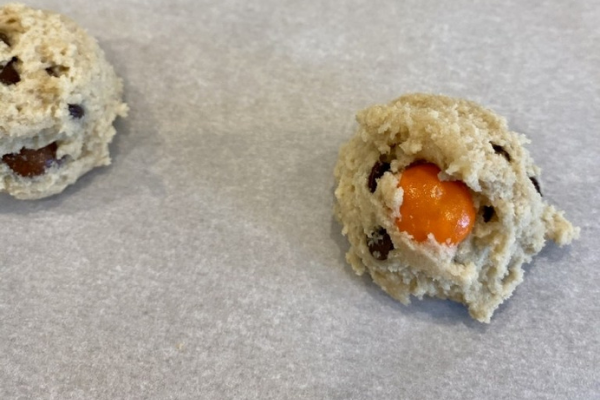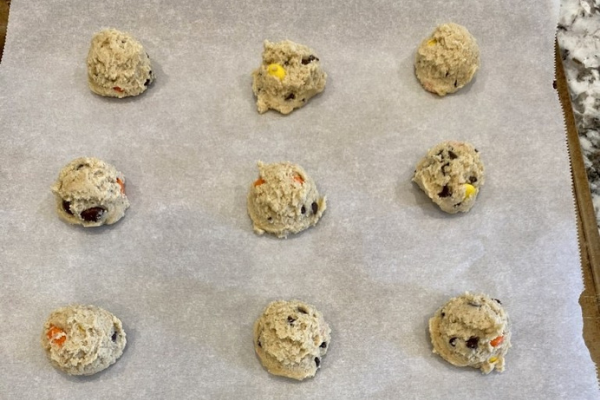 I like my cookies on the small side, purely so I can eat six or eight and not feel bad, so I use a 1-tablespoon size scoop.
Bake in a 325-degree oven for 9-10 minutes for the smaller sized cookies.  If using a big, beefy scoop, then bake for 11-14 minutes.  Rotate the cookie sheets at the halfway point.  Do not overbake.  Let sit on cookie sheet for a minute or two and then remove and fully cool.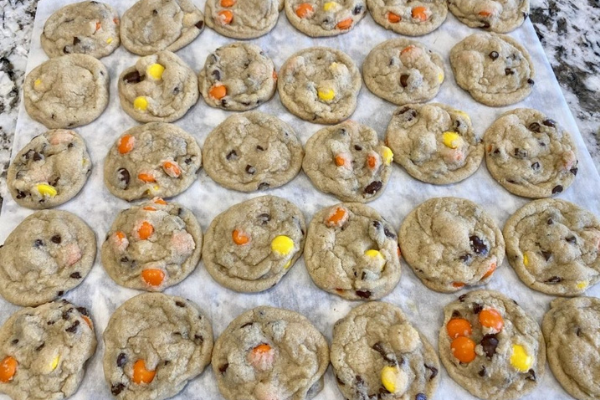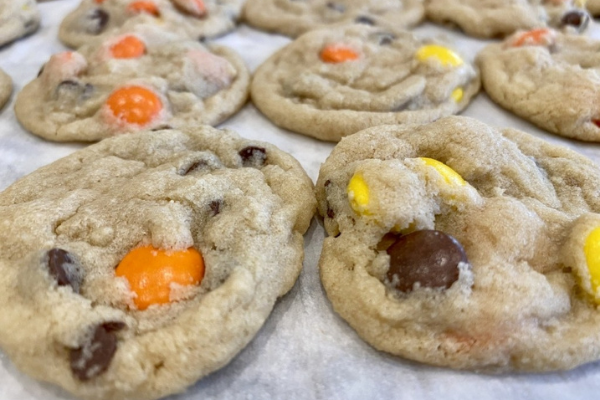 Reese's Pieces Cookies
 3/4 cup unsalted butter, melted and slightly cooled
 2 cups all-purpose flour
 1/2 teaspoon baking soda
 1/2 teaspoon salt
 1 cup packed brown sugar
 1/2 cup white sugar
 1 teaspoon vanilla extract
 1 egg
 1 egg yolk
 1 9-ounce bag Reese's Pieces Candy
1/2 cup mini chocolate chips
Preheat the oven to 325 degrees. Line cookie sheets with parchment paper.
Melt butter.
While butter is cooling, sift together the flour, baking soda, and salt. Set aside.
In a medium bowl, cream together the melted butter, brown sugar, and white sugar until well blended. Beat in the vanilla, egg, and egg yolk until light and creamy. Mix in the sifted ingredients until just blended. Stir in the Reese's Pieces and chocolate chips by hand. If your butter was still hot when you added it, your dough may be really wet at this point. Let it rest at room temperature for a couple of minutes if this is the case, and then it will be cool enough to scoop into cookies.
Scoop and place dough on cookie sheets and bake 9-10 minutes (my oven cooks slow; your time may be shorter)., rotating/turning cookie sheets halfway through baking time.  Bake until cookies are light golden brown and outer edges start to harden yet centers are still soft and puffy.  Do not overbake.
Cool cookies on sheets until able to lift without breaking. Transfer to a wire rack to cool.
I hope you enjoy these delicious morsels as much as we do.  May they last longer in your house than they do ours.
Meet the Family
I'm Maureen Milne, F446881.  Mark and I are becoming empty nest veterans and you know what, we enjoy it!  We are always on the lookout for the next adventure, our friends call us the X-Games family. We are avid hikers, cyclists and skiers (both snow and water).  Mark does triathlons and we run several races a year.  We've been RVing together since we were teenagers and we love traveling with our two grown sons.  I share our RV adventures, RV friendly recipes, wonderful campgrounds and more on my blog, M&M Hit The Road.  You can also find our fun on Facebook, Instagram, Twitter and YouTube.