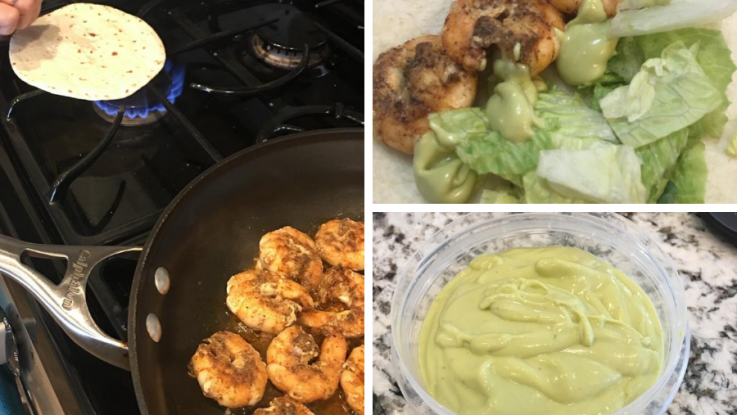 Here Fishy Fishy is the name of my seafood recipe board on Pinterest.  I don't know how many recipes I've pinned to that board but I keep coming back to this shrimp taco recipe that my friend Terri shared with me.  It's fast and easy and you probably have all the spices in your pantry right now.
This is actually a combination of two fabulous Pinterest finds.  When Terri sent me this recipe, I knew I had to try it.  The problem was the avocado salsa part of the recipe.  There was no way Mark would eat that as tomatoes, onions, cilantro and purple cabbage are not anything he will eat.  I love a good salsa but so much of this would go to waste so I searched for something he would eat with it and found a creamy avocado dressing.  The dressing is for a Mexican salad recipe also filled with items on his banned list.  Put together, the approved parts of both of them come together perfectly for a must have shrimp taco dish.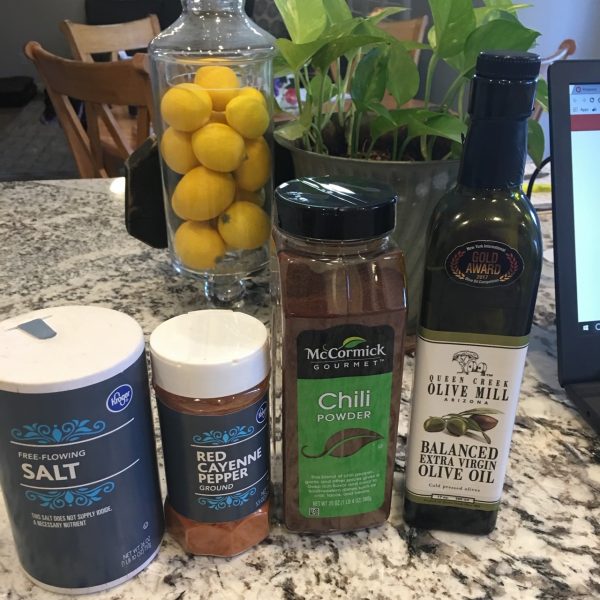 Let's start with the tacos.  I'm all for saving time in the kitchen and that certainly applies to peeling and removing veins from shrimp.  I will spend an extra dollar or two to have that already done for me.  And by me, I mean Mark.  Shrimp and breakfasts are two of his things in the kitchen.  Put the salt, cayenne pepper, chili powder in a Ziploc bag.  Add the shrimp and olive oil and let it all sit happily in the refrigerator for about 15 minutes after giving it a good toss coat.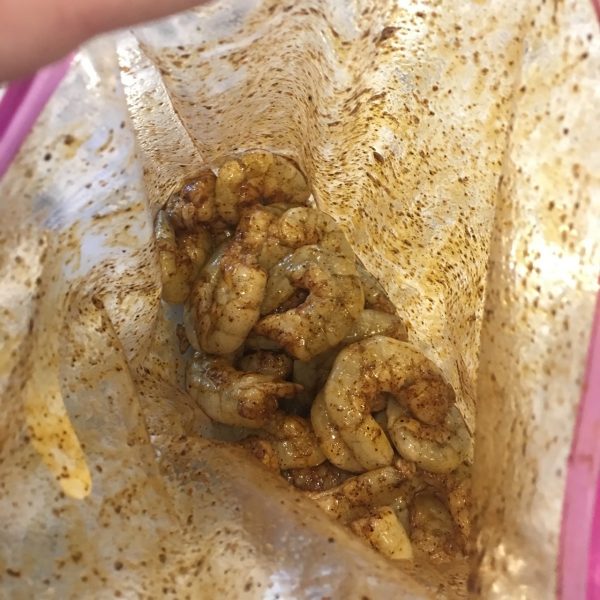 This avocado dressing is amazing stuff.  It's really good as a taco sauce, as a dip with a steak bite appetizer and also as a salad dressing like the original post.  After making it I keep it in a round Ziploc plastic container with a screw-top lid.  An added bonus is it freezes well.
The Process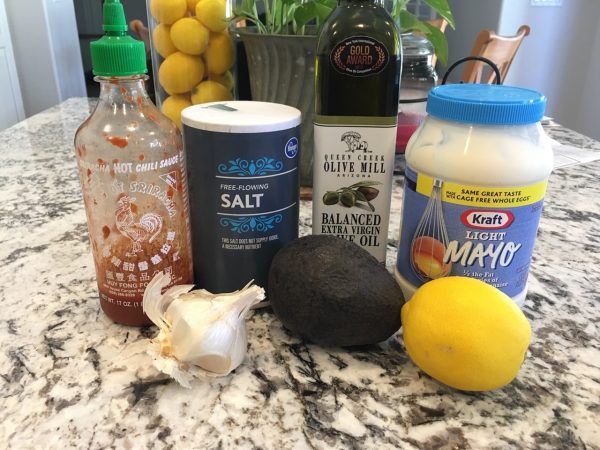 The recipe calls for one large avocado but we rarely have those in Arizona.  Avocados are one thing I miss about California; they were so big, fresh and plentiful.  The ones in the grocery store here are usually picked way too soon then turn bad way too fast.  I always buy two of the biggest ones I can find for this recipe to account for some dark spots inside that I can't use.  One other important note about the recipe; 1/4 cup of olive oil.  It's not clear in the recipe but gets answered in the comments.  You can add or delete a little to change the consistency of the dressing.  I love, love, love Queen Creek Olive Mill oils.  They are a local family run operation.  You should check them out online or in person.  Great stuff.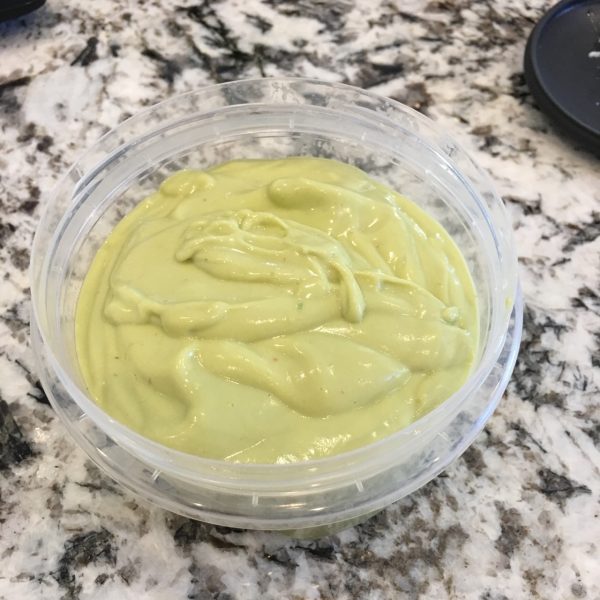 You can make the dressing in a food processor, blender or with an immersion blender.  Dump all the ingredients in and get to blending.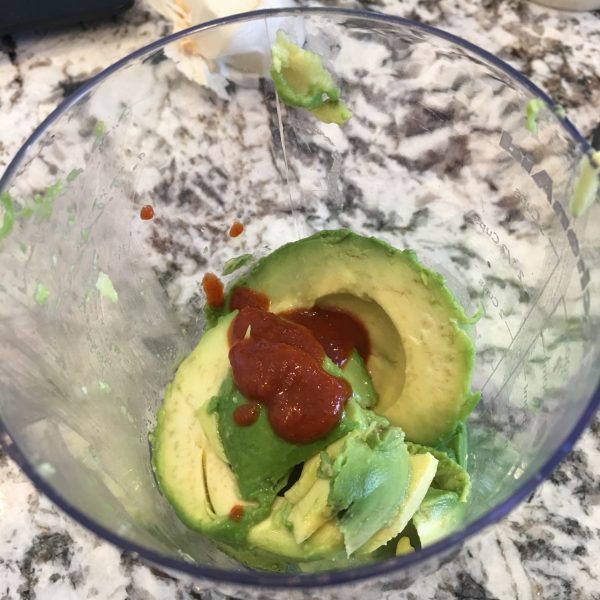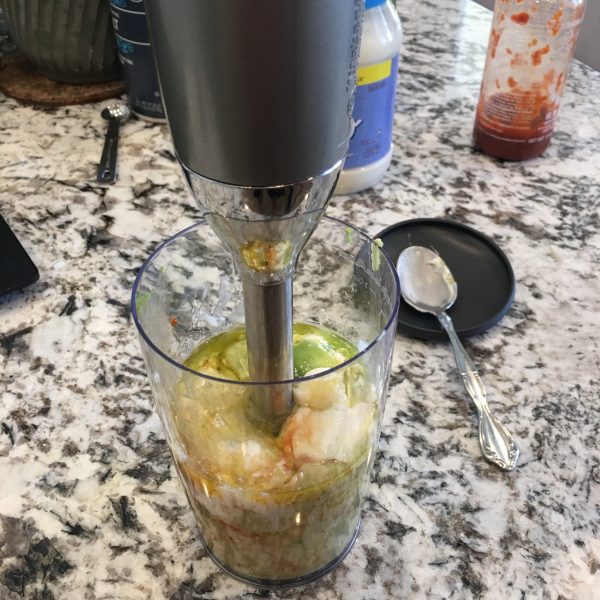 When I was getting ready for the radioactive iodine treatment for my thyroid cancer, I had to follow a strict low iodine diet which meant making sauces from scratch so we bought an immersion blender.  I love this thing.  It makes whipping up a small batch of home-made salsa a breeze as well as this awesome dressing.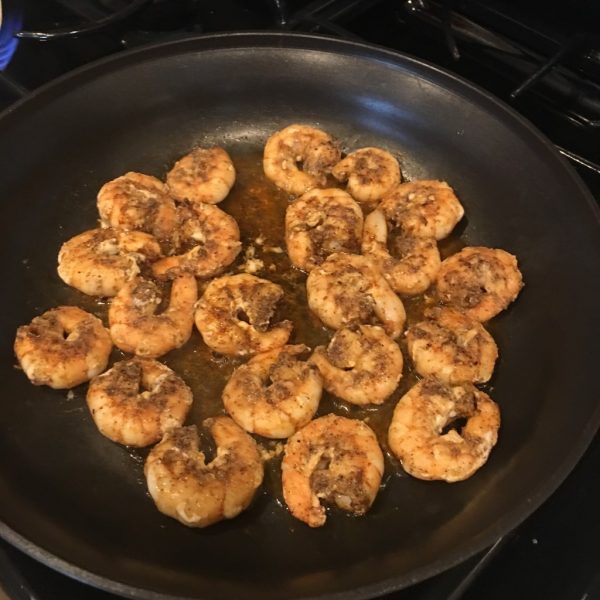 Dump the shrimp and all the wonderful seasoning in the skillet and cook for one or two minutes on each side until they are nice and pink.  Happily it doesn't splatter much so no mess in the kitchen of your house or your RV.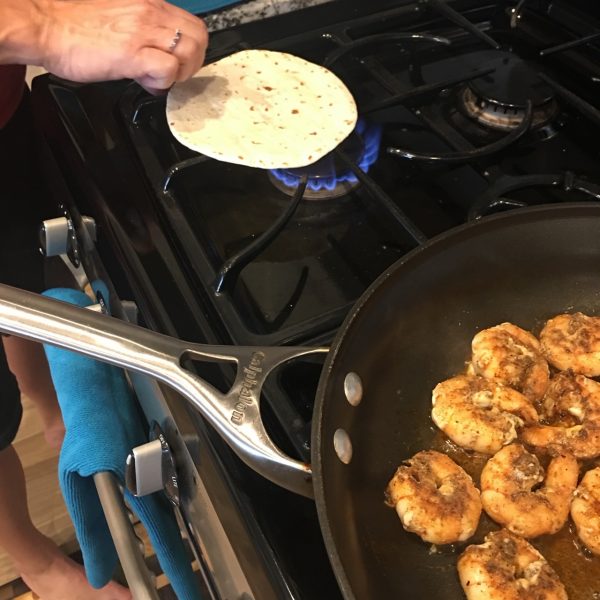 Fajita sized flour tortillas are the perfect size for these tacos and I heat them the way I did as a kid, turning them over and over above the stove flame.  I store them in my fancy tortilla keeper, a kitchen towel.  Someday I'll buy a tortilla keeper, maybe.
Another yummy way to eat these instead of shrimp tacos is cooked on a skewer on the grill and served them over a nice crisp salad.  Yummy and low-carb; win win.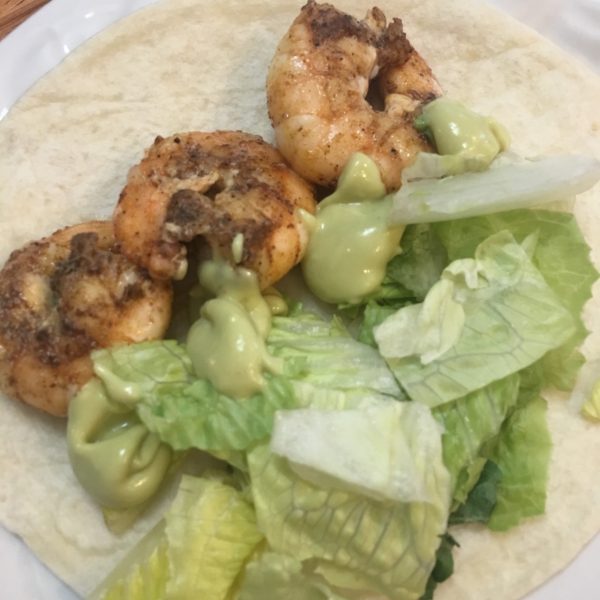 The Recipes
Perfectly Grilled Shrimp Tacos
Recipe credit: Once Upon a Chef
1-1/2 tablespoons

 

olive oil

1-1/2 teaspoons

 

chili powder

1/2 teaspoon

 

salt

Scant 1/8 teaspoon

 

cayenne pepper

1-1/2 pounds 

large or extra-large shrimp, peeled and deveined
Heat skillet or grill (medium heat).  Stir chili powder, salt, cayenne pepper together in a large bowl or Ziploc bag.  Add shrimp and olive oil and stir/toss to coat evenly.  If grilling, lightly wipe the grates with oil on a paper towel.  Place shrimp on grill (or skillet) and cook until pink, about 1.5 – 2 minutes per side.
Amazing Avocado Sauce
Recipe Credit:  Krista's Kitchen
1 large avocado
1 Tablespoon + 2 teaspoons fresh lemon juice
1/2 cup mayonnaise
1 teaspoon hot sauce
1/4 cup extra virgin olive oil
2 cloves of garlic
3/4 teaspoon salt
Combine all ingredients in a food processor or blender and process until smooth and creamy.  Adjust seasonings to taste. Store in a covered container.
NOTE:  May be frozen and thawed for later use.
Meet the Family
I'm Maureen Milne, F446881.  Mark and I are becoming empty nest veterans and you know what, we enjoy it!  We are always on the lookout for the next adventure, our friends call us the X-Games family. We are avid hikers, cyclists and skiers (both snow and water).  Mark does triathlons and we run several races a year.  We've been RVing together since we were teenagers and we love traveling with our two grown sons.  I share our RV adventures, RV friendly recipes, wonderful campgrounds and more on my blog, M&M Hit The Road.  You can also find our fun on Facebook, Instagram, Twitter and YouTube.