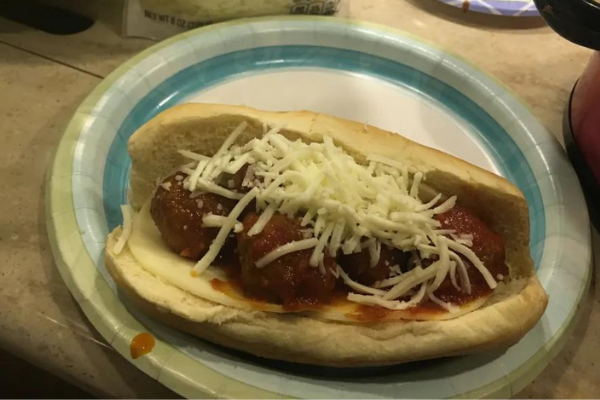 Is there anything better than being gone all day, hopefully having a blast, and coming back to dinner ready?  I don't think so.
Picture this:  You're camping with friends at the Colorado River.  Your days are filled with boat rides, water skiing, wake boarding, floating down the river, and your evenings are filled with a campfire, horseshoe games, and cornhole. You don't want to miss any of it by being stuck at the barbecue grill or in your RV cooking dinner every night, so you decide to share the cooking.  Each night one family feeds everyone.  And you pick meatball sandwiches. The slow cooker (such as a Crockpot like mine) does the work while you're out having fun all day.  The only "job" is to assemble the sandwiches when everyone is ready to eat.  What could be easier?!   You are so very smart, and your husband looks at you adoringly, so happy that he married such a smart lady.  Okay, that last part is the thought bubble above my head.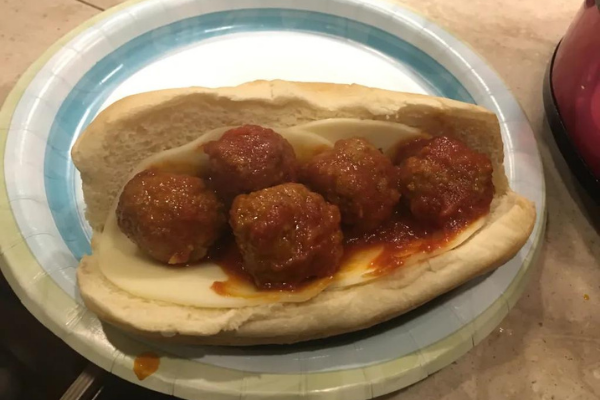 Seriously, though.  These meatball sandwiches couldn't be easier, or more tasty, or more yummy as leftovers, or…I could go on.
I suppose you could be like Martha Stewart and make your own meatballs.  I make my own meatballs for other recipes, but doing so takes the "easy" out of the recipe.  Frozen meatballs are just fine here.  No need to thaw them out; dump them in the Crockpot in all their frozen glory.  For super easy cleanup, use the Reynolds Slow Cooker Liners.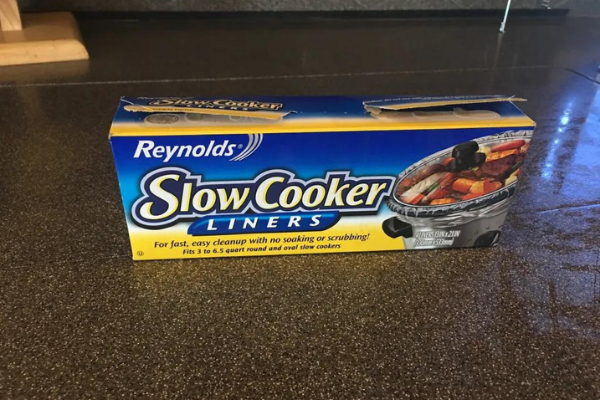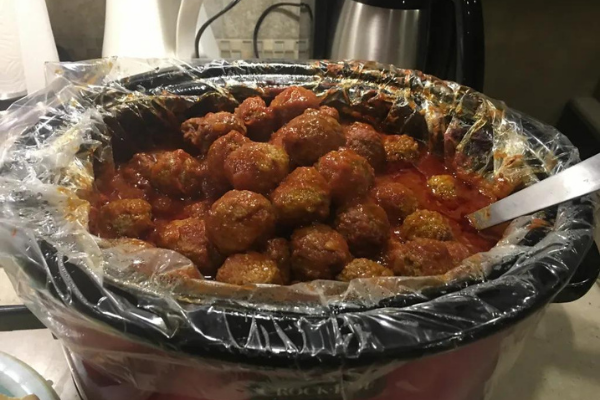 You can make your own sauce, but, again, this will take the "easy" part out, so pour your favorite red pasta sauce all over the meatballs and give them a good stir.  Put the lid on, set the timer on your Crockpot and go have fun.  Have so much fun that you'll be retelling your adventure all through dinner.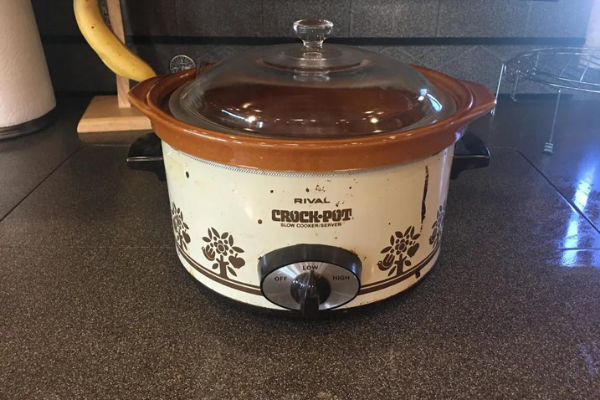 I still have the Crockpot Mark's grandmother gave me for my 21st birthday; it's the one we keep in the RV.  There isn't a fancy timer on it; just OFF, LOW, and HIGH.  Most times I set it on LOW, unless I need the food to be ready sooner.
When you get back from your adventure of the day, you'll probably be good and hungry.  Walking into the RV and catching a whiff of your dinner certainly isn't going to help. My apologies.
Assembling the sandwiches is honestly the only thing that takes any time.  Check out the bakery department of your favorite grocery store.  I like Amoroso's brand rolls best, but they are hard to find out West.  I guess Philadelphia is hogging them all for their Philly cheesesteak sandwiches.  Bolillo rolls are a suitable substitute, as well as Francisco-brand rolls from the bread aisle. You want a bread sturdier than a hot dog bun. My grocery store bakery has whole-wheat bolillo rolls.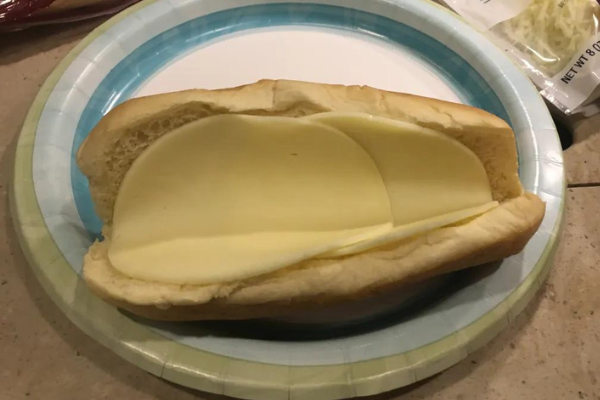 Slice the bread almost all the way through.  Place two slices of provolone cheese inside and top with the piping-hot meatballs.  The provolone is going to get all melted under the meatballs, and oh boy, is it yummy.  But you're not done.
Next, top with some grated mozzarella cheese.  If you want to get all fancy, put the sandwiches on a foil-lined baking sheet and place them under the broiler for a couple of minutes so the bread toasts just a little and the mozzarella cheese gets all melted and a little brown.  Heaven, I tell ya.  The broiler in the micro/convection oven in our RV takes way too long to preheat, and by the time these sandwiches are assembled, I'm ready to eat.  So, we only broil them when we are at home.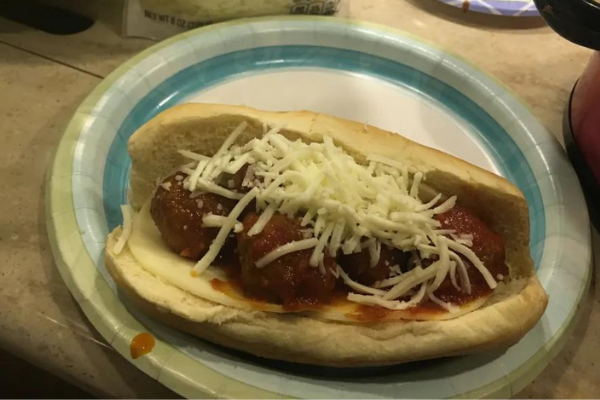 The Crockpot way of cooking is ideal if you're feeding the family or a crowd.  With our boys grown now, dinner is usually just Mark and me.  When it's just the two of us, I use a pot on the stove.  The method is the same.  Put meatballs in a pan and cover them with sauce.  I put the flame on medium until the sauce starts that weird bubbling, and then I stir and turn the flame down to low and simmer until the meatballs are really hot.  You'll want to stir regularly so they don't burn.  Depending on how many meatballs you're cooking, it takes about 20-25 minutes.
To continue along the "easy" of this recipe, the sandwiches pair nicely with a crisp dinner salad.
Easy Meatball Sandwiches
One or more bags frozen meatballs (4-5 meatballs per sandwich)
One or more jars red pasta sauce (depending on how many sandwiches you're making)
Sandwich Rolls
Provolone Cheese Slices
Grated Mozzarella Cheese
Place frozen meatballs in Crockpot.  Stir in pasta sauce.  Place lid on Crockpot and cook on low until you're ready to eat.
Assemble sandwiches by slicing the sandwich roll almost all the way through.  Place two slices of provolone cheese in the bread and top with meatballs.  Top with grated mozzarella cheese and broil if desired.  Enjoy!
Leftover meatballs freeze well for another easy meal at a later date.
Meet the Family
I'm Maureen Milne, F446881.  Mark and I are becoming empty nest veterans and you know what, we enjoy it!  We are always on the lookout for the next adventure, our friends call us the X-Games family. We are avid hikers, cyclists and skiers (both snow and water).  Mark does triathlons and we run several races a year.  We've been RVing together since we were teenagers and we love traveling with our two grown sons.  I share our RV adventures, RV friendly recipes, wonderful campgrounds and more on my blog, M&M Hit The Road.  You can also find our fun on Facebook, Instagram, Twitter and YouTube.