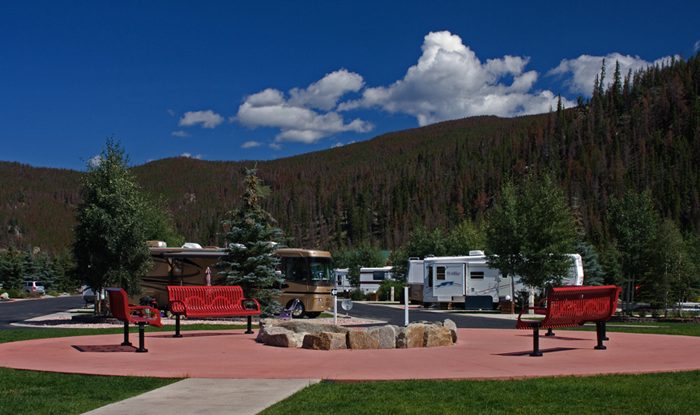 After hearing people rave about Tiger Run RV Resort for what seemed like decades, we decided it would be our home base for our time in Breckenridge. We were not disappointed. Not at all.
Tiger Run
Tiger Run is one of those ownership campgrounds, kind of like an organized VRBO (Vacation Rental By Owner) for campsites. We've stayed at a similar resort in Park City, Utah, several times.
While each site started out the same, they are now unique and different. All have pretty landscaping and most have a storage shed on site. When I say storage shed, I'm not talking about a rusted metal shed. These look like mini log cabins with covered patios. Some sites have hot tubs, large BBQ islands, fountains, permanent patio tables, and more.
Our Site Experience
Our site was 365 and backed up to the Blue River. Behind the fancy storage shed, the owners made a path out the back to a wooden swing. We sat back there every night, drink in hand, listening to the river and watching the sunset. While I'm sure it's not allowed, our site was wide enough for two rigs to fit comfortably.
If you'd rather stay in a cabin, there were many to choose from. While they may look similar on the outside, I'm sure the insides reflect the personality of the owners, much like the campsites.
The grounds were well maintained. On our walks with our dog, Marlee, we covered the entire place. Many of the campsites have a small lawn and my favorite aspen trees were abundant. The center of the campground is the center of activities. There are tennis courts, pickleball courts, and a playground all around a big clubhouse. Adjacent to the clubhouse is an indoor pool and a Jacuzzi. Every time we walked by the clubhouse we talked about what a good place this would be for a family reunion.
Not far from our campsite was another large grassy area and a big fire pit with four benches surrounding it. We were there during record warmth and fire restrictions, so it didn't get used. Hopefully, next time we are there it will be cold enough for a fire. I like the big fire pits at campgrounds because it's a way to meet fellow campers.
And, like most of our vacations, we actually spent very little time at our campsite. We arrived around 2 p.m. on a Saturday afternoon. The check-in was a breeze, except if you have large bills. We planned on paying cash for our stay with Ben Franklins fresh from the bank if you know what I mean, but they don't take anything larger than a $50. That, my friends, was the only hiccup in our five-night stay.
Setting Up Camp
Hooking up took 10 minutes, tops. The large concrete pad was so nice there was no reason to bring our giant rug out. We leveled, deployed the slides, hooked up, and were ready to go. Marlee was happy to not be moving anymore, and she stretched out under the table, barely giving us any attention when we left. She had naps to catch up on; early morning nap, mid-morning nap, late morning nap, and the all-important noon nap.
Get Back on the Bike
There is a wonderful multi-use path that runs along Highway 9 from Frisco to Breckenridge. From the campground to Breckenridge, the path travels next to the Blue River and is a beautiful ride. We rode out of the campground and across the highway to get to the path. Getting across the highway was a breeze every single time. Yes, it's a bit wide but we were able to get across with plenty of space to spare each and every time.
To clarify, Mark said we were riding down to town. "Down" being the operative word. I must tell you, the ride from Tiger Run to downtown Breckenridge is not down. It's up! It's a slight and steady uphill ride into town. It was a beautiful day though so while I whined a little during the ride, it was all in jest. We parked the bikes, walked around a bit, and found a patio to have a well-earned drink at Rocky Mountain Underground. I will also tell you, the ride from town back to the campground is wonderfully downhill.
To conclude, Tiger Run is a great place to stay to experience all the outdoor activities the area has to offer. I'm sure at some point in our lives we'll slow down enough to relax at our campsite. Until then, we'll be running and gunning, and we will surely do it all over again at Tiger Run.
Meet the Family
I'm Maureen Milne, F446881. I'm a mom of two (now grown-up!) boys, ages 26 and 24. My husband, Mark, and I have been married 30 years. We are an adventurous family; our friends call us "X-Games." We are avid hikers, cyclists, and skiers (both snow and water). Mark does triathlons and we run in 4-5 races a year. We've been RVing together since we were teenagers in 1984. I'm a three-year thyroid cancer survivor, which has given me a new perspective on life. I share our RVing adventures on my blog, M&M Hit The Road. I also post stories and pictures on Facebook and Instagram.