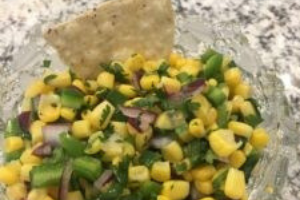 Corn salsa is great year-round and an easy dish to make for an RV trip. But before we get to the Chipotle Corn Salsa recipe, let me share some background info.
The Back Story
Cancer reared its ugly head into our household in 2015. Like everyone that hears that dreaded word, it stopped me dead in my tracks.  I found a lump in my neck and thought it was a swollen lymph node, as I'd just had bronchitis.  No worries, I thought, I'll just go to the doctor and he'll just give me another round of antibiotics.
Well, no.  This wasn't a lymph node; it was my thyroid and he sent me out for an ultrasound. Thankfully, I was able to get one the next day. My left lobe was a lot bigger than it was supposed to be.  (Um, yeah, I could have told them that with the sideways Adam's apple staring at me in the mirror.)  Next up was a biopsy that was actually negative.
Then it was time for an endocrinologist.  Boy, did I hit the jackpot with him!  He spent a lot of time going over my medical history and performed another ultrasound to get more precise measurements. That's how he found out that my right lobe had some tiny nodules.  He also discovered the tumor on my left lobe had gotten larger over the course of three weeks and had to come out.  Whew, I wanted that thing gone, too.  It was the first thing I saw in the mirror and I swear people were focusing on it when talking to me.  I wanted it gone, and I wanted it gone today.  My surgery was a few weeks later, and we opted to remove the entire thyroid because of the nodules on the normal looking right lobe.  Thank God we did.
So Mark was scheduled to be in Alaska for my post-op appointment and since we hadn't heard any bad news in the first few days, we went with the "no news is good news" theory.  Away he went to Alaska and off I went to my appointment.  This was not an appointment I should have done alone. Not only was the left lobe cancerous, but the right one as well.  Since I'm always an overachiever, I couldn't just do one cancer at a time — I had to get cancer in both my thyroid lobes.  That was a long drive home.  Time to go into battle mode.
The treatment for thyroid cancer is totally different from other cancers.  Since the thyroid craves iodine, you starve your body of it before taking a radioactive iodine pill which attracts any remaining thyroid cells in your body and zaps them.  The low iodine diet (LID) for me was two weeks before treatment and the week of treatment until my whole-body scan.  According to my paperwork, I could have all fruits; almost all vegetables; no dairy; no seafood or many meats; and no commercially baked goods.
With few options, I wanted more variety. I turned to Pinterest.  No-salt Matzo crackers were allowed. They are very crunchy, which meant that I could use them as a substitute for chips.  I was searching for different kinds of salsa to eat with my new favorite "chip" and I found several. 
Recipe for Chipotle Corn Salsa
So let's get to this recipe…
This is probably the easiest salsa to make in the RV as well.  It takes five minutes or less to put together.  Next time you're up for happy hour snacks, make this.  It's a sure-fire hit and you won't be stuck inside the RV for a long time while everyone else is talking and laughing outside.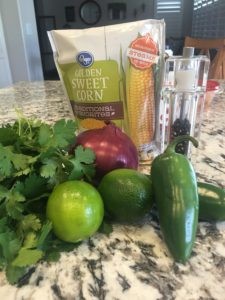 This Chipotle Corn Salsa recipe was right up my alley because all of the items were approved for my diet, and I used my iodine-free salt.  The small batch lasted a couple of days in the fridge.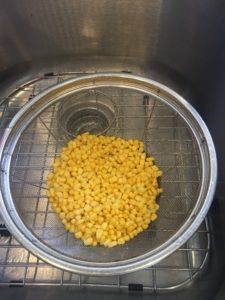 First, rinse the corn in a colander.  Then rinse the cilantro, pat it dry, and set it aside to dry some more while you work on chopping.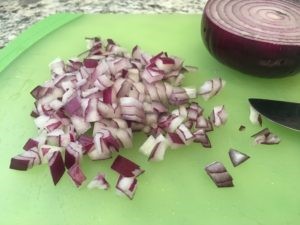 The recipe calls for about 1/3 cup of chopped red onions.  I was probably closer to 1/2 cup in this picture.  (If it has onions and cilantro, Mark won't touch it.  No worries — it just means more for me!)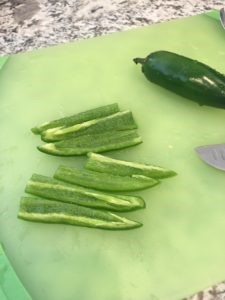 Next you need two medium-sized jalapenos.  I love me some jalapenos, but my lungs are another story.  It's strange, really.  I cough up a storm when I cut them open.  I open the window above the sink and try to work quickly, but I cough like I'm having the worst asthma attack of my life. Once the seeds are out and down the drain, all is back to normal.  Seriously strange.  I must really like somebody to put myself through all that while making salsa or anything where I have to cut a jalapeno open.  (Can you hear me, Mark?  Eat the salsa!)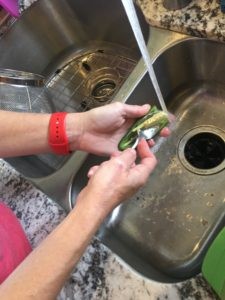 I'm not sure if this is the proper way to remove seeds from a jalapeno but this is how I do it…  First, I cut the top off, and then I slice it in half lengthwise.  I turn the water on and take a spoon to scoop out the insides while rinsing it under the water.  Sometimes I'll leave a few seeds, depending on who will be eating it.
Next up is to chop or tear your bunch of dried cilantro, about 3/4 cup worth.  I have these super cool herb scissors that Santa put in my stocking last year.  He's so nice.  Anyhow, I cut up a lot of cilantro and dump it in the bowl with the corn, onion and jalapenos, salt, and pepper.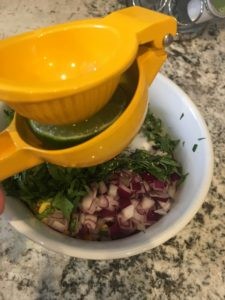 Time to squeeze some limes.  Super-squeeze two big limes into the other ingredients, and then give the mixture a really good stir.  I put it in the fridge for a bit to let the flavors get to know each other.  Thirty minutes is probably all you need.
Now, it's nice to be able to eat this corn salsa with regular tortilla chips. Try to keep yourself from grabbing a spoon and eating it all right away — it's that good.  The first time I made it, one person literally pulled up a chair and ate the entire thing before anyone else had a chance.  Lesson learned.  If I make this while camping, I always double it.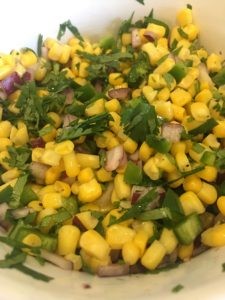 Chipotle Corn Salsa Ingredients
1  12-ounce bag of frozen sweet yellow corn, defrosted and drained
2 medium-sized jalapenos, seeded and chopped
1/2 red onion, finely chopped (about 1/3 cup)
3/4 cup fresh cilantro, torn or chopped
Juice of 2 limes
1/2 teaspoon salt
1/2 teaspoon pepper
Combine all ingredients in a bowl and mix, mix, mix. Season with additional salt and pepper if desired.
Recipe Credit: How Sweet Eats
---
If you, too, are faced with thyroid cancer, the ThyCa association is a good source of support and information. I even bought their LID cookbook. You can check out my thyroid cancer board on my Pinterest page for more ideas.  And, since my treatment, I found a Facebook page titled The LID Life Community, which is run by several ladies that scour foods for banned ingredients, making it much easier to have a wider variety of foods while on LID.  You can even have Oreo cookies!

Meet the Family
I'm Maureen Milne, F446881 . I'm a mom of two (now grown-up!) boys, ages 26 and 24. My husband, Mark, and I have been married 30 years. We are an adventurous family; our friends call us "X-Games."  We are avid hikers, cyclists, and skiers (both snow and water). Mark does triathlons and we run in 4-5 races a year.  We've been RVing together since we were teenagers in 1984. I share our RVing adventures on my blog, M&M Hit The Road. I also post stories and pictures on Facebook and Instagram.