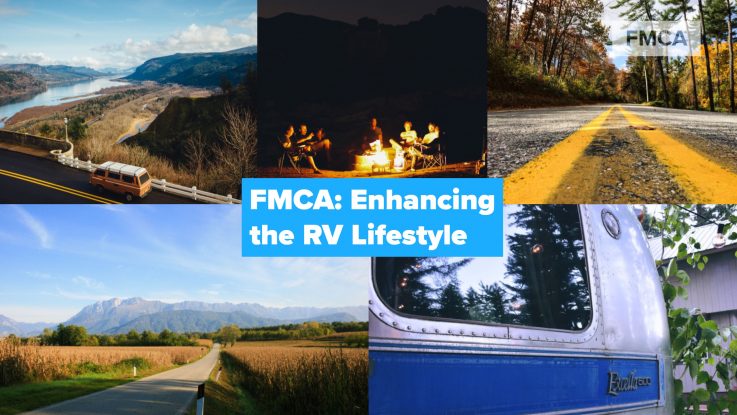 Access The Mile Marker archives. FMCA's monthly e-newsletter – The Mile Marker — is a reflection of FMCA's members and of the fun of RVing. Learn how an FMCA member benefit came to the rescue or helped to make life on the road easier. Check out photos of favorite travel spots. Read about a destination or a tip to make RVing even better.
Read the Archives
2023
During this first month of the new year, do you hear the open road calling? Are you paging through Family RVing magazine or reading FMCA.com's travel blogs, wistfully thinking of your next trip? Or are you out and about in your RV now, looking to add to your adventures?
Yes, that's right, buddy! This month we shine the spotlight on Canada, and much more. We couldn't pass up the opportunity to help you plan your next trip to the second-largest country in the world. With its sprawling wilderness and endless beauty, you would be hard-pressed to not enjoy your stay there.
In this month's GREEN edition of FMCA's Mile Marker, we are going to touch on everything green. Green as in St. Patrick's Day, and celebrating your Irish heritage. Green as in living green, aka ecofriendly. Green as in FMCA's 106th International Convention & RV Expo, LUCKY 13. Green as in FMCA benefits and discounts that not only can save you some green but can help you conserve energy to continue to run/RV green.
No matter the geographic location, spring can lift one's spirits. The sweet breezes, blooms, and bird songs that fill this season may motivate RVers to hit the road soon. Oh, the anticipation!
The "Cowboy State," aka Wyoming, received its nickname in the early 1900s. The name was fitting given the number of ranches the state was and still is home to, and because of the adoption of the bucking bronco symbol as the state logo. Wyoming is also known as Big Wyoming, because of its sheer size, and as the Equality State, since it was the first to give women the right to vote.
If you've been RVing for a while, we hope you've racked up miles of great memories. If you're new to it all . . . are still thinking of taking the plunge . . . or are considering moving to another type of RV, you may wonder where to begin. Never fear! The RV community can help.
In July 1963:
. . . ZIP codes were introduced in the United States.
. . . Lisa Kudrow — who later starred in the hit TV show "Friends – was born.
. . . Pitching greats Juan Marichal (San Francisco Giants) and Warren Spahn (Milwaukee Braves) dueled for 16 scoreless innings until the Giants' Willie Mays hit a home run to end the game.
---
2022
The calendar has finally flipped to the new year, bringing with it hopes and dreams for the days ahead. Are you one to make a list of resolutions and dive into them? Or do you pooh-pooh that idea, choosing to live your best life as you've already been doing?
Let us count the ways. Since 1963, FMCA has been helping RVers do what they love, and we love doing this.
Who says you can't teach an old dog new tricks? If you are done with your formal schooling, there's still a chance to learn something new every day. Even if you don't realize it! This month's Mile Marker is all about learning new things while you enjoy the RV lifestyle.
April is filled with dates that recognize humans' efforts to make the world a better place. Among them are Volunteer Recognition Day (April 20), Earth Day (April 22), and Arbor Day (April 29). In addition, all of April has been proclaimed National Volunteer Month.
Many folks already know the benefits associated with having a pet. Their need for exercise and care translates to more activity for their human counterparts. Plus, having a dog, cat, or other critter can improve one's overall well-being.
Whether we are cooking, eating, sharing, or talking about food, the one thing we can count on is that it brings us together. So, we decided to cook up a newsletter about food. It includes some of our favorite recipes, important information about how to select an RV grill, and much more. Bon appetit!
The U.S. Department of the Interior suggests, "Get outdoors in the great outdoors." Perhaps more than anyone, RVers understand the meaning of that message.
A place to sleep among the trees. A time to enjoy resort amenities. Or maybe just a simple stop along the way from point A to point B. . . .
If you're like many RVers, your living space might benefit from a little TLC. That may involve décor updates, organization additions, or more extensive renovations. The goal: to create a warm, welcoming environment in which to travel, camp, and relax.
"Climb the mountains and get their good tidings. Nature's peace will flow into you as sunshine flows into trees. The winds will blow their own freshness into you and the storms their energy, while cares will drop off like autumn leaves." – Our National Parks by John Muir, Scottish-American naturalist and early advocate for preserving America's wilderness.
This month, we shine the spotlight on state parks — thousands of facilities across the United States established and operated at the state level. They've been preserved for their natural beauty, historic interest, or recreational features — often all three in one location. In contrast to many iconic U.S. national parks, state parks just might be the unsung heroes of outdoor recreation.
December already! Once the calendar page flips to this month, it seems life speeds up a notch. If you're fully immersed in the holiday season, you know the flurry of preparations it involves. Some might celebrate the season in their RVs, either as snowbirds or cold-weather campers. And that's where we come in.
---
2021
Travel goals for the new year, healthy living, cold-weather camping activities, RV Miles podcast, RV organization, mysterious monoliths, meal prepping
Campsite date night, presidential places in the N.P.S., presidential home tours, George Bush visits an FMCA convention, mail forwarding for RVers, America's Civil Wars with Fantasy RV Tours, PBS documentaries, national soup day recipes
International Women's Month, St. Patrick's Day in your RV, Sisters on the Fly, Another Day in Perrydise, Autumn in New England Fantasy RV Tours, FMCA member savings, spring RV prep, Outside is Callings, National Women's History Museum
Taking the office and classroom on the road, Tire Savings Program, Working on the Go, celebrating the outdoors, 4th Graders Free to National Parks, The Spirit of Wyoming, Mobile internet for RVers, shopping discounts for FMCA members, Amazon Camperforce, a traveling RV family, roadschooling
A look at FMCA's 103rd International Convention, a new health insurance partnership with LIG Solutions and FMCA, hot springs and hiking, cowboys and indians, Fantasy RV Tours to Napa Valley, Campground discounts for FMCA members, Mother's Day gifts, the Top RV Mistakes, FMCA's Supersized Book Club
June is Great Outdoor Month, get out and volunteer with The National Park Service, read about the United States' newest national park, New River Gorge National Park and Preserve, experience "The Spirit of Wyoming", gift suggestions for Dad, and creative picnic tips 
As July and the hotter summer months arrive, some of you are probably thinking about, or have already planned, a visit to the beach. If you have never camped at the beach, it may bring up some concerns that you haven't thought about before. So, while you're preparing for your fun in the sun, consider some tips, tricks, and favorites we'd like to share. Read on!
Whatever your August plans are — quick trips, long weekends, a staycation, sitting by the pool, or one last big journey — we have gathered some great information to help you enjoy anything you are doing.
It's that time of year again when families with children start getting back into routines and preparing for school, but learning shouldn't stop there. Take a dive into our monthly newsletter that provides educational information for everyone! 
Readers, this month, we focus on YOU – your physical and mental health and well-being. You will learn about the benefits of being in the great outdoors, the beauty that fall brings us, how to re-center yourself while on the go, and much more.
As the year marches toward a close, holiday celebrations come into view. For some folks, November is a time to turn introspective and reflect on the good in our lives. Despite our different backgrounds, ages, interests, and life situations, we all have things to be grateful for. Family. Friends.
For snowbirding. For winter RVing. For RV hibernation. All these are true, depending on individual RV owners' circumstances. Whether you are actively RVing — in warm or cold climates — or just dreaming about or planning for trips you want to take in 2022, read on.
---
2020
Making 2020 travel plans, festivals in the U.S. and Canada, travel journals, cold-weather camp recipes
Quirky places and roadside attractions, camping with Passport America, pipe cleaner crafts, FMCA's app
Fantasy RV Tours, Food Trails, FMCA conventions, a new member benefit, a recipe for trail mix
Briter Batteries, photography tips for RVers, must-see lighthouses, a new FMCA member benefit, RVing at the beach, making time for kids while full-timing, a pesto chicken and veggie recipe
Using your FMCA membership during the COVID-19 outbreak, virtual vacations, FMCA's Digital Convention, passing the time in your RV during quarantine, a camping cookbook called "Eat Outside"
Local trails and parks, geocaching, scenic roads in the U.S. and Canada, remembering "The RV Doctor", RV's for MD's, International Dark Sky Association
Weekend road trips, Briter batteries, finding points of interest close by, pet safety devices for RVers, future FMCA conventions, My Camping Dream, Sisters on the Fly, The Daily Smile podcast, plan ahead popsicles
Musical Fantasy RV Tours, How to save money with FMCA's Tire Savings Program, historical music destinations, RV Miles podcast, mobile internet plans, and homemade hand sanitizer and mask how-to's
Whale watching in Baja, FMCA RV Club App, WiFi tips for RVers on the go, FMCA Campground, Camp Like A Girl, Fall apple recipes, and 35 underrated YouTube channels for RVers
DIY Campsite Movie Theater, Haunted Museums, Fall Color Driving Tours, Perry 2021, KOA Value Kards, Rent Your RV, Virtual Haunted Tours, Haunted Nevada Ghost Towns, and Pumpkin Decorating
TCS Fuel Card, FMCAssist's new service provider, military museums, discounts, parades and memorials across North America, Fantasy RV Tours in Florida, FMCA's 102nd International Convention & RV Expo, FMCA's military chapter, COE campgrounds, Thanksgiving recipes
Entering the slow travel season, RV financing/refinancing, prepping your RV for winter travel, holiday light displays, bucket list trips from FMCA Tour Connection, America's Lonliest Roads, subscription boxes, gift ideas for your pets, holiday foods 
---
2019
Bucket list travel inspiration, 10 cold-weather essentials to pack, RV books, New Year's resolution advice
How to check RV tire age, FMCA University, I-75 travel guides, using Your RV's convection oven
Spring festivals, dewinterizing tips, green RV cleaning, the "Ultimate RV Makeover"
Trip tips for national parks in the U.S. and Canada, national park tours, Junior Ranger program, pet B.A.R.K. ranger program, Passport To Your National Parks Program
Trip tips for state parks in the U.S. and Canada, RV road atlas, U.S. state park annual passes, U.S. state park loyalty programs, RV Family Travel Atlas state park guides, RV tire savings, DIY bug repellent
Great Outdoors Month, FMCA Tire Program, Reciprocal Memberships, North Dakota state parks, RV packing tips from The Fit RV, summer trip packing lists
Special offers and deals for RVers to save money
RV essentials to pack, tips for RVing with pets, roadschooling, tips for full-time RVers
Tips for crossing the Canada-U.S. border, visiting Canada's national parks, backcountry camping, fall festivals
Tips for winterizing your RV, visiting the Griffith Pumpkin House, autumn color tour tips, prepping an emergency kit for your RV, KOA fall festivals, DIY blanket
Exciting food-related RV tips, must-have cooking tools for RVers, a video review of an FMCA benefit from Lyf Uninterrupted, our top food festivals in the country
Bucket list bridges across North America, learn to play bridge, and tips for navigating bridges, both small and large, in your RV.
---
2018
Spring check-up for your RV's plumbing system, cuisine along I-75, spring training/baseball-themed RV trips, how to handle a tire blowout
April 2018 – RV Trip Planning Tips
RV weighing, national park trip tips, route guides, Instant Pot recipes, printable packing lists
Printable pet packing checklist, printable pet travel record, flag etiquette, tips for camping with dogs and cats
Printable travel games, reciprocal membership programs, Full-Time Families, how to make foil packet meals
Insurance for full-timers, "Are you ready for full timing?" guide, workamping, how to build a DIY movie drive-in at your RV site
Local food guides, The Fit RV, discounted fitness and wellness products for RVers 
Best spots for fall camping, campfire safety 101, fall foliage apps, Oktoberfest celebrations
RV tailgating tips, DIY fall decorations and Halloween costumes, corn mazes, Top 10 Halloween destinations, leaf art projects
Celebrating Thanksgiving on the road, RV winterizing tips, volunteer programs, RV rental
Snowbirds, winter RVing tips, 5 must-see winter wonderlands, gingerbread RVs, RV holiday decorations
Subscribe to The Mile Marker 
It's free! Plus, you can download the official FMCA Towing Guide! Looking to learn more about RVing? RV smarter with FMCA University.