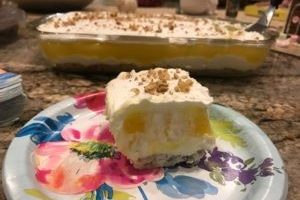 Easter in Arizona is always an adventure, weather wise.  After our winters are over, we nervously look forward to the warming temperatures of spring. We don't want the 90s to arrive too soon because that means the 100s are not far behind.  If only we could have January and February temps year-round! Most times we are in shorts and even get in the pool on Easter, but there have been a few times it was cool enough for pants.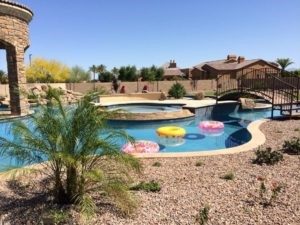 Easter Traditions
But whatever the weather, we do have our special Easter traditions. After church, we celebrate the day hosted by our dear friends, Don and Cathie.  It's a fun day with great friends, food, and fun.  Our food spread is a giant ham, her famous pineapple souffle, and various side dishes the rest of us share.  (I'm bummed I don't have a picture of our spread. Next year I'll share one for sure!) And I get to bring dessert: the always-requested Lemon Delight. (Check out my other springy recipe here.)
Plus, Cathie always finds something new in the food and drink department for us every Easter.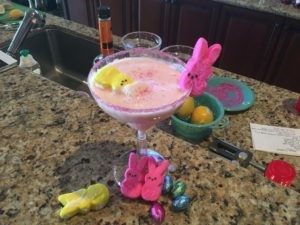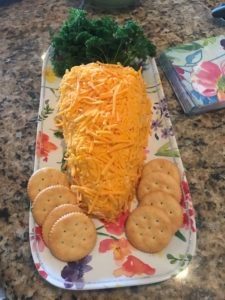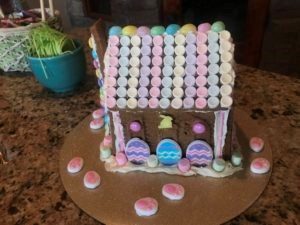 We also have a rockin' egg toss! It started in the street at their old house and let me tell you — the pavement is not kind to fragile eggs. When they moved to their new house, the location change really upped our egg game. We've "upgraded" to soft and plush grass. That soft grass makes for a longer and more exciting egg toss tournament.
Also, Cathie buys cute little trophies and prizes. We have two rounds, and then the winners battle it out for the grand prize.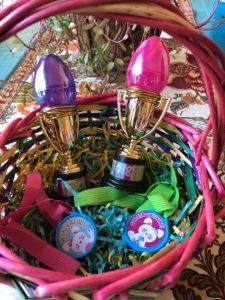 Usually, it's dads versus sons. The teams of Mark/Don and Andy/Will have been reigning champs for a long time. Sometimes, though, we get surprised!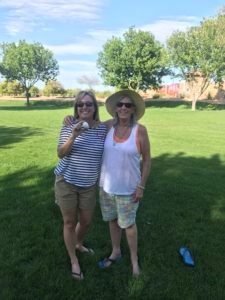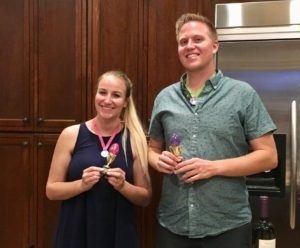 Easter Dessert: Cool Lemony Delight
Now on to dessert…
I've made this yummy lemony dessert several years in a row. I didn't realize it was so popular until everyone was happy to see that familiar dessert in the refrigerator.  That is a recipe win for sure and a great dessert to bring to any party or make ahead for an RV trip.  Credit for this wonderful dessert goes to Josa's Hobby Lobby.
Even though there are a few steps with time in between, it really is easy.  It needs to chill in the refrigerator, so I usually make it the night before.
First, mix flour, butter, and pecans until well-combined. Then, press into an 11×8 pan.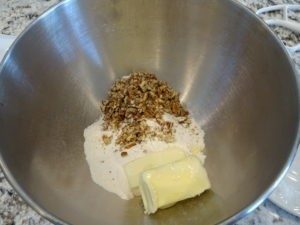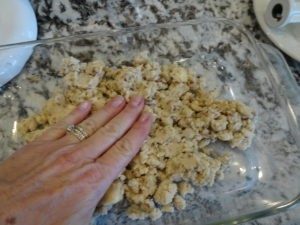 Next, bake at 375 degrees about 15 minutes or until lightly browned. Let cool completely.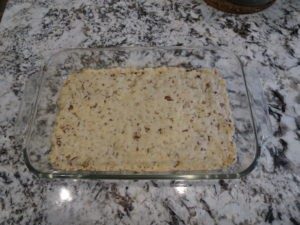 For the first layer of filling, beat softened cream cheese until smooth and fluffy.  Add powdered sugar and continue to beat until light and fluffy. Gently fold in one cup of Cool Whip then spread on top of cooled crust.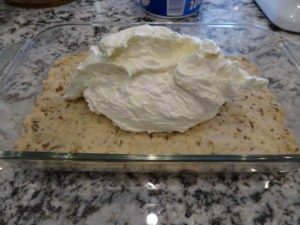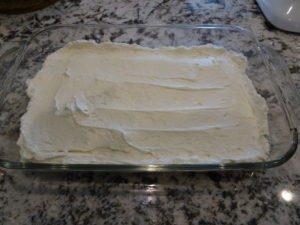 Mix the milk and lemon pudding mix together until it reaches a thick consistency. Spread evenly on top of cream cheese mixture.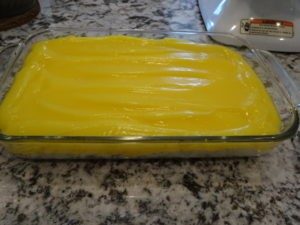 Now you're almost finished! Top with remaining Cool Whip and finely chopped pecans. Cover and chill in refrigerator for at least one hour.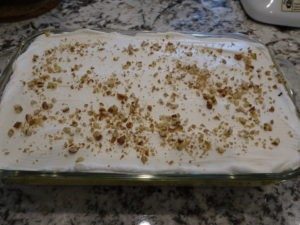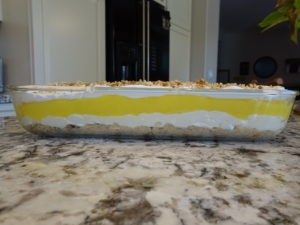 Here is the full recipe: 
Cool Lemony Delight
1 cup flour
1 stick butter, softened
1/2 cup chopped pecans, plus two tablespoons finely chopped
1 package cream cheese (8 ounce), softened
1 cup powdered sugar
1 container of Cool Whip (8 ounce), divided
2 small boxes instant lemon pudding (3.4 oz. box)
2 2/3 cup milk
Preheat oven to 375. 
Mix butter, flour and pecans in bowl until well combined. 
Press into 11×8 baking pan and bake for 15 minutes or until lightly browned.  Cool completely.
Beat cream cheese on medium speed until fluffy.
Add powdered sugar and beat until light and fluffy.
Gently fold in one cup of Cool Whip.
Spread evenly on cooled crust.
Beat milk and pudding mix until thickened.
Spread over cream cheese layer.
Top with remaining Cool Whip and sprinkle finely chopped pecans on top.
Cover and chill at least an hour. Refrigerate any leftovers.
I wish you and your family a wonderful Easter. What are your Easter traditions? Drop me a comment below.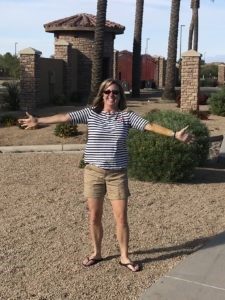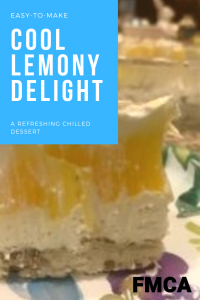 Meet the Family
I'm Maureen Milne, F446881 . I'm a mom of two (now grown-up!) boys, ages 26 and 24. My husband, Mark, and I have been married 30 years. We are an adventurous family; our friends call us "X-Games."  We are avid hikers, cyclists, and skiers (both snow and water). Mark does triathlons and we run in 4-5 races a year.  We've been RVing together since we were teenagers in 1984.  I'm a three-year thyroid cancer survivor, which has given me a new perspective on life.  I share our RVing adventures on my blog, M&M Hit The Road. I also post stories and pictures on Facebook and Instagram.