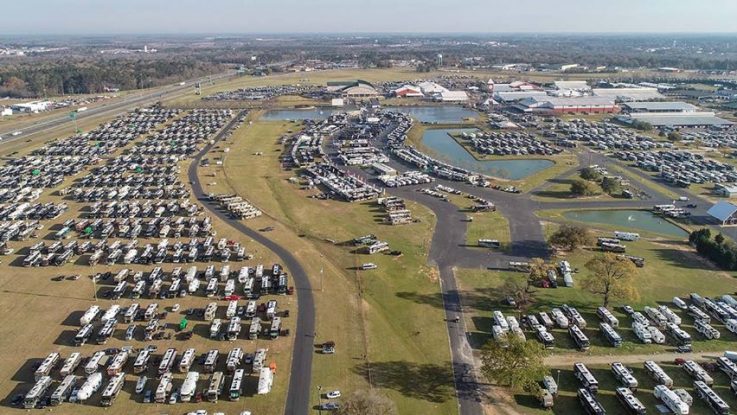 There's a lot to do and see at an FMCA RV Expo, so we've rounded up a list of tips to help you prepare for FMCA's next event: 98th International Convention & RV Expo July 18 through 21, 2018, in Gillette, Wyoming. FMCA hosts two of these large-scale events each year.
But, first, check out this video to get an idea of the size of an FMCA RV Expo, and let us introduce you to Peggy. She attended FMCA's 97th RV Expo.
5 Tips for Attending an FMCA RV Expo
These tips are straight from the mouths of FMCA members. 😉
#1 Soak Up the RV Knowledge
FMCA's RV Expos are a mix of fun, entertainment, and education. There are hundreds of seminars to attend on topics like RV maintenance, hobbies, and trip planning. In addition, FMCA usually hosts a driving course and RV weighing (advance registration may be required for these) to provide more RVing know-how. Plus, prior to the RV Expo, a 3-day tech course called RV Basics is held.
The mix of seminars was fantastic. My wife kept saying how much she was able to learn. Me too!
-David Herrmann
#2 Don't Be Shy
FMCA RV Expos are a chance to meet more than 6,000 of your fellow RVers. Everyone attends for common reasons – to learn, to have fun, to meet new friends, etc. – so don't be shy. We can bet you already have something in common with every other attendee – you both love RVing! There will be activities throughout the week for all ages – concerts, coffee hours, an ice cream social, trivia, games, etc. Don't be afraid to talk to your campsite neighbors and everyone else you meet!
The best part was the people that were parked around us. We had slide problems, and when we asked for help to push our slide in, everyone around us lent a helping hand. We met so many great people.
-Jerry Andrews
#3 Volunteer
These large-scale events are possible, thanks to volunteers. There is a volunteer opportunity for nearly everything you see – parking RVs, scooping ice cream, working security, pouring coffee, assisting with seminars – you name it! Event-goers tell us that volunteering lets them meet new people and get a behind-the-scenes look at how the event happens. Consider volunteering with us!
My husband and I volunteered on the parking team. It was great getting to greet everyone as they arrived and hear where they were from and their stories.
-Judy Steverson
#4 Download the App
To help you discover all that an FMCA RV Expo offers, FMCA launched a mobile events app for smartphones and tablets. You can find anything in the event's printed materials on your mobile device. It's easy to download and plan your day!
iOS/Apple
Android/Google
-After the app is downloaded, open it on your device.
-In the search bar, type "FMCA"
-Look for FMCA's brown and orange app icon and touch "Download." You may be asked for permission to save the files. Select "Continue."
-Make sure to select "Yes" when it asks you about push notifications. This will allow the app to send you event updates.
The app was super helpful!
-Carrie Kroschel
#5 Do Your Homework
If you are planning to attend your first FMCA RV Expo, we encourage you to check out our resources. Visit our website for First-Timer tips. Tune in to Facebook for our monthly live Q&A sessions. And, most importantly, don't be afraid to ask questions! Feel free to contact FMCA at any time with your questions.
As first timers, we were thrilled with absolutely everything, but what impressed us the most were all the warm and welcoming volunteers who truly epitomized the FMCA family values!
-Christina Iannelli
Have you attended an FMCA RV Expo before? What are your tips? Comment below.