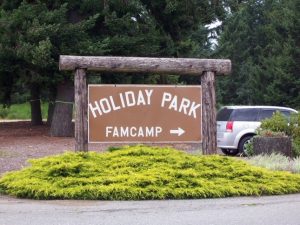 Did you know that there are more than 250 military campgrounds across the U.S.? FMCA is here with a breakdown of where you can find these campgrounds and who can book a reservation.
About Military Campgrounds
These campgrounds, which normally have RV hook-ups and tent spaces, are managed by the Army and Department of Defense service departments. Some are located near national parks or national attractions. Others, however, are specifically located on or near military bases.
Typically, these military campgrounds offer the same types of amenities as other private campgrounds, including laundry facilities, bathrooms, shower houses, and common areas. Some even have recreation areas, cabins, and other "luxury" amenities, earning them the nickname of "FamCamps."
Military campgrounds normally charge less than private campgrounds, making them a more affordable option for military members traveling with family, especially those traveling with children. Daily and weekly rates vary by campground but typically range from $10 to $30 per night.
Locations vary across the U.S. For instance, California has the most military campgrounds, totaling 37. Other states like Iowa, Pennsylvania, Vermont, and Connecticut do not have a single military campground within their borders.
These campgrounds are known for being generally well-kept and are managed by each individual military base. It's important to note that rules and regulations can vary by campground, depending which base you are visiting.
Are These Open to the Public?
So who is eligible to stay at a military campground? In general, these campgrounds are reserved for
active members of the military
military retirees
disabled veterans
National Guard or Reservists
Department of Defense workers
surviving family members of service members killed in action
Spouses and dependents are usually eligible, too. As stated above, these eligibility requirements can vary by base, and it is best to contact the campground regarding eligibility questions.
People who are not connected to any sector of military are not eligible to stay at these campgrounds, unless they are a guest of someone who is.
Making Reservations
Reservation details vary by campground, and it is recommended to contact the base directly. Some campgrounds require that a reservation is placed in ample time prior to arrival; however, others have a first come, first served policy.
If you meet the eligibility requirements, visit MilitaryCampgrounds.us, which was created by a veteran, to browse through details and locations of U.S. military campgrounds.
These websites also provide military campground directories:
All Stays
Connecting Service Members
Many military members feel that these campgrounds help them stay connected to their peers. There are even military travel communities. One in particular is called S*M*A*R*T, which stands for Special Military Active Retired Travel Club. This organization plans activities and group gatherings for military members and their families.
FMCA has several chapters (special interest groups) for military members. FMCA also offers a discount for veterans or active-duty military members who join the club.
Have you ever stayed at a military campground? Comment below.