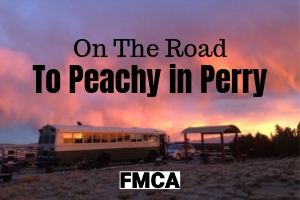 I-75 is a main U.S. interstate with many interesting stops for sightseeing. In fact, FMCA's 99th RV Expo and Convention will be held in Perry, Georgia, which is located just off I-75. Here are some fun stops you can make on your way!
Plan Your I-75 Adventure
To begin with, I-75 touches major cities in Michigan, Ohio, Kentucky, Tennessee, Georgia, and Florida. Here is a list of cities that I-75 touches, listed in order from north to south:
Detroit, MI
Monroe, MI
Toledo, OH
Findlay, OH
Lima, OH
Dayton, OH
Cincinnati, OH
Lexington, KY
Berea, KY
London, KY
Corbin, KY
Jellico, TN
Knoxville, TN
Sweetwater, TN
Chattanooga, TN
Dalton, GA
Atlanta, GA
Macon, GA
Perry, GA
Tifton, GA
Valdosta, GA
Gainesville, FL
Tampa, FL
Cape Coral, FL
Ft. Myers, FL
St. Petersburg, FL
Ft. Lauderdale, FL
Miami, FL
There are hundreds of fun stops along I-75 for travelers to visit local attractions, hotels, antique shops, farms, shopping centers, historic sites, and restaurants. Even more, there are major attractions for the War of 1812 and the Civil War along the highway, including battlegrounds and monuments.  
Listed below are 10 of the most noteworthy stops to make on your I-75 journey to Perry.
Tennessee Valley Railroad
This stop is located in Chattanooga, Tennessee, with its own museum. Explore all the history behind the Tennessee Valley Railroad. Since 1960, the museum has shown artifacts of the railroad's history. Many of the artifacts have been restored and repaired for operation. Read more here.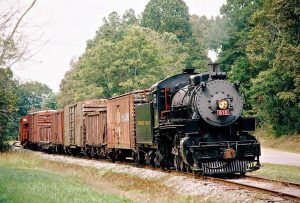 Daniel Boone National Forest
This London, Kentucky, forest occupies 708,000 acres of land. Established in 1937, the forest is now dedicated to explorer Daniel Boone but used to known as the Cumberland National Forest. There are all sorts of water features, rugged trails, lodging amenities, and wilderness areas that make Daniel Boone National Forest a popular tourist attraction. Learn more.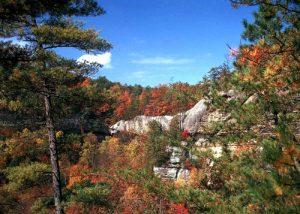 Georgia Museum of Agriculture and Historic Village
Located in Tifton, Georgia, this museum showcases daily activities in farmhouses, fields, sawmills, schoolhouse, and blacksmith shops. Additionally, there is also a feed and seed store, print store, and drug store on the premises. The museum has been teaching live history reenactments since 1976. There are six major areas to explore: first, a traditional farm community of the 1870s, then, a 1890s progressive farmstead, next, an industrial sites complex, then, a rural town, also a national peanut complex, and finally, the Museum of Agriculture Center. Click here.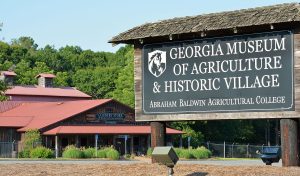 Atlanta Motorsports Park
This exclusive motorsports community is located in Atlanta, Georgia. The park is one of the first eco-friendly, green, sustainably-ran motorsports parks that services motorcycles, high-performance cars, and karts. The park offers public and group go-karting. Also, the facility offers special group and family pricing. Check the park's calendar to plan your visit — there are all different kinds of events held at the motorsports park, including themed and sponsored race weeks and holiday events. Plan your visit.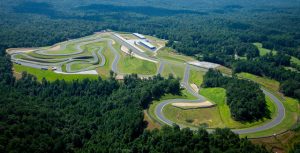 The Peanut Monument
This is a can't-miss roadside attraction! Grab your camera and pose for a picture at the World's Largest Peanut Monument in Ashburn, Georgia. In fact, the monument is so large it can be seen from I-75 while driving. However, this stop comes with a bit of history. There is a long-standing battle of sites that call themselves the "World's Largest Peanut." This one, in particular, has been standing since Feb. 15, 1975. Read more here.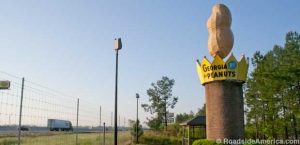 Bowling Green State University
Take a visit to Bowling Green State University with your family on the way to Perry! There are all sorts of events to enjoy on and off campus including football games and student events. BGSU offers Division I sports and strong collegiate academics. You could even plan a campus visit on your way to Perry if you are traveling with students!

Devil's Racetrack
It's not a road trip without pit stops. Get out and stretch your legs on a hike! Located in Knoxville, Tennessee, sits Devil's Racetrack, a 5.3-mile trail, and waterfall. The trail is accessible year-round and is used primarily for walking and hiking. Dogs are also allowed to come along with you on the trail but must be kept on a leash. The trail is also near Cove Lake State Park, a popular camping destination. Learn more.

Kentucky Fried Chicken Museum
In need of a comfort food stop? Check out Kentucky Fried Chicken's historical museum and restaurant in Corbin, Kentucky. You can grab some food and learn about the history of KFC while you sit and eat. The mini-museum showcases many artifacts from Cornel Sander's experiments in creating KFC's "perfect recipe." It's a finger-lickin' good time!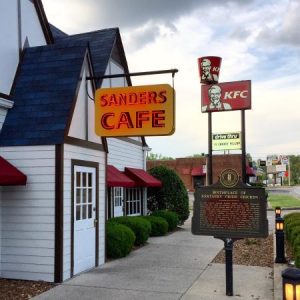 National Museum of the United States Air Force
Along your I-75 drive, visit the world's largest Military Aviation Museum in Dayton, Ohio. There are numerous types of airplane and space exhibits, tours, food, stores, and flight simulations. The museum showcases missile galleries and all facets of aviation from World War II, the Korean War, and the Cold War. If you want to learn more, check out this article from Family RVing magazine. Click here to visit the museum's website.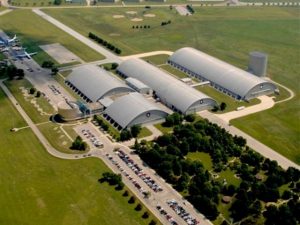 Newport Aquarium
Located just outside of Ohio in Newport, Kentucky is the Newport Aquarium. Overlooking the Ohio River, the aquarium houses hundreds of different marine species in 70 exhibits, 14 galleries, and five seamless tunnels totaling more than 200-foot in length. The aquarium is group- and family-friendly with special exhibits catered to children. You can even meet penguins and pet sharks! Plan a visit.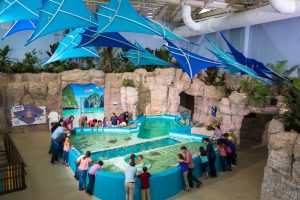 ---
There are hundreds of attractions that lie on the outskirts of I-75, giving you a ton of opportunities to explore on your way to FMCA's Peachy In Perry convention. Check out this guide for more I-75 attractions while you're on the road. 
What is your favorite spot to visit along I-75? Comment below.