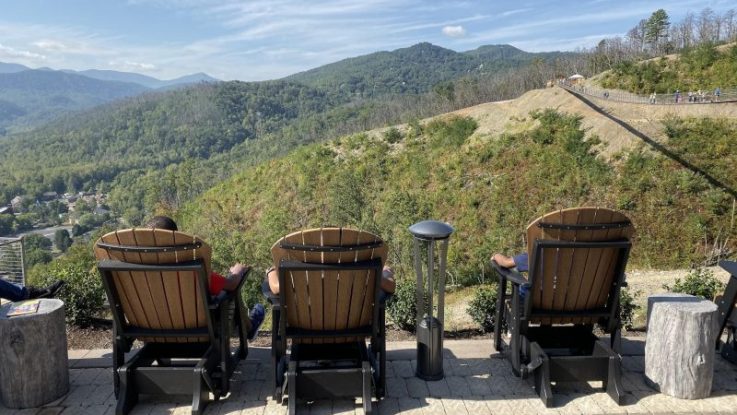 We love to visit the Smoky Mountains. Unfortunately, we had not been back to the Gatlinburg and Pigeon Forge area since the Smoky Mountain fires in November 2016.
The towns most impacted were Pigeon Forge and Gatlinburg, as well as the Great Smoky Mountains National Park. The fires claimed at least 14 lives, injured 134, and are one of the largest natural disasters in the history of Tennessee. Whenever a tourist-dependent area gets hit with this type of a disaster, the best way people can help is to visit that area and spend money. We planned on doing that very thing but had not done so because, well, life happens.
When we saw that there was a karate tournament scheduled in Gatlinburg, we quickly signed up and began to plan a trip to one of America's favorite areas. We love it when we can pair an area we planned to visit just for fun with one of our kids' karate tournaments. It's a win/win for our family. 
Gatlinburg RV Parks
There are plenty of great campgrounds to choose from if you are planning a trip to the Smokies. We have stayed in a few, but we keep going back to a place that works best for our family — the Old Smoky Mountain Premier RV Resort, now rebranded as Gatlinburg East KOA.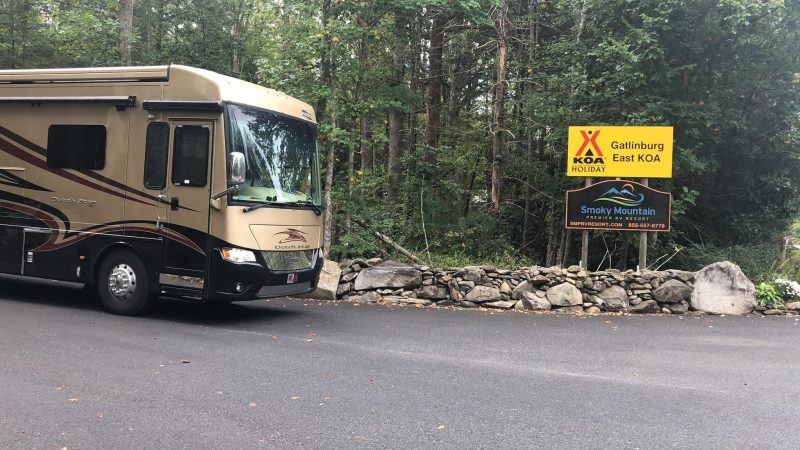 Since becoming a KOA, the already excellent service has gotten even better. We love the fact they are located a few miles off Highway 40. Some people prefer to stay close to Gatlinburg or Pigeon Forge. However, we don't mind being a few miles from the hustle and bustle of those major tourist destinations. Jelly, the owner, and his staff are friendly and helpful and still run their campground like when it was family-owned. Here's a simple example of how their ownership made a big difference: In the Southeast, we have been in the midst of a long heatwave with day after day in the 90s. The typical campground will have its pool open from Memorial Day to Labor Day and, as we drove around the area, we saw just about every campground pool drained and closed. Knowing our kids would want to swim at the campground, we prepared the kids that the pool would be closed.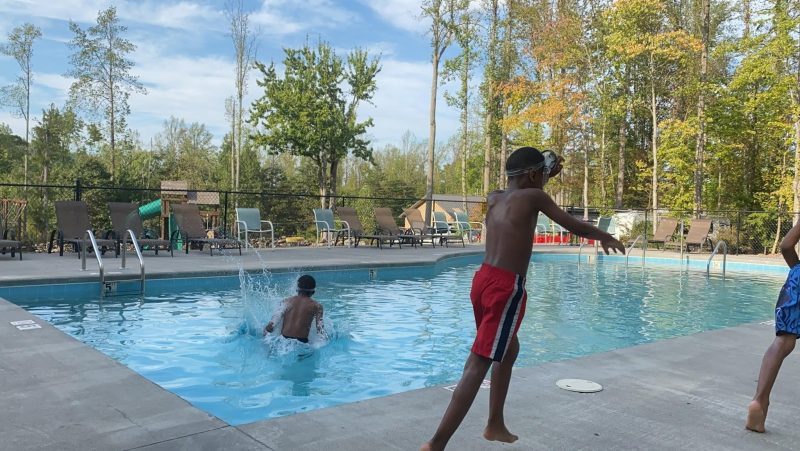 Yet when we pulled in to Gatlinburg East KOA, we were pleasantly surprised. Not only was there water in the pool, but we saw plenty of other campers enjoying the water on that hot 90-degree day! It's little things like that which keep us coming back here again and again. We also knew we could get reliable cell reception at the campground (T-mobile and Verizon work pretty well).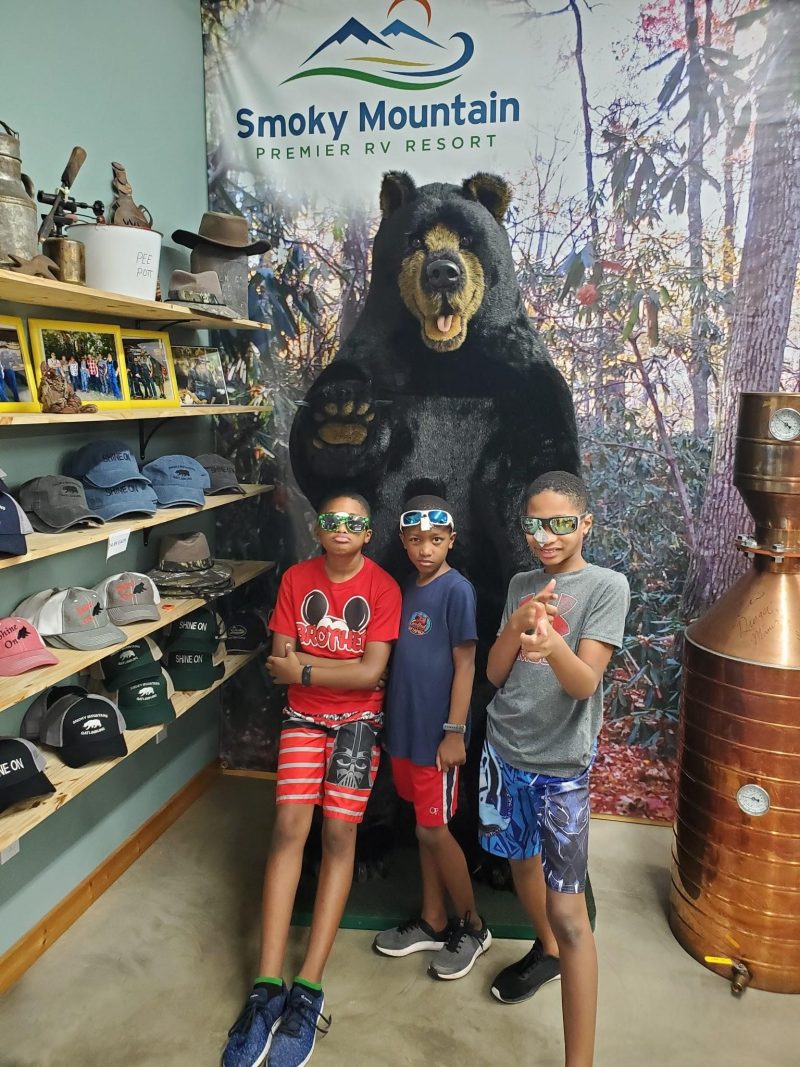 What to See and Do in Gatlinburg & Pigeon Forge
Since we only had a few days to enjoy the area, we decided to plan a few activities for our family. Checking out some websites, we discovered one of the newest attractions in Gatlinburg is the Sky Bridge. To me, this was a must-see. We always try to throw something in just for the kids, so I asked them what they wanted to do. Of course, they asked if there was a science museum in the area. I started to research and discovered there's no real science museum. The closest thing to one was an attraction called Wonderworks, a tourist attraction that includes plenty of science-based experiences. We are always cost-conscientious and decided to look for some discounted tickets for the kids. 
The Wonders of Wonderworks
Wonderworks was actually a pretty fun treat for our family. The biggest bonus as a homeschooling family is that they offer discounts of more than half price off during the week. So, if you're a homeschool family, be sure to bring proof and grab that discount!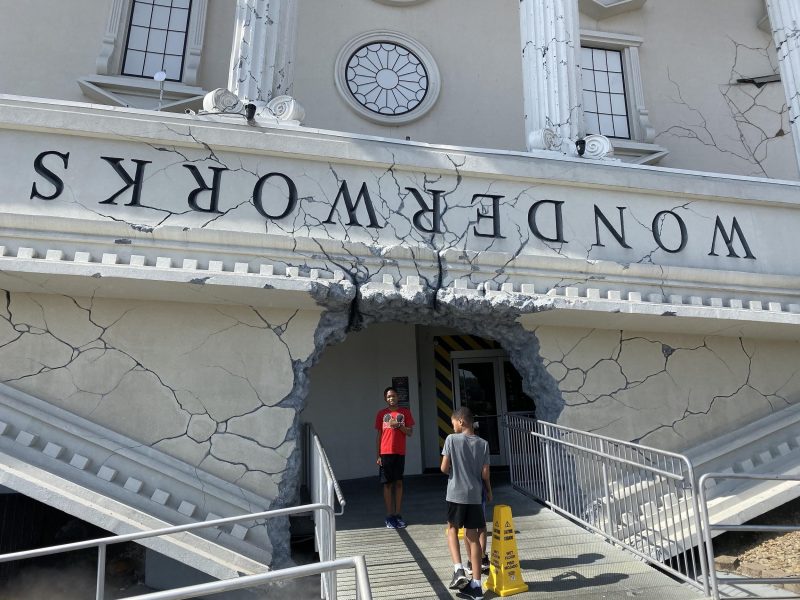 There are lots of fun exhibits to participate. We liked the video that showed what celebrity you most look like. The flight simulators were a fun experience since you get to land a plane. But I think the thing that we enjoyed most was the family Pac-Man Competition.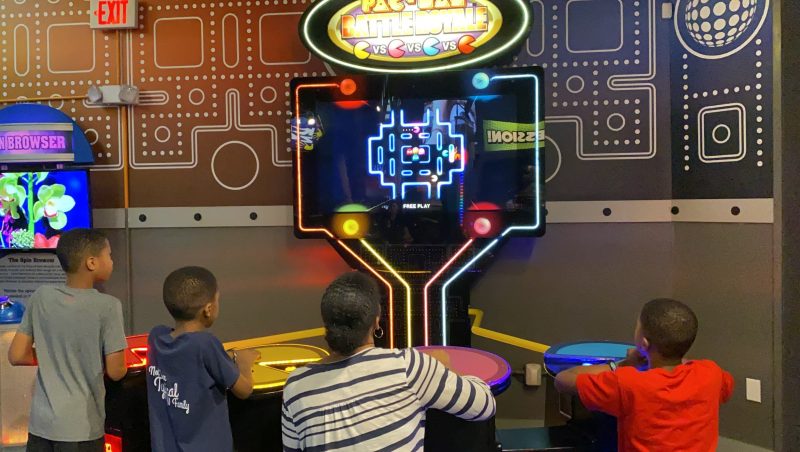 As parents who grew up playing Pac-Man, we were crowned the champions, right? Wrong! Shockingly, our kids beat us and took the Pac-Man crown. We had a blast going head-to-head against them. Definitely a must-do if you ever visit Wonderworks.
Next, since Wonderworks is located in Pigeon Forge, we decided to go to one of our favorite local restaurants, The Old Mill Restaurant.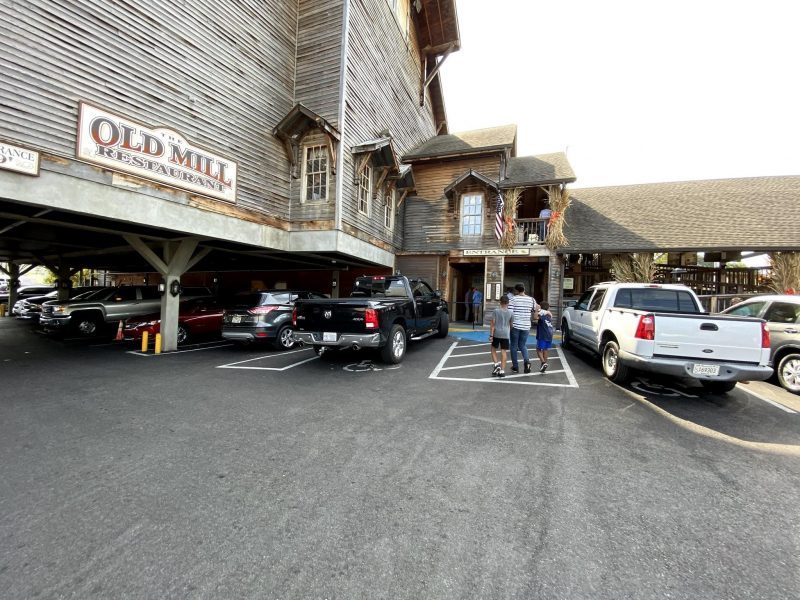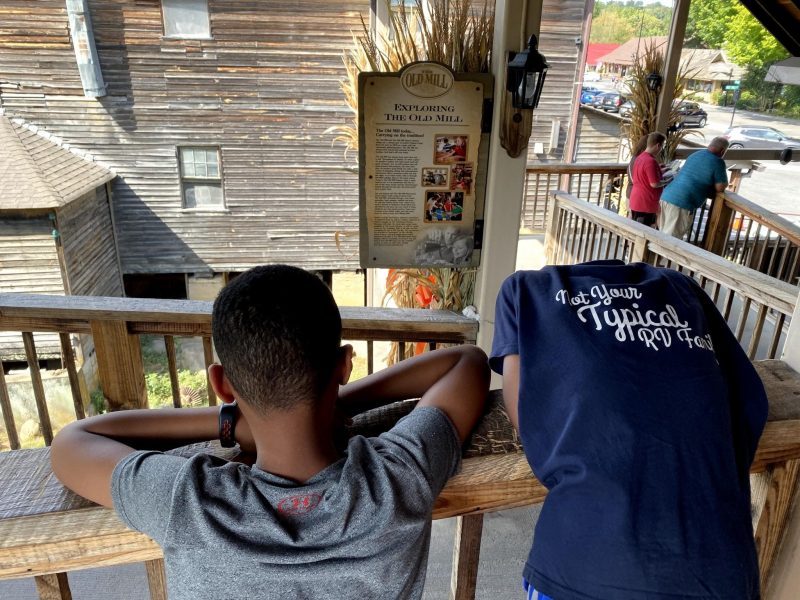 We certainly were not disappointed with our meal. I love their corn chowder soup and the hush puppies with that honey butter…..oh, I could eat a whole tray myself! Don't be afraid of a wait; they do a fantastic job of quickly turning tables.
Time for Skybridge
The Gatlinburg SkyLift Park is home to the longest pedestrian suspension bridge in North America. SkyBridge is one of Gatlinburg's newest attractions, and it's the longest suspension bridge in the United States. You have to take the sky lift up the mountain which is a treat and a fun ride all its own.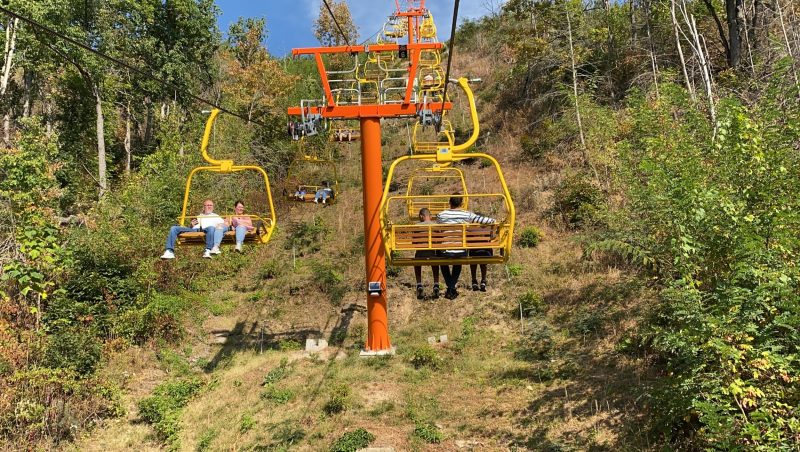 On the way up, people were pointing to the woods below us and we caught a glimpse of a little black bear. Nothing says you're in the Smoky Mountains more than sighting a black bear. After the short ride to the top of the mountain, we climbed the stairs to the SkyBridge. This attraction is not for the faint of heart.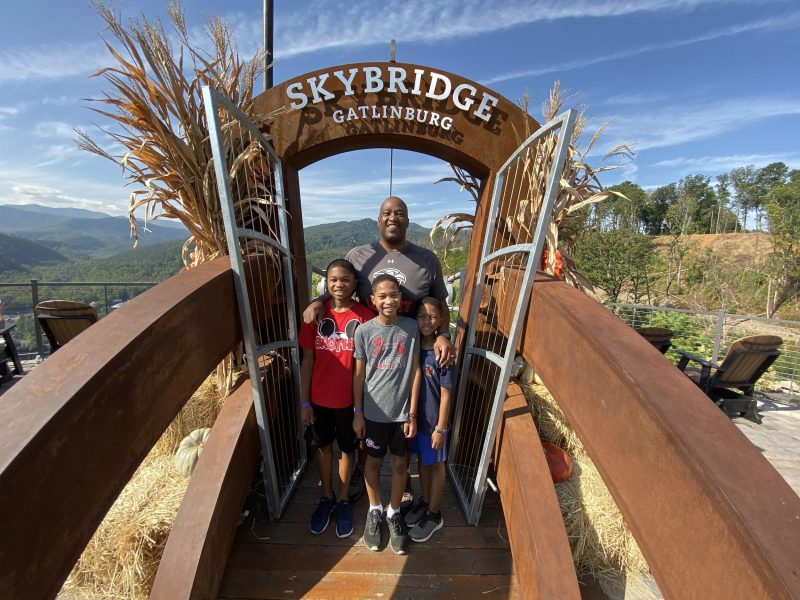 The bridge stretches 680 feet across a deep valley, giving visitors a gorgeous view of the Smoky Mountains. This 680 foot stretch of the suspension bridge definitely moves or sways from side to side as people navigate from one side of the bridge to the other. The coolest part is located about halfway across the bridge where there is about a 7-foot segment consisting of glass on the bottom, allowing you to see all the way to the ground below.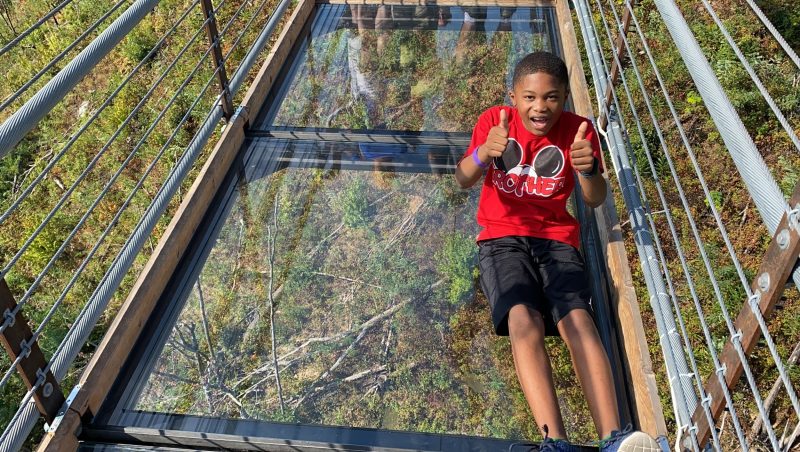 That's the spot my wife and two of my young boys bailed, turned, and went right back to the safety of the solid ground. But my namesake, KJ, and I pressed on and made it all the way across. The views from the top of the mountain and SkyBridge are some of the best Gatlinburg has to offer.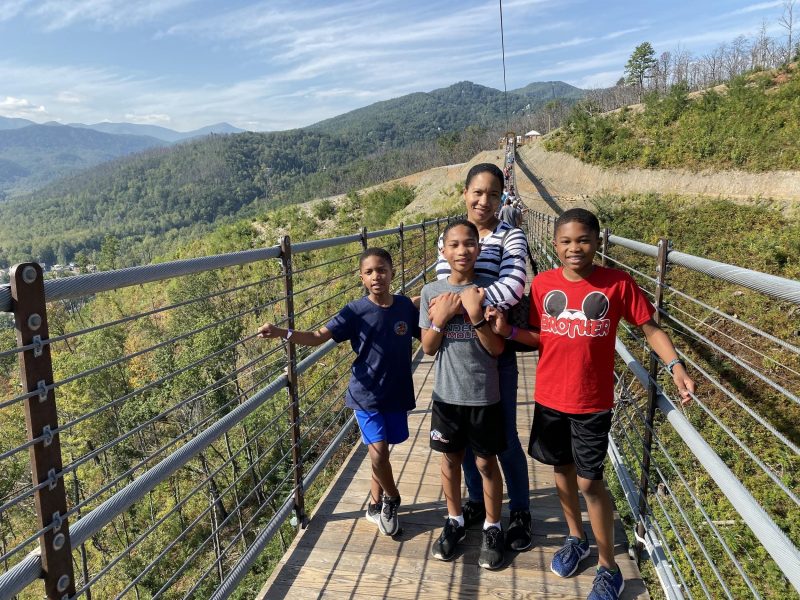 Well worth the price of admission as long as you're not afraid of heights. I definitely think it's a must-do when visiting Gatlinburg.
The Best Things to Do in Great Smoky Mountains National Park
Of course, while you visit the area, you have to take some time to visit Great Smoky Mountains National Park. It's the most visited national park in the country. The park has more than 10 million visitors each year, and it's still free!
Great Smoky Mountains National Park is a mecca for outdoor lovers with its abundant wildlife.  The park also offers stunning waterfalls along wooded trails (Grotto Falls), strenuous climbs (Chimney Tops and Clingmans Dome), and scenic drives (the Roaring Fork Motor Trail). There is also a bevy of educational exhibits, including historic structures from early settlers like those at Cades Cove. The Sugarlands Visitor Center is a perfect starting point to learn the history of the park, grab a few trail maps, or make reservations for ranger-led programs.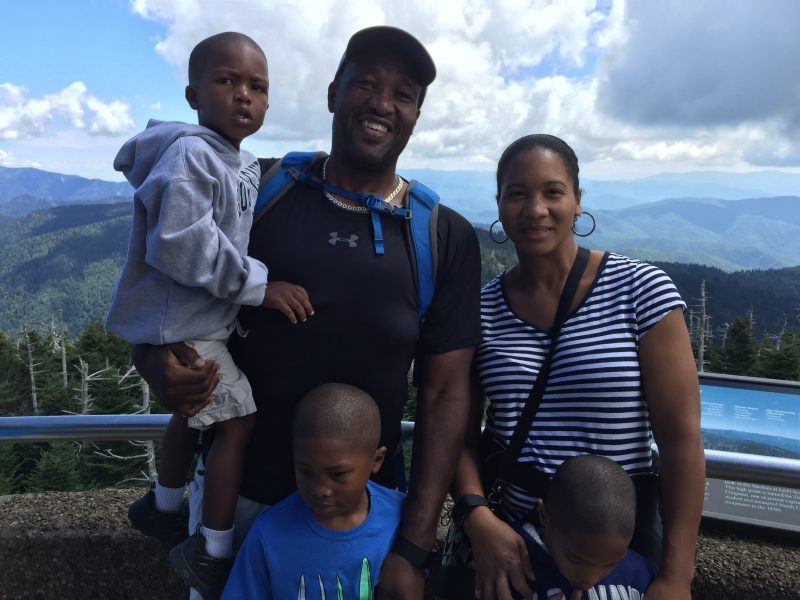 Exploring an Island in the Mountains
Looking for a  fun place for both the kids and adults? Try heading over to The Island in Pigeon Forge, a family-fun area packed full of restaurants, shops, and entertainment for the kids. The Island offers free parking and a free trolley if you don't want to walk.
Simply put, it is a great place to spend the day or evening. This is one of my favorite places to visit when we go to Pigeon Forge. The middle of the complex features a water fountain complete with music and lights. You can just go to sit next to the fountain in a rocking chair and watch the lights and listen to music. It's a very relaxing place to visit even when crowded. Plus, you can eat at one of the many restaurants… Don't forget to check out Paula Deen's place. Or get some serious shopping done, and then grab a drink at Margaritaville.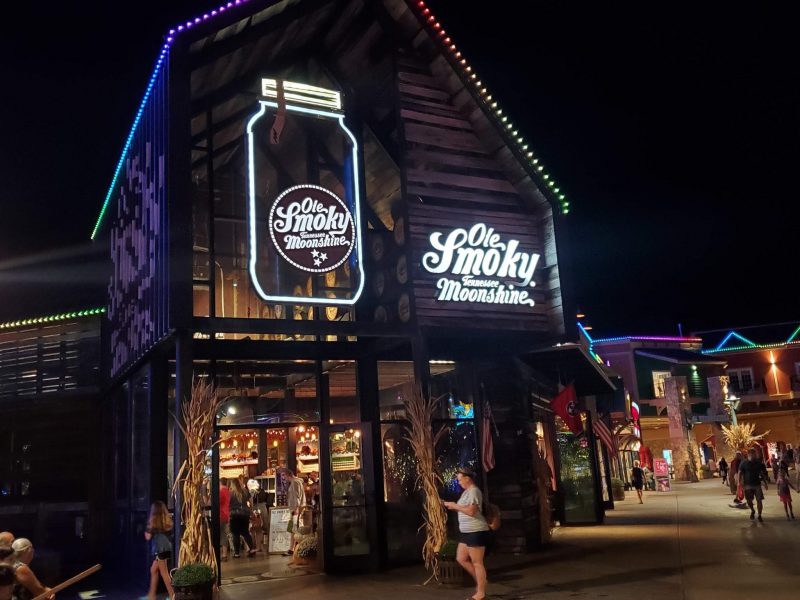 Tia got a chance to sneak away to try and buy some local favorite legal moonshine.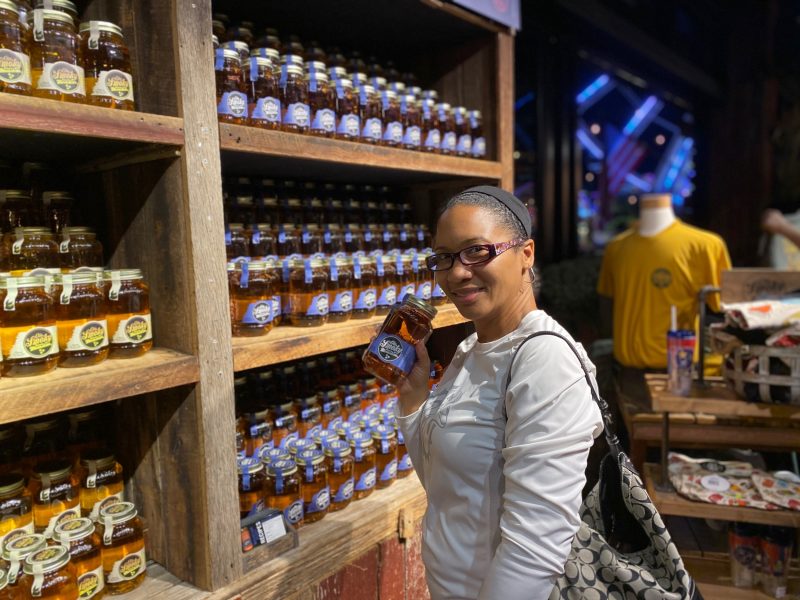 While Mom was shopping for some adult beverages, the boys and I were enjoying the nightlife at the Island.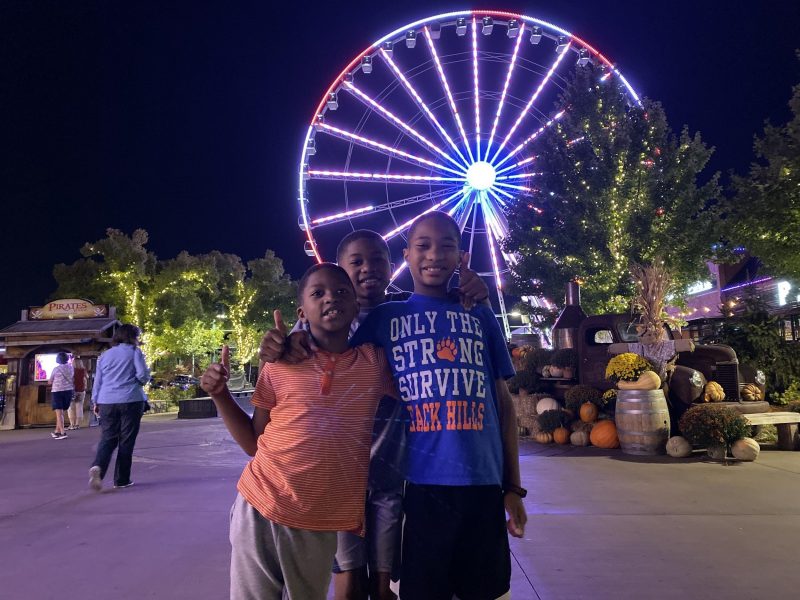 Gatlinburg is a Must-Do RV Trip!
Sadly, our time in Gatlinburg/Pigeon Forge came to an end. We really enjoyed our time and seeing the sites of the area. There is so much to see and do, whether you love hiking in the Smoky Mountains or enjoying all the businesses in these two great cities. There is really something for every member of your family. But wait — we forgot to visit Dollywood…. I guess we need to plan another trip to Gatlinburg. So I guess this won't be goodbye, it will be "See you soon, Gatlinburg!"
Have you visited the Gatlinburg/Pigeon Forge area? What are your favorite things to do and places to stay? Comment below.
Meet the Family
Keith – Dad of Soulful RV Family

Soulful RV describes themselves as not the typical RVers. Keith (former NFL player) and Tia, F452083, are an African American, semi-retired couple with a large family. They road school their youngest children. With all this experience, Keith and Tia share both the practical and fun sides of RVing on SoulfulRVFamily.com and social media, including Facebook and Instagram.