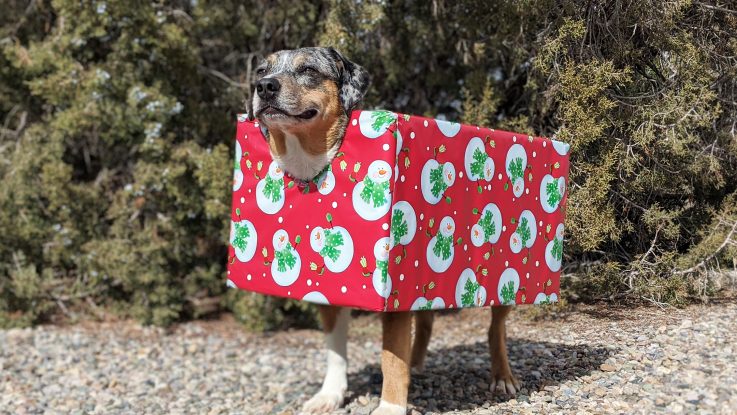 Howliday Gift Guide
In search of the perfect gift for that RV dog or dog parent in your life? We've got you covered with a list of products we use and love, or that are on our wishlist! Sorry cat people, we are dog people through-and-through but some of these gifts may cross over, so read on!
First, a warning.  If you're not an RVer and you're looking to buy a gift for your RVing friend or family member know this: size matters!  Especially for full-time RVers who have everything they own with them at all times.  Unless they specifically ask for a large item — like an XL pet bed for their Great Dane — you probably want to avoid things like this since they take up too much precious space in an RV.  And even for smaller items, you might want to check with them whether they really want it.  With all that said, let's check out our top picks!
Things for the base camp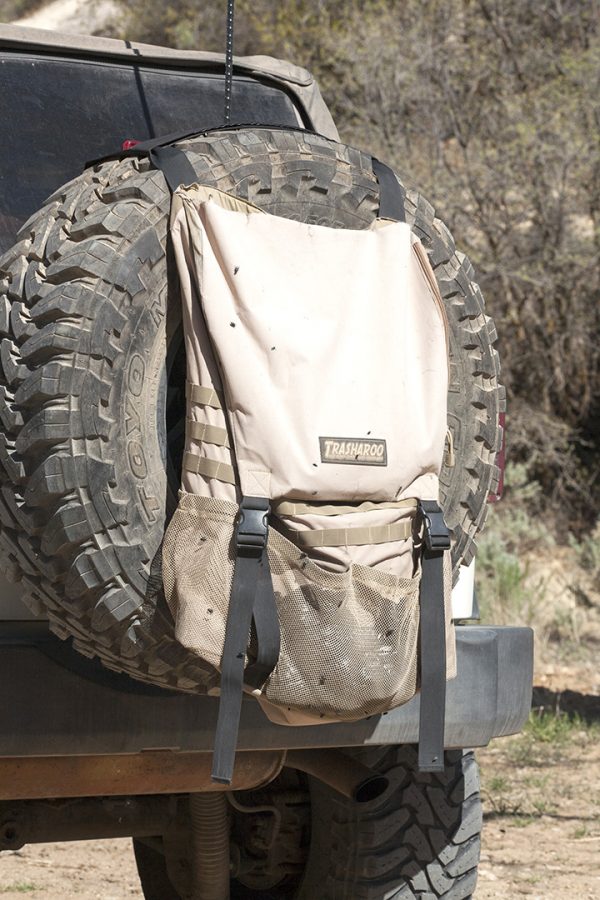 The product you didn't know you needed, but once you have it there's no going back!  This "backpack" easily attaches to a rear-mounted spare tire and lets you pack out stinky poop bags (and trash) without bringing it inside your car. (Which we did exactly once, completely regretted it, and then immediately bought this!)  Your giftee will thank you!
There are many versions of this product available, but we like this one from Cabela's because it folds like a camping chair, which means easy stowing in an RV.  Lily and Mushy love theirs! Great for outdoor use because rain will just go through it and it won't turn into a soggy mess like a regular pet bed would.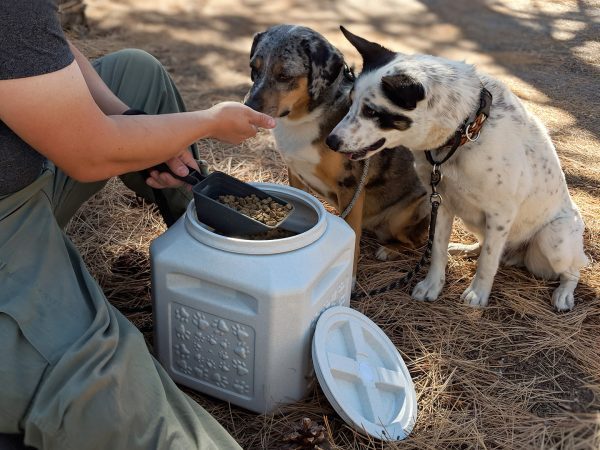 The Vittles Vault is a great rodent-proof way to store kibble on the road.  Read more about how we used these in our Class A here.  We linked to the 25lb capacity one we used, but they come in other sizes too!  If gifting this, you could fill it with toys and treats!
Things for adventures

Mushy Fastpants tested and approved.  They protect your dog's paws against many environments, stay on during high-speed zoomies, and are super affordable!‌
We have several of these and use them daily (in RV life and house life).There are both 30′ and 15′ options.  We tethered the dogs to the RV with these leashes any time they were outside.  I also use this for walks with Mushy as a way to let him explore a bit but still be on leash.  And, as the name implies, this is also a great leash to use for training (tell your dog to sit, walk away, then call them to come, etc.) Bright colors are good for visibility so you don't get a biker or runner entangled in the leash, or step on it yourself.
We like the Lupine brand leashes and collars. We've found them to be extremely sturdy with a great warranty, and the collars have fun prints! Mushy is wearing a Lupine collar in the photo below.
We have (and love) the Whistle 3.  Our dogs spend a good amount of time off-leash while hiking and we use the Whistle daily.  Now that we have it, we can't imagine not having it. It's that useful!  Read our complete write-up on it, and how it relates to RV life.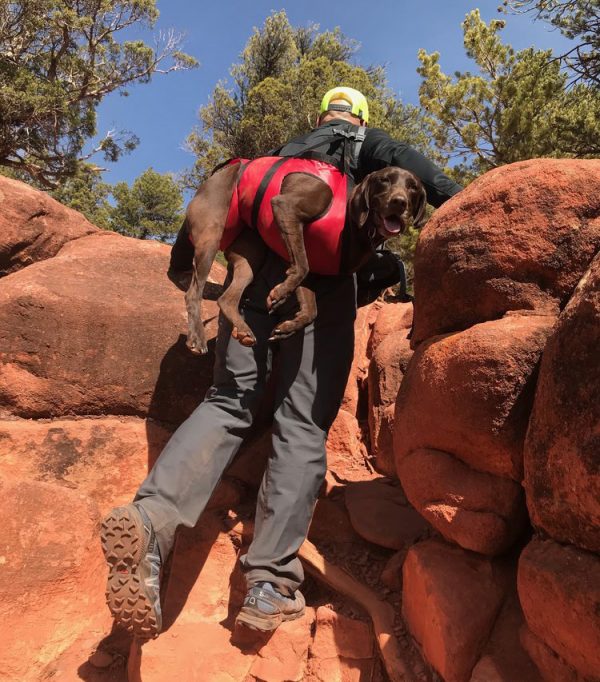 Dog rescue sling
Hopefully this would not ever need to be used, but this is a product we have on our wishlist that we want to buy.  We do a lot of long hikes with our dogs and if they were to get hurt 5 miles in, it would be difficult to carry them out.  There are several different products on the market, and we haven't decided which one we want yet, but we're looking at the Fido Pro Airlift (shown above in use) which is a small, lightweight product that comes in a small stuffsack that can be thrown in your backpack. We think this would be a great gift for any dog owner who loves adventuring with their medium–large size dog.
I was gifted this for camping and I'm ALL about it.  I love it.  Tommi thinks I should just buy a good flashlight, but I love the convenience of this! Late-night campground walks with the dog?  Turn on your hat lamp!
(Buy a cheap flashlight as long as it takes an amazing 14500 lithium rechargeable battery, that's where the real brightness comes from –Tommi)
Things to get to know your dog
Searching for a gift for someone with a rescue or mixed-breed dog? We have used the Wisdom Panel kit for all 3 of our rescue pups (Lily, Mushy and Stimpy) and have LOVED finding out their genetic makeup.  A quick swab of saliva from your dog's gums and cheek and a few weeks later you get the results in an email.
Things to wear
During our travels, Tommi often gets compliments on his funny shirts.  These are some of our favorites and are all available for men and women: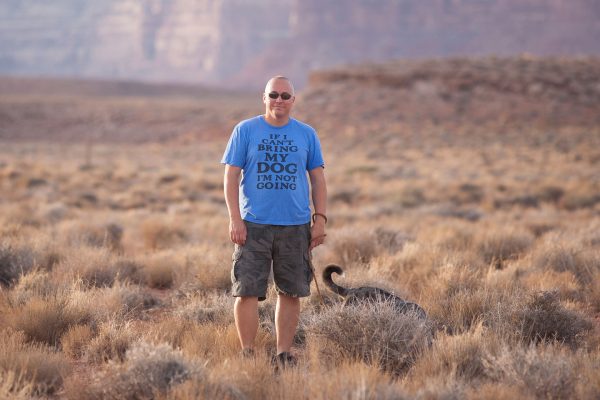 Tommi's mantra – and we know many RVers feel the same.  You have to plan ahead when wearing this shirt though! On rare occasions when Tommi wears this shirt and Lily's not with him, people will ask, "Where's your dog?!"
For dog parents this is a 99.9% true statement so you can't go wrong with this gift!
Some people will laugh at this and other's won't get it, but that's what makes it fun!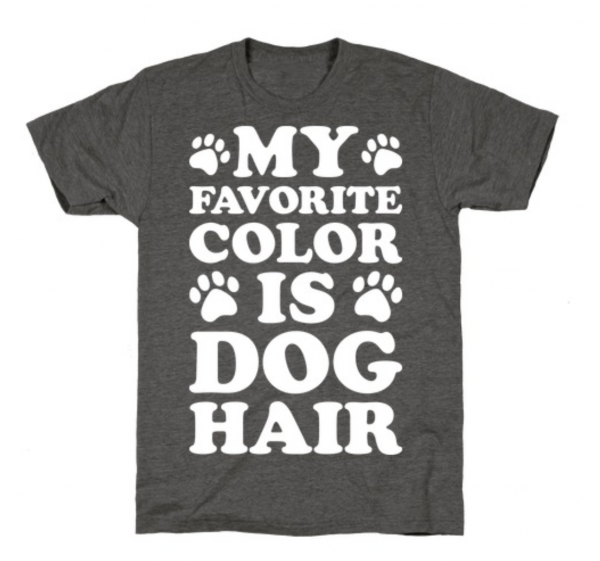 We've gotten lots of laughs from passers-by with this one!
Funny, gross, and true more than we'd like to admit!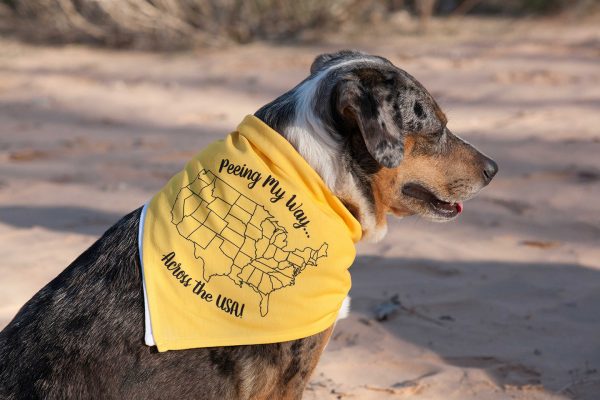 This is the only product on this list we have any affiliation with, because it was designed by us! The perfect gift for a traveling RV dog.  Pair the gift with a fabric marker or some fabric paint so they can color in the states as they go!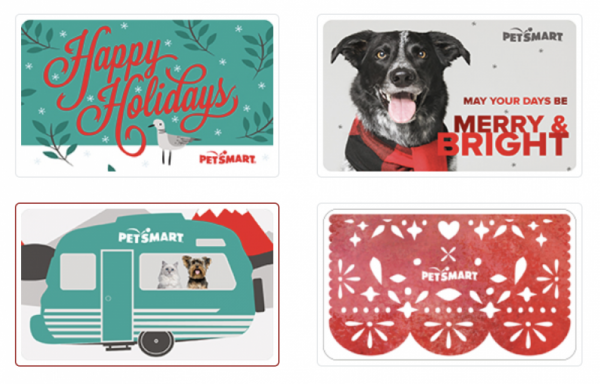 Gift cards
I know some people don't like giving gift cards, but RVers LOVE getting them!  Zero storage requirements and we can pick out our own thing.  For dog-lovers, we'd suggest the big box retailers like Petsmart and Petco, as those have many locations across the US. Cabela's is another good option, because they have great camping, RVing, and pet supplies — and usually welcome dogs inside their stores, and most allow overnight RV parking! Our favorite is ordering from Chewy.com because of the ease of shipping, but unfortunately they don't have gift cards.
Stocking stuffers
Looking to fill a stocking?  Here are some inexpensive, small things we think every dog owner would appreciate!
Poop bags! As a dog owner, you can never have too many. We love these biodegradable ones and make sure we have some in the RV, the Jeep, our pockets, backpacks, etc.
Blinky lights for collars! Especially great for late-night pee breaks while boondocking.  Always know where your dog is at as they blink through the darkness!  We use these and they're BRIGHT! (Also available as a clip-on version, which is easier to put on but also falls off easier.)
Kong toys!  We love these classic fillable versions for times when we have to leave the dogs in the RV for a bit.  Fill it with peanut butter, freeze it, and you have a happy dog!
Keychain tweezers!  A small addition to your keychain means you won't be pulling cactus thorns out of your dog's paws with your bare hands. We've used ours so many times!
Dog nose sunblock!  We use this for the pink part of Mushy's nose.  It doesn't smell and has the consistency of chapstick.  Great for adventuredogs!
My dog is home alone wallet card! One of my fears while RVing is that something would happen to Tommi and I, and the dogs would be locked in the RV in a remote boondocking location.  We always shared our location through Google Calendar with two people (Mom and good friend) so having a card in your wallet with their contact info would allow them to tell Police where your pets and rig are!
Kong's Zoom Groom! Mushy told me to put this in here.  It's his recommendation.  If I was willing, he would want to be massaged with this thing 24/7.
Bag balm! This helps cracked or injured pads on dog paws heal. Essential for desert-dwelling dogs.
Gift an experience
This one is kind of location-dependent, but it's on our "must-do" list one day and we think would be an amazing experience to gift to an RVing dog and their human! 4 Paws Kingdom in the scenic foothills of the Blue Ridge Mountains in North Carolina is the first and only dog dedicated campground in the US! This retreat offers all the amenities dogs and their humans could wish for; a fully fenced swimming pond, multiple off-leash play parks, an agility park, hiking trails, doggie bathhouse with grooming station and more. Note: This campground is adults only, children are not allowed.
Happy gift-giving!
We hope this list has been helpful!  We'd love to hear your RV-pet-friendly gift suggestions in the comments below.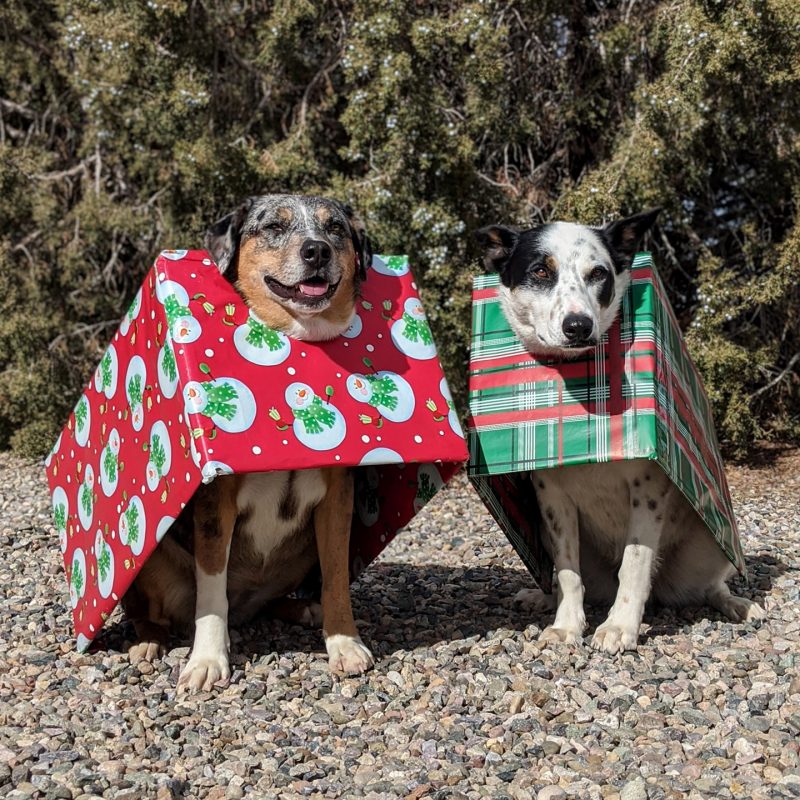 Meet the Family

Ane and Tommi, F462447, of The Dog Is Driving love how RV life allows them to go on adventures. And they bring along their rescue dogs: Mushy and Lily Goodgirl. Full-timers since 2016, they share their experiences and review campsites through a pet-friendly lens on Instagram and TheDogisDriving.com.