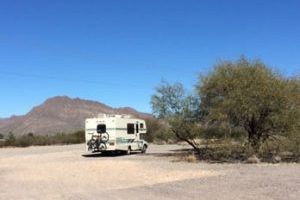 Many RVers like to boondock on lands managed by the United States Bureau of Land Management (BLM). Read FMCA's guide to finding and staying on these properties.
So What Is the BLM?
To explain, the Bureau of Land Management has been overseen by the U.S. Department of the Interior since 1946. It was established as the result of a merger of two agencies: the General Land Office and the U.S. Grazing Service. (Fun fact: In 2016, the BLM celebrated its 70th anniversary as an agency of the Department of the Interior.)
The BLM's mission, as stated on its website, is to sustain the health, diversity, and productivity of public lands for the use and enjoyment of present and future generations. The BLM manages approximately 248 million acres, or about one-tenth of America's land base, as well as approximately 30 percent of the nation's minerals. (In fact, the BLM manages more land and more subsurface mineral estate than any other government agency!) Ultimately, lands are managed for energy development, livestock grazing, and outdoor recreation. 
So what does this mean for RVers? All those millions of acres offer tons of outdoor recreation opportunities for RVers and nature lovers. 
Popular BLM Destinations
Whether you're an RVer or not, there are many beautiful BLM destinations to visit. You may simply be unaware that many popular destinations are managed by the federal government as BLM properties. Most are located in the western U.S.
RVers enjoy these public lands:
For more BLM destination ideas, read this article from TripSavvy. 
BLM Camping
For RVers, there are more than 400 BLM campgrounds across the U.S. Most sites are primitive, simply including a picnic table and fire ring. Some BLM campgrounds may not have restrooms or a potable water source.
As per most government-managed campgrounds (see our posts about military and Army Corps of Engineer (COE) campgrounds), rules vary by property. But normally "long-term" camping is allowed on BLM lands for up to 14 days, and many RVers take advantage of this for boondocking. Also, many sites are non-reservable and available on a first-come, first-serve basis.
Click here to find and research BLM lands.  Click here to book reservations on BLM lands.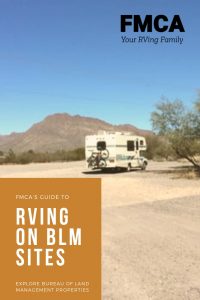 ---
Have you visited or camped on BLM property? Which BLM sites do you hope to visit in the future? Comment below.