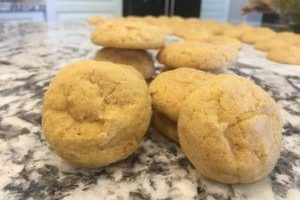 We're about halfway through the season of all things pumpkin spice.  My Pinterest feed is full of pumpkin spice-this and pumpkin spice-that. In fact, I wouldn't be surprised to see a pumpkin spice turkey recipe next!  Don't get me wrong — I love me some pumpkin, just not pumpkin everything. Except for these cookies.  This pumpkin cookie recipe is the bomb.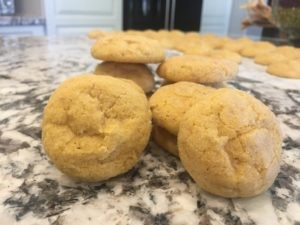 Background Story 
I stumbled across this pumpkin sugar cookie recipe last year when Mark asked for pumpkin butter. After making him the pumpkin butter, I had one cup of pumpkin left over. Alas, I looked in my cookbooks for a pumpkin dessert, but nothing caught my eye. So I looked on Pinterest, where I found this recipe from Wine & Glue.
These cookies have just the right amount of crunch on the outside and the perfect amount of soft on the inside.  After tasting the first cookie (still warm from the oven), I was immediately taken to cookie heaven. Without a doubt, this was a cookie I'd be making again and again. I'm sure these are going to vault to the top of your cookie list and will be a great addition to your Thanksgiving or Christmas dessert tray.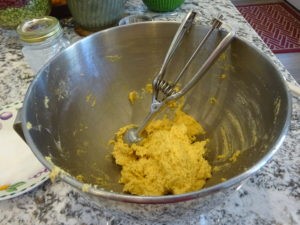 I have zero willpower when faced with yummy desserts.  It's like they call my name from the pantry: "We're yummy and right in here.  You're going to have to run an extra mile today." Because of this willpower issue, I like to bake things I can freeze, and these babies freeze just fine.  In fact, they are almost as good straight out of the freezer.  That can be bad (very bad) for my willpower, so I store the container of frozen deliciousness in the very back of our freezer.
Making Pumpkin Cookies
Since the original recipe calls for 1/2 cup of pumpkin, I simply doubled the batch. I have a Kitchen Aid stand mixer, and it all fits in the bowl just fine.  The original recipe states one batch will make about 18 cookies.  I like my cookies smaller (so I don't feel guilty when I eat six), and I get about 45 in a single batch and 90 in a double batch.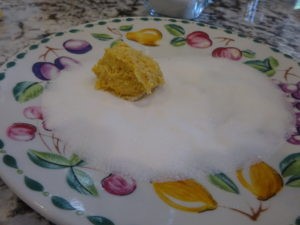 Begin by whisking together the dry ingredients.  Mix the butter and sugar until light and creamy then add the pumpkin, egg yolk, and vanilla.  Slowly add the dry ingredients. For this part, I set the mixer on the slowest speed to not have flour wafting through the kitchen.  I learned a lesson a long time ago on that one! 
Once mixed, the dough will be sticky, so I pop the entire bowl into the fridge for 15-20 minutes.  It makes handling the dough easier.  While the first three cookie sheets are in the oven, I keep rolling the dough in sugar and line them up on a piece of parchment paper.
Pro Tip: It's key to rotate the cookie sheets halfway through baking and leave them on the cookie sheets for two minutes after pulling them from the oven.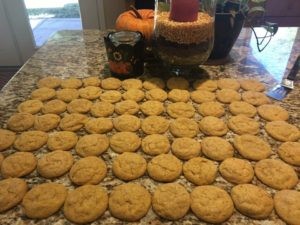 Pumpkin Cookie Recipe Ingredients
1 1/2 cups sugar + more for rolling
2 1/2 cups all-purpose flour
1/2 teaspoon baking powder
1/2 teaspoon salt
1/2 teaspoon cinnamon
14 Tablespoons unsalted butter (1 3/4 sticks) at room temperature
2 teaspoons vanilla extract
1 egg yolk
1/2 cup 100% pure pumpkin puree
Recipe Process
In a large bowl, whisk together the flour, baking powder, salt, and cinnamon. Set aside.
With your mixer on medium, mix together the butter and sugar until light and fluffy.
Next, mix in the egg yolk, then vanilla, then pumpkin until well combined.
With your mixer speed set to low, slowly mix in the flour mixture until well combined. Scrape down the paddle and the sides of the bowl as necessary.
Preheat your oven to 350 degrees and refrigerate the cookie dough for 20 minutes.
Roll the dough into one-inch sized balls. Roll in sugar. Place on a parchment-lined baking sheet or a silicone mat and press down slightly. Space the cookies about two inches apart.
Bake for 15 minutes, rotating the pan halfway through the baking.
Let cool on the pan for about two minutes before moving to a cooling rack to cool completely.
Did you try this pumpkin cookie recipe? Tell us below in the comments!
Meet the Family
I'm Maureen Milne, F446881 . I'm a mom of two (now grown-up!) boys, ages 26 and 24. My husband, Mark, and I have been married 30 years. We are an adventurous family; our friends call us "X-Games."  We are avid hikers, cyclists, and skiers (both snow and water). Mark does triathlons and we run in 4-5 races a year. We've been RVing together since we were teenagers in 1984. I share our RVing adventures on my blog, M&M Hit The Road. I also post stories and pictures on Facebook and Instagram.