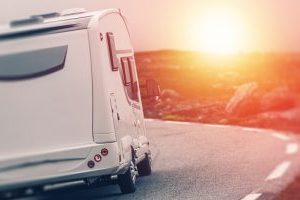 Are you a state park fan? Annual or discount passes are available for some state parks. Planning a trip and understanding state park passes can be difficult, so let's clear up some of the confusion. Read on for FMCA's guide to state park passes.
Can a National Park Pass Admit Me to State Parks?
If you have purchased an America The Beautiful pass (AKA a National Parks pass), it only grants you entry to federal lands. With that in mind, distinguishing what is considered federal or state land is hard, especially if you are visiting a new state or boondocking.
Six federal agencies — the National Park Service, U.S. Forest Service, U.S. Fish and Wildlife Service, Bureau of Land Management, Bureau of Reclamation, and U.S. Army Corps of Engineers — participate in a reciprocal membership program (what is officially called the "Interagency Pass Program") of America The Beautiful passes. These federal lands are not affiliated in any way with state parks.  
The bottom line: All U.S. state parks are their own entities, managed on the state level. State parks do not participate in reciprocal membership programs with federal lands. Some states however, like Louisiana, offer discounts on their state park annual passes if you are an America The Beautiful passholder.
If you have not purchased an America the Beautiful pass but would like to, you can do so here. 
Purchasing State Park Passes
Some states do not charge day-use or entry fees at their state parks. These include Alaska, Arkansas, Hawaii, Illinois, Iowa, Kentucky, Missouri, Ohio, Pennsylvania, Tennessee, and West Virginia. However, certain state parks charge fees for recreation activities like camping or hunting.
Other states offer annual or seasonal passes to save on day-use, entry, or camping fees at their state parks. Here are a few examples:
California, for instance, offers a variety of passes based on region and use. Visitors can purchase a pass for historic sites, the Lake Tahoe region, beaches, and more. Discounted passes are available for veterans, the disabled, and seniors. You can select the pass that is right for you here.
If you frequent parks in the Sunshine State, Florida offers a $60 annual pass for individuals and a $120 annual pass for families (up to 8 people). Veterans and families may qualify for a discounted rate. Purchase your pass online here to save time when you arrive at the parks. 
Texas offers annual passes that grant passholders entry to more than 90 state parks, and discounts on camping. In this case, special passes are available for seniors, veterans, disabled persons, and youth as well.  Read more about the different types of passes that are available here. 
Besides the ones listed above, there are many different pass options available for each participating state. Review state park pass program details for all 50 states with this guide from TripSavvy. 
State Park Loyalty Programs
On your next visit to a U.S. state park, ask if a loyalty program is available. Many state parks offer rewards programs for guests to earn points to redeem on free camping sites and more. Think of this like a rewards card to your favorite grocery store — simply swipe a card or keychain at checkout to claim your points.
Here are a few examples:
Georgia – Earn 10 points for every dollar you spend at state parks. Redeem 3,000 points for a free campsite stay! 
Ohio – Earn 20 points for every dollar you spend on overnight lodging, day-use facilities, and retail/rental items. 
Virginia – Earn 20 points for every dollar you spend on campground, bunkhouse, cabin, or lodge reservations. 
Check with your state for program availability.
---
Does your home state offer a pass program? Do you have a state park loyalty card? Comment below.