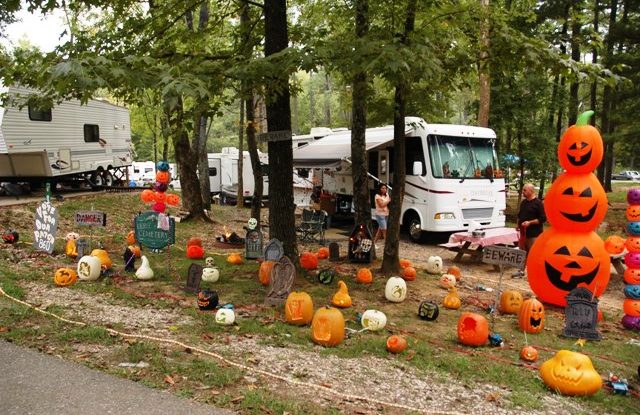 Last year we published a blog with some of the best Halloween RV trips to take, and this season we're back with even more spooky destinations. Enjoy!
New Orleans, Louisiana

Many regard New Orleans as one of the spookiest cities in America. The city has a long history involving witches, voodoo, and haunted sites. Check out one of several different ghost tours through the French Quarter, or attend the famous Krewe of Boo Halloween Parade, which has the excitement and elaborate costumes of a traditional New Orleans Mardi Gras parade but with a Halloween twist.
For the past several years, the city has hosted an enormous music and art experience called Voodoo Festival at City Park. If you are looking for a more mellow concert experience, check out the Halloween Spooktacular presented by the Louisiana Philharmonic. Bonus: Kids under 15 get in for free.
While you're in RVing in New Orleans, you can stay at Parc D'Orleans, an FMCA Commercial Member Campground.
Colonial Williamsburg, Virginia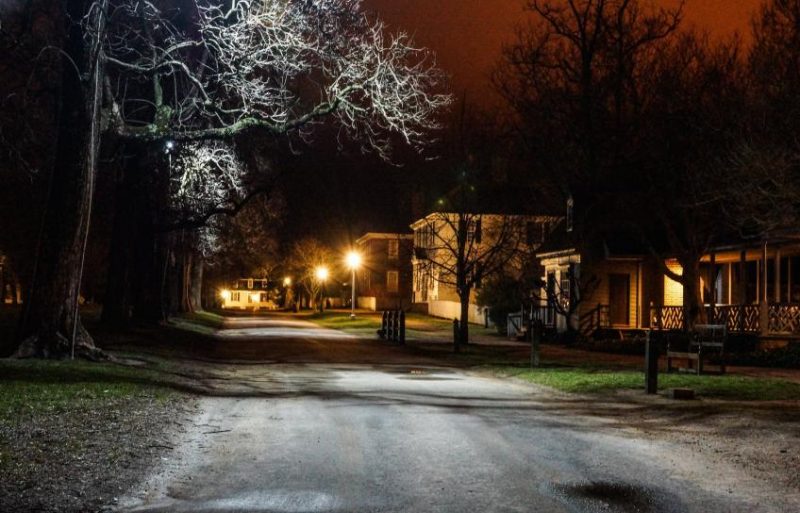 Colonial Williamsburg has been called "Disneyworld for history nerds." Each October, this colonial-era town boasts several festive events. There are various live reenactments of historical events that took place in Williamsburg centuries ago. Expect to encounter haunted escape rooms, ghost walks, and witch stories during your visit.
The town hosts a trick-or-treat on the famous Dog Street where you can visit old houses with costumed residents, which is fun and educational for all ages.
Oaxaca, Mexico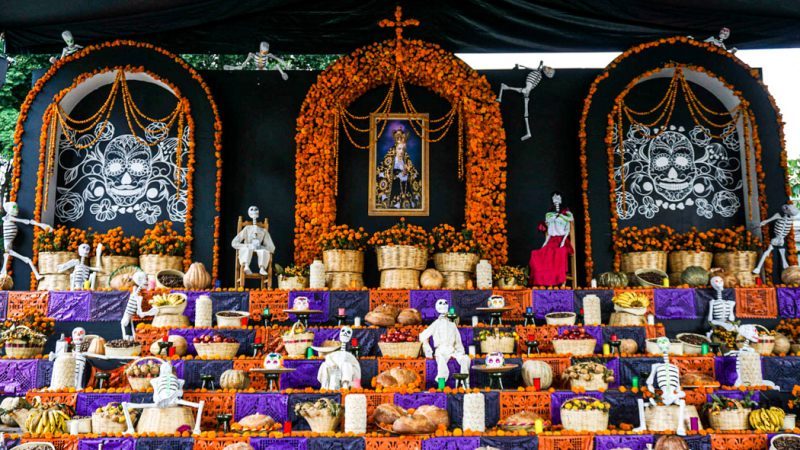 You'll have to travel south of the U.S./Mexico border for this next one, but you will be glad you went if you're willing to make the journey. They do things a little bit differently to celebrate The Day of the Dead (Dia de Los Muertos). The main celebrations take place from Oct. 31 through Nov. 2, but you can always find festivities starting early.
The entire country celebrates the Day of the Dead, but Oaxaca in southern Mexico is a particularly special place to observe the holiday. It is a time where they honor the members of their community who have passed, and the lines between the mortal world and the afterlife are said to become very blurred over the course of these three days.
One of the biggest traditions on Dia de Los Muertos is to create ornate altars honoring the dead — sometimes even decorating the graves of passed loved ones. While the overall tone of this holiday experience might not be as festive or spooky as the Halloween celebrations you are used to, it is a one-of-a-kind experience. Since celebrating such a big holiday in a foreign country can be overwhelming and intimidating, Ashley Smith of My Wanderlusty Life created a guide for first-timers.
Bonus Tip: FMCA's Road Atlas can help you if you're unfamiliar with Mexico's geography.
Kenova, West Virginia

Kenova, West Virginia, is a small river town of roughly 3,000 people. Yet the town welcomes more than 30,000 visitors each Halloween season to the famous "Griffith Pumpkin House." The former mayor of Kenova decorates his house each year with 3,000 hand-carved pumpkins, a community effort that takes dozens of volunteers and countless hours! The outcome is a magnificent spectacle.
The Griffith Pumpkin House slowly comes together throughout October as pumpkins are added one by one, but all 3,000 finished jack-o-lanterns will be on display by the time the town hosts its annual fall festival, CK AutumnFest. During this weekend, lots of other fall activities take place around town as well.
When you're in town, make sure to visit Griffith & Feil Soda Fountain and Pharmacy, an old-school drugstore and restaurant that has been open for more than 125 years. The pumpkin display initially began out front of this pharmacy with only four jack-o-lanterns, but it has since grown into one of West Virginia's most popular tourist destinations.
Disney World's Fort Wilderness Campground
Orlando, Florida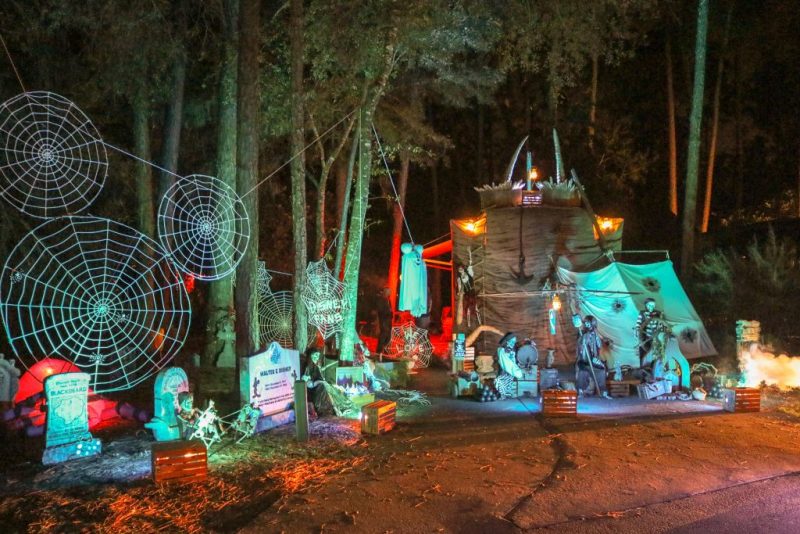 Did you know that Disney has its own campground in Orlando? That's right, it's called Fort Wilderness and in true Disney World fashion, the place is amazing! 
As early as September, campground patrons take it upon themselves to decorate their campsites with VERY ornate Halloween decorations and displays. There is even a Halloween parade thrown by the campers themselves! The entire campground turns into a Halloween wonderland.
Even though Fort Wilderness may feel like you are already in the theme park itself, we DO recommend going into Disneyworld for at least one day during your stay. Mickey throws a not-so-scary Halloween party every season that you won't want to miss! If you're more of a horror-junkie looking to have legitimate scary experiences, Universal Studios hosts their seasonal Halloween Horror Nights on select dates through early November.
Lake Rudolf State Park
Santa Clause, Indiana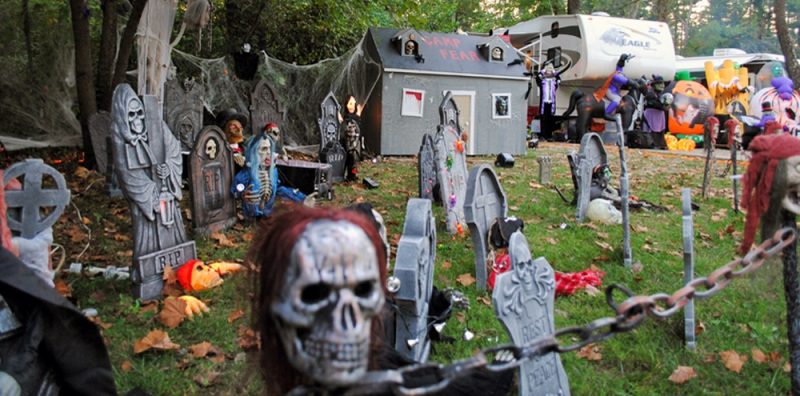 We know what you're thinking…. No, we don't have our holidays mixed up (even though Santa Clause, IN, also made our list of Christmas destinations). In fact, for a town called Santa Clause, Halloween is a still pretty big deal!
Lake Rudolph Campground and RV Resort hosts seven spooky weekends in September and October. Enjoy activities like community ghost stories,  hay rides, costume contests, and horror movie screenings. This campground has become a mecca for campers who want to celebrate Halloween in the comfort of their RV. And while you're in town, you have to check out Happy Halloween Weekends at Holiday World.  The amusement park has haunted mazes, roller coasters, live shows, and more.
---
Have you been to any of these places for Halloween? Or perhaps you have another favorite Halloween or fall foliage destination. Let us know in the comments below!