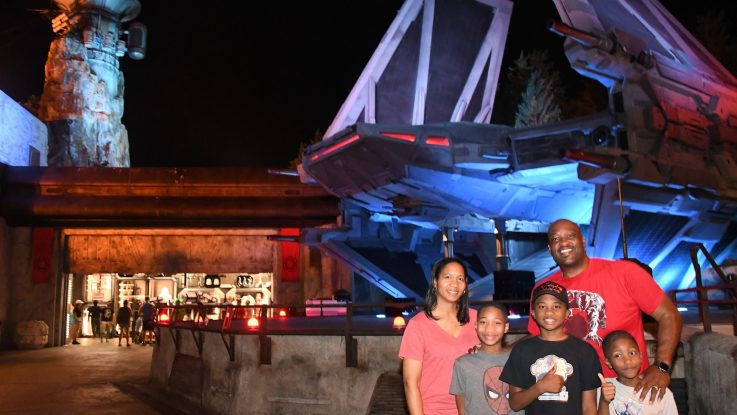 Who has seen Star Wars? It's really hard to find someone who hasn't seen at least one of the movies, right? I admit it…I'm a Star Wars fan and I've dreamed of visiting Star Wars Galaxy's Edge. Yup, I said it out loud. Not a fanatic, just a big fan. You never know how a movie will impact your life. When I was a young boy, as I sat in that movie theater the screen went dark…I had no clue what to expect next….then the screen flashed the now iconic words:

 So I definitely enjoy being a Star Wars fan. I've tried to make my kids Star Wars fans as well, and while they appreciate the movies, only KJ would fall into the same fan-class as myself.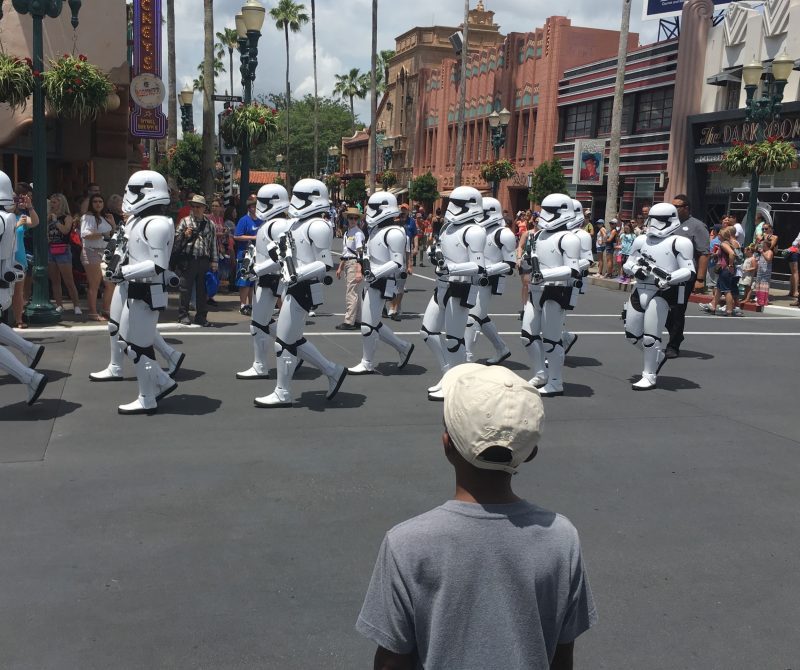 But Disney didn't build this just for Star Wars fans. Star Wars Galaxy's Edge was built an immersive experience that everyone can enjoy, including our entire family.
Planning the Trip
When I heard about the 2019 opening of Star Wars Galaxy's Edge at Disney World in Orlando, I just knew I had to go visit. I was concerned about the heavy crowds, so being there on the first day just wasn't going to happen. So, after checking our calendar, I found the perfect time to pair a visit to the Epcot food and wine festival (one of my wife's favorite events), a Star Wars Galaxy's Edge visit, and KJ's fall nationals ATA Taekwondo tournament. Talk about a home run when planning an RV trip!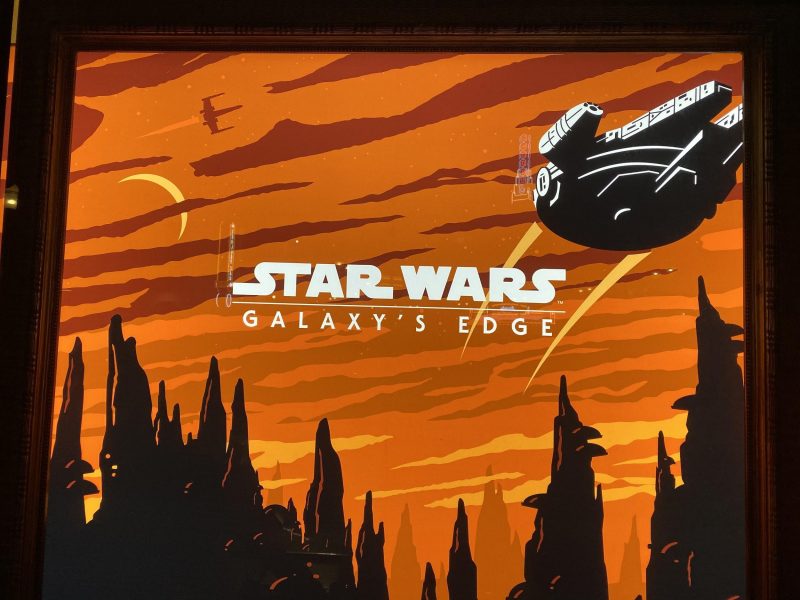 With quite a few weeks to pass before arriving, I couldn't help myself from reading some early reviews and watching YouTube videos. To my dismay, there were lots of disappointing reviews. All I could think of were the words of Darth Vader….
"I find your lack of faith disturbing." — Darth Vader
However, in no way was I going to let this affect us going and experiencing it firsthand. I would suggest you do the same. But I will admit — those reviews lowered my expectations for the experience.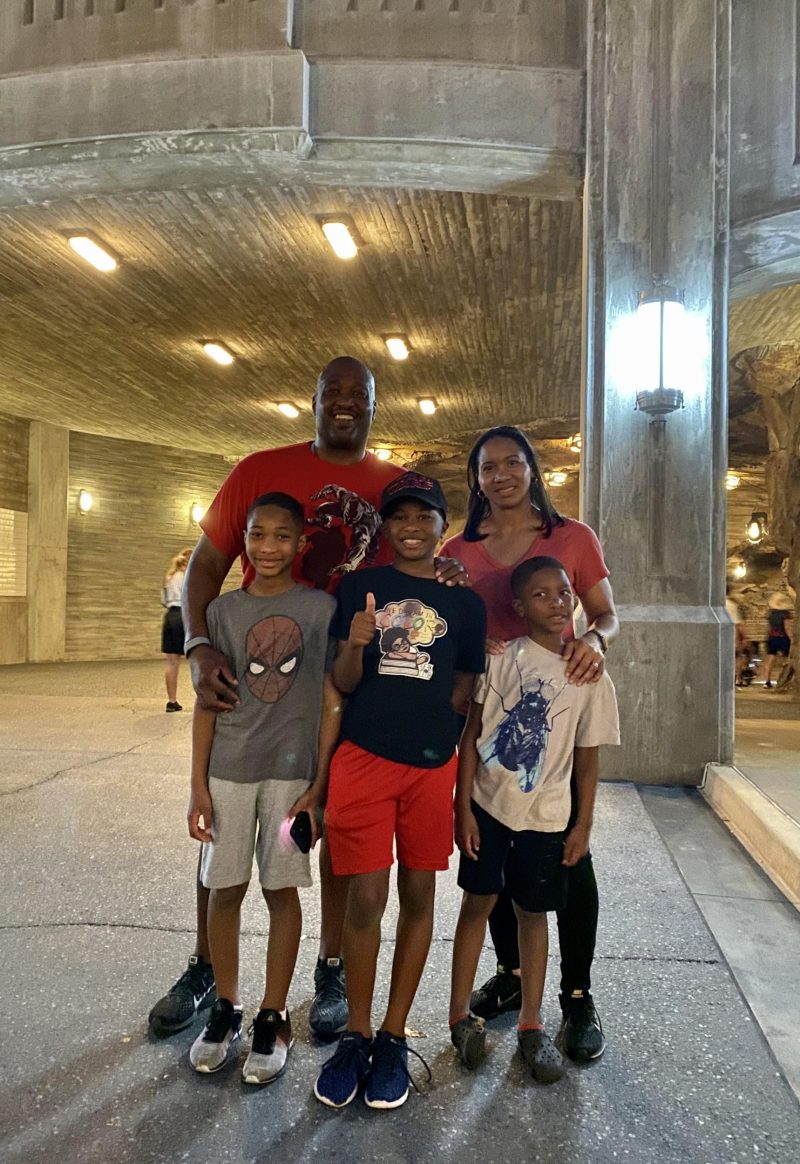 Star Wars Galaxy's Edge
Once we arrived in the Orlando area, we checked the wait times for Galaxy's Edge. To our surprise, at 6 p.m. there was no wait to enter, so we headed right over to Hollywood Studios. If you didn't know, Galaxy's Edge is located inside the park. You do not need any other tickets other than your park entrance. When you enter the tunnel to Galaxy's Edge, you are immediately transported to the planet Batuu. You land in an area called the Black Spire Outpost. It's known as a crossroads for travelers, adventurers, and smugglers in the Outer Rim region of space.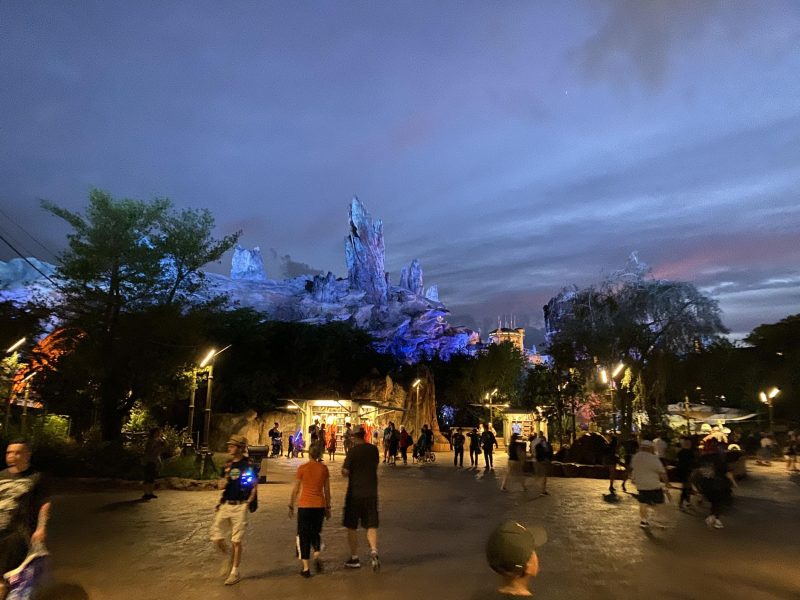 The toughest decision was what to do first. Do we head right to Smuggler's Run (currently the only ride in Galaxy's Edge) and fulfill the dream of piloting the Millennium Falcon? Do we build our own droid or light saber? What about finally drinking the famous blue milk? With so much to do and see, we just jumped right in exploring this new world…
Got Milk?
In the original Star Wars movie, fans will remember Luke drinking blue milk at breakfast with his aunt and uncle. Pretty quickly, we spotted the milk stand and we just had to give it a try. They serve both varieties of milk — blue and green. (Luke Skywalker was seen drinking the green milk in the latest movie The Last Jedi.)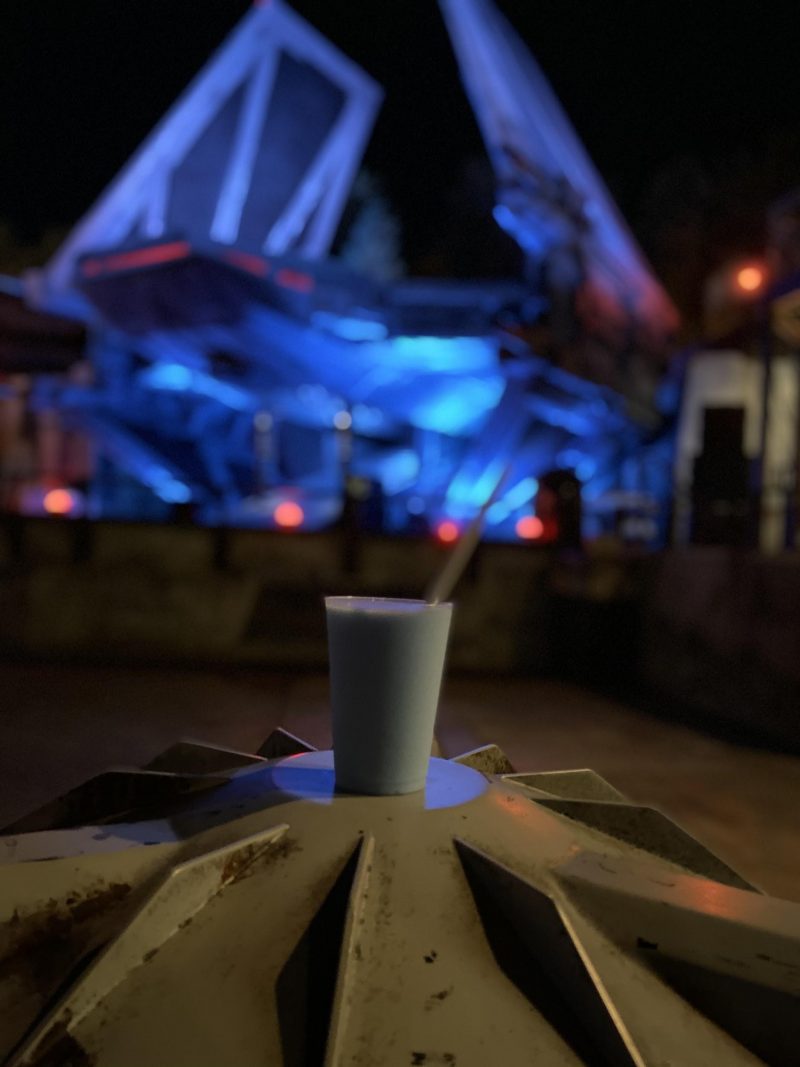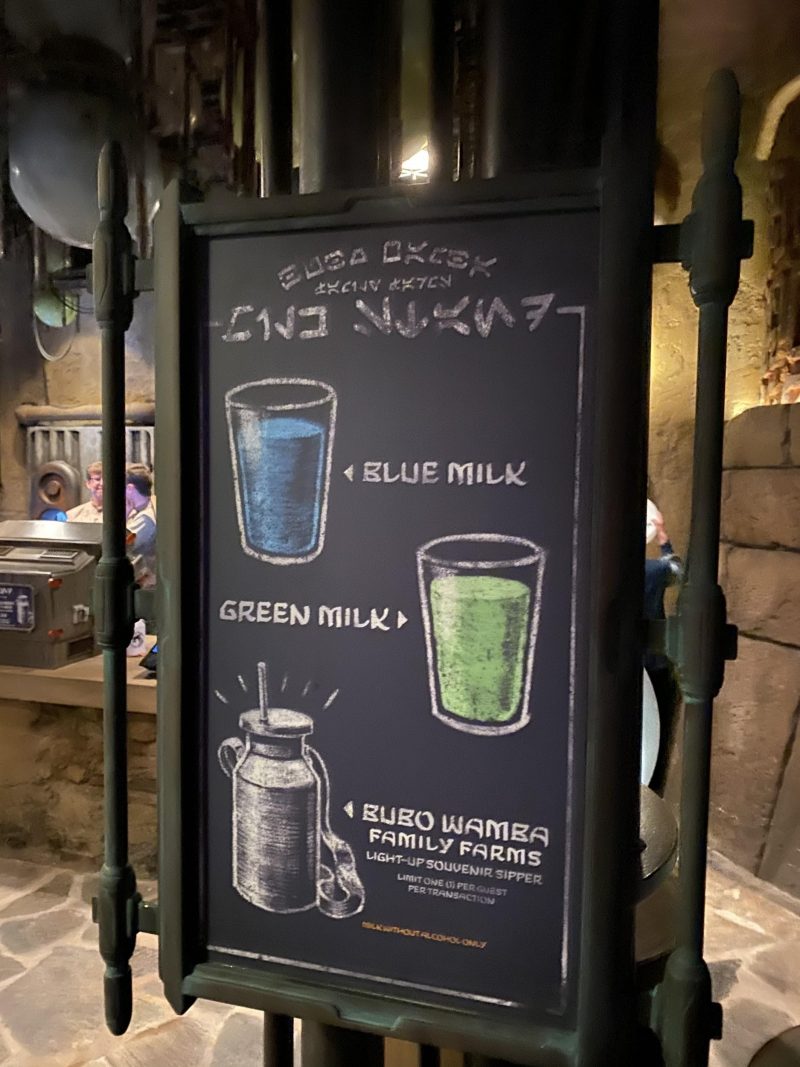 To be true to the original trilogy, I decided that we would try the blue milk. We ordered one with 5 straws to share.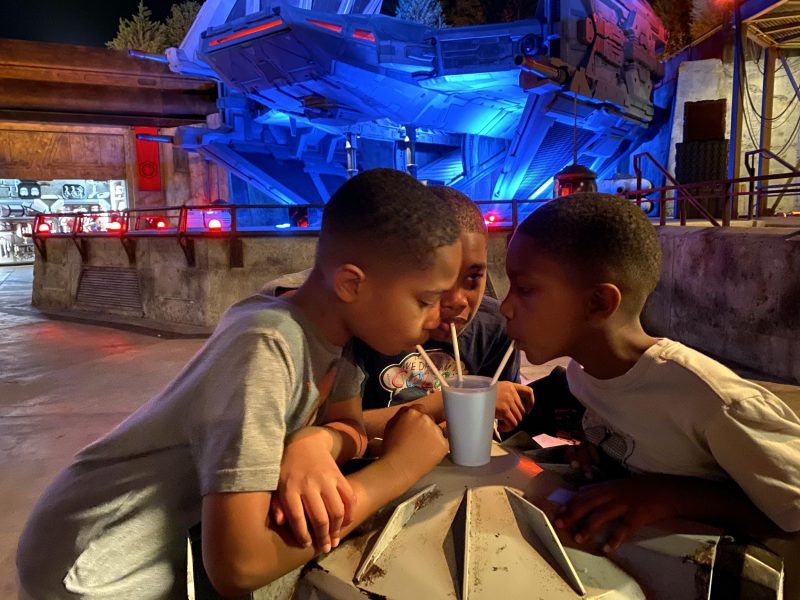 So how did it taste? Let's just say our boys didn't leave a single drop! Note: They do have adult versions with alcohol. Choose wisely….
Smuggler's Run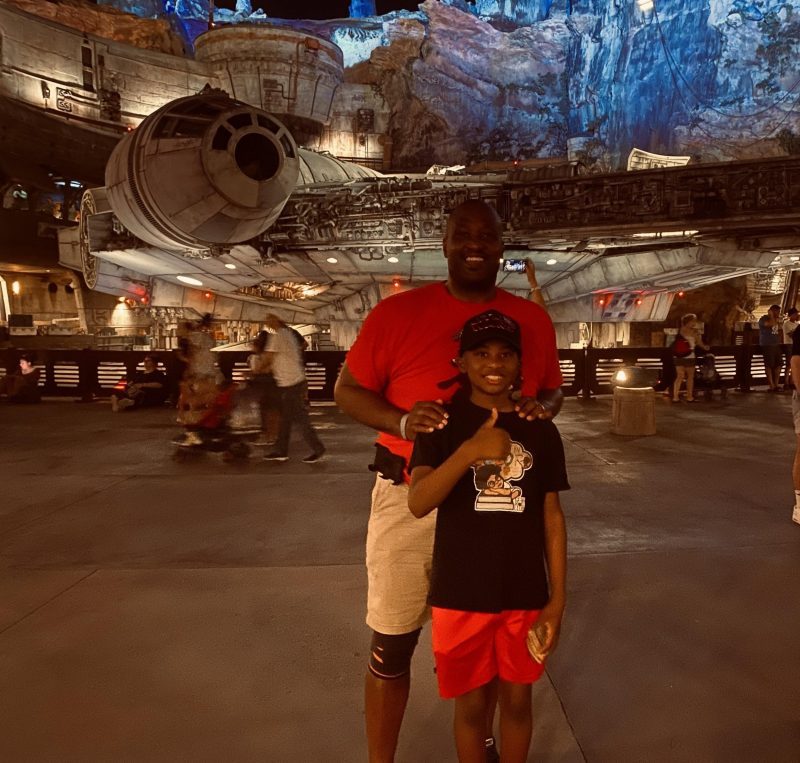 Who hasn't dreamed of being aboard the famed Millennium Falcon? I know I have! Smugglers Run ride allows up to six people to have one of three roles; pilot, gunner, or engineer.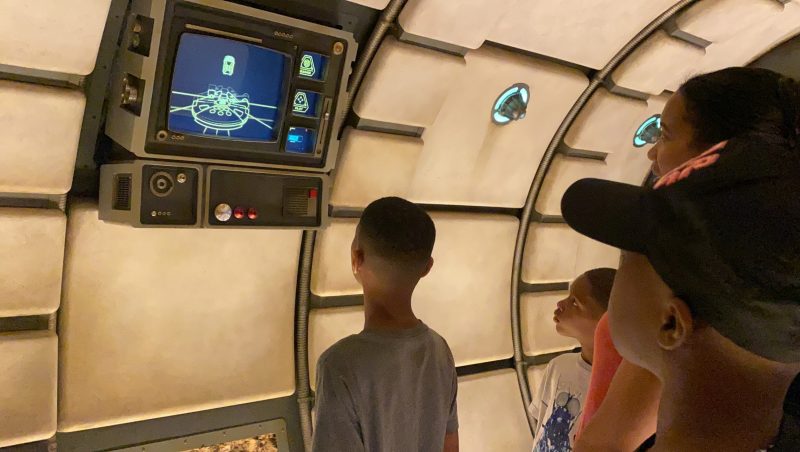 While waiting for your chance at one of these three roles, you wait inside the Falcon itself. The hallways felt like you were really inside the ship. Here we are getting our final pre-flight briefings: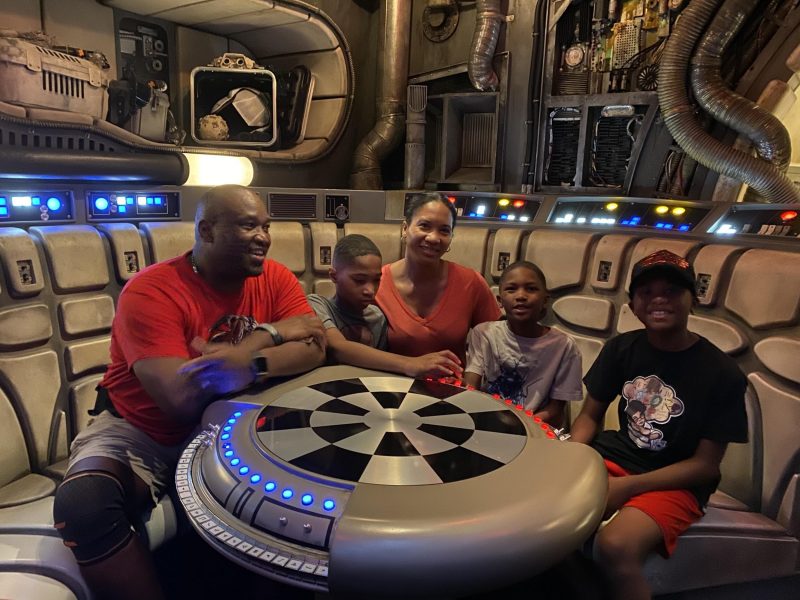 Exploring the Black Spire Outpost
There's so much to do and explore in Black Spire Outpost. It's like being transported directly into the world of Star Wars. Have you always wanted to build your own light saber? They have that. How about building your very own droids? Check!
Savi's Workshop
Need a new light saber to start your Jedi training? Head over to Savi's Workshop. There, you can build a custom light saber, bringing it to life with kyber crystals.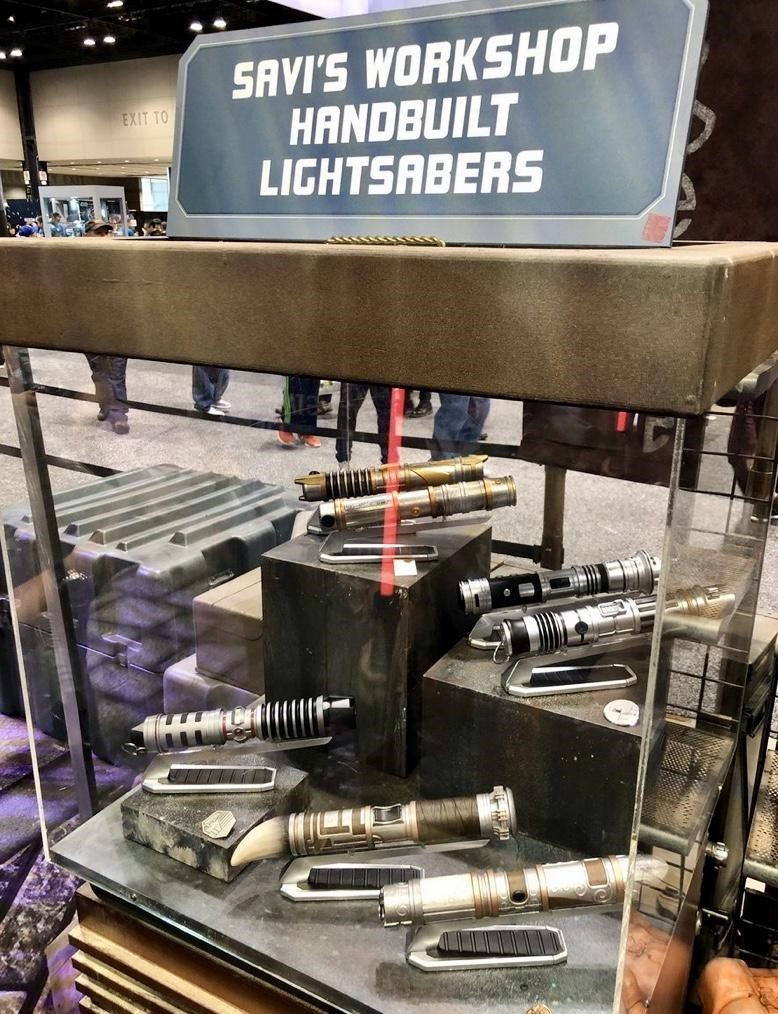 The Savi's staff will help you pick the right kyber crystal which is the heart of your light saber. You can find kyber crystals in red, blue, green or violet. Keep in mind it will set you back $200 for your newly created light saber.
Tip: Savi's Workshop is an incredibly popular  shop and light sabers are subject to availability. Reservations to the shop are highly recommended and can be made up to 180 days in advance via Disney's website.
Droid Depot
Did your droid just break down? Droid Depot is just the place for you. First, decide whether you want to build a BB-series unit or R-series.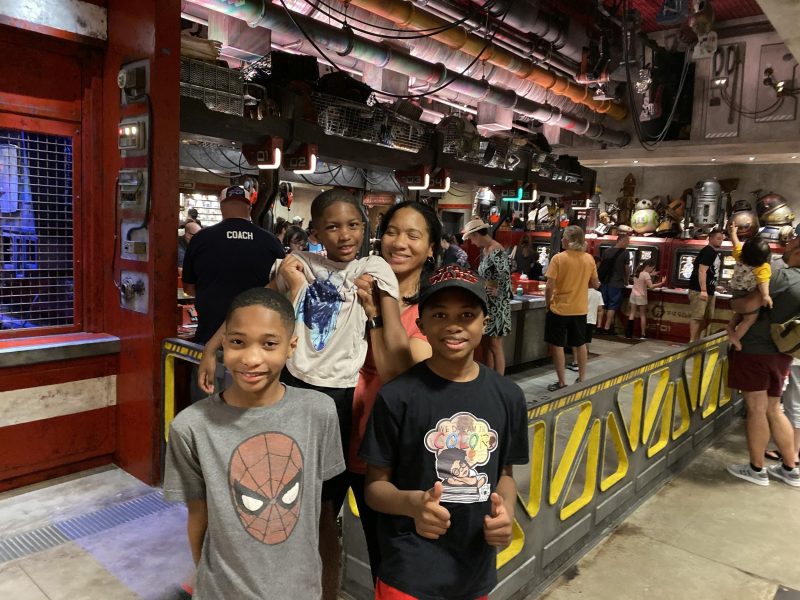 Once that tough decision has been made, the clerk will provide the blueprint for parts. Next, find a building station and begin droid-building. This authentic Star Wars experience will cost you $99.
Tip: Reservations for  theDroid Depot are highly recommended and can be made up to 180 days in advance. A valid, accepted credit card number is required at the time of booking.
Canteen
Hungry? Slide on over to the Canteen.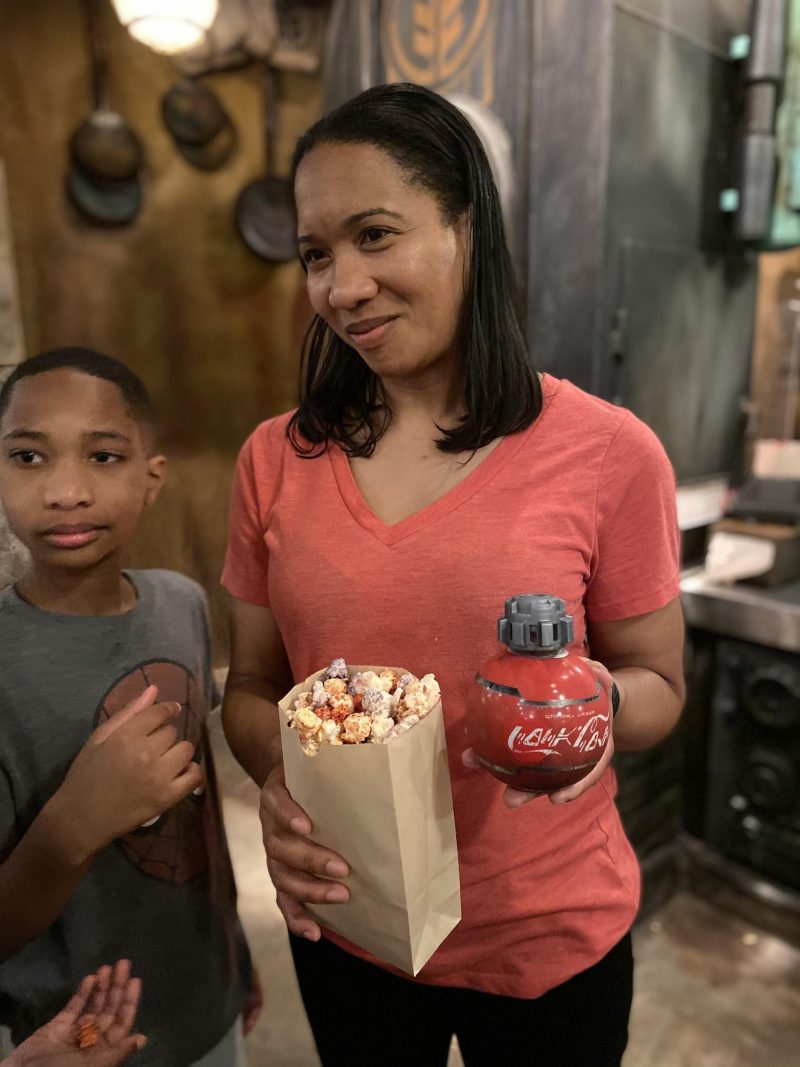 And if you need a souvenir, check out the marketplace. We grabbed the sweet & spicy popcorn and a coke.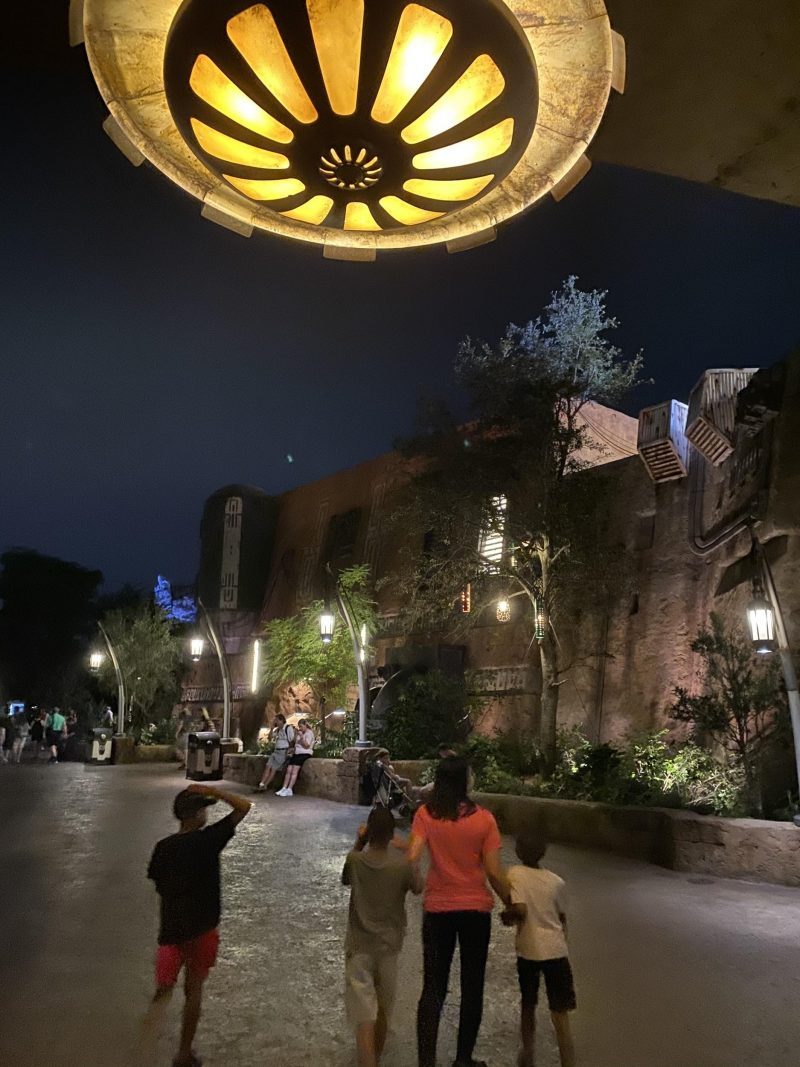 Coming Soon!
The next phase of Disney's Star Wars attractions is the soon-to-be-open movie Star Wars: Rise of the Resistance. The attraction will bring guests face-to-face with some of their favorite Star Wars characters, including Resistance heroes Rey, Poe and Finn, as well as Kylo Ren and General Hux of the First Order. Star Wars: Rise of the Resistance is one of the largest attractions Disney has ever created. Its massive show building is a world unto itself, housing two full-sized AT-AT walkers and a Star Destroyer hangar bay – complete with a TIE fighter and a garrison of Stormtroopers.
Our Final Thoughts
I really feel Disney did a fantastic job of letting fans immerse themselves in this Star Wars land. Is everything perfect? No, but I didn't expect it to be perfect. One of the coolest parts of the experience is once you enter the tunnel, you really feel like you are in a different world. And it will only get better with the opening of the Rise of the Resistance ride in December 2019.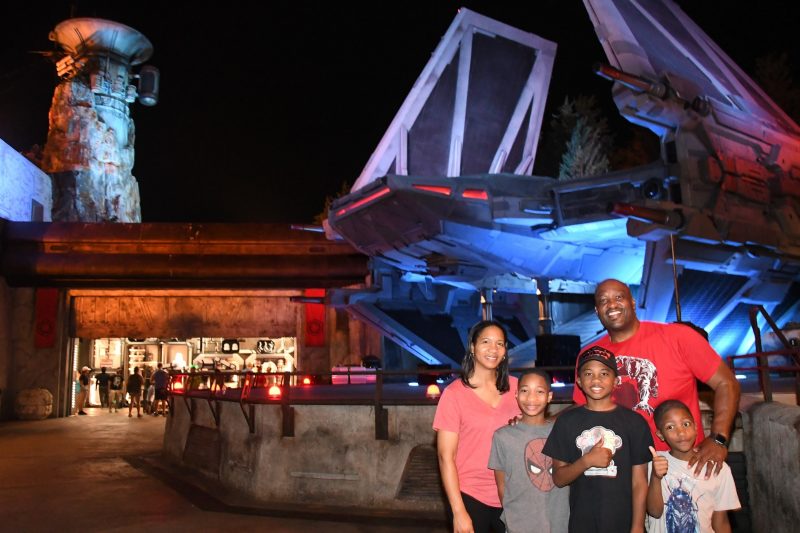 You don't need to be a Star Wars fanatic for this to be on your "must visit" list. I highly recommend that you do your first visit, if possible, at night. Do note that there is not a trace of Mickey Mouse anywhere in the Star Wars exhibits. So to get your fill of the rest of the park, check out our guide to planning a family RV trip to Disney. 
Overall, do we think you should give it a try? Let's reflect on the great Jedi Master's words:
"Do. Or do not. There is no try." — Yoda
We will definitely visit again and soon, and in the meantime… May the Force be with you!  
Meet the Family

Soulful RV describes themselves as not the typical RVers. Keith (a former NFL player) and Tia, F452083, are an African American, semi-retired couple with a large family. They share both the practical and fun sides of RVing on SoulfulRVFamily.com and social media, including Facebook and Instagram.