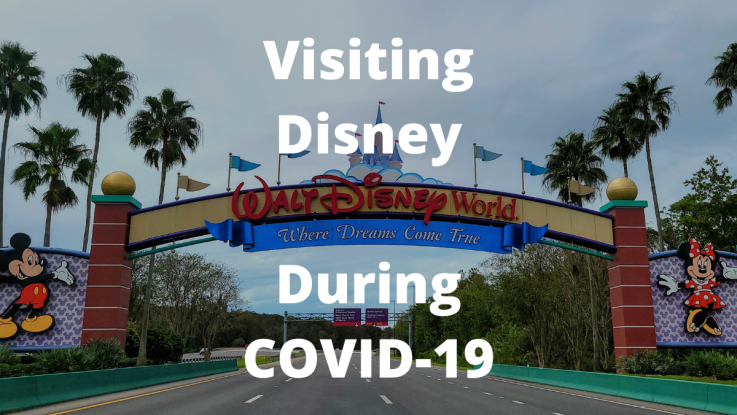 Let me first start by telling you my wife is a Disney fanatic. She loves Epcot, and our kids have definitely joined their mom. I enjoy Disney World in small doses. Disclosure: our family has been Disney annual pass holders for the past few years. In fact, we've created a new family ritual of spending Christmas and New Year's in the Disney parks. Holidays at Disney are among the most magical times to visit the happiest place on Earth.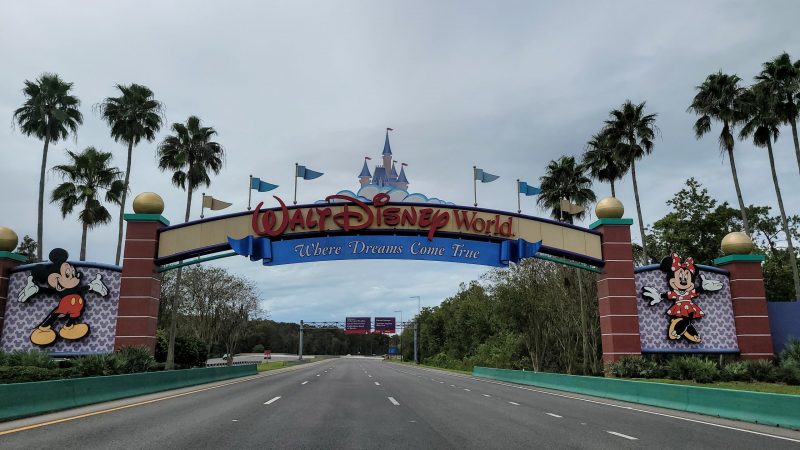 Our family is trying to decide whether to continue with our holiday plans at Disney or to put them off till next year due to COVID-19. You and your family may be considering spending this holiday season at Disney World. Whether you have reservations or not, this blog should be helpful in making your decision. We recently decided that we were ready to venture down to Disney to take a peek at how things are going in the parks. It was quite an eye-opening experience. Let me tell you why….
Reset Your Expectations
The Disney experience has changed dramatically due to COVID-19. Currently, the parks are limiting the capacity to only 25%. You are required to wear masks and have your temperature taken before you can enter the parks. Social distancing is required, there are no fast passes, and no park hopping allowed, meaning you can visit only one park per day. Are you aware that you now have to make reservations just to visit a park?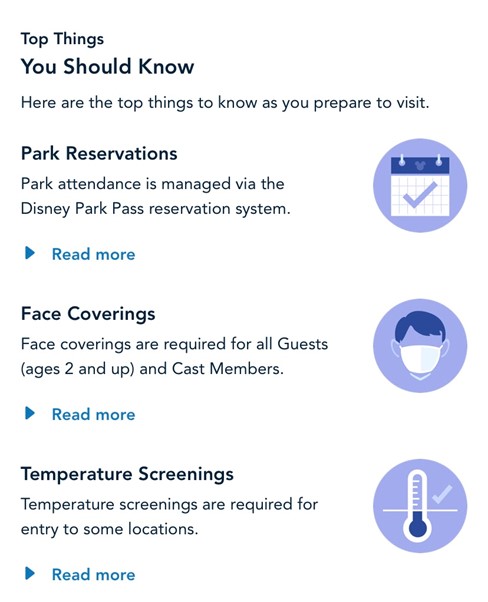 Yes, even with tickets you need to secure a park reservation just to enter a park. Even with the reduced capacity, the parks can feel crowded. To us, the biggest reason for this is the lack of options. With rides under construction and shows canceled, everyone is trying to do all the same experiences at the same time. Also, the food options have been limited. These are the reasons we definitely felt some of the bottlenecks in walkways and long waits in lines for rides. 
Make a Plan for Your Family
We set up some rules for our park visit, and the whole family agreed to honor those rules so that being back in Disney did not overrule our plans. Our first rule and the most important rule: if the park is too crowded, then leave. The only exception was if we were in line for the new Star Wars ride, Rise of the Resistance. Our second rule was we would not go to parks on back-to-back days. By breaking up our park sessions, we felt it would give us time to reflect on the visit.  
First Up, Hollywood Studios….
Being a huge Star Wars fan, my number one goal (outside of not getting COVID) was riding the new Star Wars ride, Rise of the Resistance. So, we decided the first park we would hit would be Hollywood Studios.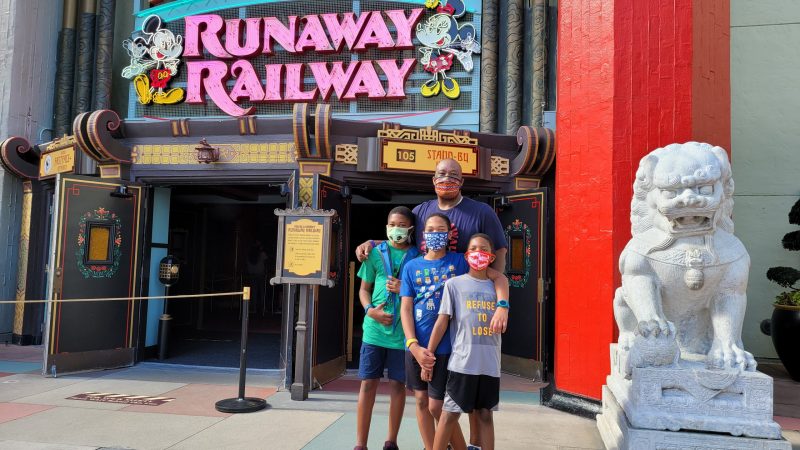 When we visited the new Star Wars land last fall, we were unable to get a boarding pass for the ride. It's the hottest and hardest ticket to get at Disney. Our visit was set up for a Monday, thinking it would be a less crowded day that would give us the best chance to try to accomplish our goal. While in line for the new Mickey and Minnie ride, I readied to try to secure a boarding pass for Ride of the Resistance. At 10 a.m. sharp, I refreshed my Disney app and did it again every other second. Poof! All the passes were gone, but we got boarding passes for group #45! You could hear the exhilaration of those who successfully acquired a boarding pass and the frustration of those who didn't.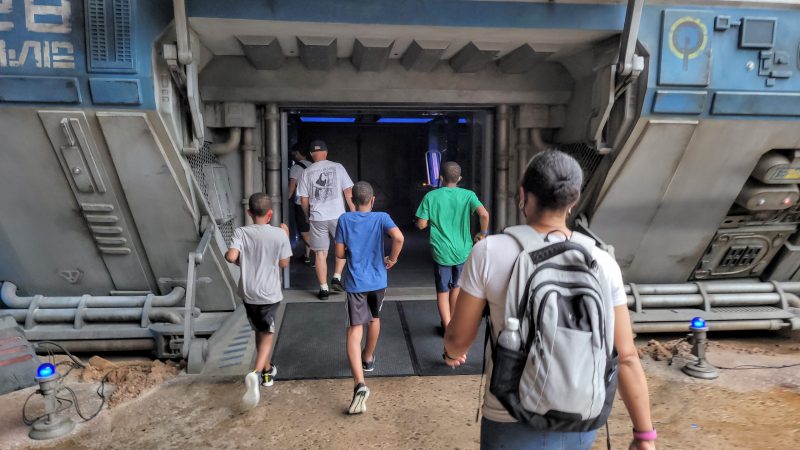 Three and a half hours later, we walked into the ride queue for Rise of the Resistance. Let me say, Rise of the Resistance was amazing!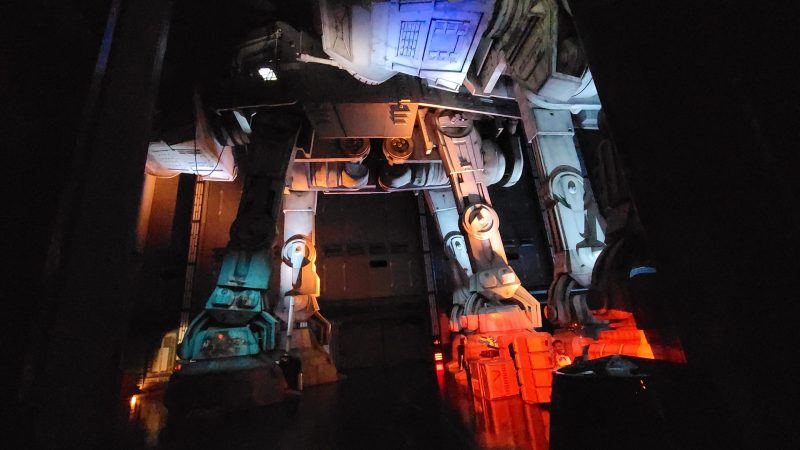 Mission accomplished!
Epcot – a Taste of the Food and Wine Festival
Epcot was the second park we visited, which is definitely my wife's favorite, particularly during the Food and Wine Festival. Typically, Epcot is one of the least crowded of the Disney parks. We could feel the difference in crowd size, but we still ran into times where social distancing was challenging while walking from country to country. Epcot is going through a lot of construction right now and has many rides and experiences shut down.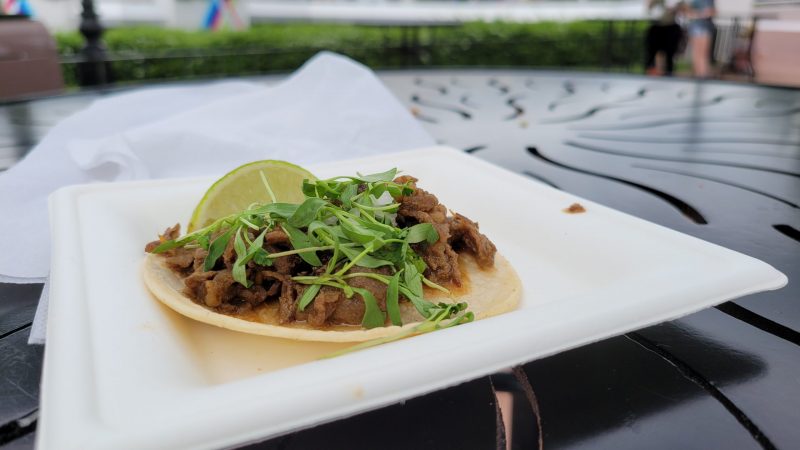 We were a little bit disappointed that some of the food carts were not operating during the week, but it did not deter my foodie wife. She found two great selections to try, and I even stumbled across the taste food at the NFL booth. Everything we tried we thoroughly enjoyed and the food was fantastic. 
Visiting Disney Springs
For our last stop, we decided to head over to Disney Springs and grab a meal. Not wanting to deal with large crowds, we decided to go at an off time. Arriving late afternoon around 2:00, we were greeted with the same safety protocols that were in place at the other Disney parks.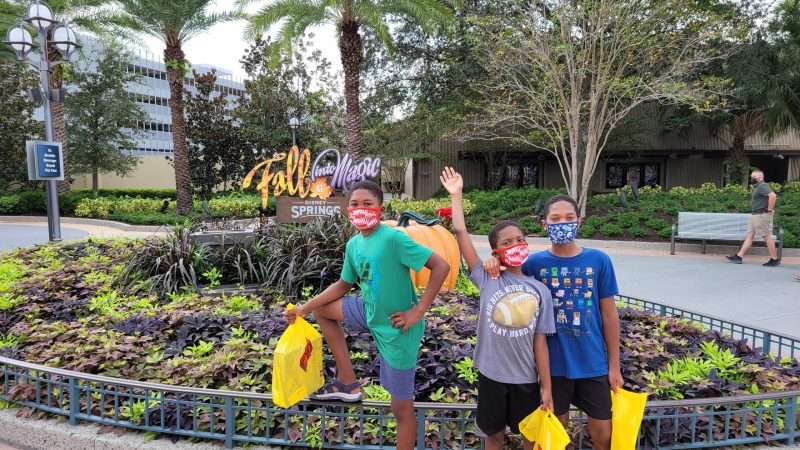 Passing the temperature check, we headed over to the Lego store.   Lego was limiting the number of people allowed to be inside the store at one time, which was very nice to see. We ended up settling on an outdoor eating place, grabbing a few Blaze Pizzas and a burger via mobile ordering.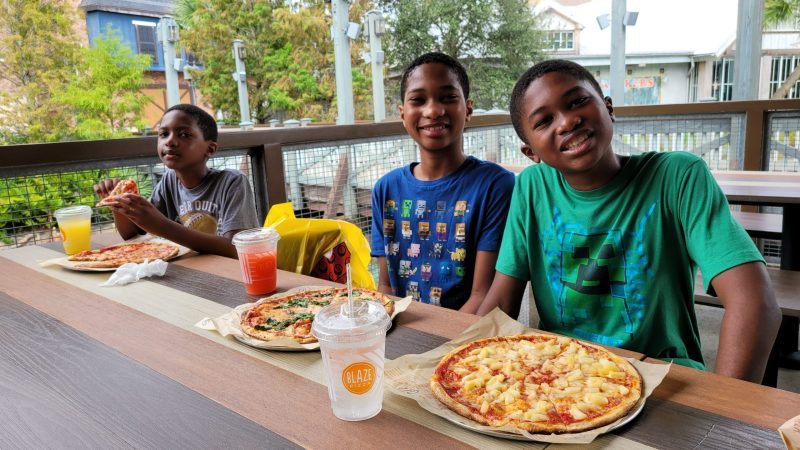 For dessert, we treated the boys to Sprinkles cupcakes. The Disney Springs stop was definitely a win.   
Christmas at Disney or Not?…That is the Question
As we began the 7-hour drive back to our sticks and bricks, we took plenty of time to decompress and talk about our experience at Disney. The question that you need to ask yourself is the same question facing our family: Is it worth it to come back to Disney this holiday season?  I would say for our family the answer would be NO.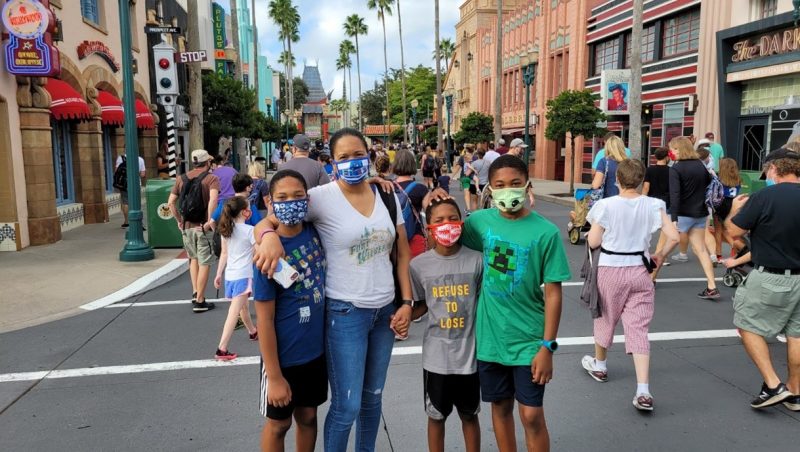 We will surely miss enjoying the Disney parks for Christmas and New Year's. But with much larger crowds than we experienced on this trip, we don't think the risk is worth it. We will just postpone our plans till next year. I know that every family is different and will need to make the choice that works for you. So, if you decide to go, I hope you have a wonderful holiday season in the most magical place on Earth
Meet the Family

Soulful RV describes themselves as not the typical RVers. Keith (a former NFL player) and Tia, F452083, are an African American, semi-retired couple with a large family. They share both the practical and fun sides of RVing on SoulfulRVFamily.com and social media, including Facebook and Instagram.