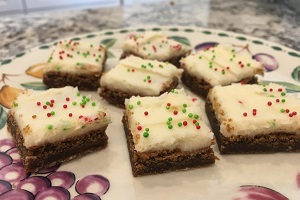 Gingerbread cookies are a big hit in our house, although I don't make them as often as I should. If you love gingerbread men but not the time it takes to make and decorate them, then you're in for a treat today.
Gingerbread Cookies on the Tempe Town Lake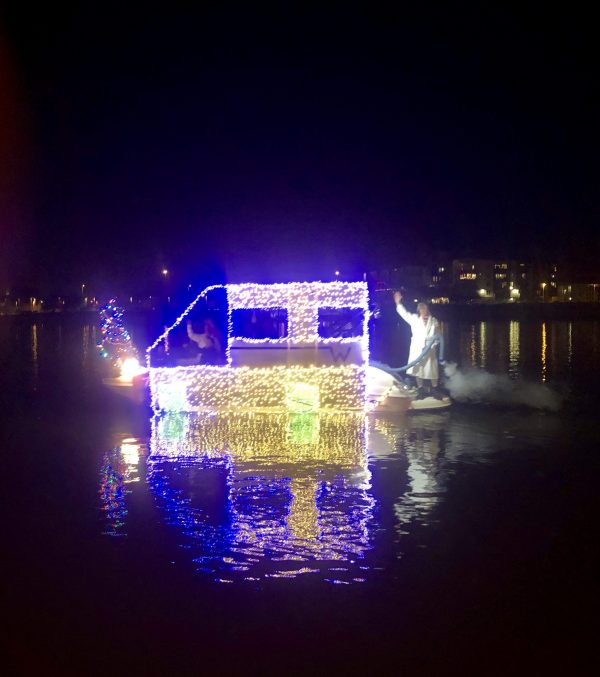 I made these yummy gingerbread squares last week as a dessert on the boat for the Tempe Festival of Lights Boat Parade.  It's a fun event on Tempe Town Lake every year and one of the few times motorized boats are allowed on the man-made lake.  This year there were over 40 decorated boats that motored up and down the lake. We were the RV from Christmas Vacation with Cousin Eddy in his white robe on the back.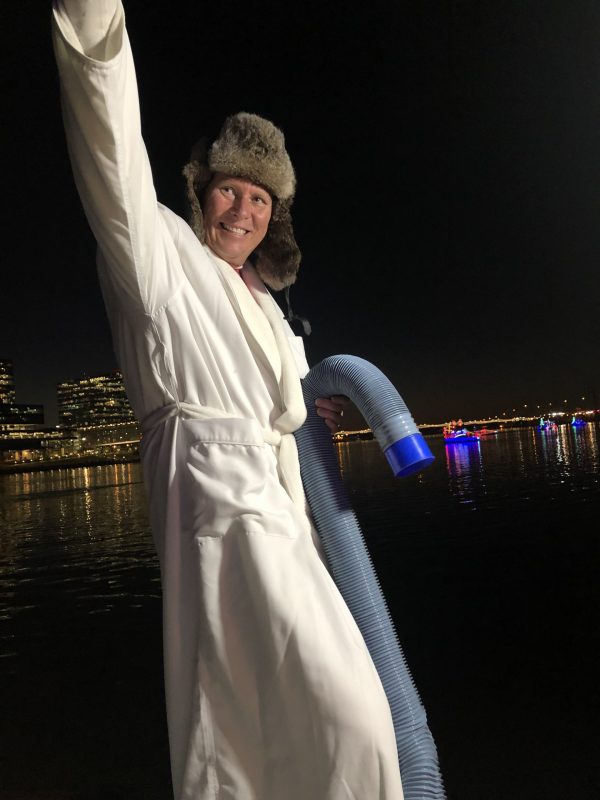 I needed something tasty that wouldn't make a mess and preferably one that didn't require any silverware.  I'd made these before so I knew just how delicious they were.  The only change I made this time was to add festive sprinkles and cut them into bite-sized pieces.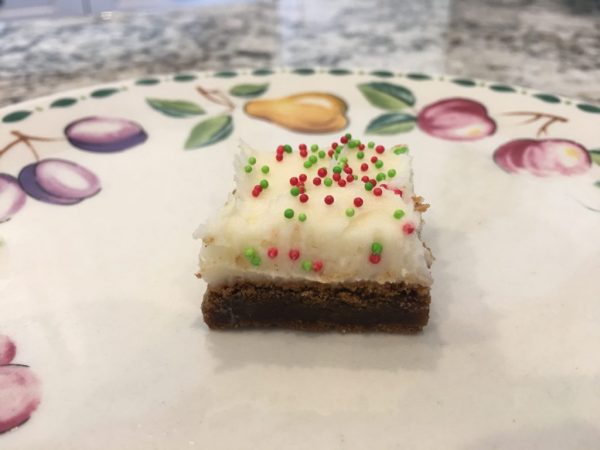 The Perfect Dessert for the Holidays
If you're looking for a delicious and easy treat to take to a holiday party, this is it.  As we get closer to Christmas the calendar gets jammed packed with parties and other plans and the to-do lists seem never-ending.  You can multitask with this recipe by addressing Christmas cards while they bake or making yet another grocery list as your house fills with the yummy scent of gingerbread.
My Process
The batter comes together quickly.  Begin by mixing the butter, sugars, vanilla, and molasses. After that, add the egg and mix well.  Add the dry ingredients and mix until combined well.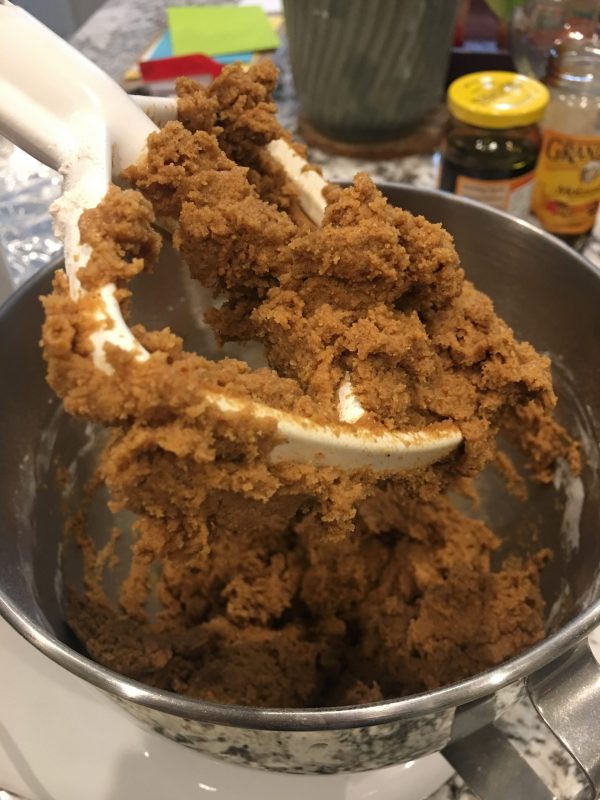 Press it into a 13 x 9 pan and pop it in the oven for 15-20 minutes; 18 minutes is perfect in my oven.  Because I planned on cutting them into small pieces, I lined the baking pan with foil.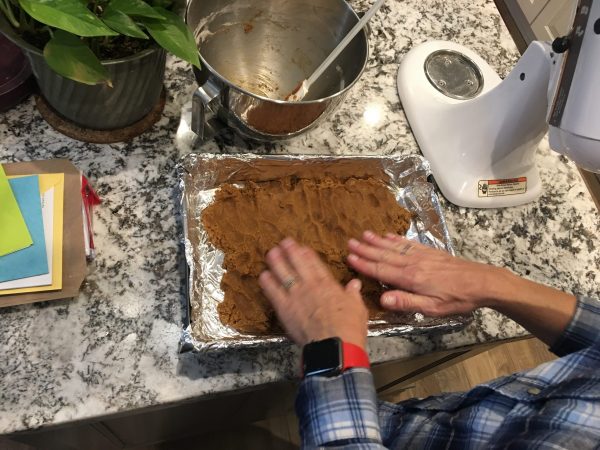 After they cooled, I lifted the foil out of the pan to frost them and used my long knife to cut the pieces.  If you do this, be careful not to cut all the way through the foil.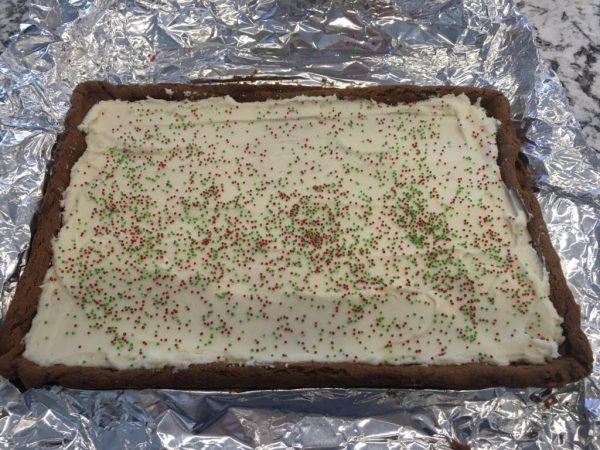 I think I need to make these again this week.  They look too good to wait to have them again.
Gingerbread Cookies Recipe
Gingerbread Recipe
1/2 cup butter, melted
 3/4 cup granulated sugar
 1/4 cup brown sugar
 1/2 teaspoon vanilla extract
 1/3 cup molasses
 1 egg
 2 teaspoons baking soda
 2 cups all-purpose flour
 1 Tablespoon ground cinnamon
 1/2 teaspoon ground ginger
 1/4 teaspoon ground cloves
 1/4 teaspoon ground nutmeg
 1/2 teaspoon salt
Cream Cheese Frosting Recipe
 1/2 cup butter, softened
8-ounce package cream cheese, softened
 1 lb (3 3/4 cups) powdered sugar
 1 teaspoon vanilla extract
Steps
Preheat oven to 350 degrees. Line a 13×9 pan with heavy-duty foil, making sure you have a good-sized overhang.
In a large bowl, beat butter, sugar, brown sugar, vanilla, and molasses on medium speed until creamy.
Add the egg and stir until completely incorporated. Add baking soda, flour, spices, and salt and mix until well combined. Spread dough into prepared pan, using clean hands or a rubber spatula to press the dough to the edges of the pan. Bake for 15-20 minutes; do not overbake! Cool in a pan with a wire rack.
For the frosting: Cream together the butter and cream cheese. Add the powdered sugar and vanilla. Slowly mix on low and then beat it on high until fluffy.
When gingerbread cookies have cooled, frost with cream cheese frosting or dust lightly with powdered sugar. Lift bars from pan, fold foil down and cut into squares.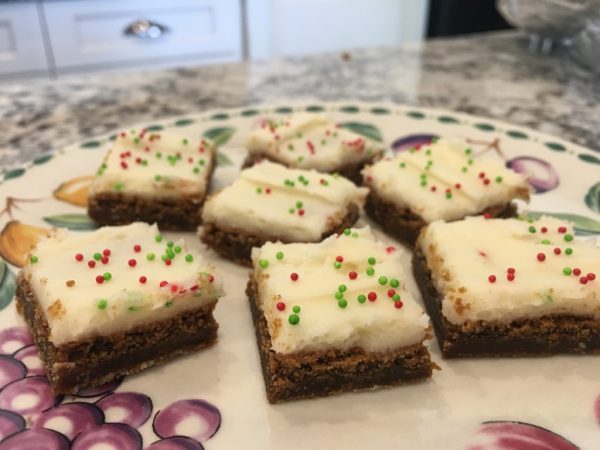 Meet the Family
I'm Maureen Milne, F446881 . I'm a mom of two (now grown-up!) boys, ages 26 and 24. My husband, Mark, and I have been married 30 years. We are an adventurous family; our friends call us "X-Games."  We are avid hikers, cyclists, and skiers (both snow and water). Mark does triathlons and we run in 4-5 races a year. We've been RVing together since we were teenagers in 1984. I share our RVing adventures on my blog, M&M Hit The Road. I also post stories and pictures on Facebook and Instagram.