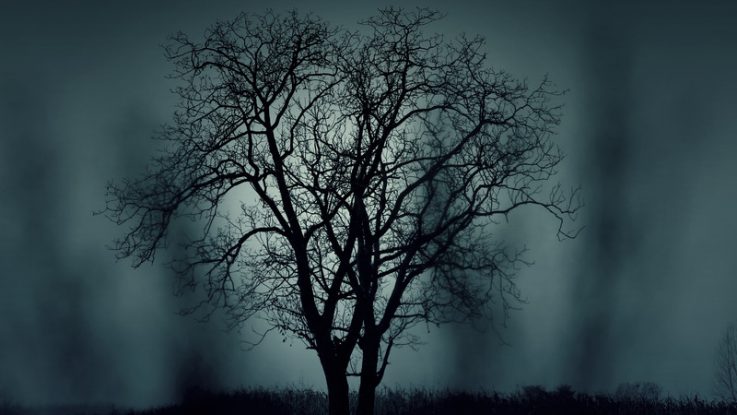 October is the perfect month for a spooky road trip, and FMCA has rounded up 10 Halloween RV trips for you. Some are downright frightful; others are family-friendly. So pick your poison, pack up the RV, and have a fang-tastic time!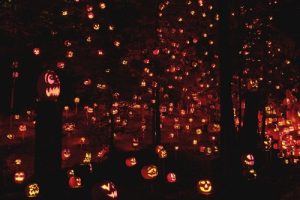 Jack O'Lantern Spectacular
Louisville, Kentucky
First up is Jack-O-Lantern events which are held across the U.S., but one of the largest celebrations takes place in central Kentucky at the Jack O'Lantern Spectacular. The event is held in Louisville's Iroquois Park with 5,000 carved pumpkins lining a walking trail. In fact, the trail even lights up at night, complete with themed scenes and music.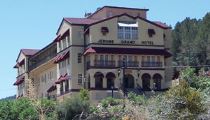 Jerome, Arizona
Jerome is located in Arizona's Black Hills, about 100 miles north of Phoenix. It was founded as a mining town in 1876 with a bustling business district, including a hotel and community hall. (Learn more about Jerome here.) These buildings still stand today, and many are restored. 
But not only the buildings have lived on…. The town boasts many local ghost stories, centering around the old mines. Each year, the Jerome Historical Society shares its ghostly history with an annual Ghostwalk, an hour-long walking tour that highlights the town's colorful past.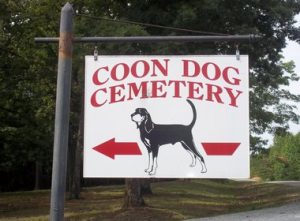 Coon Dog Cemetery
Tuscumbia, Alabama
If you've seen the movie Sweet Home Alabama, you may be familiar with the Key Underwood Coon Dog Memorial Graveyard, AKA the "Coon Dog Cemetery." Approximately 150 coon dogs, including several world champions, have been laid to rest in this remote area near the Natchez Trace.
If you'd like to visit, keep in mind that the movie shows a recreated cemetery. The movie set created a cemetery within the town. However, the actual cemetery is much harder to find. The Coon Dog Cemetery is seven miles west of Tuscumbia on U.S. Highway 72. Turn left on Alabama Highway 247, and travel approximately 12 miles. Then turn right on Coondog Cemetery Road, and follow the signs. The graveyard is open every day during daylight hours.
Bonus: The Coon Dog Cemetery is approximately 20 minutes from Red Bay, Alabama, home to one of Tiffin Motorhome's factories. Anyone interested in the RV lifestyle is invited to take a factory tour.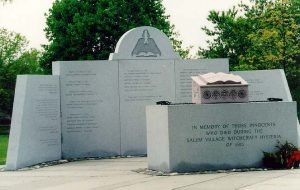 Salem Witch Museum
Salem, Massachusetts
Fly your broom…err, drive your RV…to Salem, site of the Witch Trials of 1692. During this time, 14 women and six men who were believed to be practicing witchcraft were executed. Visit the Salem Witch Museum, home to 13 life-size stage sets that make the visitor feel as if he or she is in the middle of the "Witchcraft Hysteria."
Or take a self-guided tour of nearby towns that were embroiled in the witch hunt. In these towns, you can visit original houses or foundations, as well as grave sites relevant to the trials.
It's worth noting that Salem is pedestrian and cyclist-friendly. While it may be hard to navigate an RV around the city, there are several campgrounds to stay at and public transportation.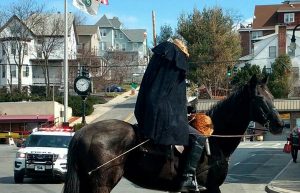 Sleepy Hollow, New York
Yes, Sleepy Hollow is a real place! Visitors can see (most of) the famous locations that were featured in Washington Irving's short story The Legend of Sleepy Hollow. Visit the Sleepy Hollow Cemetery, complete with spooky tombstones, twisting roads, mausoleums, and statues. Guided cemetery tours take place April through November.
However, you may be disappointed if you are expecting to see the infamous bridge that Ichabod Crane crossed to escape the Headless Horseman. The bridge is not real – at least not how Irving described it in his story.
Whatever bridge existed in the 1700s rotted away. In fact, historians believe it was most likely not a covered bridge in the first place. In this region of New York, covered bridges were not typically built.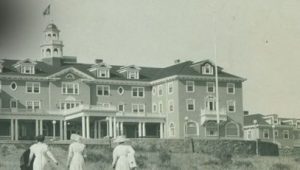 Stanley Hotel
Estes Park, Colorado
REDRUM. Are you a fan of The Shining? Take a road trip to the Stanley Hotel, the inspiration of Stephen King's novel and the eventual movie by the same name. 
The hotel opened in 1909 in Estes Park. Soon after, the hotel's owner helped to develop the town as a posh mountain getaway. Take the Night Spirit Tour to hear the tales of the hotel's unearthly residents. The tour is not recommended for children under age 10.
Too spooked to stay a night in the hotel? No worries – the area has many campground and RV parks.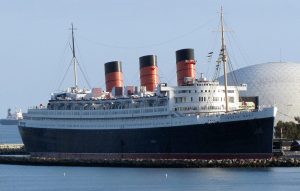 The Queen Mary
Long Beach, California
The Queen Mary is one of the world's most haunted ships. It's been named one of "America's Top 10 Most Haunted" places by Time magazine. The ship has many events to help visitors explore its haunted past:
Paranormal Ship Walk Tour – Book a tour during the day or night. This is the tamest adventure.
Paranormal Investigation — Feeling more brave? This tour is held nightly. You will be able to explore active spirit locations not open to the general public. 
Dining with the Spirits – Join a unique group dining experience and history tour.
Dark Harbor – Instead of a traditional haunted house, think of this like a haunted ship. The event normally runs September through November and features costumed figures that will give you a bone-chilling experience. May not be suitable for all ages.  
There are several FMCA Commercial Member Campgrounds and RV parks in Santa Ana and Anaheim, which are both about 20 miles from Long Beach. Search here.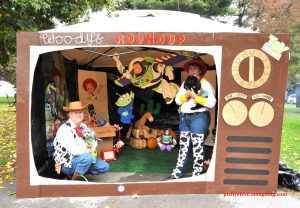 Kentucky Horse Park
Lexington, Kentucky
The Kentucky Horse Park transforms into Halloween heaven for two weeks each October. Check out this video of the festivities. Each year, the park presents an annual Halloween show where horses and their riders wear costumes. The park's campground hosts a Halloween-themed campout with costume awards, trick-or-treating, crafts, golf cart parades, entertainment, and more.
Campers can access full hookup spots or primitive sites, and reservations normally book months in advance. If you're not able to snag a spot, daily admission tickets are available to participate in all the fun.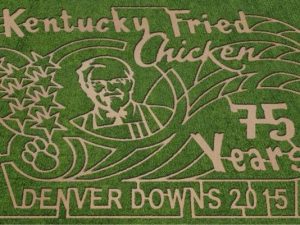 Denver Downs Farm Corn Maze
Anderson, South Carolina
What's more fun than a good, old-fashioned corn maze? Denver Downs Farm is ranked on several "Top-10 Corn Maze" lists, thanks in part to the unique images it etches within its cornfield each year. The farm boasts more than 35 family activities, including a pumpkin patch, live entertainment, petting zoo, and fall fun like bonfires. And, if you're feeling brave, there's a "Harvest of Horror" scare-fest for adults, too.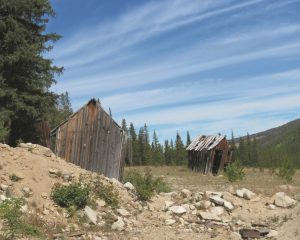 Coolidge, Montana 
Does the idea of visiting a ghost town thrill you? Coolidge,  located in southwest Montana, is on the National Register of Historic Places. Coolidge was a vibrant mining town from 1914 to 1932. Read more about the town in Family RVing magazine. 
To get to this ghost town, you must drive up a 5-mile gravel and dirt road. Your best bet is to drive a passenger vehicle to Coolidge. The gravel/dirt road can handle smaller RVs, but the rough ride may cause owners to avoid it. A parking lot big enough for smaller RVs and cars awaits at the end.
Nearby camping is available at Beaverhead-Deerlodge National Forest campgrounds and at commercial RV parks in Dillon.
---
Looking for more spooky destinations? Check out our most recent list!
Are you planning a Halloween-themed road trip this fall? Where are your favorite Fall destinations? Where is the spookiest place you have visited? Or maybe you are planning a Halloween party held in your RV. Comment below.