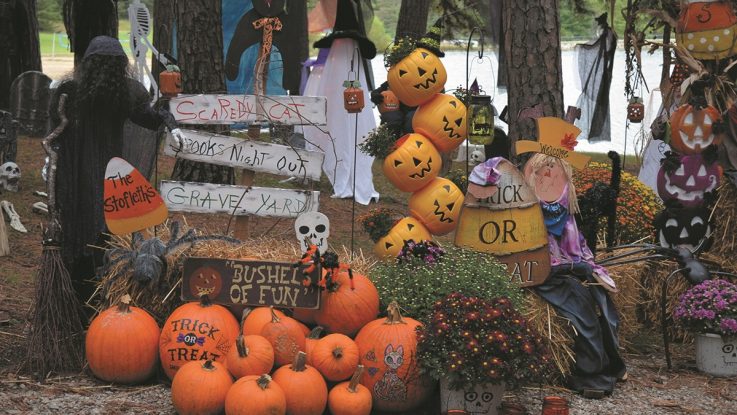 FMCA has planned a scary-good Halloween RV party for you. Read on for everything you need to throw the perfect Halloween party in your RV — food, drinks, activities, and decorations.
Halloween RV Party Tip #1: Let's Decorate
First, decorate your RV site and picnic tables in the most festive way possible. 
Campground sites can be easily decorated with spider webs, gravestones, skeletons, and ghosts. Transform your entire campsite into a mini graveyard or haunted mansion. You can add festive Halloween string lights, spotlights, or strobe lights wherever you see fit. 
Don't forget: Your camper or RV can "dress up," too. You can disguise your RV as Frankenstein or another monster by creating a face on a large bed sheet or tablecloth.
Halloween RV Party Tip #2: Let's Cook
Next, let's talk about the food!
Halloween recipes are fun because of how creative you can be with ingredients. When else can you add "eyeballs" as garnish? Food coloring can transform any dish into a spooky treat or any drink into a  "witch's brew." Hot dogs can be made into "fingers" and caramel apples can be transformed into "poison apples." See below for photos and recipe links for appetizers and desserts.
And make sure you add fake spiders and gummy worms to your table to up the fear factor!
Recipe Links
Ghost Graveyard Dessert Shooters
Halloween Cream Cheese Swirl Brownies
Halloween RV Party Tip #3: Let's Dance
Remember — no party is complete without the perfect mix of songs. Luckily, FMCA has created a Halloween playlist for your awesome party! This playlist is stacked with scary sound effects and Halloween-themed songs.
Halloween RV Party Tip #4: Let's Play
As for the next tip, are you wondering how will you keep everyone entertained? No one will be caught standing around at your RV party with these awesome Halloween games. These outdoor activities are suitable for any campsite.
You'll need: 6-8 pumpkins, 3 glow stick necklaces
This game is as easy as it sounds! Plus, you can make the game suitable for all ages by simply adjusting the throwing distance for younger children.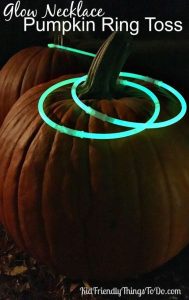 You'll need: 2 bags of apples, 1 large bucket filled with water
Bobbing for Apples is a Halloween party classic. Plus, since you'll be outside, clean-up is easy if water spills.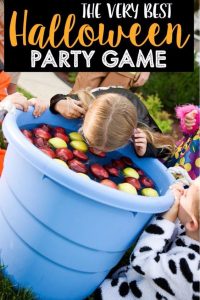 You'll need: Plates, whipped cream, gummy worms
Warning: This game can get a little messy. Hide the worms in whipped cream on disposable plates, give each participant a plate, and set a timer. Participants are not allowed to use their hands. The winner is whoever can find the most worms in the designated time.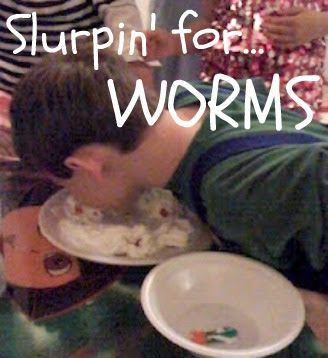 What about prizes? Tie Halloween candy to a ribbon to make candy medals!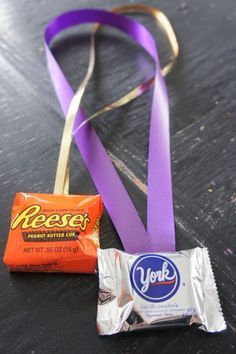 We hope this Halloween party planning guide sparks your spooky side! For more ideas about costumes, recipes, activities, and decorations, visit FMCA's Holidays in Your RV Pinterest Board. Or, if you'd rather hit the road this Halloween, take a road trip to one of these scary-good sites. 
Are you dressing up for Halloween this year? Do you attend a Halloween trick-or-treat event at a campground? What are your favorite ways to celebrate Halloween while camping? Comment below.