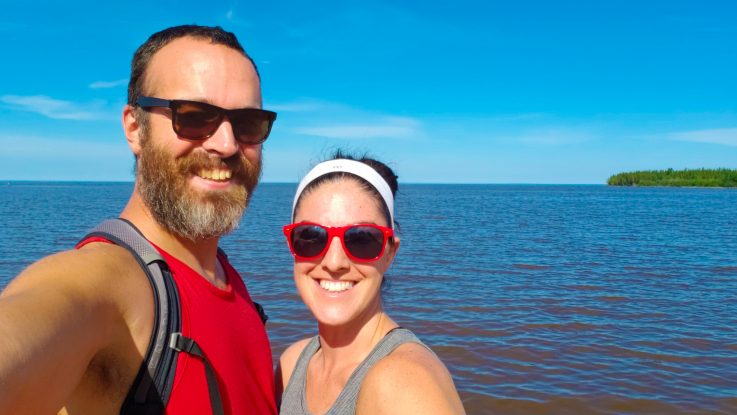 Have you considered visiting Canada's Northwest Territories? We have a few tips for RVers who have this on their bucket list!
Bring your bug protection.
First of all, whatever amount of bugs you may be expecting…well, it's so much more than that. Expect mosquitos and horse flies that are known as "bulldogs" by the locals. Trust us when we say, if it doesn't have DEET, it won't work.
Always check in at the local visitor center.
As soon as we get there, we get the inside scoop on the best spots for camping, hiking, and local history, plus all the details about the cheapest gas and groceries. You don't want to miss talking to the locals.
Gas up!
The communities in the Northwest Territories are spread out, and fuel isn't available at every stop. So when you have the chance, fill up before your next stretch because you don't know where your next chance will be!
Don't miss out on their Territorial Parks!
It's not all about private campgrounds. Consider staying at a Northwest Territories (NWT) Campground. A lot of them have powered sites and awesome showers, and some even have Wi-Fi and laundry facilities! More info here.
Take your time.
The routes are rugged and secluded. Wildlife is all around. If ever there was a time to slow down and appreciate all the nature around you…this is it! Don't rush through to the end.
Be prepared.
Again, remember you will often be traveling through secluded areas if you are exploring this part of Canada. Be prepared with a spare tire, jerrycan (portable fuel tank), and bear spray. It can't hurt to carry a rock chip kit for your windshield. And we also carry an air compressor and patch kit for the tires.
Cell service is very limited.
Northwestel is the main cell carrier in Northern Canada. Telus and Bell Canada will get service via Northwestel's towers but only in towns. For our friends from the U.S., check with your provider to see if you will get service. AT&T, for example, uses Rogers' towers, so you will likely have little to no cover all the way through the Northwest Territories.
The trip is so worth it. If you want to experience "The True North," this is a great place to start!
Do you have a travel tip or experience to share from the Northwest Territories? We would love to hear it! Comment below.
Finally, check this out if you're looking for more travel stories in O Canada!
Meet FMCA's Featured Family
Kira, Logan, and Holly, F477428, are full-time travelers in a Roadtrek Zion. They sold their home in Alberta, Canada; left their jobs; and have been on the road since Nov. 1, 2017. They have logged 37,000 kilometers! Follow their journey on Instagram.