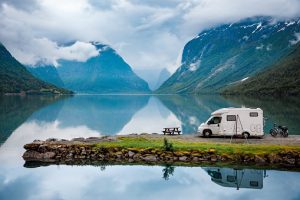 Ah, van life gear… I should start off by telling you that when it comes to traveling in a van, less is truly more.
We often cringe a little when people ask us what they need or when we hear or see folks telling people what to rush out and buy for their van or RV. The reality is that you will find what you need and what works best for you. Use as much of your own stuff as you can. Don't rush out to buy things until you know your space and needs.
We really do still use a lot of items that we packed from home. We thought when we started out that we would be rushing out to find all the collapsing items that have become synonymous with tiny living. But the reality is we needed less than we thought. One example I will give is a collapsible laundry hamper. Yes, they serve a purpose and to each their own. But, personally, we are glad we saved the $10 and the headache of finding a spot for it constantly. We use an old pillowcase from home for dirty laundry. It works as a bag to transport the laundry to the machine, it is washable, it is compact, and it takes up no space when empty. And it cost us nothing!
My little rant aside, there are definitely some items that we have grown to love, rely on, and found pretty essential in our #vanlife adventure. As we share them here, we find this stuff useful and we hope you will, too.
1.) Quick Dry Towels
We actually can't imagine van life without these towels. We have two sets of towels in a variety of sizes. We use them for everything; they are lightweight and dry fast so we can hang then on 3-M hooks in the van. They work for drying ourselves off and Ms. Holly (our dog), too. We also use them for dishes and cleaning. They are anti-microbial, so they don't get that funky smell that regular towels tend to have. They are easy to wash and dry and take up little space in the van. We do miss big, fluffy towels sometimes, but, honestly, these are so practical we couldn't do it without them.
2.) Packing Cube Set
These are quite possibly my new favorite thing. There's no doubt that when you move into a van, you downsize your wardrobe to the essentials. We have never really considered ourselves minimalist, but it comes with the territory of tiny living. Even after downsizing numerous times, my clothes cabinet has been a point of anxiety for me from day one.
Enter Packing Cubes: these are such a great way to keep organized. A big glass of wine and a folding tutorial from Marie Kondo have turned my clothes cabinet into my little point of pride. Staying organized is so easy with packing cubes. Underwear, bras, shirts, pants, tanks, shorts, and socks each have their own cube.
No more digging through the cluttered cabinet of doom! These cubes are compact, lightweight, washable, and have handles for ease of moving. The best-added bonus is these cubes are great for organizing luggage, so we will be able to pack efficiently for our trip to Europe!
3.) Neoflam Midas Pots and Pans
We actually found this set through fellow van-lifers. We have a two burner propane stove and love to be able to cook our own meals inside.
This set from Neoflam is great because the handles can be removed. This feature makes it easy to nest and store in our tiny kitchen. The lids are great for preventing a mess. They are also non-stick and easy to clean. Plus, the colors are also fun. We have actually downsized to one pot and one pan. They can both fit on the stove at the same time, and they cover our cooking needs perfectly.
4.) No-Rinse Bathing Wipes
We are lucky to have a shower in our van and, while it's tiny, we love it. That being said, we still have to conserve water and worry about finding dump stations, so van showers are typically short and sweet. When we had a house we showered every day and some days twice. So, this has been a big change for us. Not every day needs a shower, but we like going to bed feeling clean.
We use gym showers, and try to check in to RV parks with hot showers every now and again. Of course, swimming in lakes and rivers is awesome whenever you can.
No Rinse Bathing Wipes are also a good van life tool to have; after a day of hiking, no wants to smell stinky feet! We have used everything from baby wipes to dude wipes. It's important to find wipes that are gentle on your skin, that can wipe away any grime from the day, and that can help freshen you up on non-shower days.
5.) Dr. Bronner's Mild Liquid Soap
I am happy any time I can find this magical stuff on sale. It is a little pricier than some soaps, but it's natural, biodegradable, and multi-purpose, which is a necessity in a van.
You can use Dr. Bronner's for dishes and to make your own cleaning products. I know a lot of folks may disagree, but I will say I don't find it cuts grease as well as, say, Dawn dish soap. But, otherwise, it is on par with regular dish soap without all the nasty chemicals.
Other uses include body wash and shampoo! I love the lavender Dr. Bronner's for this, and a little goes a long way. It doesn't bother my skin, which seems to get more sensitive as time goes on.
Again, one bottle that can be used for so many different things makes this a must-have for van life.
6.) GSI Outdoors Infinity Plates & Bowls
We started our van life with our old dishes from home and we quickly learned a few things: regular dishes are heavy. We were constantly worried about them rattling and breaking, and we really only need enough dishes for the two of us. Therefore, we quickly made the switch to these lightweight camp dishes instead. They are super easy to clean and very lightweight. Plus, we no longer worry about breaking dishes.
This brand from REI is great because you can mix and match and buy individual pieces, so we didn't end up with extra dishes we don't need. I know plastic dishes don't sound great, but these GSI Outdoor Infinity plates and bowls are BPA-Free, and they nest so that they don't take up too much room in your cabinets.
7.) Klean Kanteen Wide Vacuum Mug with Cafe Cap
These are two of our most used items in the van. These insulated vacuum mugs are must-haves for road-tripping and camping. They are super insulated, so they work for keeping your drinks hot/cold all day. They don't hold smells, so you can switch from coffee to tea, to water, to wine and back again without weird flavors. We also love that the lids come apart so you can clean them thoroughly.
8.) King Camp Chair
Camp chairs are a necessity for van life. The way we travel has landed us in some amazing places, and the goal of this lifestyle is to live out of the van as much as possible. We hauled around our old Roots camp chairs from our homeowner days (They were literally falling apart when we replaced them.). We wanted something that was comfortable and compact. These chairs are a less expensive take on the chairs at REI/MEC. They are mesh and quick-dry. One arm has a cup holder for beers around the campfire. They assemble easily; although, when brand-new, the material is tight and a little muscle is needed. The high back is super comfy, and this chair supports Logan's 6'3″ frame.
9.) Mattress Topper
Our van actually houses a king-sized bed! How lucky are we? We use this space for sleep and for lounging. Our bed is not a fixed bed; it converts up into a sofa and two seats. Because of the way we travel, we have opted to leave the bed down and made up all the time. This space has to be comfortable for the amount we use it. When we first started out, I think we slept two nights on the folded down bed before popping into Walmart to buy a mattress topper.
This round, we opted for a Lucid 4″ Gel Memory Foam Topper. So far, sleeping on this is a dream. It is very soft and its memory foam can really sink you in. The best option for us would probably be a proper mattress, but the layout of the van, as well as our need to access the storage under the bed,  has us opting for the mattress topper.
10.) National Geographic Road Atlas Adventure Edition
We use our Google Maps for GPS almost exclusively. The van does have a TomTom system in it, but it drives us crazy. Google Maps helps us with directions and finding specific locations, but we love having a physical map to refer to. (Not to mention Google Maps has a fun tendency to send us down some of the craziest roads.)
This National Geographic Road Atlas has a map of all the national parks, and it includes side roads, public lands, historic sites, monuments, and campgrounds. We also love using this atlas to document our travels. We go back and trace the routes we have taken, so it's practical (works without cell service) and is a cool keepsake from our time traveling.
11.) Reflectix
We use this pretty much all the time. Reflectix is an inexpensive option for insulation. We have cut pieces to fit all of our van's rear windows. This has helped with keeping the van cool or warm depending on where we are. It also helps with blacking out the van, which makes sleeping so much easier. There are some great ideas out there for making these a little cuter or covering them to be more decorative or stealthy.
12.) NOCO USB Charged Battery Booster
We picked this little guy up at the start of our journey. We don't ever worry about a dead battery, thanks to this. We have only had to boost once and it worked like a charm. We charge this booster from a USB port while we drive, and it gives us peace of mind knowing it has more than enough juice to boost our battery. It also has a flashlight, as well as extra ports to charge other devices. Multi-use and there in case of emergencies — this booster is great and takes up very little space.
13.) Air Compressor
I wish I could say we didn't need this, but again, in case of emergencies, this little fella is a life saver. It plugs in through our 12V DC outlets so we can use it for all four tires easily. It kept us topped up when we had a slow leak up north. Another time we really needed this was getting stuck. We have gotten stuck in sand more times than we are proud to admit. One trick for getting out of that sticky situation is letting some of the air out of your tires. So you will want to make sure to have an air compressor to top them back up when you get out, so you can drive away safely.
What are some of your favorite essentials for traveling in a camper van or RV on adventures? Let us know in the comments! 
Meet FMCA's Featured Family
Kira, Logan, and Holly, F477428, are full-time travelers in a Roadtrek Zion. They sold their home in Alberta, Canada; left their jobs; and have been on the road since Nov. 1, 2017. They have logged 37,000 kilometers! Follow their journey on Instagram.