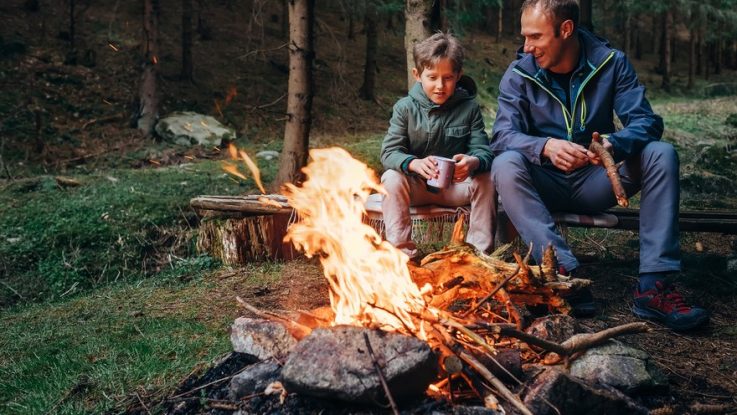 Ahh…cooler nights remind us that autumn is near. It's the perfect time to get cozy around a campfire. But are you practicing campfire safety? Read on for a few campfire safety reminders.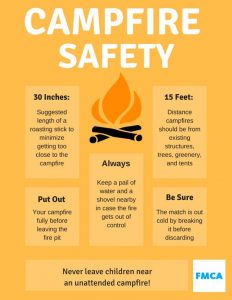 How to Extinguish a Campfire
When you're ready to call it a night, follow these guidelines from the U.S. Department of Agriculture:
1. First, allow the wood to burn completely to ash, if possible.
2. Pour lots of water on the fire. Drown ALL embers, not just the red ones.
3. Keep pouring until hissing sounds stops.
4. Next, stir the campfire ashes and embers with a shovel.
5. Scrape the sticks and logs to remove any embers.
6. Stir until everything is wet and cold to the touch.
7. If you do not have water, use dirt. Mix dirt or sand with the embers. Continue adding and stirring until all material is cool. Remember: Do NOT bury the fire. If you do this, the fire will continue to smolder and could catch roots on fire. These roots may eventually start an uncontrolled fire.
Fire Restrictions
Have you traveled in wildfire-prone areas? If so, you may have stayed at a campground that bans campfires. Or maybe your route was affected by road closures.
If you are planning a trip or if you find yourself in an emergency situation, here are resources to consult:
Firewood Restrictions
Many states restrict the movement of firewood across state or county lines. Additionally, Canada won't let you take firewood over the border. These restrictions are the result of the spread of invasive pests, such as the Asian Longhorned Beetle. Unfortunately, these pests have killed millions of trees in North America.
Always check your campground's firewood policy before transporting firewood. Normally, state parks have very strict rules about moving firewood.
With DontMoveFirewood.org, you can search an interactive map of North America. Use it to search restrictions by state or province.
Fire Starters
Recently, several "homemade" fire starter ideas are circulating online. Be sure to store these starter materials in a non-flammable container in your RV. And always practice fire safety!
See more campfire starter ideas on FMCA's Pinterest!
Campfire Safety for Children
Lastly, we have to mention America's favorite fire prevention mascot: Smokey Bear. The Smokey Bear website offers a lot of fun AND educational resources. Download a coloring page or play an online game.
How does your family practice campfire safety? Comment below.