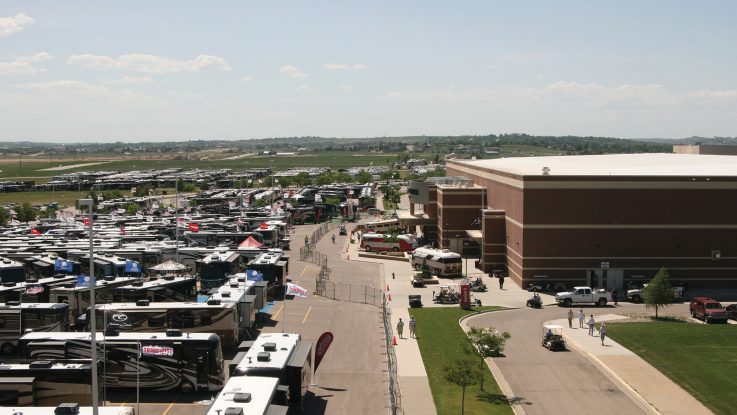 FMCA will host its summer convention in Gillette, Wyoming, July 18 through 21. Here is a breakdown of what you need to know before you hit the road.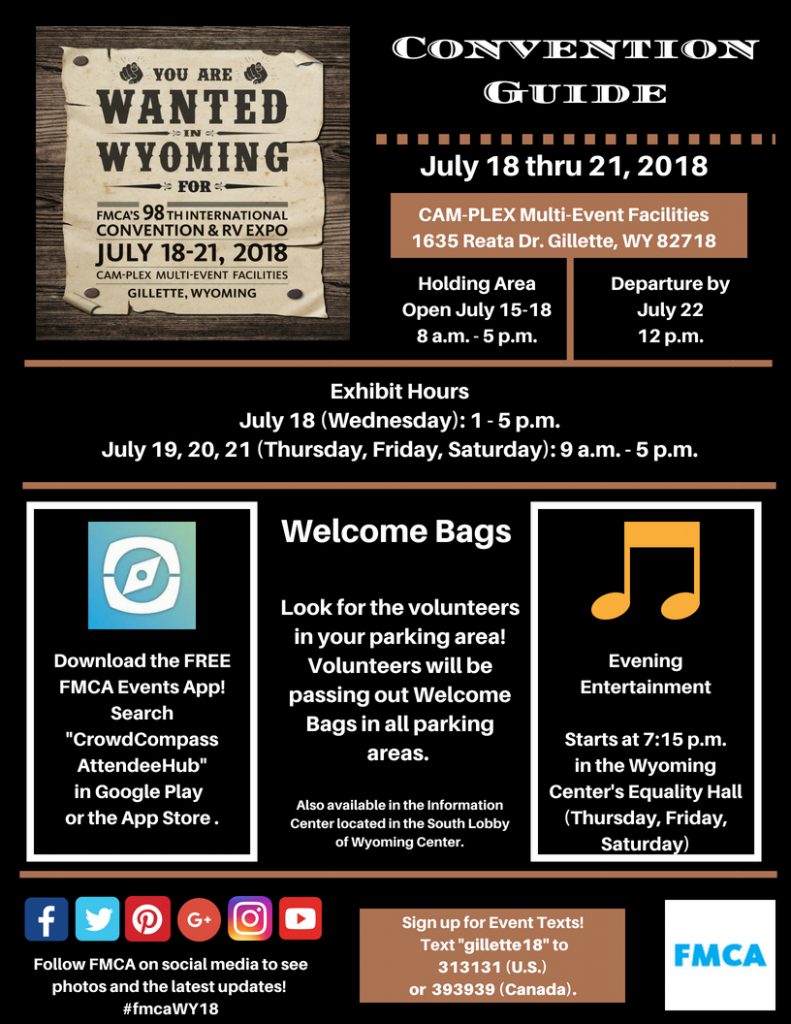 Confirmation Guide
The Events Team STRONGLY recommends you read this guide before heading to the convention. (This was mailed to you if your opted to have your registration packet mailed. Or emailed if you opted to have your packet held at Will Call.) Click here to read.
Exhibitor Directory
Curious what vendors will be at the event? Search the company listings here.
Driving Directions
These directions have been pre-planned with local police to minimize traffic and ensure safety. Please follow these directions to access the facility.
Arrival Procedures

The Holding Area will be open starting at 8:00 a.m., Sunday, July 15, and remain open until Wednesday, July 18 at 5:00 p.m. A member of FMCA's Parking Team will be on duty each day in the Holding Area from 8:00 a.m. until 5:00 p.m. to assist with your arrival.
If you have a tow vehicle, the parking committee requests that you unhook it and have your co-pilot or another member of your party drive it onto the grounds separately so as not to hold up the parking operation.
If you wish to park close to friends, you must arrive together with appropriate admittance credentials and enter together or meet in the Holding Area. Identify your party by placing a piece of white 8 1/2-inch-by-11-inch paper in the window of each coach. Using a heavy black marker, write the last name of one of the members of your group followed by the position each motorhome occupies in relation to the total number of motorhomes in your party (Smith 1 of 3; Smith 2 of 3; etc.). We request this so parking personnel is aware you wish to park near each other.
Departure Procedures
Departure will be on Sunday, July 22. Non-shore power electric will be turned off by 9:00 a.m. RVs should be off the property by 12:00 p.m. If you are interested in staying longer, please call CAM-PLEX at (302) 682-0552 or visit the CAM-PLEX front desk to make these arrangements. Cost is $28.00 plus tax.
Emergency Contact
If you have an emergency while on the grounds, please call 911. The FMCA emergency contact phone number is (513) 909-1433. This number will be in operation beginning Tuesday, July 17, at 8:00 a.m.
Download the Events App
FMCA has teamed with CrowdCompass to build an app to make your convention experience easier. This app includes maps, seminar schedules, exhibitor locations, and other information about entertainment and activities – all in the palm of your hand!
It's easy to install the app and get started!
1. Click the link below depending on your device:
Apple
Android
2. After the app is downloaded, open it on your device.
3. In the search bar, type FMCA.
4. Look for FMCA's green and yellow app icon and touch Download. You may be asked for permission to save the files. Select Continue.
5. Make sure to select Yes when it asks you about push notifications. This will allow the app to send you event updates.
Sign Up for Event Texts
Receive convention text messages on your cell phone to alert you to severe weather, special events, program changes, etc. Text gillette18 to 313131 for U.S. or 393939 for Canada. Message and data rates may apply.
RV Expo Hours (Exhibit Hall)
All Exhibits open Thursday, July 15: 1 to 5 p.m.
Friday, Saturday, Sunday July 16, 17, 18: 9 a.m. to 5 p.m.
Get Social with FMCA
The official event hashtag is #fmcaWY18. The Events Team encourages you to share your thoughts and photos about the event on FMCA's social media.
Facebook
Twitter
Instagram
RVillage
Free Time?
Read our post about FMCA's tips for things to see and do in Gillette.
We hope this run-down helps you when you need a quick reference! What other questions do you have for the Events Team? Comment below.