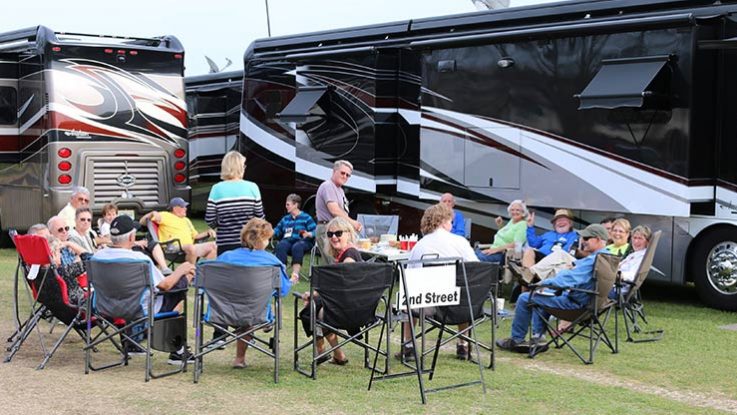 Being new to the RV lifestyle is overwhelming — deciding which RV you actually want, where and how often you want to travel, how to drive and operate the rig itself, etc. So when someone offers up the idea of an RV extended warranty, you might just want to run the other way. Unfortunately, that gut reaction might end up being a costly mistake.
The simple fact is: RV breakdowns happen. And when they do, it'll cost you! Investing in an RV protection product like an RV extended warranty could save you big down the road. However, it's important to understand what exactly you're purchasing.
So let's start at the beginning…
About RV Extended Warranties
What is commonly referred to as an RV warranty or RV extended warranty is actually a form of mechanical breakdown protection called an extended service contract. Third parties create, administer, and sell these contracts. These companies are not affiliated with the manufacturer of your RV or with the manufacturer's warranty that came with your brand new RV.
Because RV extended warranties are separate from manufacturer involvement, they are not technically "warranties." However, we will stick to that terminology throughout this article because they are commonly known and referred to by this name.
An RV extended service contract, hereafter referred to as an "RV warranty," is a contract that agrees to pay for the cost of certain mechanical repairs in exchange for a premium and per-visit deductible. These policies come in a wide array of shapes and sizes with varying levels of coverage, term lengths, and deductible options.
What Does an RV Extended Warranty Cover?
In general terms, an RV warranty will cover the mechanical working components of your vehicle. In the event a covered component fails, your warranty will step in to pay for the costs to repair or replace that item. This coverage extends to both parts and labor, which can add up quickly.
Many RV warranty providers offer a variety of coverage levels. Here are a few examples:
Some RV extended warranties are designed specifically for the most expensive potential failures.
Examples: Engine and powertrain components
On the other end of the spectrum, there are policies which offer incredibly comprehensive coverage.
Examples: Cover everything from your diesel engine to your leveling jacks, slide-outs, heating and cooling, appliances, and more.
As you can see, the variety of coverage levels available allows an RVer to choose the policy that best meets his or her desired level of risk and coverage budget.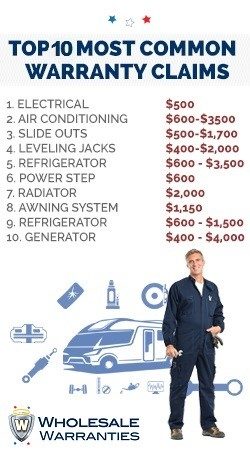 Of course, even the most comprehensive policies won't cover everything. It's important to have a realistic understanding of what will not be covered by the policy.
RV extended warranties do not cover aesthetic items like furniture, windows, or scratched paint. Maintenance tasks (i.e. oil changes) and damages covered by your RV insurance policy (i.e. failures caused by outside factors like weather or collision) are excluded, too. For protection from these types of issues, you'll want to take a look at your RV's comp and collision insurance policy. You can learn more about the difference between standard insurance and RV warranty coverage here.
Where Can I Purchase an RV Extended Warranty?
If you are purchasing your RV from a dealership, they will likely offer you an extended warranty during the purchase. However, if you are purchasing from a private party, have an existing policy that is about to expire, or have owned your coach for a while and simply want to take control of your RV repair budget, you'll need to set your sights on an online provider. Online sellers and brokers will be able to offer a policy after the purchase of your vehicle.
When looking at online providers, you'll want to do a bit of research to make sure you're purchasing a policy that will be there for you. Look for online reviews from RVers who have actually worked with the provider and made claims on their policy. And check out established RV community organizations like FMCA and consumer advocacy companies like the Better Business Bureau to see where the RV extended warranty provider stands.
Other RV Protection Options
There's more to RV protection than just insurance and warranties. There are several supplemental programs, too.
RV roadside assistance is a program that will pay for emergency services you may need while traveling:
Towing
Lockout
Fuel delivery
Flat tire changes
And more
Every RVer should seriously consider securing this type of coverage before they hit the road. Always look for a policy that offers unlimited, 24/7 services, so you can be sure they'll be there for you in an emergency situation. FMCA offers a discounted roadside assistance policy to its members.
Another coverage option is RV tire and wheel protection, which will step in to take care of the cost of tire and rim repair or replacement should you encounter a road hazard while traveling. Anyone who has replaced an RV tire (or more) knows that this can get pricey quickly.
A huge part of becoming an RVer is education! There is so much to learn about traveling or living in your home on wheels, and it can be an overwhelming feeling. Knowing your coverage options is a key factor in making confident decisions about your budget.
Do you have an RV extended warranty plan? Comment below.
Article provided by Wholesale Warranties, FMCA Commercial Member #C012133.