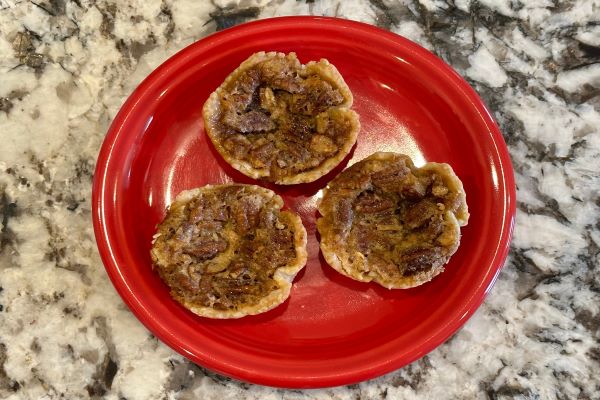 FMCA is celebrating all things Canada all month long and asked us to include a uniquely Canadian dish. Oh, this could be fun.
My first thought was Beaver Tail. The last time we had it was in Montreal after dinner while we walked around Old Montreal. You might be thinking, what is she talking about? Well, the beaver happens to be the national animal of Canada and got a dessert named after him. It's a deep-fried dessert that is stretched out to be similar in shape to a beaver's tail. Then it's topped with all kinds of fun toppings of your choosing. Very loosely translated, picture a really big donut kind of pastry with all kinds of fun toppings. Alas, it's deep fried which makes it NOT RV friendly.
Another thought was Poutine. Oh, what a fun thing to eat around the campfire. Poutine is a delicious concoction of fries, gravy and cheese curds and is one of the most well-known Canadian dishes. Again, with the deep fryer. Sure, you could use frozen french fries or use the air fryer and frozen cheese curds. But I really wanted to do something sweet.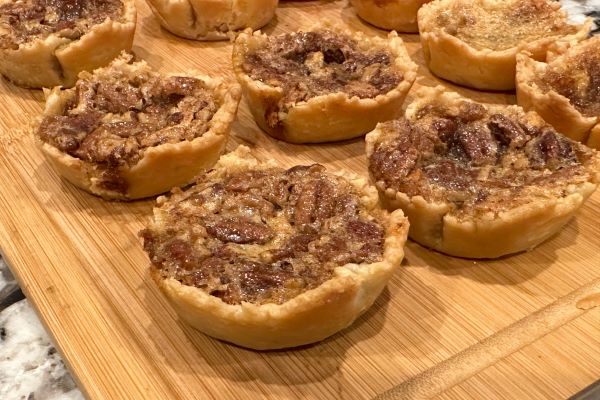 Enter the Butter Tart!
I perused the internet looking at different recipes and wow did they sound good. In my head they were like mini pecan pies. Yep, this was my pick.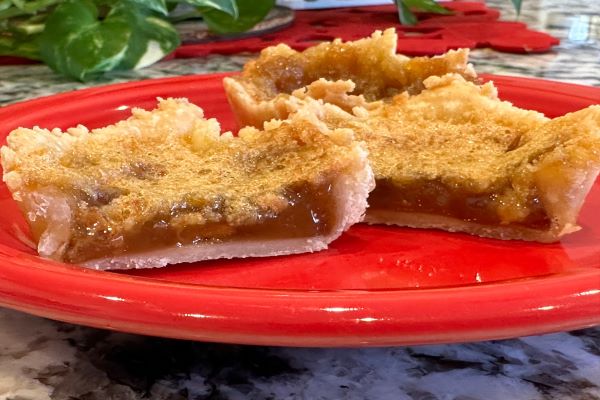 As I dug further, I learned there are butter tart purists. To most, a true butter tart must not have anything extra. While other "groups" add pecans or even golden raisins. I'm over here in Arizona thinking, "You can keep the raisins, give me the pecans!" I was curious about this purist thing and just had to give it a try. However, and this is a big however, I love pecans so I decided to give that way a try as well.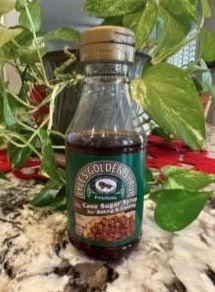 An important note to include: Golden Syrup is not easy to find in Arizona. When you make this, because I know you will, check your area first. If you can't find it, Amazon has it. I bought two bottles to have more for later.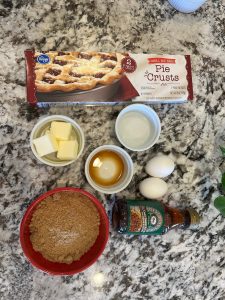 Most recipes call for making your own pie crust which can be a messy endeavor in and RV and I'm sure not many people travel with a rolling pin. I decided to try a ready-made crust found near the canned biscuits and cinnamon rolls.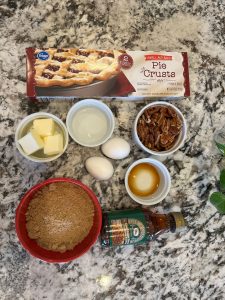 The filling comes together quickly in one bowl using a whisk, definitely RV friendly. Disposable cupcake pans can fill in if you don't carry regular cupcake pans with you.
They are also easy to make at home and can be kept for five days and can be frozen for several months. I told Mark if the Buffalo Bills make it to the Super Bowl, I will be making these as one of our desserts. Buffalo is close enough to Canada where a Canadian dessert can apply.
Without further ado, let's get tarting!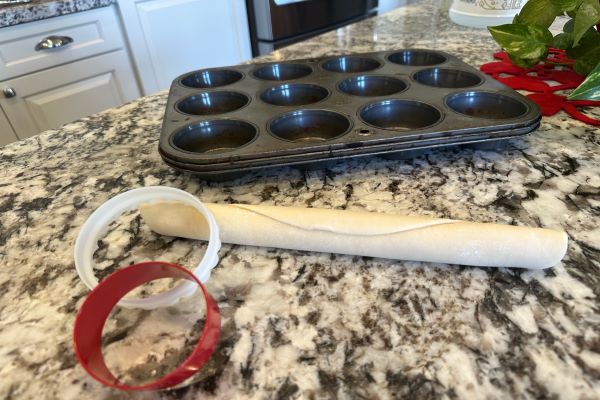 Pull your ready-made crust out of the refrigerator and let rest on the counter for 15 minutes on the counter before handling. While that's resting, make the filling.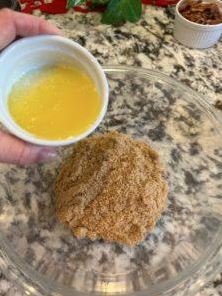 Using a medium bowl, whisk the brown sugar, golden syrup, butter, eggs, vanilla and vinegar. Don't go crazy, you want to gently whisk just until combined. If your filling is runny after you've baked them, you probably overmixed it.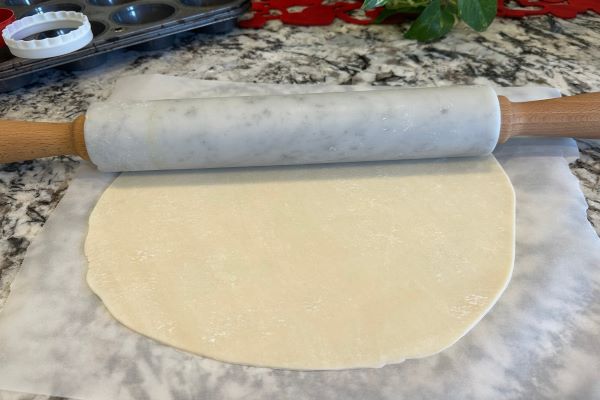 Roll out your crust. You may want to roll it out just a bit to smooth it out. I used a 3.5-inch round cookie cutter but you can use a glass or a small bowl. I'd say no smaller than 3 inches. Press the circle into the muffin tin, be sure to smooth the edges and press together any folds. I made the mistake of not doing that and the edges aren't as smooth and even as they should be. Lesson learned for next time.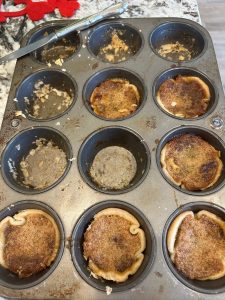 Make sure you don't press the crust too thin. I had the bright idea of using my thumbs to stretch the dough so it reached the very top of the tin. Bad idea. While it baked beautifully, it was a disaster to get out.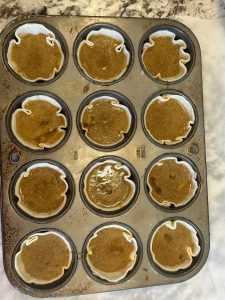 One batch of filling is enough to fill 12 cups with a little extra. Resist the urge to put more in each one until the filling is gone. Trust me. If you have extra crust from cutting your circles, make an extra circle or two to use up the rest of the filling.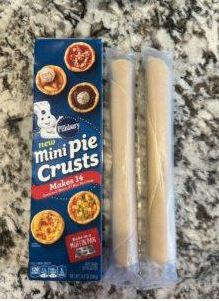 Let me tell you about this fabulous find when I went back to the store for more dough because the first batch was so ugly. Pillsbury makes ready-made pie crust that it precut for muffin tins! I had to try it and didn't care that it was $2 more than the crust I'd just ruined. The edges were a little different but they worked just fine. I still didn't get the traditional even circle at the top and that might matter, but I'm good with it.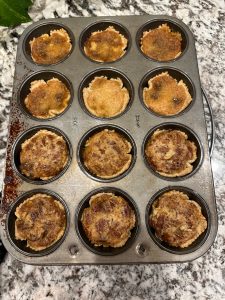 Bake in the oven at 350° for 20-30 minutes. Mine were ready at 23 minutes. Cool them on a wire rack for ten minutes, remove and let finish cooling on a wire rack. Your microconvection oven round rack is perfect.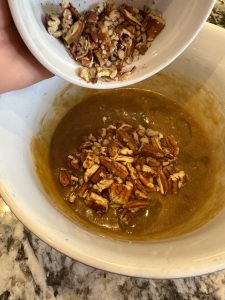 Are you part of the "give me pecans" group like me? Gently whisk them in with the other ingredients. When we made them the second time around, I spooned in just the filling in six of them then added the pecans to the rest of the filling before filling the last six. I think that's a great compromise with six of each.
To make your own crust, see the link below to the recipe we adapted.
Wherever you fall in the great butter tart with or without nuts debate. I know you will love these as much as we do. Huge thanks to FMCA for the assignment!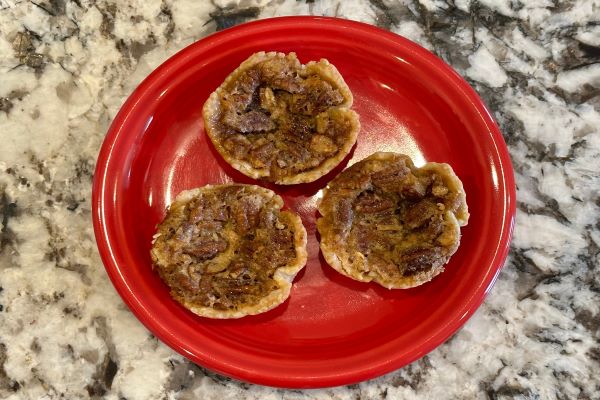 Butter Tarts
Adapted from The Recipe Rebel
· 1 package ready-made pie crust
· 1 cup packed brown sugar (190 grams or 6.7 ounces)
· 1/2 cup golden syrup
· 1/4 cup salted butter, melted
· 1 teaspoon vanilla
· 1 teaspoon vinegar to help cut the sweet
· 1/2 cup pecans, roughly chopped (optional)
1. Remove crust from package and let rest for 15 minutes. Or, make your pie dough.
2. Preheat oven to 350°.
3. Combine remaining ingredients in a medium-large sized bowl and gently whist until just combined. Be gentle.
4. Roll out pie crust dough and cut circles with 3.5″ to 4″ cookie cutter or glass rim. Place in muffin tin, smoothing out any creases or folds.
5. Using a small ladle or cookie scoop, add filling to 12 muffin tins.
6. Bake for 20-25 minutes until crust is a nice golden brown and filling has puffed slightly.
7. Cool on wire rack for 10 minutes then remove from pan and completely cool on rack.
8. Devour. Store for 5 days in the refrigerator or you can freeze for later.
Meet the Family
I'm Maureen Milne, F446881.  Mark and I are becoming empty nest veterans and you know what, we enjoy it!  We are always on the lookout for the next adventure, our friends call us the X-Games family. We are avid hikers, cyclists and skiers (both snow and water).  Mark does triathlons and we run several races a year.  We've been RVing together since we were teenagers and we love traveling with our two grown sons.  I share our RV adventures, RV friendly recipes, wonderful campgrounds and more on my blog, M&M Hit The Road.  You can also find our fun on Facebook, Instagram, Twitter and YouTube.