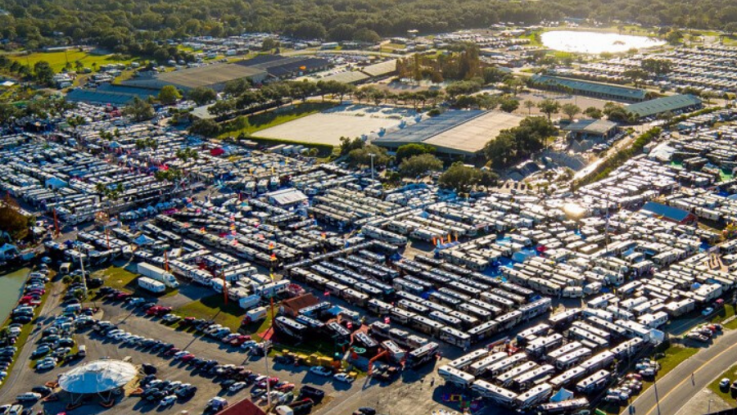 2020 Florida RV Supershow Recap
It's that time of year, isn't it? For many RVers who are dealing with snow, the winter blues are setting in. It's also that time of year when RV show season kicks off. Believe me, there's no better place or time to be had than at the Florida RV Supershow in Tampa. This year the show is celebrating its 35th anniversary. We have enjoyed spending time at the Tampa RV show for the past five years, but this show was something special.
This is our 5th Tampa RV show in a row. Last year was the first time we did not camp at the fairgrounds. We knew after the first day that we had made a mistake. Read our recap of the 2019 Florida RV Supershow to see how that made a difference. This year we were thrilled to be back camping at the fairgrounds. You may be asking yourself, what's the difference? For us, it's all about connecting with the people of this wonderful RV community. 
Our Mission for the Tampa RV Show
We were at a point that a lot of RVers reach, and we had to decide –  Is it time to upgrade to a new RV or do some renovations?
First of all, there is nothing really wrong with our current RV, a 2015 Newmar Dutch Star. Newmar makes a wonderful motorhome and we are very happy with it, but (isn't there always a BUT!), of course after spending a few years enjoying this coach there are some things we would like to change.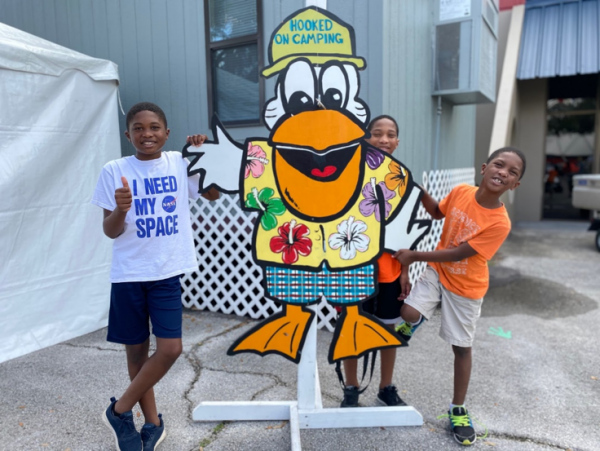 We thought to ourselves, what better place to do a comparison shopping than at the Florida RV Supershow! So, what's the plan? We will be splitting up our time between looking at new RV's and looking at the pieces needed for upgrades. All that while still trying to enjoy all that this RV show has to offer.
We have been doing our homework, pouring over RV renovation and upgrade videos on YouTube. There are some incredible upgrades out there. To be honest, we haven't seen a great number of Class A renovations and that does worry us a bit, but we can't wait to see what the RV industry has planned for consumers in 2020.
Bus Life – Meeting a Guy Named Rom.
It started out innocently, I was taking a quick evening drive in the golf cart when I noticed the security guard near the gate and wanted to know if they would be locking the gate that evening. At the time, the guard was speaking with a bearded gentleman, so I waited to ask my question. Then the conversation turned to the multi-million-dollar RVs at the show. As we talked and introduced ourselves, I started to learn that this younger bearded RVer was in a bus conversion that he converted himself! He whipped out his Instagram account to show me the interior.
To say I was floored is an understatement. I was amazed at what he was able to build at such a reasonable cost, yet he had the highest quality. That's when the light bulb went off and I thought that if Rom is really that good, maybe he can help us renovate our RV in a costly manner. We kept talking and before I knew it almost an hour had gone by and I hadn't told the wife where I was!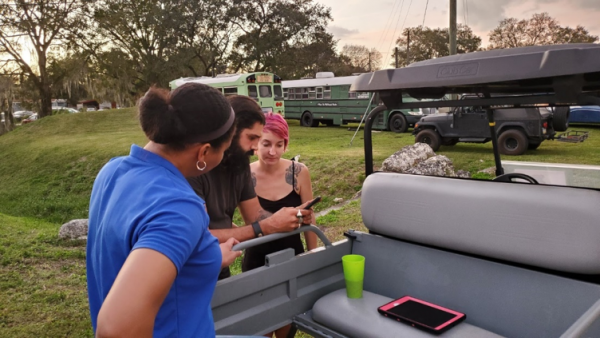 That's when I heard the sounds of my boys and the dog running towards the golf cart. I had to call Tia over to meet Rom and see his handiwork. She too was blown away. Next thing you know, we are touring their bus to see his work firsthand. Over the next couple of days, we spent some more time talking and getting to know Rom and his wife. We made plans to talk and connect over the next few weeks to set up a time and place to do some of our RV renovations! 
Pancakes Anyone?
We ran into Heath during industry day. We spoke for a bit about RVing and his podcast, the RV Entrepreneur Podcast. He was so friendly he invited us to his RVE Summit in March and a pancake breakfast he was hosting in his RV the next morning. He said it was just a small gathering of a few of his friends and other RV creators.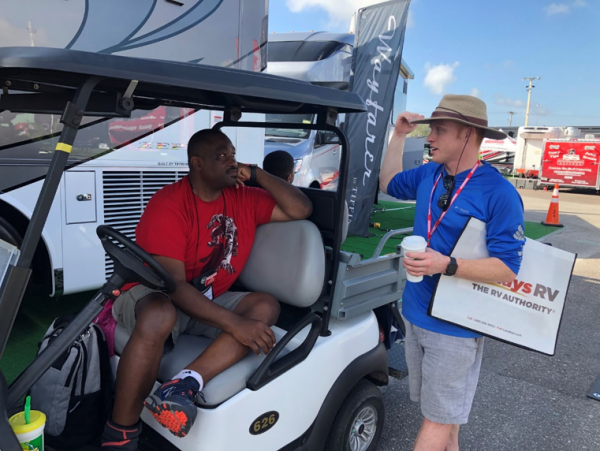 Deciding to take him up on his offer, we went (fashionably late not wanting to be the first to arrive) to his pancake breakfast. We knew the first couple there, Peter and John of The RVGeeks. We met them at the Newmar Booth during the RVX show in Salt Lake. The places we have RV'd, RV upgrades, renovations, and the lifestyle, in general, were the topics of discussion. Then the final guests arrived – Mortons on the Move. We had met them two years prior as we were checking in to this same Florida RV Supershow. It was a great morning with great conversation. When we finally left, almost 2 hours later, we really felt as though we had made some solid friends. 
Meeting Other Content Creators
As we enjoyed the show, we connected with many other RV content creators such as RVlove and The Fit RV, who we have chatted with for the past few years and finally got a chance to meet in person!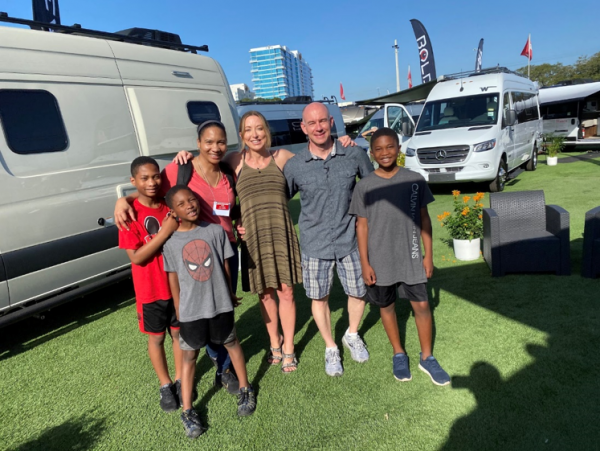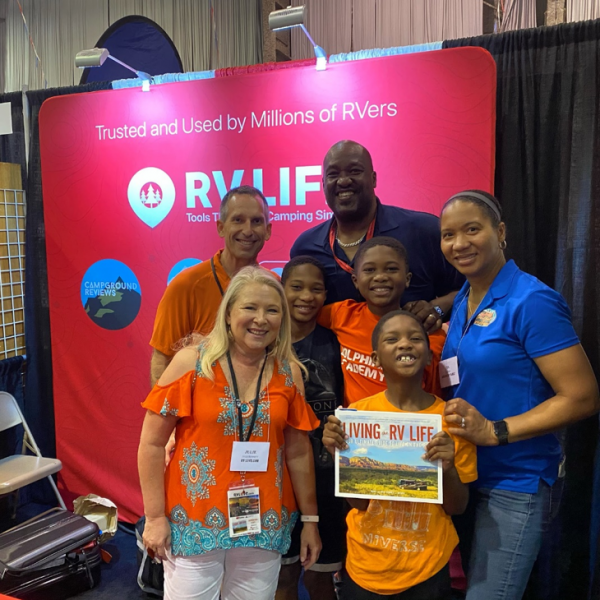 Meeting with friends
Tia's high school friend Katie began full-timing with her family 7 months ago. We have been eager to sit down with her and hear all about their family travels as Fulltime Farmers.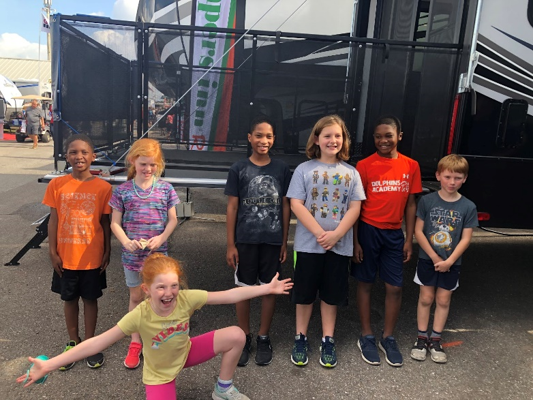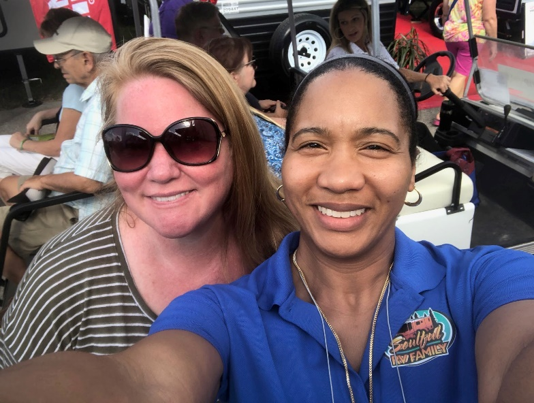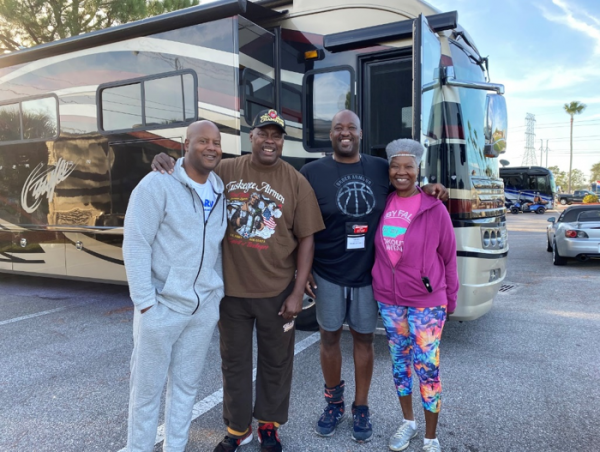 Vendor Halls….
As always, the Vendor Halls were packed with items to make our RV traveling lifestyle better. With our eyes open as we searched for possible renovations, we were eager to check out possible new additions to our RV. First up, looking for some new captains/co-pilot chairs.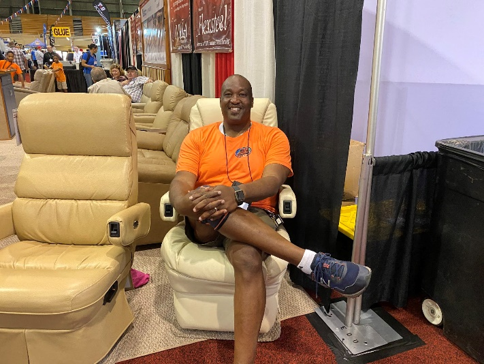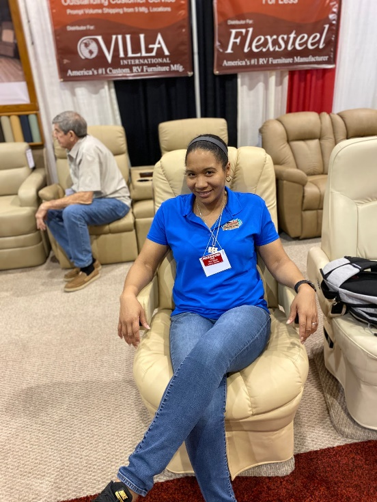 In an effort to limit our use of plastic, we wanted to find a better solution for water. As most of you know, the water at campgrounds can vary greatly. We already use a blue water filter connected to our water hose. The RV has a whole coach water filter and the final line of defense is the water filter in the fridge. We stopped by Clear2O booth. They have an upgraded version of the blue inline water filter, and after speaking with them, we are excited that with their dual water filter system, our days of bottled water are numbered!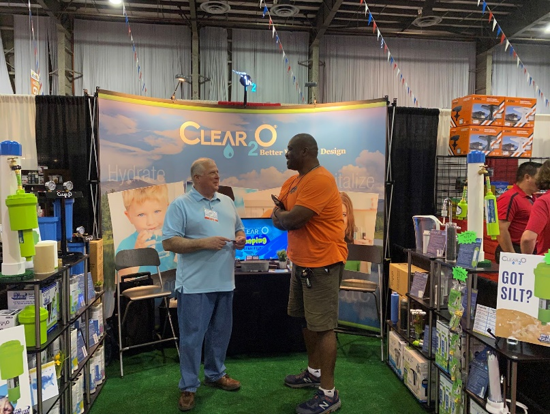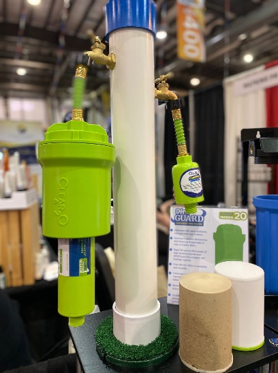 What's cleaner water, without cleaner air to breathe? We travel with our dog, and Tia dislikes the RV having that "dog smell", so she spends a lot of time cleaning. But those odors can get trapped in the air filter, and that's where RVair comes in handy. I'll never understand why after paying all that money for an RV, we find out they used the cheapest filters. We immediately purchased RV air filters and had them installed when we got back to the RV.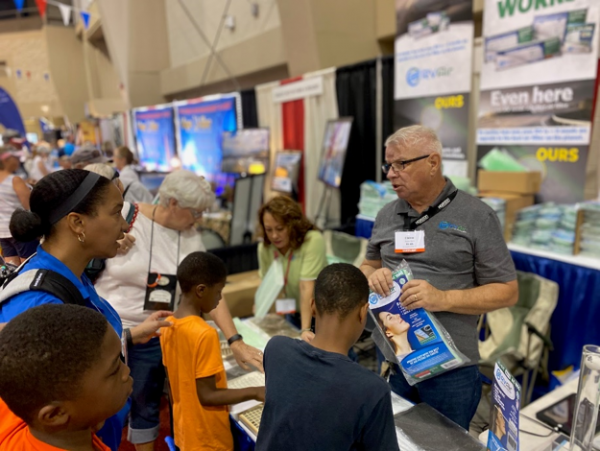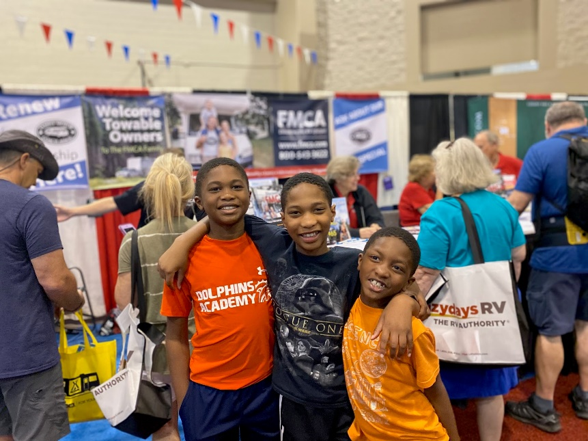 New RVs as Far as the Eye Can See
In 2020, we are seeing the RV industry incorporate new technology, lighter color schemes and the trend to smaller RV's. The new Winnebago Sollis really caught our eyes.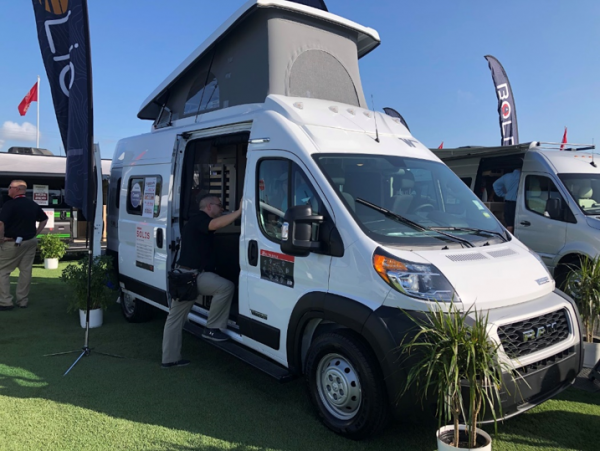 This true Class B was made with families in mind. It can sleep 4-5 people rather comfortably. Our boys loved the pop-up roof loft bed area.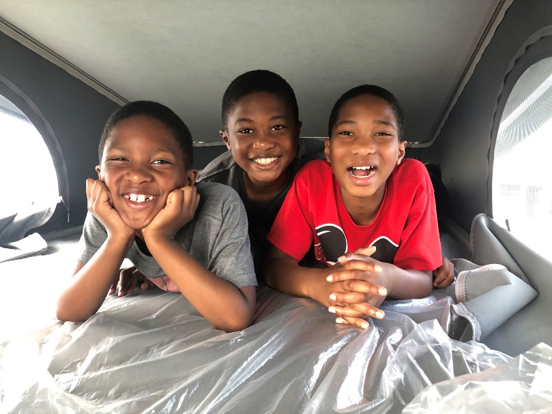 Newmar's brand new Supreme air is bound to turn the heads of any potential buyer that is looking for a top of the line luxury in a Class C.  With towing a 20,000 tow capacity and all new features not found in previous Class C models, this coach will surely be a hit with high-end buyers. Also check out their Superstar Class C model.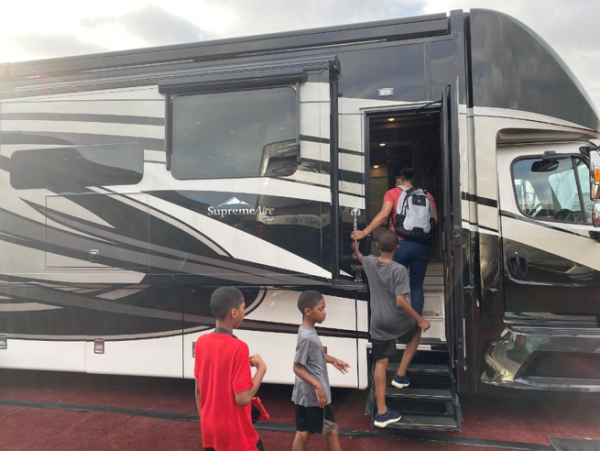 The Tampa show truly has an RV for just about everyone. Tia continues to toy with the idea of getting an RV of her very own. Something small that she would feel comfortable touring by herself. Her eyes lit up after checking out this Caravel 16RB Airstream. It might be her perfect girl getaway RV when she needs a break from me and the boys.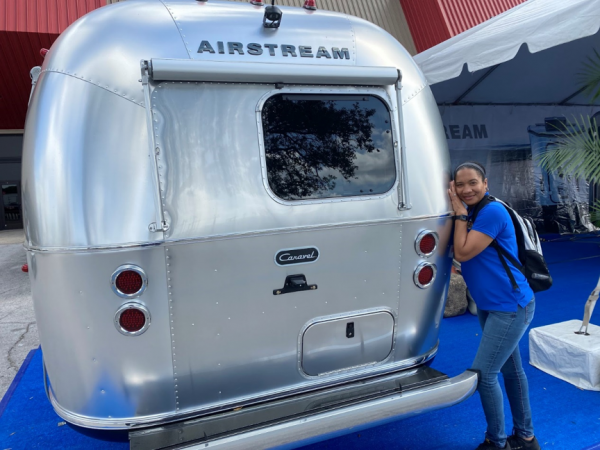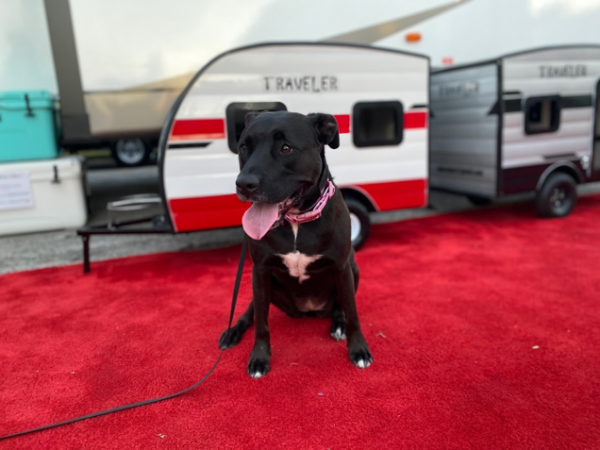 Our Time in Tampa Has Come to an End.
As we prepared to leave Tampa, we felt sad but invigorated. We saw some wonderful coaches. The RV industry really has listened to its customer base and is trying to put some of those comments into their new rigs. Technology seems to continue to press forward at lightning pace and those innovations are flowing into the RV world. 
Meeting up with people, both old friends and new, certainly did not disappoint. We feel like we made some deep connections within the RV creator community, we're grateful to interact with our fans who follow us, and we even learned a thing or two.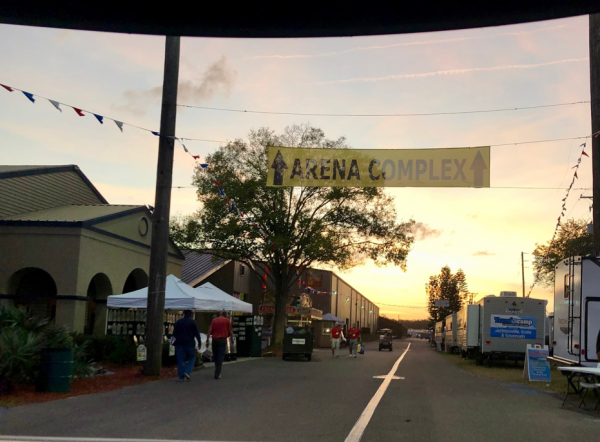 With the sun setting on the 2020 Tampa RV Show, we said so long for now, but we will definitely be back next year! The Florida RV Supershow 2020 is a wrap and they have really set the bar high for this year's RV show season. In our humble opinion, it is simply the best RV show to attend. Safe travels and see you out on the open road!
Keith – Dad of Soulful RV Family and FMCA Lifetime Member
Meet the Family

Soulful RV describes themselves as not the typical RVers. Keith (a former NFL player) and Tia, F452083, are an African American, semi-retired couple with a large family. They share both the practical and fun sides of RVing on SoulfulRVFamily.com and social media, including Facebook and Instagram.