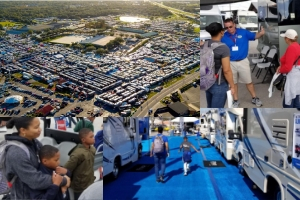 With the spring thaw not too far away, we thought it would be a great time to sit down and reflect on everything we experienced and saw at the 2019 Florida RV Supershow. Many people know it as the big Tampa RV Show. This show is arguably the biggest and the best RV show in the country, but I'm going to get into that later. We love this event, and 2019's show did not disappoint. This is our fourth year in a row attending the Tampa RV Show, and it's time to reflect on everything that made our experience so wonderful. 
Getting an Early Look During Industry Day
For us, one of the very special parts of the Tampa RV Show is the Industry Day preview. Industry Day is open only to people involved in the RV industry. It allows early access, sometimes as the displays are still being set up.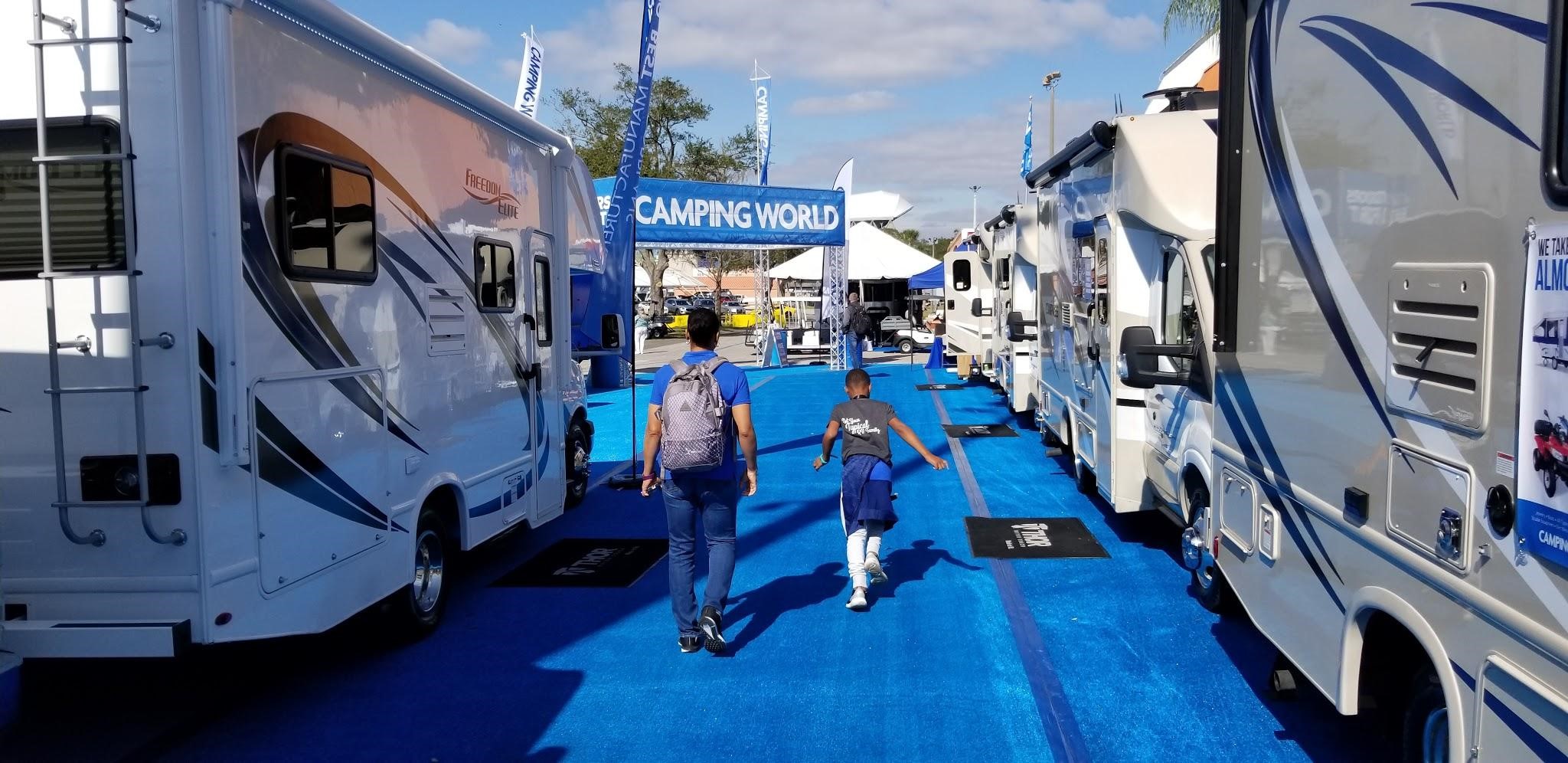 We use this time to scope out the layout of the show and make our plan for what we want to see and who we would like to visit once the show opens.
The People
One of the best things about the Tampa show is the number of followers and RV enthusiasts we get a chance to interact with. It was humbling for us to be RV shopping and have someone come up to us and say "We follow you!" I'm thrilled that we are able to interact with so many people from so many different parts of the country to inspire, encourage, and share our experiences.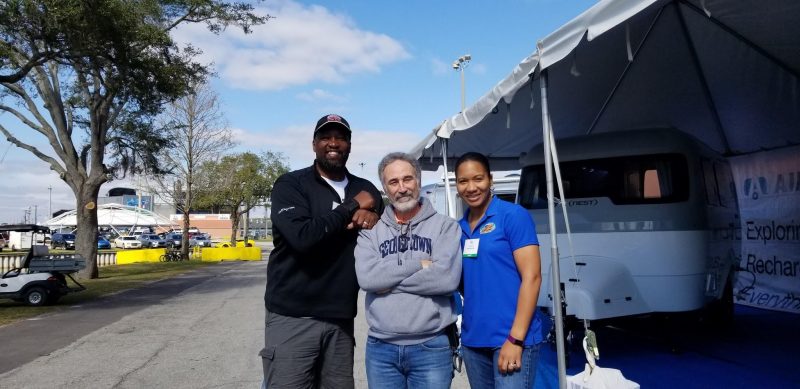 Bonus: Meeting RV Content Creators
This one was really a lot of fun for us. Yes, as bloggers ourselves we still follow the blogs, podcasts, and YouTube channels of many RV content creators. So getting a chance to finally meet face to face with so many of these incredible creators was so much fun. We had a chance to meet RV influencers like We Are The Russos; Mike and Jennifer Wendland of Roadtreking; Marc and Julie Bennett of RVLove.com; and Chris Dunphy and Cherie Ve of Technomadia.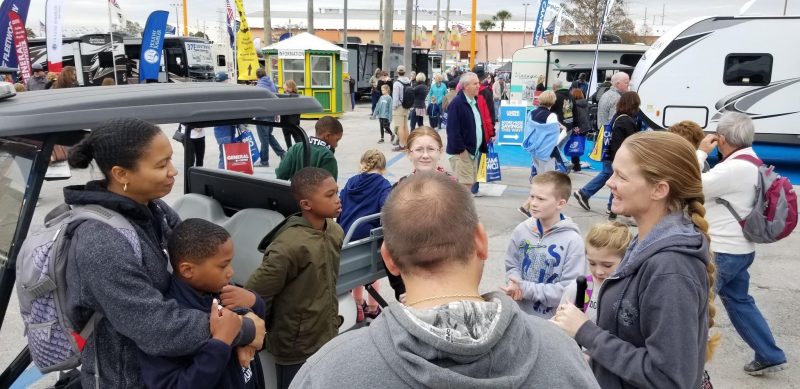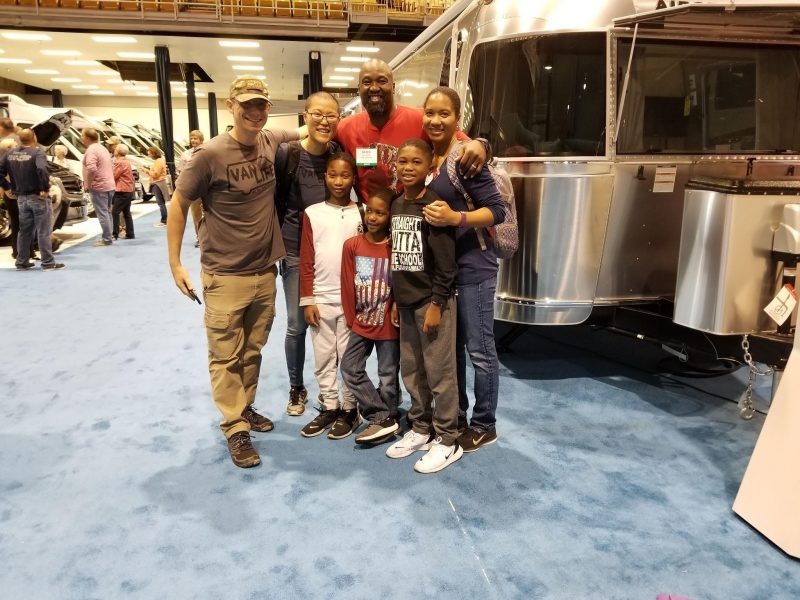 We, like most people, have only interacted with these creators via social media most of the time. It was very nice to have a few moments to meet these creators in person and share thoughts and ideas. Every single one of them was open, honest, and welcoming.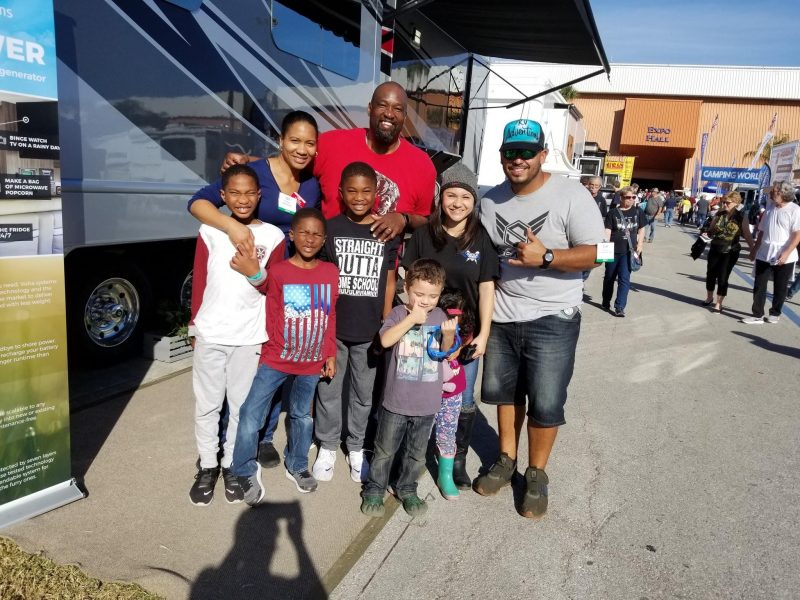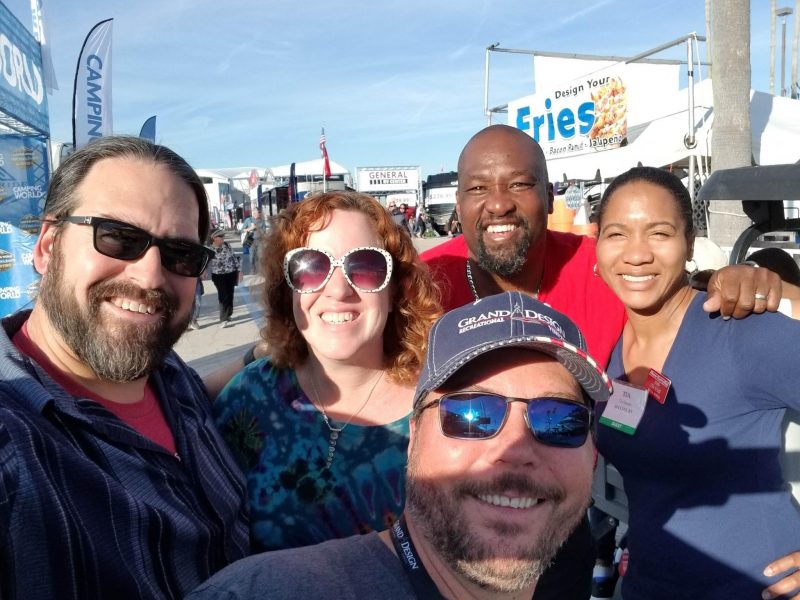 Smaller RVs Everywhere
We all know that the RV industry has been on fire for the last few years. This year we saw more innovations than I can remember. We saw a shift in ownership levels to younger, more active RVers. You can feel and see the millennial effect.
While towable RV's still dominate the percentage of RV sales, you can clearly see that Class Bs and smaller RVs are the flavor of the year. It seemed like every manufacturer was putting their models out there to capture those millennial dollars. The advancement in Class Bs is very exciting.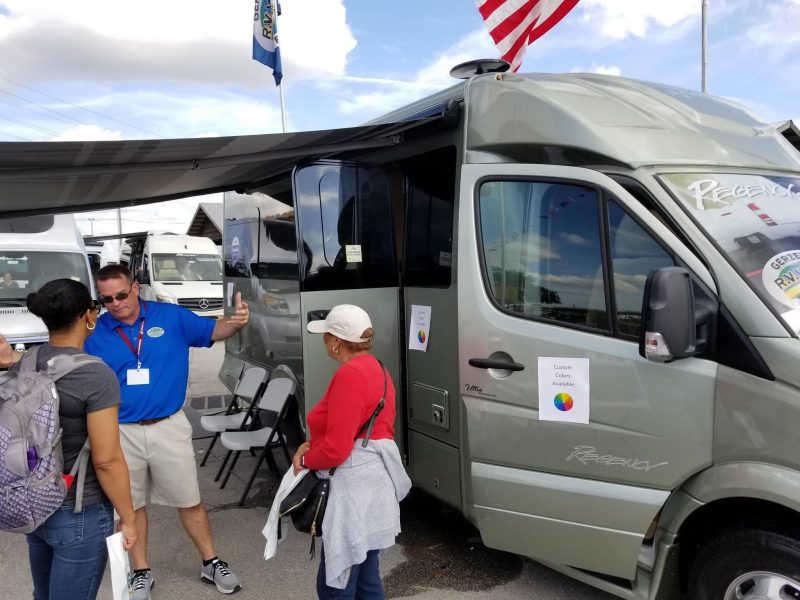 There seems to be something for everyone, whether you're strictly looking for a bed to take off the grid somewhere or something that is actually family-friendly for parents and kids.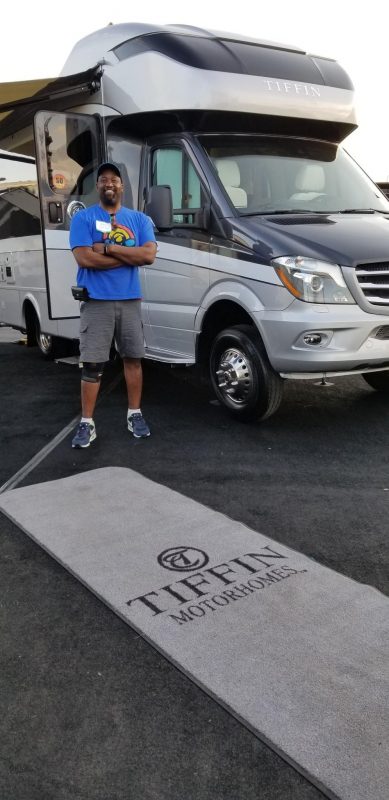 It's amazing to us what manufacturers do with such small spaces. Every single inch of these coaches are utilized effectively. We wish prices would come down more, but you are now seeing more options in the under $100k price range.
Off the Grid
It seemed like just about every RV we stepped in either had solar installed, was prepped for solar, or at least had it as an option. You can clearly see the shift to "off the grid" camping options. The addition of solar and the advancement in lithium-ion batteries are making their way to more and more RVs. I have to admit I have a love affair with the idea of solar energy, and I would love to have it on our RV. The hard part was when my wife reminded me that we have not entered into the boondocking stage of the RV experience!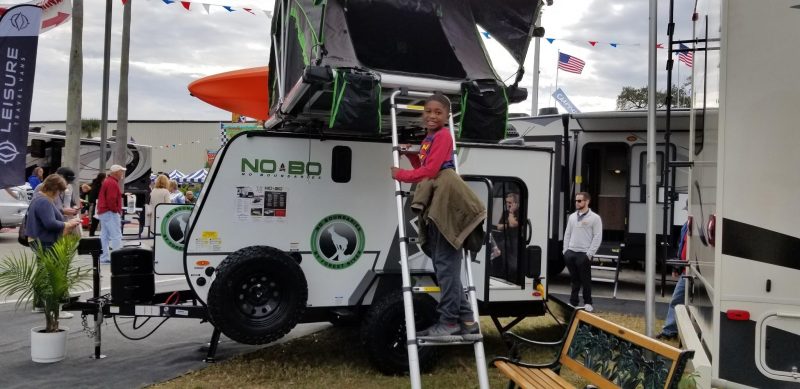 Plus, it's enticing to see prices come down considerably for solar systems and battery packages. But, again, I have to remind myself that we're not there yet. It's exciting to see so many people wanting solar lithium batteries as part of their new RV purchase. Maybe I can find a sponsor who wants to help me out with my RV! Anybody out there? I am listening. 🙂 
The RVs
We saw with our eyes and we heard it with our own ears: people are saying how nice it is to see the RV industry listening to consumers. It is a difficult thing because you can't please everybody and these manufacturers are trying to build RVs that appeal to the largest group of buyers. But we saw this year more than any other year that there is a distinctive change in colors, decor, and definitely technology.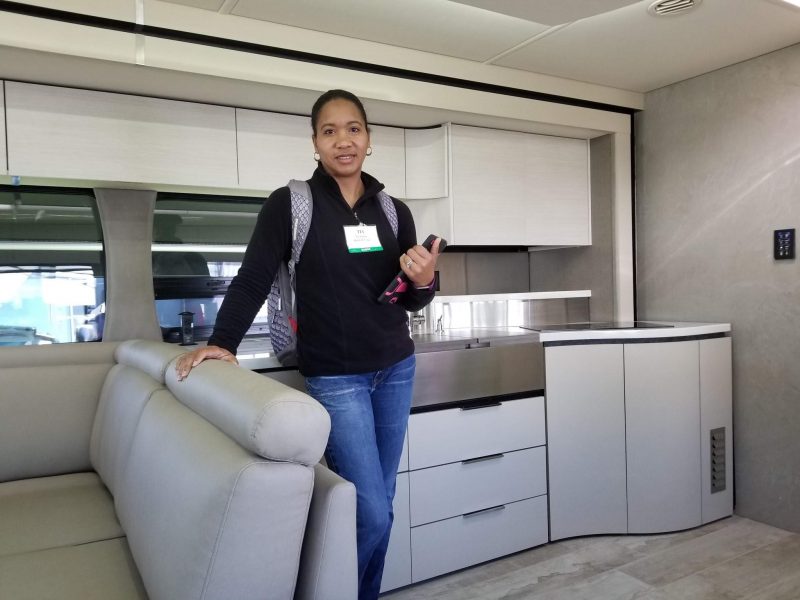 We actually stumbled across a couple of "game changers." We actually were in the market for a new RV for our family. We're not replacing our Newmar Class A (We absolutely love it), but we are considering adding a second RV to our family mix. We have discovered that a 43-foot Class A is a wonderful RV to have, especially when you're staying or traveling for an extended period of time. However, we do miss having something that is nimble that could be for short one- or two-day trips.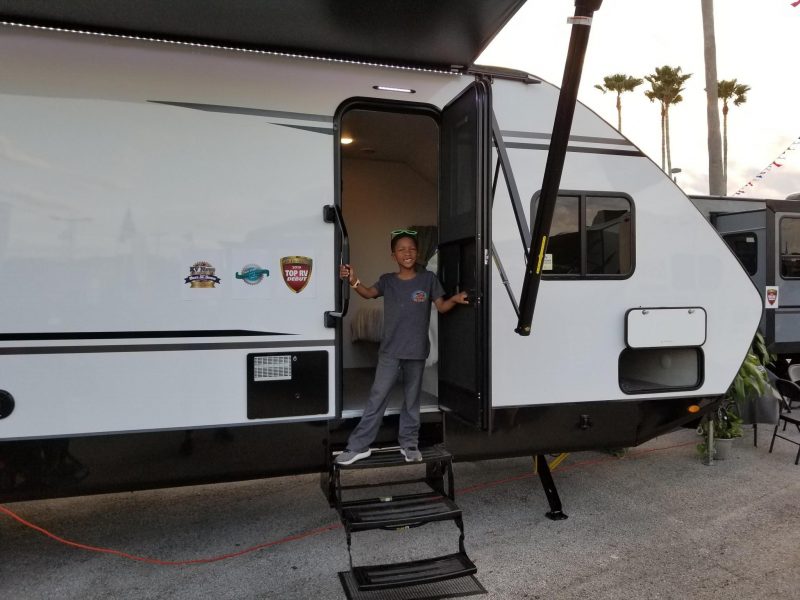 Also, we recognize with so many people wanting to travel in an RV, there is an exciting business opportunity to purchase that second RV to rent out. So with that, our eyes will be on travel trailers and small B pluses.
Wrap Up Time
One of the things we love the most about being RVers is the community.  At the Tampa RV Show, the RV community was out in full force. We interacted with so many people from different backgrounds, sharing our passion for RVing. Groups like FMCA, Newmar Kountry Klub, AIM, and many others were on site rallying and having a blast.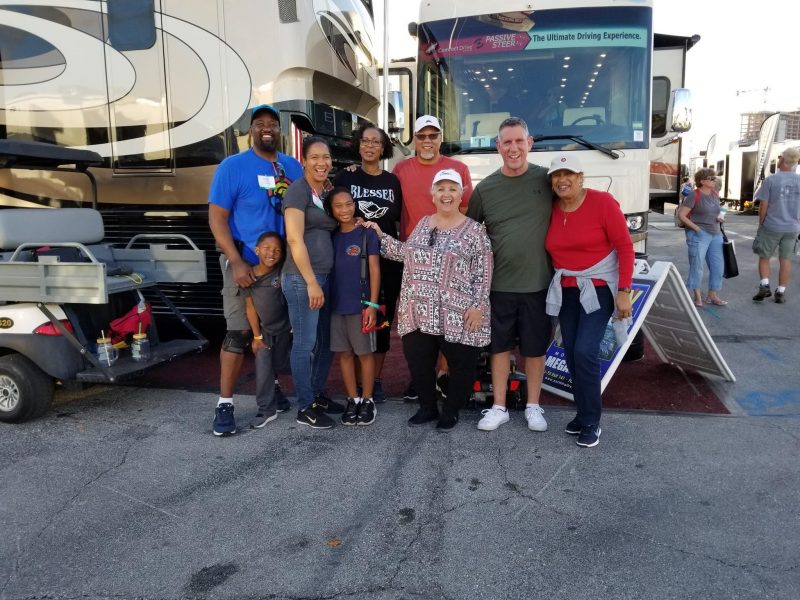 We really missed camping on site for the show. When making plans, we decided to stay closer to Orlando and make the 45-minute drive each day. We will not make that mistake again. I really feel like we missed out on that interaction and fellowship on the grounds. And, if we're gonna be 100% honest, we really missed the convenience of a short trip to get into the show every morning rather than an hour-long drive.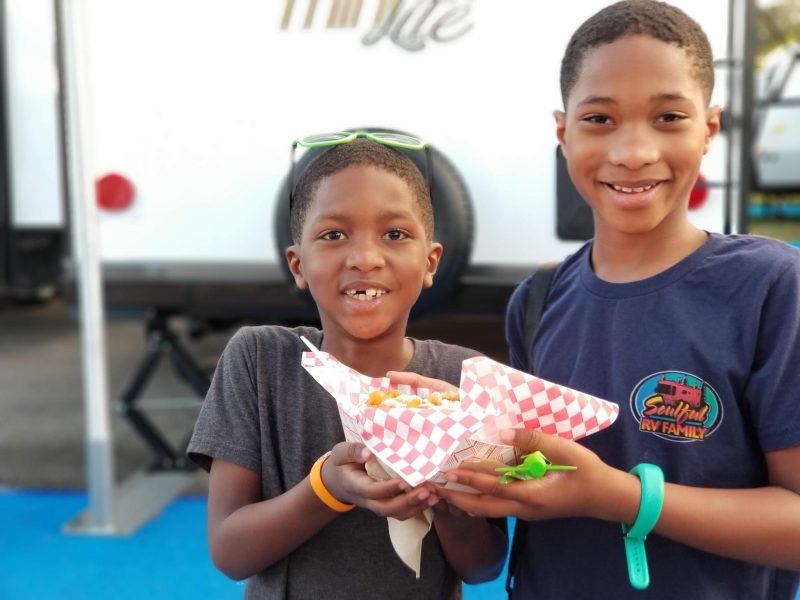 So if you haven't attended the Florida RV Supershow before,  it's time to make plans for the 2020 show! Hopefully, we will see you there next year or out on the road this season. Next stop: FMCA's 99th Convention in Perry. Safe travels everyone and God bless.
Meet the Family
Keith and Tia Sims 


Soulful RV describes themselves as not the typical RVers. Keith and Tia, F452083, are an African American, semi-retired couple (former NFL player) with a large family. They share both the practical and fun sides of RVing on SoulfulRVFamily.com and social media, including Facebook and Instagram.