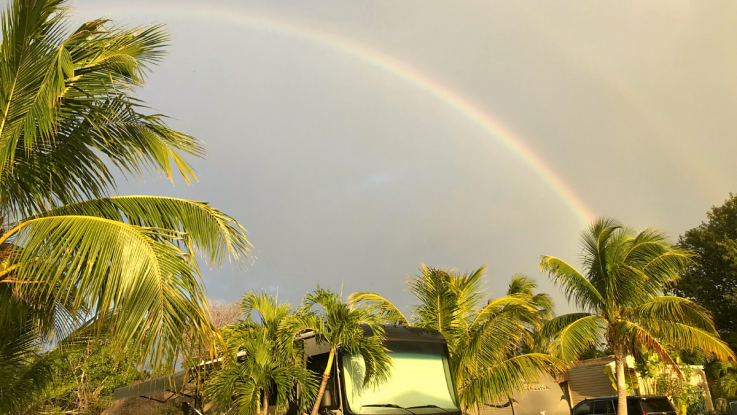 New RV Resorts are Being Built in Florida

The January 2021 Florida RV SuperShow may not have drawn as many people as it normally does, because of the COVID-19 pandemic, but that is not an indication of the overall state of the RV industry. New RV Resorts are being built in addition to massive expansions that will add more than 3,000 RV sites to parks across Florida. 
"Demand for RVs and the RV lifestyle is at record levels," said Bobby Cornwell, executive director and CEO of the Florida Association of RV Parks and Campgrounds (Florida ARVC), which hosts CampFlorida.com, the travel planning website that represents more than 400 campgrounds across the Sunshine State.
"Even before the pandemic, park operators and developers were planning to add more than 3,000 new RV sites in Florida, both by building new RV resorts and expanding existing ones," Cornwell said. "Pre-pandemic demand was being fueled by retiring baby boomers as well as growing numbers of millennials."
But after the pandemic hit, Cornwell said, demand for camping and RVing has become even stronger as millions of people have realized that camping and RVing is the safest way to travel.
In addition, with the pandemic creating more situations where employees are working from home, a growing number of people, including those with young children, are realizing that they can work from anywhere while enjoying the RV lifestyle.
Indeed, ITR Economics' inaugural forecast for the RV Industry Association's quarterly RV RoadSigns report predicts RV manufacturers will ship 507,200 units to dealers in 2021, the highest shipment figures in the history of the RV business.
The National Association of RV Parks and Campgrounds estimates that more than 53,000 new RV sites will be built across the United States this year. The estimate was based on a survey of 516 campground and RV park operators.
Growing interest in the RV lifestyle has sparked the creation of new RV parks and resorts across the state of Florida, one of the most popular vacation destinations in the United States.
Keep it in the Family – The FMCA Family!
The following parks are FMCA commercial members that are included on the list of new and expanding resorts or RV parks. That means that they are part of the same RV family as all of our members, and we encourage members to show them their support whenever possible. Not an FMCA member? Join Now!
Flamingo Lake RV Resort in Jacksonville (FMCA commercial member C12313)
This park has added 127 sites in the past two years, including 60 sites in 2018 and 67 sites that were completed in August 2019, according to Ken Lloyd, the resort's assistant general manager and vice president. "We filled up the first 60 new sites a month and a half after making them available," Lloyd said, adding that the park has spent over $3 million in its latest improvement and expansion projects, which include paving gravel roadways in a portion of the park. https://www.flamingolake.com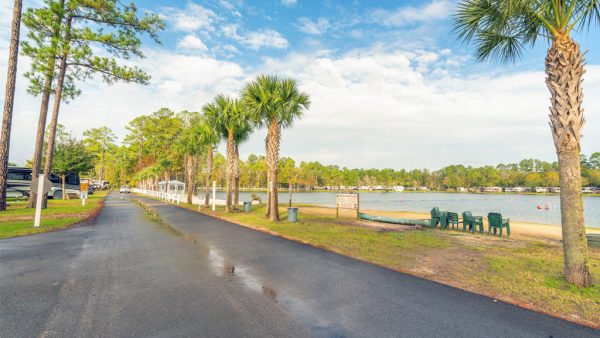 Wildwood RV Village in Wildwood (FMCA commercial member C13865)
This pet-friendly park, which is conveniently located along I-75 between Ocala and Tampa, opened 210 new sites in January 2020. Park amenities include a heated swimming pool with a sunning deck, a shaded dog park and picnic area, big-rig-friendly sites and free cable TV and Wi-Fi. https://www.wildwoodrvvillage.com

New and Improved RV Parks, Campgrounds, and Resorts
The following are examples of several new and expanding RV parks and resorts in Florida:
Creekside RV Park in Punta Gorda
This park debuted its first 122 sites in 2018 and its 73-site second phase in December of 2018. https://www.creeksidervresort.com
Fiesta Key RV Resort and Marina in Long Key
A redevelopment of the west side of this resort was completed in early 2020, impacting 70 sites. In addition, extensive renovations to 17 rental units were competed and are now available to guests. https://rvonthego.com/florida/fiesta-key-rv-resort/
Hidden River RV Resort in Riverview
This park is adding another 85 RV sites. Fifty-one sites have already been completed while the remaining 34, which are located along the river, will be finished between February and June. https://www.sunrvresorts.com/resorts/south/florida/hidden-river/
Keystone Heights RV Resort in Keystone Heights
Construction crews completed the first 193 sites of this park with the park opening in November 2020. https://www.keystoneheightsrv.com
North Beach Camp Resort in St. Augustine
This 150-site park has embarked on a 70-site expansion, the first sites of which are expected to be ready by next winter. https://northbeachcamp.com
Pecan Park RV Resort in Jacksonville
This park has nearly doubled in size to 341 sites with the addition of 158 concrete RV sites. http://www.pecanparkrvresort.com
Southern Leisure RV Resort in Chiefland
A major expansion recently took place at this park, which opened in January 2019 with 218 sites. Work crews added another 279 sites, more than doubling the size of the resort.https://www.southernleisurervresort.com.
Southern Leisure RV Resort of Ocala
Construction is under way on 185 RV sites at this gated resort, which is expected to open in the fall.
Splash RV Resort and Water Park in East Milton
This 62-acre, $20 million resort and water park, under construction near the corner of Interstate 10 and State Road 87, will initially feature approximately 351 RV sites as well as 34 to 40 park model cottages and six furnished Conestoga wagons. https://www.splashrvresort.com
Sunkissed Village RV Resort in Summerfield
This new 267-site luxury resort opened in December 2019. https://www.sunkissedvillage.com
Sunshine Village in Webster
This active lifestyle resort has gone through a $2 million expansion that included the addition of 50 supersites in 2018 and 2019 on a 9.5-acre site that was added to the property. https://sunshinevillageflorida.com
The Tides RV Resort in Palmetto
This new luxury RV resort opened in January 2020 with 389 sites on 95 acres. https://www.thetidesrvresort.com
Thousand Trails Orlando RV Resort in Clermont
This park recently completed the development of a section that will allow for more than 160 new RV sites. http://rvonthego.com/florida/orlando-rv-resort/
Torrey Trails RV and Golf Resort in Bowling Green
The first 158 RV sites at this luxury resort opened this winter. https://www.torreytrailsrv.com
Upriver RV Resort in Fort Myers
This park completed a 57-site expansion in late 2019 along with many other improvements, which include new landscaping, a new bathhouse, new washers and dryers, and a new Wi-Fi system. https://www.upriver.com
Information about the latest trends involving campgrounds, RV parks, and resorts in the Sunshine State is available from the Florida Association of RV Parks and Campgrounds, which markets privately owned and operated parks in Florida through CampFlorida.com, the travel planning website. The association also publishes a free printed camping guide, which can be ordered though CampFlorida.com.