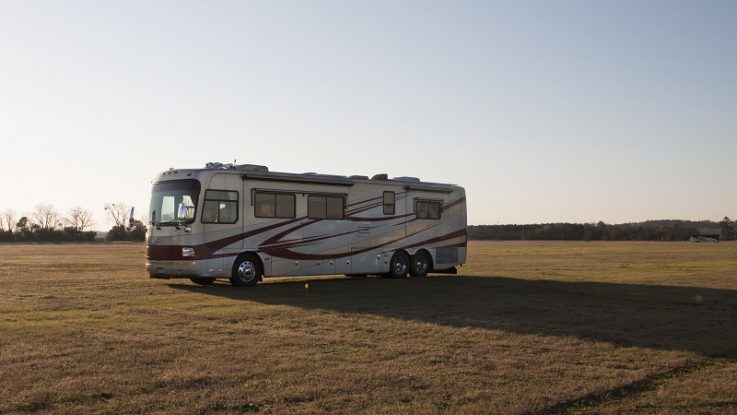 With FMCA's tips on how to take better photos of your RV, you'll be increasing your "likes" on social media and making everyone jealous of your photogenic RV in no time! 
Make sure your RV has some sparkle.
Don't be afraid to give your RV a quick wash and dry so it's beauty can really shine! Even a wax or shining the tires can make your home on wheels stand out. 
Click here to read about RV exterior maintenance tips that can help your RV stay ready for any photoshoot!
Lighting is important.
Make sure the sun is shining directly on your vehicle, rather than behind it. Also position yourself in front of the sun for better focus. In addition, this step prevents the picture from being too bright.  
Angles and placement are key.
Don't be afraid to use the grid feature with your camera app! The grid helps you use the rule of thirds. Simply put, the rule of thirds breaks your image down into thirds, both horizontally and vertically, so you have nine parts within the photo. The lines ultimately help you create a more balanced photo. So if you position your RV along the lines or their intersections, you are one step closer to taking the perfect photo! In addition, angles are also a great photography tool that can be used when taking photos of your RV. Try shooting from a low angle or even at a 45 degree angle to get a picture of the front and side of your RV. 
Keep it simple. 
Make sure the background of your photo is not cluttered with camping supplies, other vehicles, or even other RVers! A good photo has a simple background.
Focus is your friend. 
If you are using a smartphone, make sure your camera is focused on your RV. You want your RV to be the main focus of your photo. So how can you be sure you're focusing correctly? While using your smartphone's camera app, tap on the screen where you see your RV. A yellow box should appear to indicate that the RV is the focus of the photo If you have an iPhone or a simple tap will do the trick for any Android phone . Don't be afraid to play around with it and focus it on different parts of your RV — aim for a creative shot and just focus on the chrome fenders, unique body artwork, etc. 
With these tips, you'll be taking better pictures of your RV — or any vehicle — in no time! For a chance to be featured on FMCA's social media, share your pics using hashtag #fmcaRV on Instagram or Twitter,
What are your best photo tips? Do you have a favorite picture of your RV? Comment below.