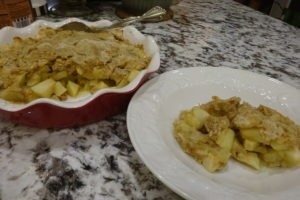 I went to my first kitchen party not long after Mark and I got married.  The company isn't in business anymore. I think Pampered Chef cornered the market and squeezed them out.  I still have the items I bought 20+ years later, though.  One thing from that party that I use over and over again is this Apple Crisp recipe.  It's a little different from some others, as it doesn't use any oatmeal.  Oatmeal was an acquired taste for me and when I was in my twenties, I did not like it one bit.
While this isn't one of my "almost zero cleanup" desserts, it's easy enough to do while you're camping, and it will make your RV smell amazing.  I never tire of the smell of something baking in the oven, both at home and in the RV.  If you're lucky enough to travel with a Traeger smoker, this is a must do dessert. #retirementgoals
Making it My Own

The apple crisp recipe below fits in a Pampered Chef round deep-dish baker and handsomely holds 12 apples.  This recipe can be easily altered to serve a crowd. Most of the time I use this pretty pie plate that my daughter-in-law gave me for Christmas. which comfortably holds eight apples. I used the handy peeler/corer/slicer until a few years ago when Mark told me he liked it to be juicier – more like my pies.  He thought that the handy tool was squeezing out too much juice, and you know what? He was right. 
Now I use an apple tool that cores and cuts it into 10 pieces before using a paring knife to peel and dice them.  This process takes longer, so I recommend preparing the topping before you start on the apples.  To save a bowl, I dice them right into the baking dish.
I made it with eight apples this weekend.  Silly me, though, I forgot the vanilla ice cream!  I can tell you that the mint chip tasted just fine as a substitute.
Ingredients
12 Granny Smith apples
1 cup flour
1/2 cup packed brown sugar
1 stick (1/2 cup) butter or margarine, cold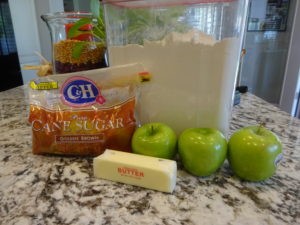 Directions
Peel, core and slice/dice the apples.  Place in pie stone.  Sprinkle with cinnamon/sugar if desired.
Blend flour, sugar and butter with fork or pastry blender until crumbly.  Sprinkle over apples.

Bake at 350 degrees for 30-40 minutes.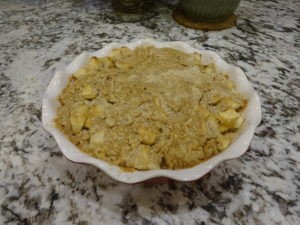 Did you try this apple crisp recipe? Comment below and tell me what you think! If you are looking for another fabulous Fall recipe, check out my Pumpkin Cookies.
Meet the Family
I'm Maureen Milne, F446881 . I'm a mom of two (now grown-up!) boys, ages 26 and 24. My husband, Mark, and I have been married 30 years. We are an adventurous family; our friends call us "X-Games."  We are avid hikers, cyclists, and skiers (both snow and water). Mark does triathlons and we run in 4-5 races a year.  We've been RVing together since we were teenagers in 1984. I share our RVing adventures on my blog, M&M Hit The Road. I also post stories and pictures on Facebook and Instagram.