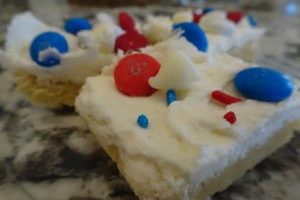 Independence Day is a time to celebrate the birth of our great country. We celebrate with parades, fireworks, and great summertime food. While apple pies, cherry pies, and ice cream are on the top of most grocery lists, these sugar cookie bars are giving the traditional July 4th favorites a run for their money.  They are tasty, RV-friendly and, best of all, delicious!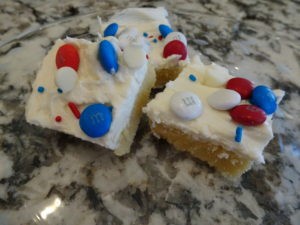 Sugar cookies are always good in my book, but let's be honest — sometimes it can be a drag to chill and roll out the dough. Thankfully this recipe is for one giant sugar cookie — cooked at the same time without ever having to touch a rolling pin.  It is perfect for baking during the summer since your oven is on and off in under 20 minutes. The finished product comes out with a little crunch on the outside and a perfectly soft center.
The whole thing gets topped with a tasty homemade frosting and garnished with some very patriotic M&Ms. This makes for a very festive and delicious 4th of July treat. Plus, since M&Ms come in special holiday colors year-round, you could make these for any occasion: Valentine's Day, St. Patrick's Day, Easter, Halloween, or Christmas.
How to Make Firecracker Bars
Preheat oven to 375 degrees.  Spray a 9×13 pan with cooking spray or line with heavy foil and generously spray the foil.
Cookie Base for Firecracker Bars:
3/4 cup unsalted butter, room temperature (1.5 sticks)
1 cup sugar
2 large eggs
1 teaspoon vanilla
2 1/4 cups flour
1 teaspoon baking powder
1/2 teaspoon salt
Begin by mixing the sugar and butter until it's light and fluffy.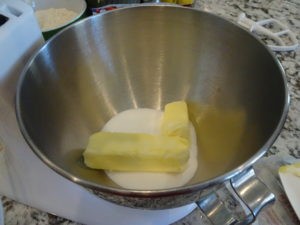 Add eggs and vanilla and mix well until the entire mixture has a creamy texture.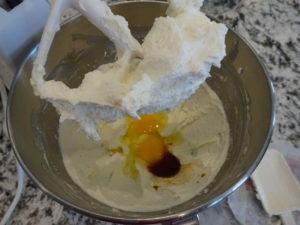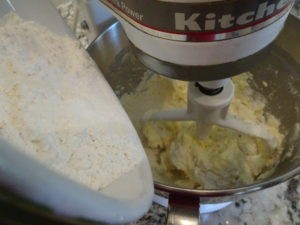 Slowly stir in the flour, salt and baking powder.  Mix until just combined.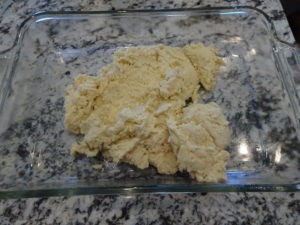 Press into a 9×13 pan.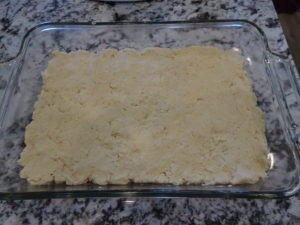 Bake for 10-13 minutes; do not over-bake. The center should be just set with edges not browned yet. Cool completely.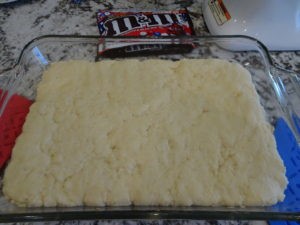 Frosting for Firecracker Bars:
1 stick butter, room temperature
3 cups powdered sugar
1/4 teaspoon vanilla
3 tablespoons milk
Red, white and blue sprinkles
Red white and blue M&Ms
White chocolate chips
Mix butter and powdered sugar for 3-5 minutes until light and fluffy.  Add vanilla and continue to mix well. Add milk 1 tablespoon at a time until you get the smooth consistency that you want.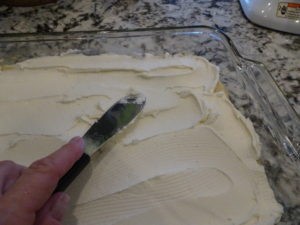 Spread evenly on the cookie and top with M&Ms, white chocolate chips, and sprinkles.  (You can get creative here and decorate with whatever you'd like.)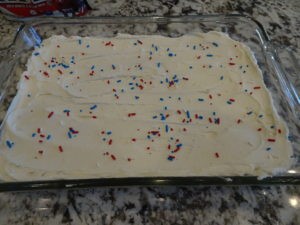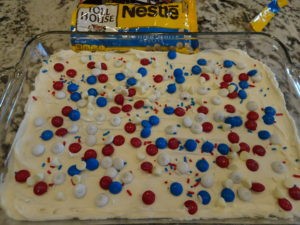 Store bars in an airtight container at room temperature for up to two days and in the refrigerator up to five days. 
Bonus: Recipe can be cut in half or doubled easily.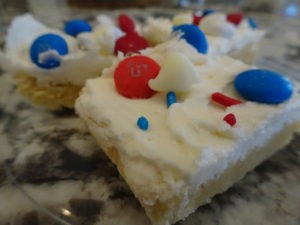 Recipe Credit:  Patriotic Sugar Cookie Bar
You can download and print a PDF of this recipe here.
Give the recipe a try, and leave a comment below with how your Firecracker Bars turned out!
Meet the Family
I'm Maureen Milne, F446881 . I'm a mom of two (now grown-up!) boys, ages 26 and 24. My husband, Mark, and I have been married 30 years. We are an adventurous family; our friends call us "X-Games."  We are avid hikers, cyclists, and skiers (both snow and water). Mark does triathlons and we run in 4-5 races a year.  We've been RVing together since we were teenagers in 1984. I share our RVing adventures on my blog, M&M Hit The Road. I also post stories and pictures on Facebook and Instagram.