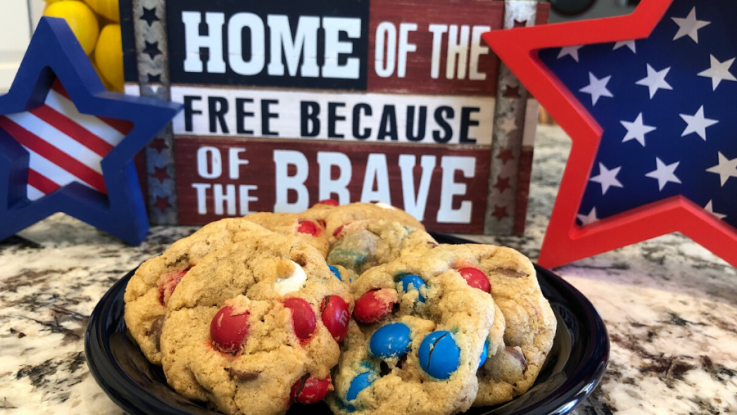 Remember the jingle "Baseball, hot dogs, apple pie and Chevrolet?" Well, I propose a new one: "Baseball, hot dogs, apple pie and cookies!" And by cookies, I mean these festive and delicious red, white and blue cookies. 
Warm chocolate cookies are number one on my list of favorite treats.  For me, there is nothing like it.  I was looking for an easy way to make my favorite cookie a patriotic favorite.  I also had to find a way to use up an extra-large bag of milk chocolate chips that I bought by mistake.  Seriously, how does a self-professed chocoholic who could devour an entire batch of cookies straight from the oven buy milk chocolate chips instead of semi-sweet ones?  I'm going with my mistake of picking up the one wrong bag in the semi-sweet display at the grocery store.  Yep, that's my story. 
I also am a big fan of the red, white and blue M&M's.  They are just so festive.  I buy two for each patriotic holiday which totals six for the summer.  I may or may not buy all six bags as soon as I see them in the store in May.  I promise I don't hoard them.
Let's get baking!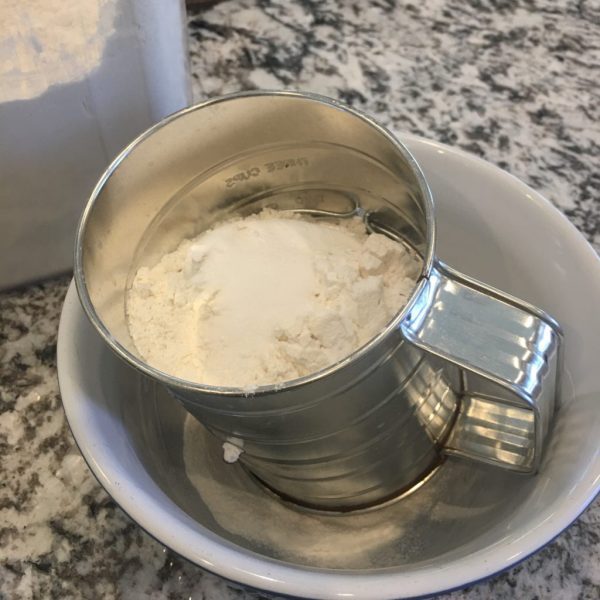 The Ingredients
 2 cups all-purpose flour
 1/2 teaspoon baking soda
 1/2 teaspoon salt
 3/4 cup unsalted butter, melted and slightly cooled
 1 cup packed brown sugar
 1/2 cup white sugar
 1 tablespoon vanilla extract
 1 egg
 1 egg yolk
 1 cup milk chocolate chips
1 cup red, white & blue M&M candies
The Instructions
Preheat the oven to 325 degrees. Line cookie sheets with parchment paper.
Melt butter.
While butter is cooling, sift together the flour, baking soda and salt. Set aside.
In a medium bowl, cream together the melted butter, brown sugar and white sugar until well blended. Beat in the vanilla, egg, and egg yolk until light and creamy. Mix in the sifted ingredients until just blended. Stir in the milk chocolate chips by hand. After they are incorporated, stir in M&M candies.  If your butter was still hot when you added it your dough may be really wet at this point. Let it rest at room temperature for a couple of minutes if this is the case and then it will be cool enough to scoop into cookies.
Scoop and place dough on cookie sheets and bake 9-10 minutes (my oven cooks slow, your time may be shorter), rotating/turning cookie sheets halfway through baking time.  Bake, reversing position of cookie sheets halfway through baking, until cookies are light golden brown and outer edges start to harden yet centers are still soft and puffy.  Do not over bake.
Cool cookies on sheets until able to lift without breaking. Transfer to a wire rack to cool.
My Process
Take the time to melt then slightly cool the butter before you get started.  If the butter is too warm, the batter will be affected.  I learned this lesson when I tried to make them on a time crunch.  Never again.  While the butter is melting and cooling, sift the dry ingredients in a small bowl. Sifting gives the right amount of fluff for perfectly structured cookies.  I could eat these either way, batter by the spoonful or as a warm cookie.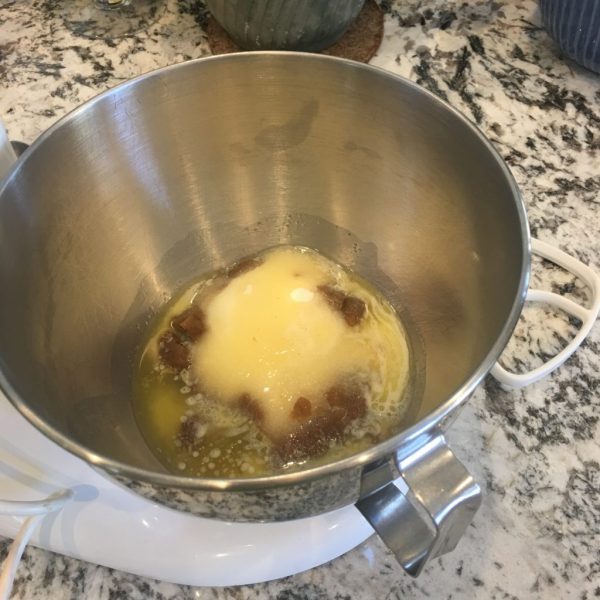 When the butter is slightly cooled, cream it with the sugars until light and fluffy.  With the mixer on low, slowly add the flour and mix until just combined.  Stir in one cup of milk chocolate chips by hand.   After the chips are nicely incorporated, add one cup of red, white and blue M&M's.  I like my cookies on the small side, purely so I can eat six or eight and not feel bad, so I use a 1-tablespoon size scoop.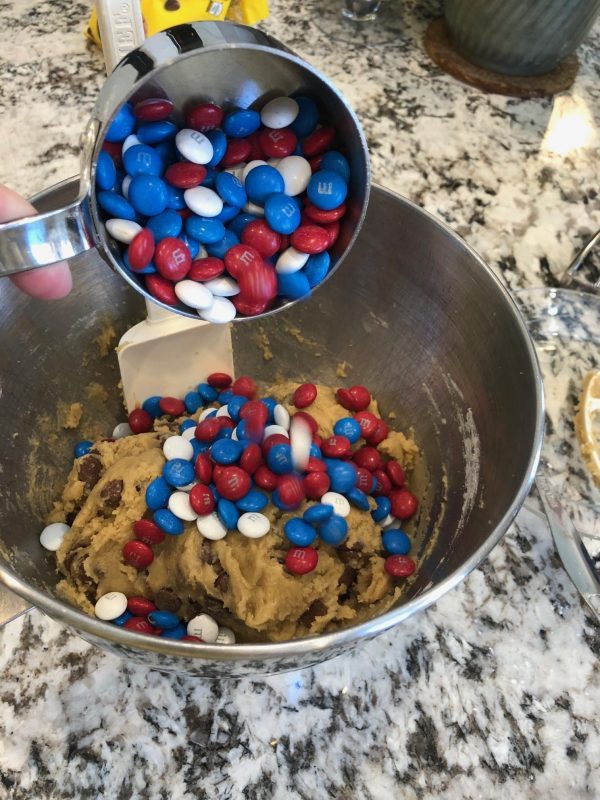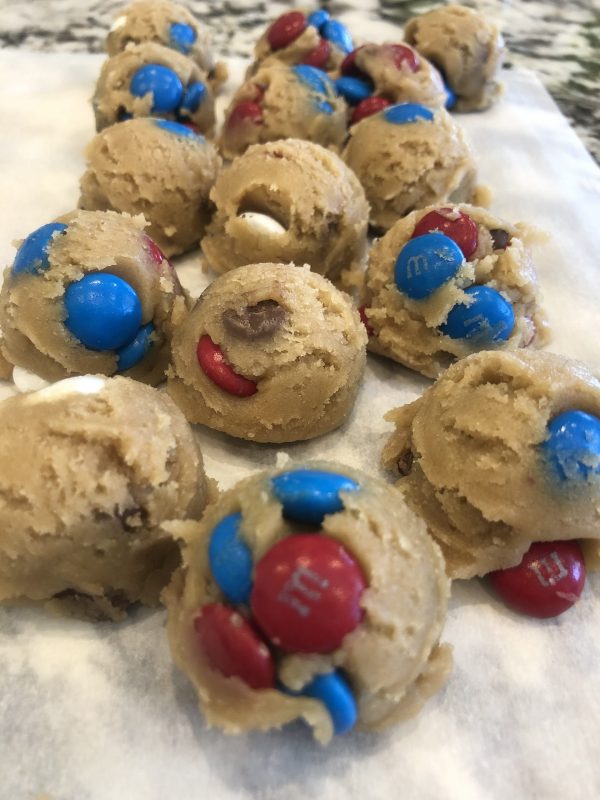 Bake in a 325-degree oven for 9-10 minutes.  If using a big, beefy scoop then bake for 11-14 minutes.  Rotate the cookie sheets at halfway point.  Do not over bake.  Let them sit on cookie sheet for one minute or two then fully cool.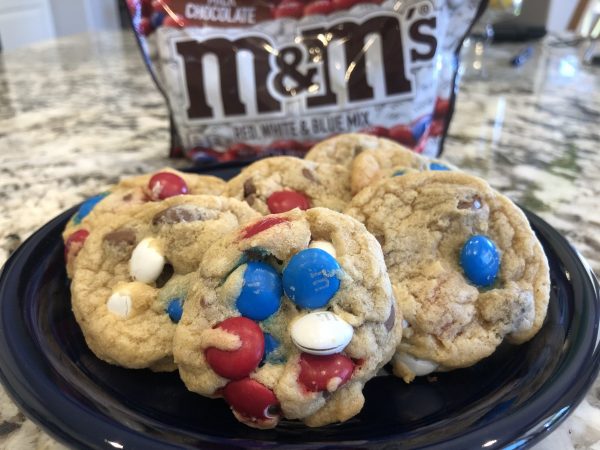 I don't travel with my Kitchen Aid stand mixer but I do keep a hand-held one in the RV.  It will just take a little longer because you can't get three cookie sheets in either the regular oven or microwave/convection oven of an RV.  
Have a Happy 4th of July!
I hope you enjoy these delicious morsels as much as we do.  May they last longer in your house than they do ours. Tell everyone what you think of the recipe in the comments!
Looking for even more red, white, and blue desserts? Check out my recipe for Firecracker Bars from last 4th of July.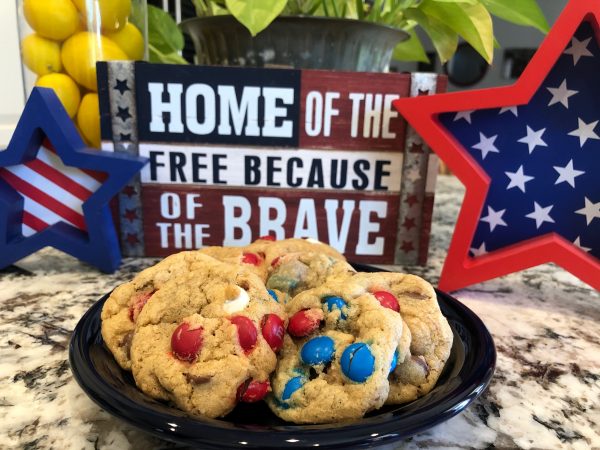 Meet the Family
I'm Maureen Milne, F446881 . I'm a mom of two (now grown-up!) boys, ages 26 and 24. My husband, Mark, and I have been married 30 years. We are an adventurous family; our friends call us "X-Games."  We are avid hikers, cyclists, and skiers (both snow and water). Mark does triathlons and we run in 4-5 races a year.  We've been RVing together since we were teenagers in 1984. I share our RVing adventures on my blog, M&M Hit The Road. I also post stories and pictures on Facebook and Instagram.