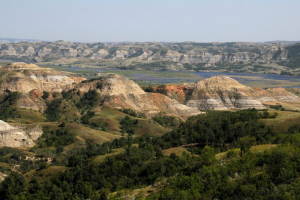 If you're heading west this summer,  North Dakota state parks offer a unique blend of scenic beauty, outdoor recreation, and camping opportunities. In fact, 
all of the state's parks accommodate RVs, making them the perfect stop on your way to  FMCA's 100th International Convention in Minot, North Dakota, August 14-17. 
Read FMCA's top picks of the closest North Dakota state parks to Minot.
Parks Near Minot
Known as the "Walleye Capital of North Dakota," this 549-acre property is popular among anglers and other outdoor lovers. A museum details the history of Fort Stevenson, a late-1880s supply depot.

This park sits on the south shore of the third-largest man-made reservoir in the U.S., comprising 368,000 acres. It's another premier fishing spot and is home to the western terminus of the 4,600-mile North Country National Scenic Trail.
Encompasses 589 acres along some of the last free-flowing, undeveloped stretches of the Missouri River. Thirteen miles of trails lead to the adjacent 5,000-acre nature preserve, featuring mixed prairie grass, river-bottom forests, woody draws, and bison.
Nestled in the Turtle Mountains along the U.S.-Canada border, this 1,551-acre park is popular year-round. An outdoor learning center offers programs that focus on history, nature, and recreation.
Learn More About North Dakota State Parks