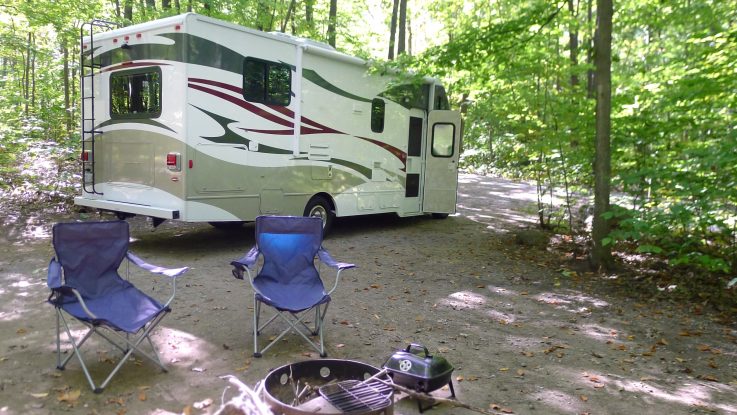 Keep your RV exterior looking its best with these tips from FMCA and the "RV Doctor" Gary Bunzer. Take pride in your home on wheels!
RV Exterior Tip #1: The Roof
Get into the habit of inspecting the RV exterior once a month, with special attention given to the roof. Examine the seams, edges, moldings, caps, and anything else attached to the roof. Any screw or mounting method used on the roof can become an entry point for moisture. Water intrusion is the largest threat to any RV.
Small problems will not go away on their own. Left unaddressed, small problems will only worsen and quickly move (along with their associated cost) from the preventive maintenance stage. So follow these steps to manage small problems:
Keep the roof clean. Use a soft broom every couple of weeks to sweep away leaves, dirt, and road grime.
Look closely for evidence of mold and mildew, especially on synthetic surfaces.
Remove bird droppings or tree sap as soon as it is spotted.
Wash the roof with the appropriate cleaning agent four or five times each year. A clean roof is simply easier to inspect!
And, finally, know what material forms your RV's roof. Use products that are safe for your RV's roof surface material.
RV Exterior Tip #2: Sidewalls
Likewise, learn what material is used on the exterior of your RV's sides. Is it painted aluminum? Fiberglass? Filon or another FRP derivative? ABS or PVC plastic? Are steel components used? If you own a Type C motorhome, don't forget about the cab portion and its exterior surface.
Scan the sides of your RV and start counting how many components are attached: storage bay doors, refrigerator vents, furnace vents, city water inlet, etc. Every attachment point is a potential source for a water leak.
Inspect all seals around the sidewall openings. At the first sign of a deteriorating sealant, reseal! In severe cases, it may be necessary to completely remove the component and reinstall using fresh sealant. In other cases, a quick but correct application of a silicone sealant over the suspected gap may be all that is required.
Next, check for black streaks. Unfortunately, every RV is susceptible to those nuisance black streaks caused by four elements: dirt, moisture, time, and neglect. This video explains how these streaks form and how to remove them.
When using any type of black streak remover, never apply the solution directly to the surface of the sidewall. Moisten a clean, soft cloth with the remover and try to keep within the boundaries of the black streak. All black streak removers contain components that will remove existing wax, so areas treated with the remover will need to be re-waxed.
Unless the black streak is deep-seated and has become oxidized, it eventually should come off or at least be minimized. If the black streak has oxidized into the finish, other products exist that can address this specific type of problem. But, remember, it's crucial to use a product compatible with your RV's exterior surface to prevent further damage – read those labels!
RV Exterior Tip #3: Fiberglass Caps
Many RVs have some form of plastic caps covering their front or rear ends. Over time and with exposure to UV rays and ozone, the appearance of these fiberglass caps can become dull or fade to a certain extent. This is the first degree of oxidation. Whenever sunlight, heat, and moisture collide, oxidation can be expected.
The second level of oxidation results in a pronounced chalking of the finish. You've probably seen front and rear caps that display a distinct, blotch-like chalky residue that can be wiped away with a moist rag. Neglected further, the cap surface eventually can crack and deteriorate and, in the process, cross the line between restorative maintenance and damage repair. If individual fibers become visible in the fiberglass, it may require a repair out of the DIYer's realm.
Fiberglass front and rear caps must be protected with wax or polish. Plain old car wash soap is a good option because it does not remove wax as detergents do. Polish is similar to wax, but some polishes and polishing compounds actually contain trace amounts of abrasives.
RV Exterior Tip #4: Undercarriage
The underneath surface of the RV is the "forgotten" exterior surface. The main concern is critter infestation. Look for large gaps around exposed plumbing that may pass through the floor and subfloor. It's important to seal around all gaps that can trap moisture and road debris.
Look for loose or damaged sections of the underbelly, regardless of the types of materials used under there. Some RVs have sealed underbellies, while other RVs may be open to the bottom of the subfloor. Others may have only a soft plastic wrap encasing the floor insulation. Look for anything that appears out of the norm. While you're down there, check all chassis and suspension components for damage or irregularities, and look for evidence of water leaks. If you use the RV in winter conditions where salt is used on the roads, check for rust.
---
For more RV exterior maintenance tips, visit Family RVing magazine. 
This information is for educational purposes. FMCA shall not be responsible nor retain liability for RVer's use of the provided information. Prior to making any RV service decision, you are advised to consult with an RV professional.