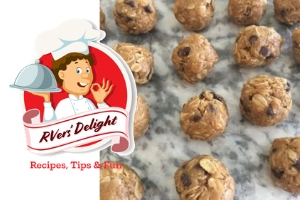 These babies are a must have for any RV trip snack.
Just like almost everyone these days, we are trying to eat better. We're trying to limit our processed foods and keep healthier options close at hand. Boy, some days are better than others for sure.
Many of our trips are a 3- to 6-hour drive, which can lead to mindless eating. I'm the flight attendant while Mark drives, so I'm the one that fetches coffee, water, and snacks. It's so easy to grab that little bag of Cheetos or a few cookies. (We still like a crunchy snack, and who doesn't like the new thin Oreos? Seriously, if you haven't tried them you should!) But, that's not what we should be snacking on while rolling down the road.
Opting for a Healthy RV Trip Snack
This recipe from Cooking Classy popped up on my Pinterest feed and they looked so good, I knew I had to try it. The recipe met my requirements for an RV trip snack: easy and portable.  Almost two years later, we always have a container of these in the fridge.
These No-Bake Energy Bites come together quickly and are easy to make. I'm sure you'll like them just as much as we do.  They have become the perfect snack and, as a bonus, they are almost completely guilt-free!
There is just enough sweetness to satisfy our craving, and the peanut butter adds just enough protein to keep the hunger away — perfect for when you're on the road. We also take them on hikes and RZR rides.  I'll wrap several in foil and toss them in the freezer overnight and then pop them in our backpack for the day's adventure.
No-Bake Energy Bites
Here's what you'll need:
1/2 cup creamy peanut butter
1/3 cup honey
1 teaspoon vanilla
1 cup old-fashioned oats (raw)
2/3 cup toasted, sweetened shredded coconut (Optional)
1/2 cup ground golden flax seed (I prefer to use Bob's Red Mill.)
1/3 cup mini chocolate chips
Makes 20-25 depending on size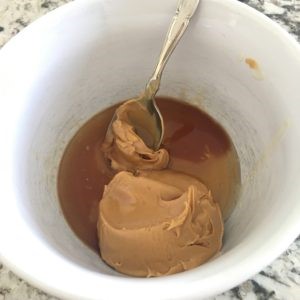 Stir the peanut butter, honey, and vanilla together in a bowl. After that's all smooth and creamy, add the flax seed, oatmeal, and chocolate chips.  If you're including the coconut, add it here as well.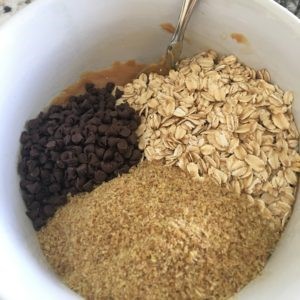 I'm not a fan of coconut (it's a texture thing for me), so I add a little extra oatmeal to compensate.  I'm sure you'll find them just as delicious with or without the flaky white stuff. 
I used Bob's Red Mill ground flax seed and mini chocolate chips instead of regular sized ones. The original recipe calls for 6 tablespoons of chocolate chips.  The first time I made these, I dutifully scooped and counted each one of them out. Then I thought there had to be an easier way as I probably had another tablespoon or two spilled on the counter! Off to Google I went — I found that 6 tablespoons of chips are .375 cups, so I use 1/3 cup and figure I'm close enough.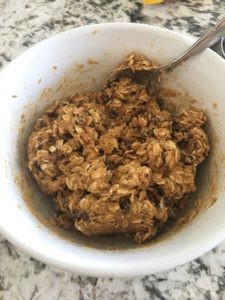 Refrigerate until mixture firms up, about 30 minutes.  Try to resist the temptation to sample it before it's had had a chance to chill.
Once chilled, shape into 1-inch balls. Use a regular spoon to scoop the mixture up, and then roll it into a ball.  I lay them on a piece of wax paper until I'm all done rolling. 
Store in your refrigerator in an airtight container. I have a great square Tupperware container that has been the exclusive energy ball container for years now.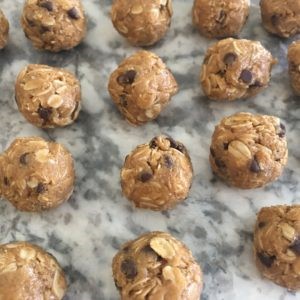 And there you have it! Perfect, bite-sized, little balls of guilt-free energy for your RV trip snacking pleasure. You can download and print the recipe here. I hope you like them as much as we do. Let us know in the comments if you've tried this recipe!
Meet the Family
I'm Maureen Milne, F446881 . I'm a mom of two (now grown-up!) boys, ages 26 and 24. My husband, Mark, and I have been married 30 years. We are an adventurous family; our friends call us "X-Games."  We are avid hikers, cyclists, and skiers (both snow and water). Mark does triathlons and we run in 4-5 races a year.  We've been RVing together since we were teenagers in 1984.  I'm a three-year thyroid cancer survivor, which has given me a new perspective on life.  I share our RVing adventures on my blog, M&M Hit The Road. I also post stories and pictures on Facebook and Instagram.