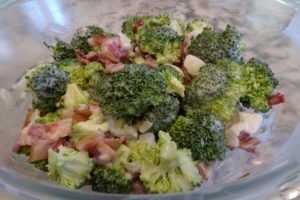 I still remember when this broccoli salad entered my life. The day was Father's Day, 15 years ago or so. We were having a pool party with several friends and neighbors for our annual Father's Day BBQ.  The number of people would change each year, but one thing remained consistent — the delicious food!  Tradition always meant the guys would cook for us on Mother's Day, but Mark insists on manning the BBQ for Father's Day as well. Okay, rock on man! 
The party is always potluck style, with everyone bringing something unique to share. On this particular day, our dear friend Deb brought a broccoli salad. Mark had a look of hurt on his face because he despises broccoli, but I was jumping for joy. I love me some healthy foods!  It took all I had in me to not grab a fork and eat the entire bowl right away. Unfortunately, as the host of the event, I had to share.  Looking back, I probably should have set some aside and hid it in the bottom drawer of the refrigerator because it was gone in a flash. There were no leftovers for me.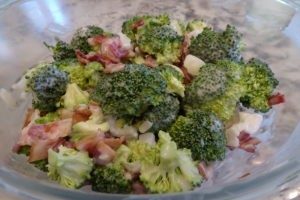 Not to worry though because Deb made it again a few weeks later for a pool party on July 4th.  She even added extra bacon this time just for Mark.  He must have been feeling really brave that day because he tried this wonderful dish with something green in it. And guess what?  He liked it! Well, not a lot, but he ate it. Small victories are still victories. Best of all, she gave me the recipe so I could make it myself.  Love that girl and her broccoli salad!
Since then, I've probably made this recipe nearly a hundred times.  It is a great side dish for any BBQ or potluck (Here's another perfect potluck idea, too.).  It's super easy to make, can be doubled to feed a crowd, and is great the next few days as leftovers.  Plus, it's good by itself for lunch and not to mention healthy!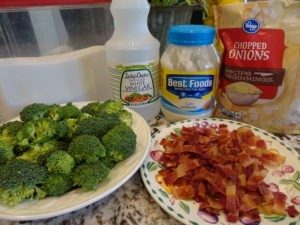 Deb's recipe comes from her husband Bill's Nana Ruth, although Deb has modified it a bit, using frozen chopped onions instead of cutting part of an onion.  The frozen onions are great to have on hand when you don't need an entire onion.  The recipe calls for eight slices of bacon, cooked crisp. In a pinch, I've used the Hormel fully cooked bacon. Since those slices aren't super thick, I use 10 instead of the eight the recipe lists.
Broccoli Salad Preparation
This broccoli salad only takes a few minutes to put together; the longest part is cutting the broccoli florets. First I cook, cool, and cut the bacon. Then I cut the broccoli as the bacon cools.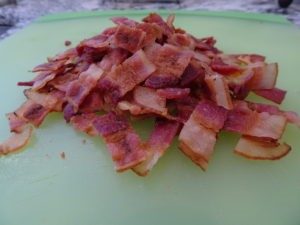 Combine the bacon with chopped broccoli in your serving bowl.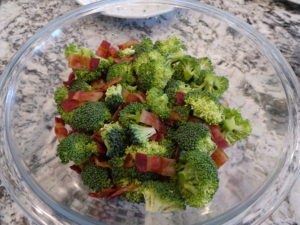 Next, stir the onions, mayonnaise, sugar, and vinegar together in a separate bowl until the sugar is dissolved.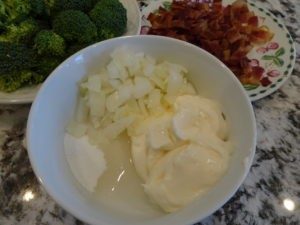 Pour the dressing on the bacon and broccoli mixture, and toss it all together.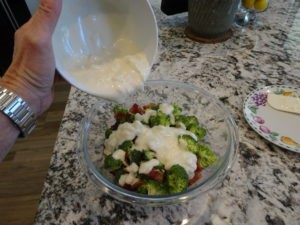 I like to let it chill for a couple hours and give it a good stir before serving.  (You could add some cashews for extra crunch.) Enjoy!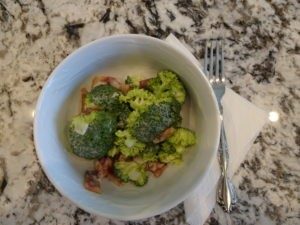 Ingredients
1/2 cup frozen chopped onions
3/4 cup mayonnaise (can use light)
1/4 cup sugar
2 Tablespoons vinegar
4 cups fresh broccoli florets (one bunch)
8 slices crispy cooked thick bacon.
Print this recipe here.
Meet the Family
I'm Maureen Milne, F446881 . I'm a mom of two (now grown-up!) boys, ages 26 and 24. My husband, Mark, and I have been married 30 years. We are an adventurous family; our friends call us "X-Games."  We are avid hikers, cyclists, and skiers (both snow and water). Mark does triathlons and we run in 4-5 races a year.  We've been RVing together since we were teenagers in 1984.  I'm a three-year thyroid cancer survivor, which has given me a new perspective on life.  I share our RVing adventures on my blog, M&M Hit The Road. I also post stories and pictures on Facebook and Instagram.