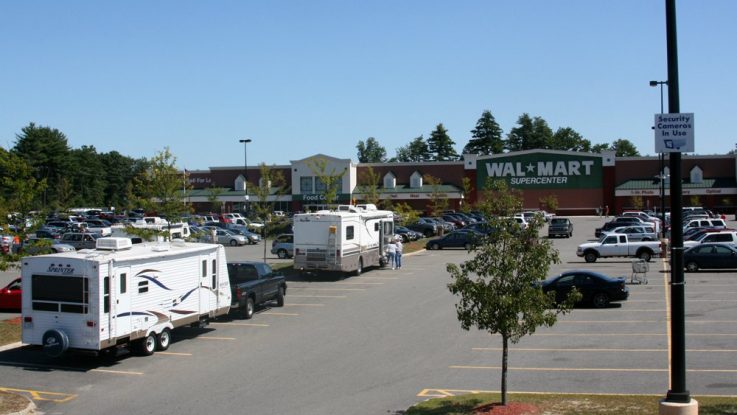 Oftentimes, rumors circulate on RV forums and websites about Walmart's camping policy. Can you really RV overnight at Walmart? Are you required to make a purchase at the store? Do you need to ask permission? FMCA is here to clear some of the confusion with this guide to RV parking at Walmart stores.
About Overnight RV Parking at Walmart
As many RVers know, Walmart parking lots can be a wonderful resource for free overnight parking. A Walmart store can make for a great stopover between campground reservations or if you need to load up on supplies before a big trip.
However, not all Walmarts allow overnight parking for RVs. There are more than 6,000 Walmart stores across the United States. Approximately 1,000 of those stores explicitly prohibit overnight parking.
Understanding Walmart's RV Parking Policy
Walmart's overall policy on overnight RV parking places the decision at the discretion of each store. Thus, each store's official overnight RV parking policy is decided by the individual store managers at each location. Several factors determine a managers' decision:
Store managers have to make sure their store is abiding by local parking laws and regulations.
Some Walmart stores are operating on lots owned by external landlords. In these cases, the manager is at the landlord's discretion to allow overnight parking.
Other Walmarts have banned overnight parking due to previous negative experiences.
Confirm First: How to Determine If It's OK to Park
So what does all this mean? The bottom line is that policies do vary widely from location to location.
First, ask the store's permission If you wish to stay overnight in a Walmart parking lot (or any store for that matter). Don't be shy — call ahead or visit the customer service desk on arrival to inquire about the store's individual policy.
To help RVers find which Walmarts allow overnight parking, some travelers have created forums to share store policies. (Keep in mind that these websites are not affiliated with Walmart, and you should always check with the individual store to confirm the policy.)
WalmartLocator.com
This site offers a map of stores that do NOT allow overnight parking and allows travelers to submit "No Park" locations if discovered. 
Allstays
This website and popular app offers a guide organized by state. Users update the guide monthly.
If you prefer a printed map or guide, FMCA includes Walmart locations in its RV-friendly road atlas. 
Etiquette for Overnight RV Parking at Walmart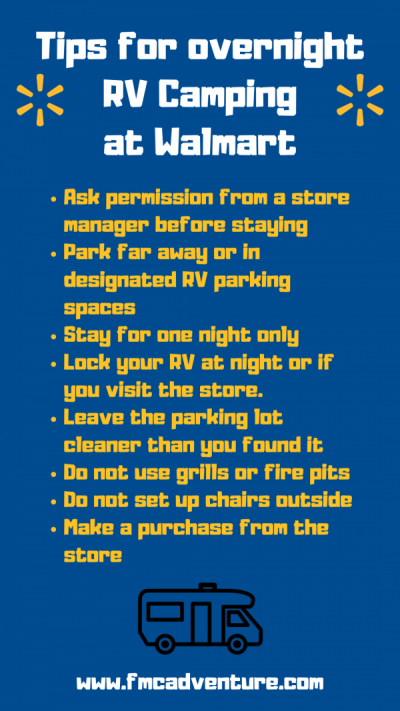 So you found a store that allows overnight parking for your rig…What next?
Here are a few etiquette rules for parking overnight at Walmart (or any private lot):
This type of parking is considered "dry camping" or "boondocking." This means that there are no hookup accommodations for water, waste, or electricity. 
Stay for one night only. Longer overnight stays should be spent at a campground.
Treat the parking lot as you would any campsite and be respectful. Leave the space cleaner than you found it.
Promote a safe environment for yourself and others.
-Lock your RV at night or if you visit the store.
-Do not leave trash outside your RV.
-Allow adequate space between your RV and other vehicles.
Respect the parking lot as a campsite, but remember it is NOT a campsite! Refrain from lounging outside your RV in lawn furniture. Grills and fires are prohibited.
It is also polite to make purchases at Walmart if staying overnight. While not required, it is a nice way to thank Walmart for allowing your stay.
Have you stayed overnight at a Walmart or another store? What was your experience? Boondocking can take many forms – store parking lots, government lands, backyard boondocking, etc. Do you have tips to share? Comment below.