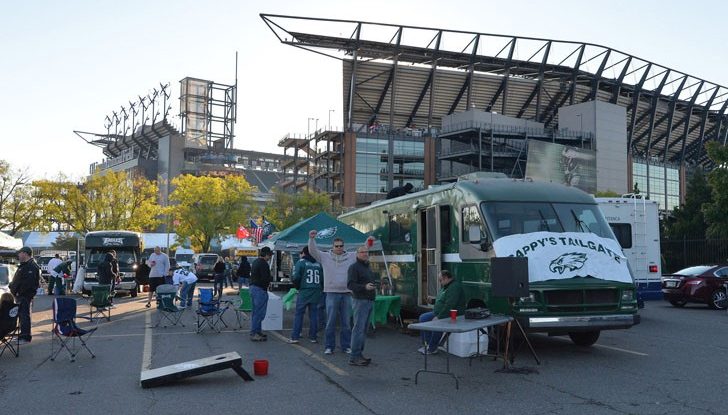 For many, RVs aren't just for camping adventures. Some choose to live in an RV 365 days a year while others use it for extended vacations, long road trips, or retreats. To add to this mix, RVing for sports is becoming more and more common. RVs are being used for traveling to sporting events and tailgating.
Fun for All Ages 
Whether it's for youth events, high school and college athletics, or professional games, RVs can get you there and make the experience fun for the whole family. (Check out how these FMCA members combine RVing + karate.)
Out-of-town tournaments for sports can be demanding, but an RV can offer the family more opportunity to relax. In fact, RVing can even be a more affordable option for families traveling to tournaments. An RV helps you avoid steep hotel and restaurant costs.
Plus, RVing to a sports event can make the experience simpler, especially when it comes to hauling equipment. In an article by CamperVan Life, many fans of bicycling, motorcycling, and surfboarding prefer the use of a van or motorhome to store both wet and dry equipment.
Don't Forget Tailgating
We have to mention all the tailgating fun you can have with an RV!   GoRVing outlined the perks of tailgating with an RV.
7 Perks of RV Tailgating
Use your full kitchen to prepare your game day feast.

No need to wait in line for a bathroom because you have your own.

Traffic is unavoidable, but at least you are comfortable while you wait it out. Plus, you can watch post-game highlights!

You can stay cool and dry, thanks to air conditioning. And you have shelter in case of rain. 

 

You have power (running on a generator) so you can blast air conditioning, charge your phones, and watch TV.

Endless storage space allows you to take everything you could possibly need for your tailgate party.

You can tailgate for sporting events of any age rank, not just professional football!
Many RVers enjoy getting up before the big game, driving to the tailgate lot, setting up their RV, grilling out, and relaxing with family and friends to take in all the excitement of game day. Read tips from Family RVing magazine how to have the ultimate tailgating experience.
The Bottom Line
You can't overlook how an RV makes it easy to turn a sports tournament or event into a week-long vacation as well. An RV opens up the opportunity for additional sightseeing along your route and being able to stop freely without having to book a room.
What sports do you like to travel for? Comment below.