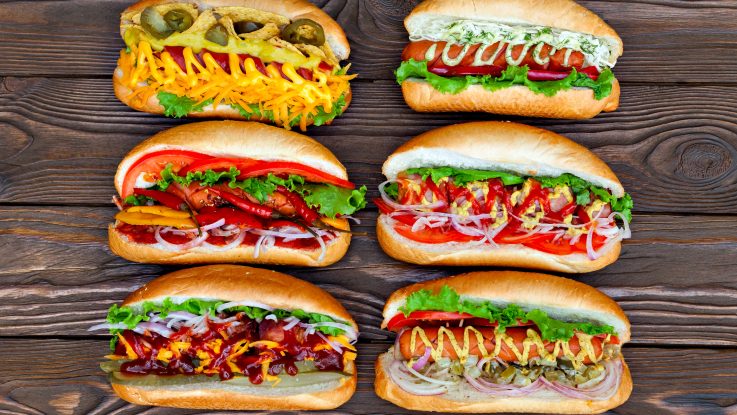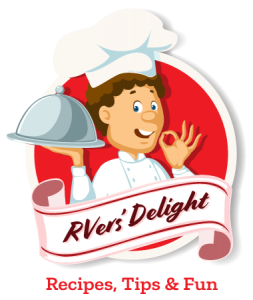 Gather your family and friends for an outdoor hot dog buffet. Arrange a mix of traditional and unusual items in an appealing and delicious spread. 
Download a printer-friendly copy of this buffet idea.
Buffet Item Ideas
Meats: hot dogs, sausage, bratwurst, veggie dogs
Buns: white, whole-wheat, poppy-seed
Sauces: ketchup, mustard (yellow, Dijon), relish, salad dressings, sour cream, hot sauce, barbecue sauce, salsa, pizza sauce, sriracha, steak sauce
Fresh toppings: onions, tomatoes, cucumbers, jalapenos, sweet and spicy peppers, lettuce, pineapple
Sautéed or grilled vegetables: mushrooms, onions, peppers
Plus: shredded cheeses, nacho cheese sauce, pickles, sauerkraut, coleslaw, guacamole, corn chips, tortilla chips, French-fried onions, chili, bacon bits, crumbled potato chips
Hints
Arrange toppings on trays for quick transport to and from the RV.
Serve hot dogs from a slow cooker, where they can be kept warm.
Provide individual paper food "boats" in which guests can hold a hot dog and all its trimmings.
Affix labels or small cards to the buffet table to identify specialty dogs (sausage, bratwurst, etc.). Also identify spicy and unfamiliar toppings.
Display signs with fun hot dog topping recipes that diners can follow (make sure you have the ingredients on hand).
Printable Signs
FMCA has prepped these fun signs for you. Print and display on your picnic table to help your guests top their dogs!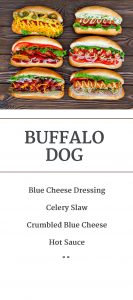 Recipe Combinations
Buffalo Dog: blue cheese dressing, celery slaw, crumbled blue cheese, hot sauce
Chicago Dog: yellow mustard, sweet green pickle relish, onion, tomato wedges, pickle spear, sport peppers, celery salt
Hawaiian Dog: sliced red onions, pineapple
Ranch Dog: Ranch dressing, potato chips, creamy Ranch slaw, pickled hot peppers, chopped chives
Reuben Dog: sauerkraut, Thousand Island dressing, caramelized onions, Swiss cheese, relish
Tex-Mex Dog: barbecue sauce, French-fried onions, shredded cheese
Veggie Dog: vegetarian hot dog, cucumber, tomato, radish, onion, dill
FMCA shares RV-friendly recipes and kitchen tips in its e-newsletter, The Mile Marker. Click here to get recipes like this (plus more!) delivered to your inbox monthly.