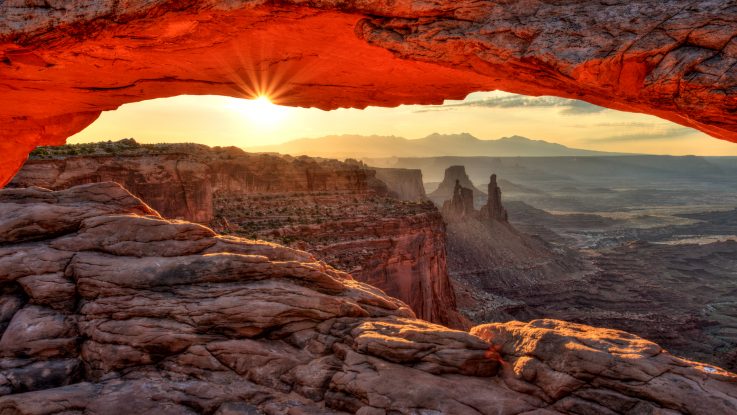 From the east coast to the west coast, the United States is home to some of the most breathtaking National Park Lands. Road tripping is a great way to see multiple nature sites. With FMCA's summer 2018 convention coming up in Gillette, Wyoming, it's time to start mapping out your summer road trip! FMCA has compiled five beautiful national lands that are within 300 miles of Gillette – perfect stops for your summer road trip adventure!
The first National Park Lands is located in northern Colorado. White River is one of the most visited national forests in the U.S. With 10 mountains and more than 2,500 miles of hiking trails, you are sure to see some awe-inspiring sights! Have a relaxing morning dip in the Conundrum Hot Springs or discover the scenic Crystal River Valley for hiking or fishing. While most of the campsites are RV-accessible, not all have full hook-up capabilities.
Great Basin is home to more than 40 different caves. The Lehman Hill Caves are most commonly visited, and daily guided walking tours offer the chance to see some amazing cave life. Don't forget your telescope on a visit to Great Basin! The park was designated last spring as an International Dark Sky Park. Great Basin's combination of high elevation, low humidity, and minimal light pollution create a unique and stark sky that allows planets, star clusters, and even the Milky Way to be seen with the naked eye. This park is a must-see! All of the campsites are RV accessible, but there are no hook-ups.
Located in the heart of red rock country, this hidden gem is full of canyons, cliffs, and a geologic monocline – a literal wrinkle in the earth – that stems for 100 miles! Visitors can harvest pears, apples, plums, and peaches from one of Capitol Reef's historic 3,100 fruit trees. Any orchard that is unlocked is fair game for picking, ensuring that a visit to this national park is going to be extra sweet! While some campsites are reservable in advance, others are first-come, first served. Each campsite contains a fire pit and picnic table but no hook-ups.
With one of the longest caves in the U.S. and native wildlife such as bison, elk, pronghorn, mule deer, coyotes, and prairie dogs, get ready to see some unique sites with a visit to Wind Cave. The park contains Elk Mountain Campground that would be perfect for an overnight RV trip. There are 25 pull-through sites located on the prairie/forest edge. Each will give you an amazing view of all the wildlife and unique plants Wind Cave has to offer.
Get swept away by the scenic Nebraska National Forests. Ride horses through the prairie, enjoy a picnic, or some fishing at Bessey Fishing Pond. Also be sure to go for a scenic drive in your RV to take in some of the grasslands! Located in central Nebraska, the Bessey Recreation Complex and Campground has flush toilets, fire pits, picnic tables, and electric hook-ups for a temporary RV nature oasis.
Make some road trip memories on your way to FMCA's 98th International Convention and RV Expo July 18 through 21, 2018! The Wild West offers so much nature to see and adventure to explore in these National Park Lands. Have you been to any of these spots? What's your favorite summer road trip memory?