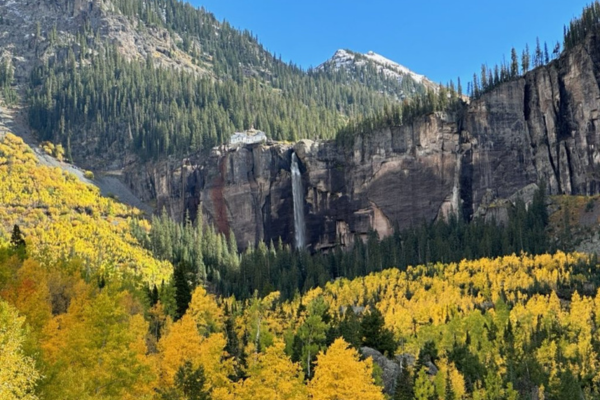 I'm excited to tell you about our recent trip to Ouray, Colorado. It's one of our favorite places, and it's pretty no matter what time of year it is. But the San Juan Mountains are absolutely spectacular in the fall.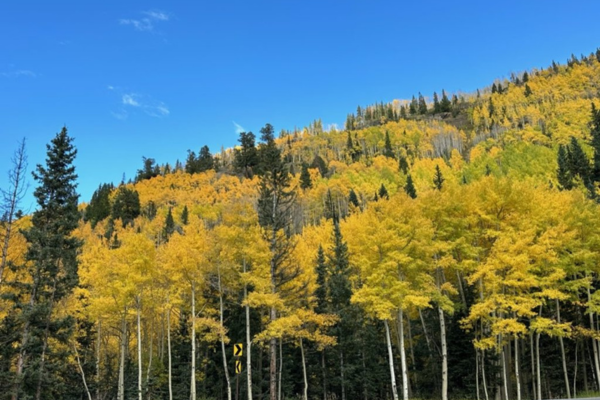 As I've said before, Aspen trees are my favorite tree. It's like they are waving to you because of the way their leaves shimmer back and forth with the breeze. When their leaves turn, oh my gosh, I could stare at them for days.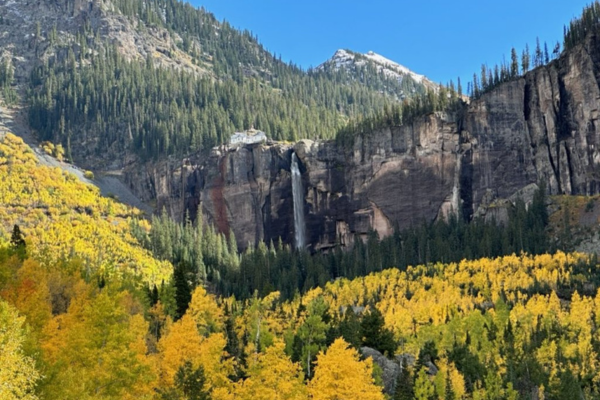 We planned this trip almost a year ago, hoping to find the peak leaf change. While researching, we learned that it could range from late September to early October. September is budgeting time for Mark, so that was out. We didn't want to go too late in October and miss it completely, so we rolled the dice and picked the first few days of October.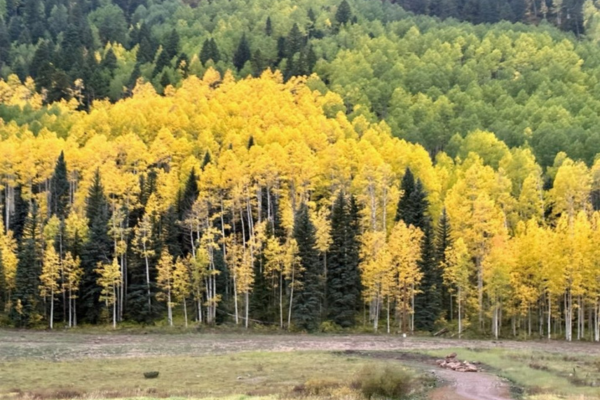 Our original plan was to leave Ouray and go to the Balloon Fiesta, but that was not meant to be. We were lucky enough to make the RV waitlist, but we were too far down the list to get that call. Our last Balloon Fiesta was in 2014, and we were hoping to go again this year. Oh well, perhaps we'll go next year.
The aspens! Oh. My. Gosh!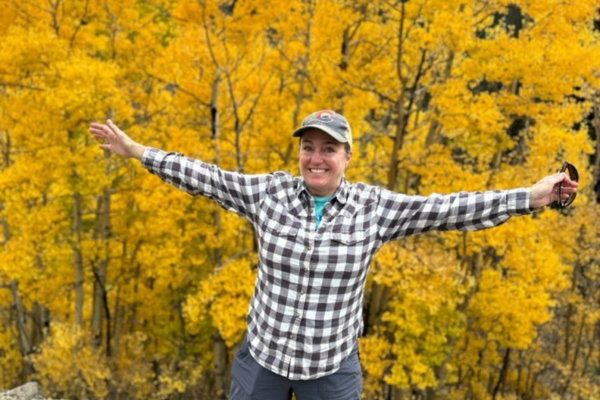 It was warm in the San Juan Mountains in the weeks leading up to our trip, so I crossed my fingers we had picked the right time. Fast forward to our drive, which included rain from Durango north and even some patches of snow off of the road at the top of Red Mountain Pass! Fall had arrived in a big way.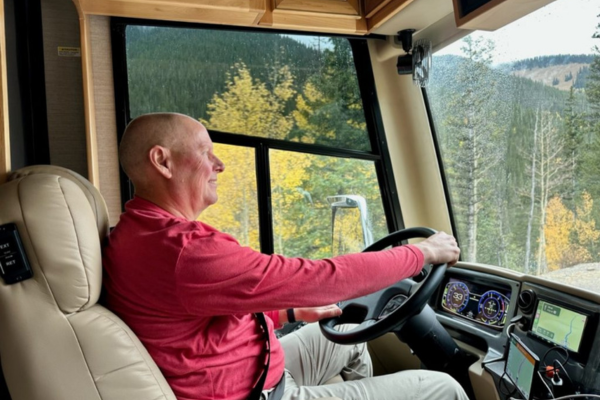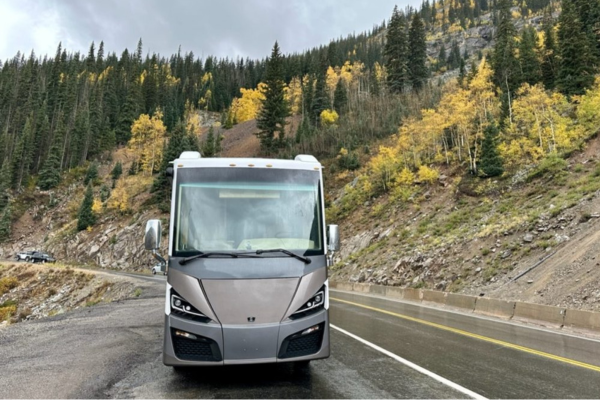 The massive windshield combined with the height of our RV means I can snap pictures while we drive. They weren't the best, but they were a glimpse into what we would see for five days.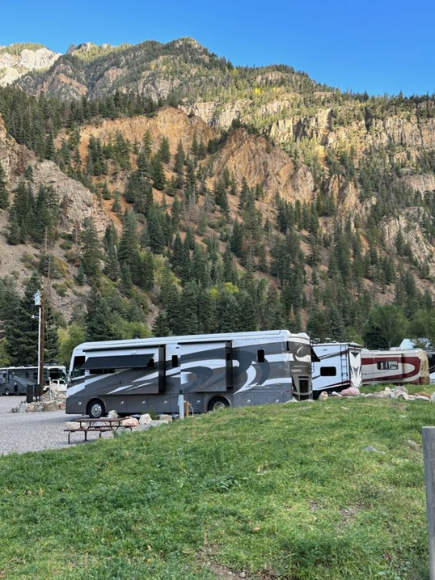 We arrived at Ouray Riverside Resort, formerly known as Ouray RV Park & Cabins, mid-afternoon on Saturday and set up camp in between storms. It was a bit of a washout, but we did manage a walk into town along the multipurpose path behind the RV park along the Uncompahgre River.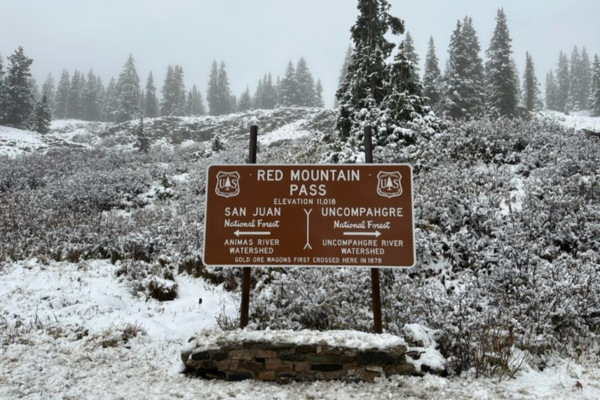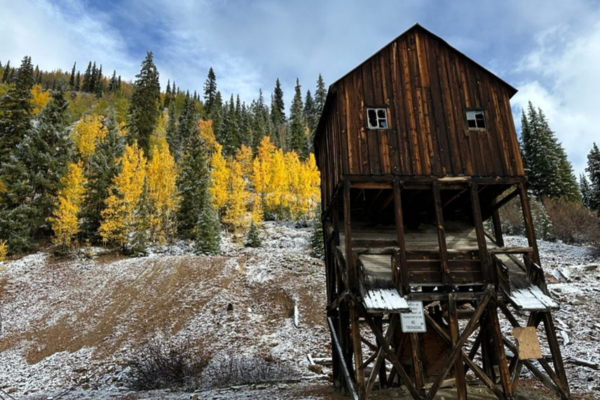 On Sunday, we were up and out on our way south to Silverton. We stayed there five years ago with our RZR, and it snowed in the mountains overnight. We wanted to check out Animas Forks with maybe some snow! We stopped several times to take pictures along the drive, even with the clouds the aspens were showing off. It snowed at the mountain tops every night of our trip, and this was the only day the snow lasted into the afternoon at the Red Mountain Pass.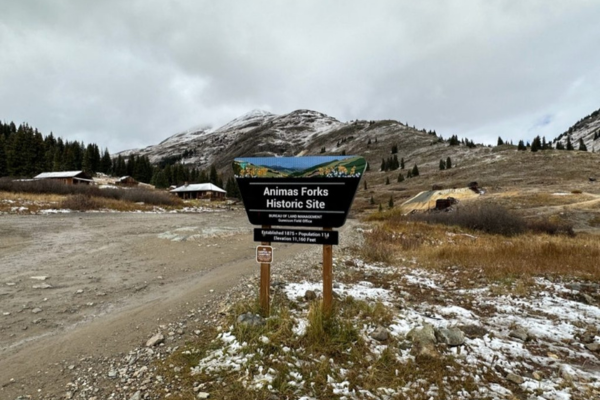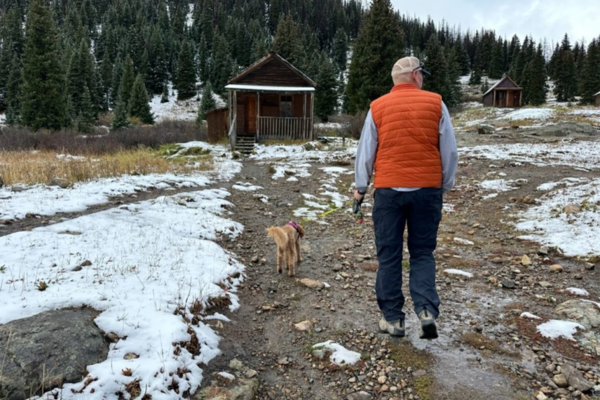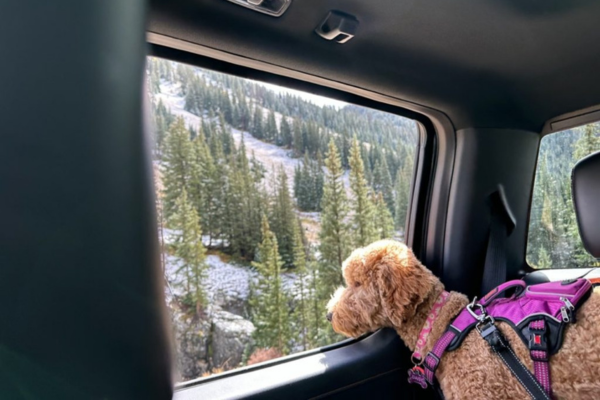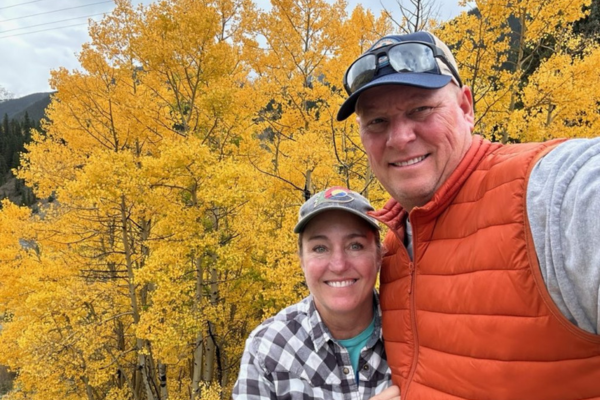 Animas Forks was just the same, except with a fresh coat of snow. There was enough left at lunchtime for Daisy to get her first encounter with fresh snow. She walked on snow, albeit ice, when we were at Rocky Mountain National Park in July. This snow was still fresh enough for her to leave tracks.
Heavier afternoon rain was in the forecast and wanted to watch our Cardinals play, so we were back at camp early. The first half was frustrating just like the season. We were back on the riverside walking path at halftime for a walk into town. We had a happy surprise when we got back — the Cards were still in it! Maybe our walk was the turning point for them.
Monday was a special day. It was my aunt's birthday, and they were going to be in Silverton! My aunt, uncle, and their dear friend Claudia were on an iconic train trip across Colorado. They were on a bus with a tour guide that drove them to the train towns. They took the Durango-Silverton train and had two hours in Silverton. My uncle copied me on an email in August that contained their itinerary. It was pure dumb luck that we were in Ouray on our trip.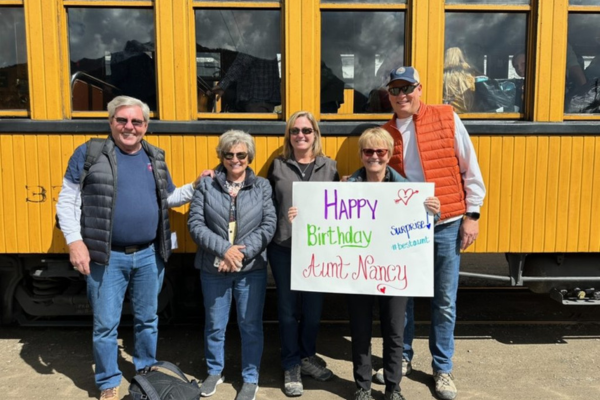 We made a happy birthday sign and headed back to Silverton. We had to leave Daisy in her crate, which is why we were in the same town the day before. We didn't want to leave her too long; she is still a puppy.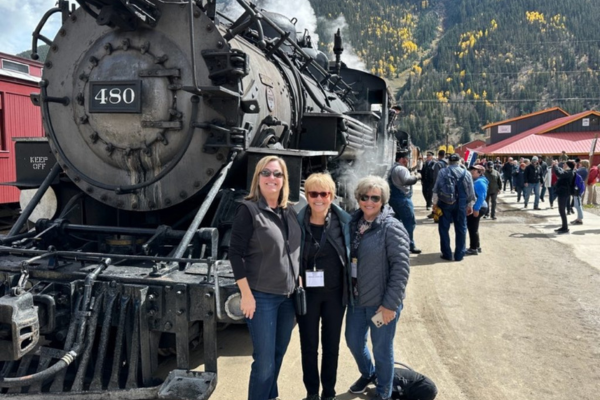 We arrived in Silverton 15 minutes before the train, we didn't want to miss their arrival. We heard the familiar whistle from the train and got into position. I held my sign as the train pulled in. We had no idea where they were seated. One lady waved at us very enthusiastically, and I prayed her name wasn't Nancy and that it wasn't her birthday, too. Once the train stopped, she kept waving to get our attention, turns out she was their tour guide!
She was completely surprised, and we had a wonderful time having lunch and showing them a little of Silverton before they had to leave. It was a great day.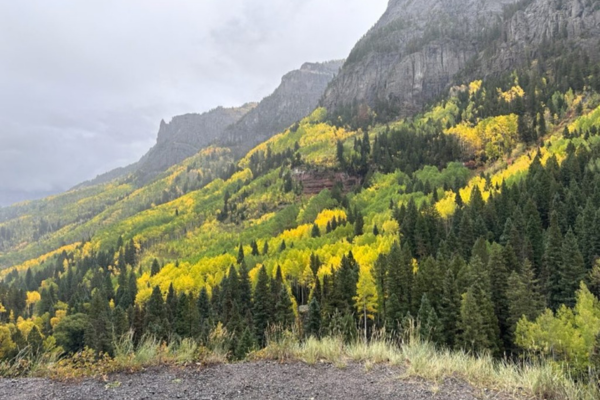 It was still early when we got back to camp, so we packed up Daisy and headed out to Yankee Boy Basin. That area has been a favorite of ours since we first stayed in Ouray way back in 2001. The aspen colors were better today than the day before, too. Mark was a good sport stopping for yet another picture. The recent rain and snow made the trail a little too sketchy for us this time since we were by ourselves. We turned around just before the trail to the twin falls at Sneffels Creek.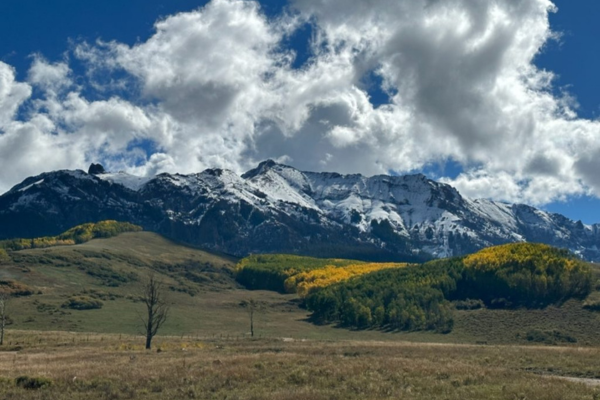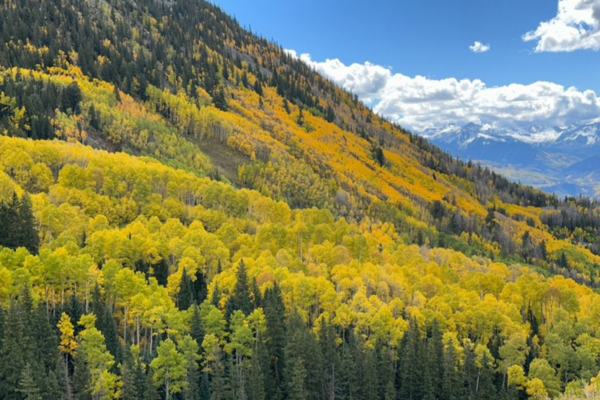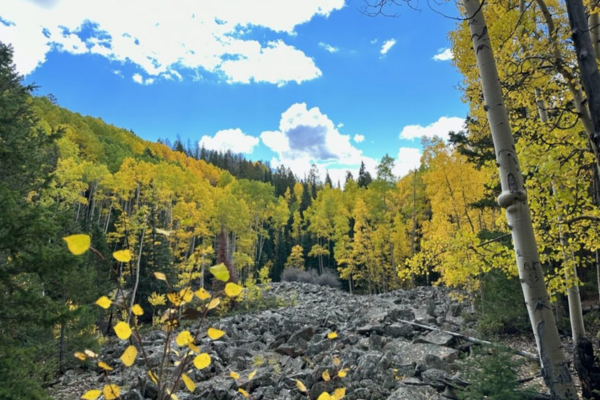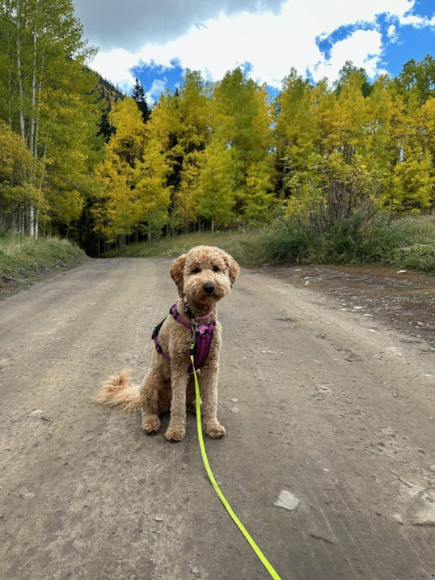 Tuesday was Telluride Day. Our first trip to Ouray was also our first time in Telluride when we took our rented Jeep over Ophir Pass for lunch. For us, a trail ride to Telluride is required anytime we camp in Ouray. Mark had a new trail to try this year, Last Dollar Road and it did not disappoint. It starts and ends as a well-groomed dirt road, but the middle 4WD section is some of the prettiest road we've driven. We stopped several times not only for pictures, but for Mark to break out his drone.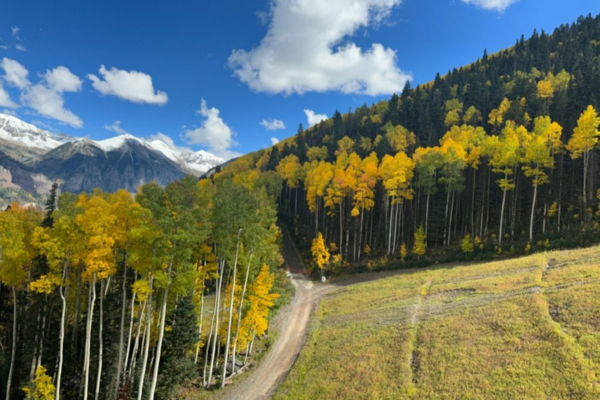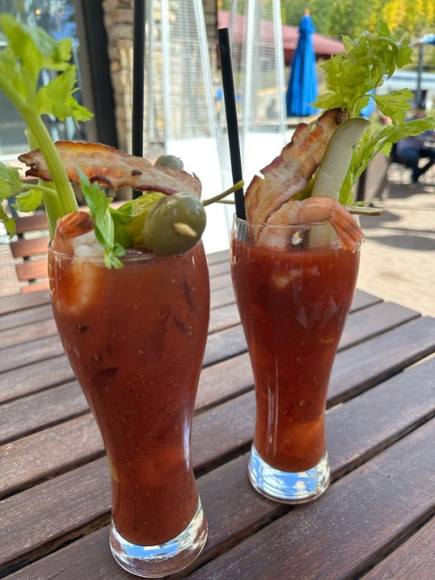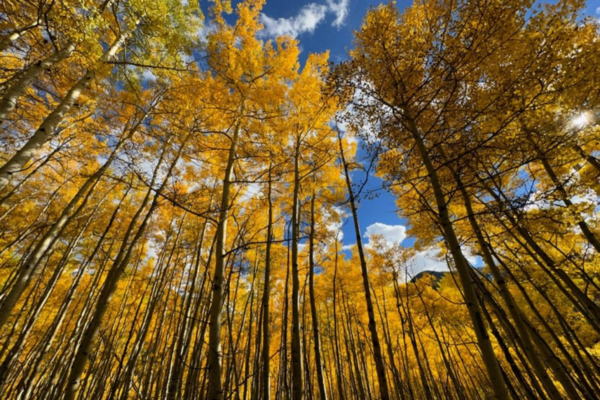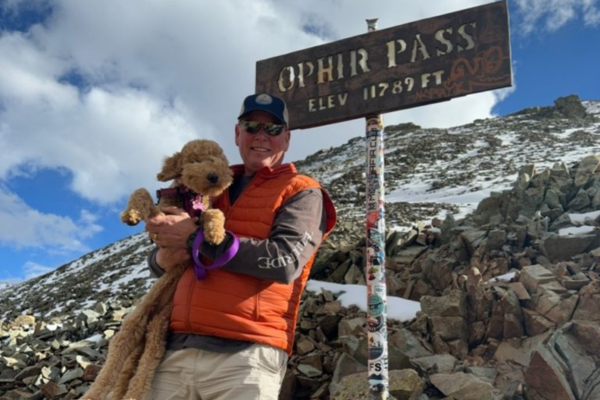 The clouds were getting thicker, so we left earlier than I wanted. We took Ophir Pass back to Ouray — it was the first time we've ever driven it this direction. We had the trail to ourselves and were able to stop in more places for photos.
The photos don't do the beautiful fall colors justice. It's something everyone should experience for themselves.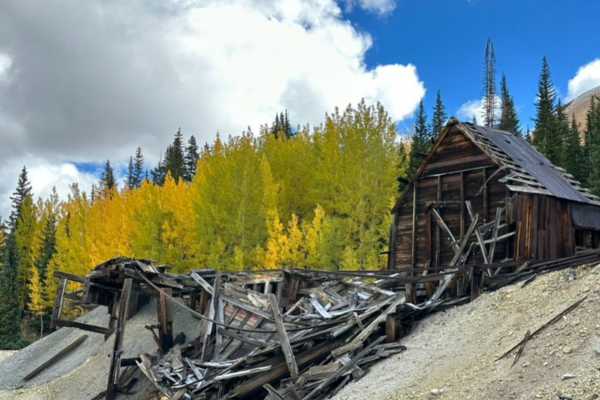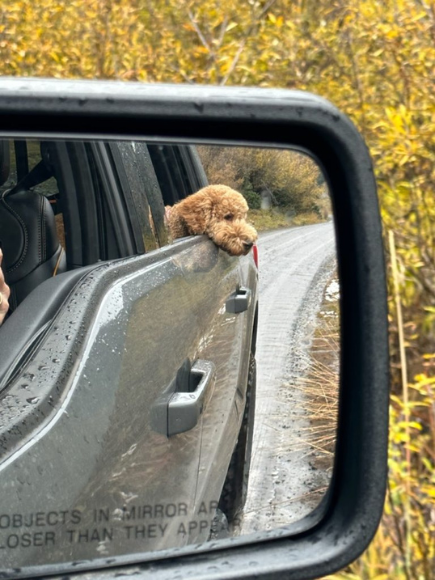 On our last day, we tried a new trial for us: Colorado Road 31. It's a fun little road dotted with mines and, of course, lots and lots of aspen trees. We took close to 100 pictures on this day alone. There's something about an old mine building with a blanket of aspens behind it. Mark flew the drone and Daisy was in her element with her snout resting on the truck door. We went over Red Mountain Pass for the eighth and final time Wednesday afternoon, and traffic had finally cooperated enough for us to stop and get a picture.
We stopped at Crystal Lake for a little walk. The area had been jammed with cars until this time. I wish there was a trail all the way around; it would have been a nice walk.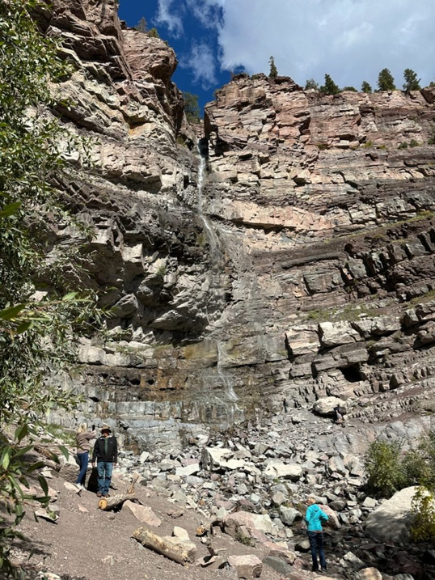 Back in Ouray, we took the short hike to the bottom of Lower Cascade Falls. Even with all the rain and snow, it was still too late in the season for a big flow. It's still pretty, and the lack of water allowed us to see the deep notch at the top.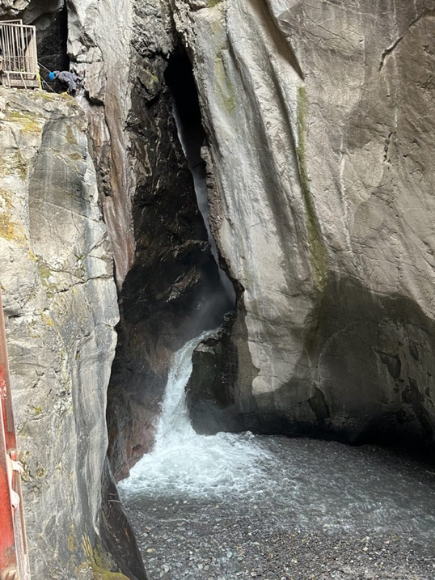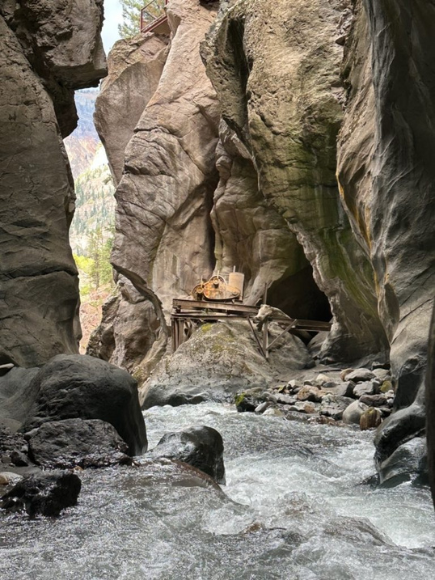 We also returned to Box Canyon Falls Park. Where Cascade lacked water flow, Box Canyon Falls had it in spades. I love the peek-a-boo aspect of these falls and walk extra slow when it's not crowded just so I can see it longer. I'd love to see it in the winter with ice all around — what a photo that would be!
We crammed a lot into our last day and fitting for this trip and rain, and we got caught in a good thunderstorm on our way back to camp from Box Canyon Falls.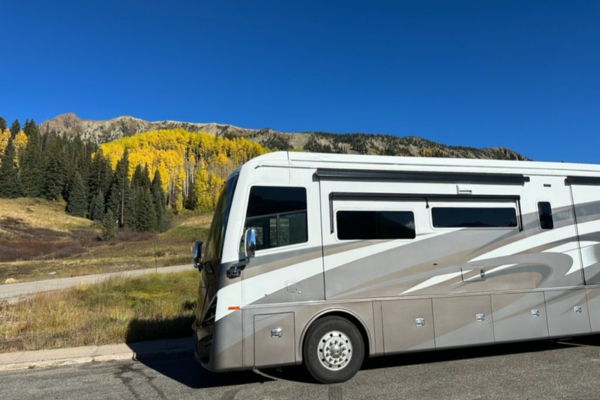 Since we weren't leaving Ouray on Thursday and headed towards Albuquerque, we decided to make a loop and take Highway 145 by Telluride through Delores towards home. This is the route we take when we go skiing in Telluride, and boy, does it look different ablaze of color than it does covered in white.
As we drove home, we talked about making this an annual trip. It really is pretty enough to see every year. If you haven't seen the aspens wave at you bright and yellow, make your reservations now — you won't be sorry.
I'm Maureen Milne, F446881.  Mark and I are becoming empty nest veterans and you know what, we enjoy it!  We are always on the lookout for the next adventure, our friends call us the X-Games family. We are avid hikers, cyclists and skiers (both snow and water).  Mark does triathlons and we run several races a year.  We've been RVing together since we were teenagers and we love traveling with our two grown sons.  I share our RV adventures, RV friendly recipes, wonderful campgrounds and more on my blog, M&M Hit The Road.  You can also find our fun on Facebook, Instagram, Twitter and YouTube.