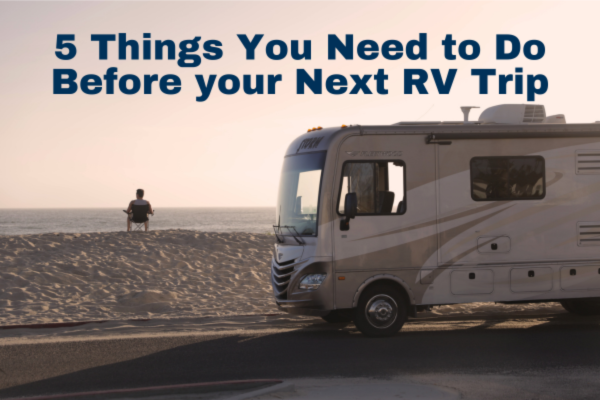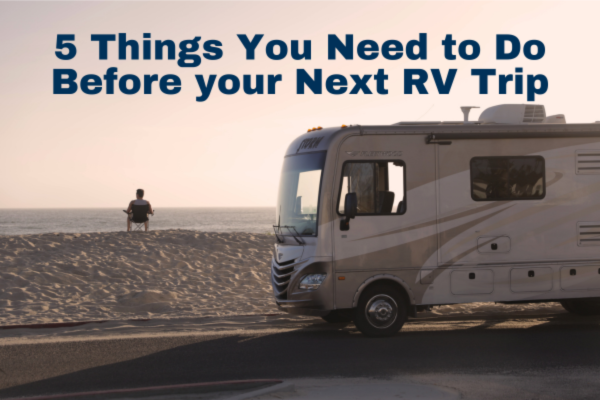 The best parts of RVing are the trips themselves, but many people are filled with dread when it comes to planning. To help you feel confident about navigating the challenges of travel logistics, here are five important things to do before you take your next RV trip.
1. Plan Your Route
There are a handful of questions to ask yourself when choosing where to travel. What appeals to your lifestyle? Are you looking for hiking opportunities? Or would you prefer to relax? Some enjoy the tradition of returning to a favorite spot, whereas others may be inclined to go somewhere new. Of course, some people know exactly where they want to go next. Whether you're traveling to the beach or the mountains, you will need to plan and budget your route.
Research scenic areas, historic sites, or nearby landmarks, such as national monuments, so you can make the most of your trip. If you're interested in efficiency, you can download an app such as GasBuddy to determine how much you'll spend on fuel before you even hit the road. You can then figure out how long you want to be on the road, or how long you'll be staying in your desired location.
2. Write Your Packing Checklist
Once you know where you're going—and for how long—you'll have a better idea of what items to bring along with you. Perhaps most importantly, you should make sure you have a first-aid kit on hand. Keeping a tool kit handy is never a bad idea, either.
Besides clothes perhaps (everyone packs twice as much underwear as they need), small personal items are easy to forget. These include your toothbrush, hairbrush, deodorant, toiletries, and accessories such
as belts, hats, and sunglasses. Plenty of premade packing lists available online, but everyone is different, so it might be a good idea to write your own list and check things off as you go. Just don't forget toilet paper!
3. Secure RV Protection
Sometimes things don't go the way you planned. That's just the way things are, so the best thing you can do is be prepared. Check the expiration on your insurance policy before you head out. The last thing you want is for something to go wrong only for you to realize your safety net has expired. In addition, you may want to consider investing in an RV extended warranty policy. Although they aren't legally required like insurance is, warranties will cover everything your insurance policy doesn't. Unexpected breakdowns are an—often expensive—inevitability. Let your warranty policy administrator cover your repair bill.
4. Address Routine Maintenance
As mentioned in the previous section, prevention is important when it comes to protecting your RV. Before heading out, you should make sure your home-on-wheels is in running condition.
In preparing for your next trip, check your roof, tires, and tow equipment (if applicable). You should check your RV tire pressure if your vehicle has been in storage longer than a month. Tires lose about 2-3 PSI per month in storage. To be extra cautious, this is also an opportunity to check for air leaks, lug nut tightness, and wear. Examine the tread and sidewalls for obvious signs of damage, such as cracks or wear in the tread. Tires should be replaced every six years, or earlier if there is obvious wear.
Don't wait for it to rain—you'll also want to inspect your roof for leaks. Over time, sun and air exposure weaken seals. You're looking for cracked or broken seals. To check the integrity of the roof itself, you can do a hand test. If there is white residue on your palm after running your hand along the roof, this may indicate that it's time to reseal your roof.
If you suspect any component may require attention, it isn't a bad idea to get an RV inspection. The technician will alert you to any mechanical or electrical problems you may have missed. They will take a look at your filters, fluids, brake system, and so on. RVs continue to age in storage; it's important to address any repair needs before your next trip.
5. Tie Up Loose Ends
Now is the time to review your to-do list. Did I pack my swimsuit? Did someone check the oil? Are the slide outs functional? Is the sink working? There are so many factors to consider, which is why we're helping you out. These may seem like obvious factors to address, but planning trips can be stressful.
There are so many things to remember and there is so much to do! Make sure your awning is closed and secured. You also don't want to take off with your leveling system deployed—that is an expensive repair. Of course, items shift around in transit, so make sure loose items are secured and cabinets closed. If you're worried about kitchenware rattling around, consider purchasing the special grippy mats that prevent this. Storage bins, bungee cords, and magnets are your friends.
Planning your vacation should be exciting, not stressful. The more informed you are, the better prepared you will feel on your journey. We want you to hit the road with peace of mind. Good luck and safe travels!

Wholesale Warranties  is a leading provider of RV extended service contracts direct to consumer. With a focus on education, customer service, and reliable coverage, Wholesale Warranties has established themselves as the premier option for RVers looking to protect the road ahead. To work with a highly trained RV Warranty Specialist on an RV protection quote for your home-on-wheels, please call 800.939.2806 or visit wholesalewarranties.com.