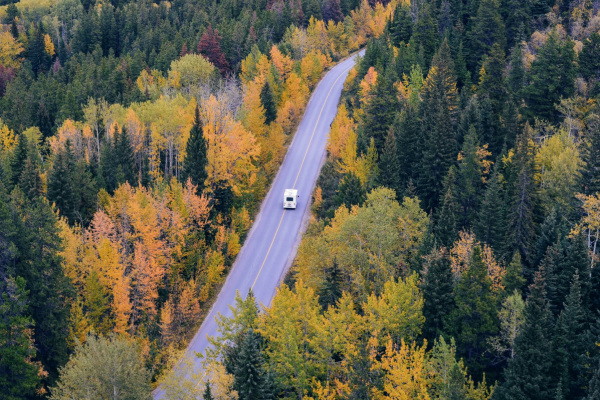 Autumn paints the world with vibrant hues of red, orange, and gold, making it the perfect time to hit the open road in your RV. Boondocking, or camping off the grid, allows you to get closer to nature and enjoy the serenity of remote destinations. In this article, RV Trader explores eight amazing boondocking destinations that offer beautiful views of autumn foliage.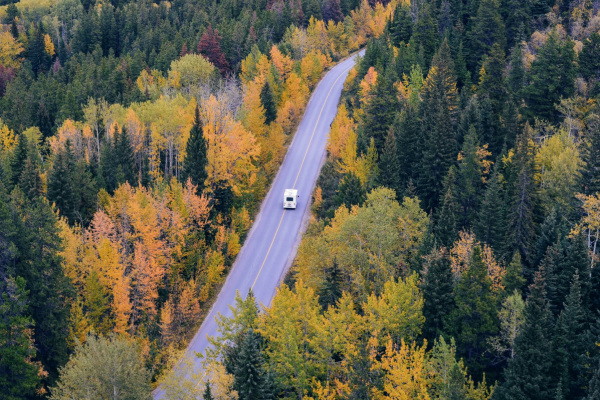 1. Denali National Park (Alaska)
Denali National Park's landscape is transformed as the tundra foliage turns brilliant shades of red and gold. The park offers boondocking opportunities at designated sites along the Denali Park Road. While you're there, keep an eye out for majestic wildlife, including grizzly bears, moose, and wolves. The crisp air and breathtaking scenery make this a must-visit destination for those seeking an immersive wilderness experience.
2. Great Smoky Mountains National Park (Tennessee and North Carolina)
The Great Smoky Mountains are a magical destination any time of the year, but they truly come alive in the autumn. The park's dense forests turn into a sea of rich color, creating a stunning backdrop for your RV adventure. While boondocking opportunities within the park are limited, there are several nearby campgrounds that offer the perfect base for exploring. Don't miss the Cades Cove Loop Road, where you can witness fall foliage while keeping an eye out for white-tailed deer and black bears.
3. White Mountain National Forest (New Hampshire)
New England is renowned for its breathtaking autumn foliage, and White Mountain National Forest in New Hampshire is no exception. The forest is a prime location for boondocking in your fifth wheel or other RV. Dispersed camping is permitted in many areas, allowing you to fully immerse yourself in the beauty of the season. Don't forget to explore the Kancamagus Highway, a scenic byway that offers unparalleled views of the fall colors.
4. Ozark National Forest (Arkansas)
While not as famous as some of the other destinations on this list, the Ozark National Forest in Arkansas offers a unique and enchanting autumn experience. The rolling hills and dense forests erupt into vibrant shades of red, yellow, and orange. The forest provides numerous boondocking opportunities, allowing you to camp amidst the fall splendor. Take some time to hike the Ozark Highlands Trail or enjoy a leisurely drive in your towed/towing vehicle along the Pig Trail Scenic Byway.
5. Black Hills National Forest (South Dakota)
The Black Hills are an unexpected treasure for fall foliage enthusiasts. Amidst the towering pines, you'll find pockets of aspen and oak trees that transform into a brilliant display of reds and golds. There are ample opportunities for boondocking within Black Hills National Forest, allowing you to explore this lesser-known gem in your travel trailer or other RV.
6. Redwood National and State Parks (California)
While California is often associated with beaches and palm trees, the northern part of the state offers a completely different experience in the fall. Redwood National and State Parks are home to some of the tallest trees on the planet, and the autumn foliage adds a new dimension to their beauty. While camping in the forest is not permitted, there are campgrounds in the surrounding areas that provide a comfortable base for exploring the parks. Take a hike through the redwood groves and witness the magic of the towering trees amidst the autumn colors.
7. Gifford Pinchot National Forest (Washington)
Located in the Pacific Northwest, Gifford Pinchot National Forest offers a unique fall experience. The forest's diverse landscapes, including dense forests, alpine meadows, and picturesque lakes, come alive with vibrant colors in the fall. Dispersed camping is permitted in various areas throughout the forest, allowing you to park your RV amidst the heart of this natural wonderland. Whether you prefer the solitude of a secluded woodland spot or the proximity of a lakeside campsite, Gifford Pinchot National Forest has it all.
8. Allegheny National Forest (Pennsylvania)
Located in northwestern Pennsylvania, Allegheny National Forest offers RVers a chance to experience the rich colors of autumn in a serene environment. Dispersed camping is allowed in many areas, including the Minister Creek Recreation Area. Take in the beauty of the Allegheny Reservoir, explore the forest's hiking trails, drive along Forest Road 116, and keep an eye out for the fall wildlife. With over 500,000 acres of lush woodlands, you'll be amazed by the magnificence.
Autumn is a time of striking transformation, and there's no better way to witness nature's artistry than by visiting one of these amazing boondocking destinations in your RV. Whether you choose to explore the rugged wilderness of Alaska or the colorful forests of New England, you'll be captivated by the brilliance of fall. So pack up your RV, hit the road, and let autumn lead the way.
If you're ready to buy a motorhome to take you boondocking this fall, check out RVTrader.com for a variety of new and used models.

RVTrader.com is the industry-leading online marketplace for buying and selling new and used RVs, including Class A, B, and C vehicles, as well as campers and trailers. With over 200,000 recreational vehicle listings, RV Trader is a trusted resource for buyers and renters nationwide. And with over 6.5 million site visits every month, no marketplace is more trusted to generate inventory exposure for dealers and private sellers. RV Trader is a division of Trader Interactive and belongs to the well-known "Trader" family of brands.