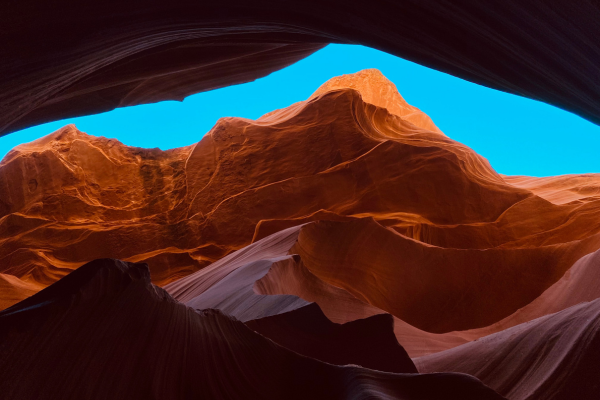 This had been high on our list for a while. It's one of the coolest things we've ever seen. We originally planned on a fall 2020 visit, but we all know what happened to mess that up.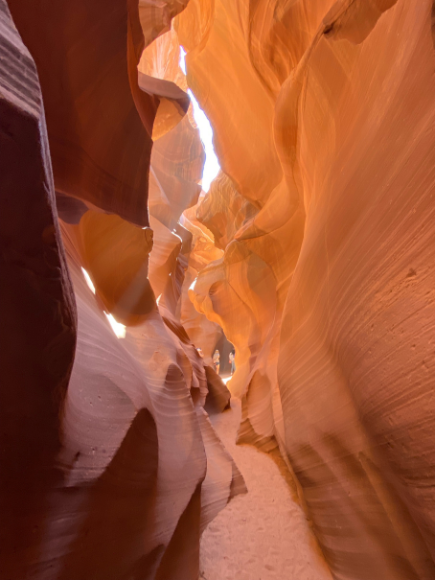 We chose Ken's Tours; at the time we were looking to make reservations, they were the only ones taking them. I'm so glad.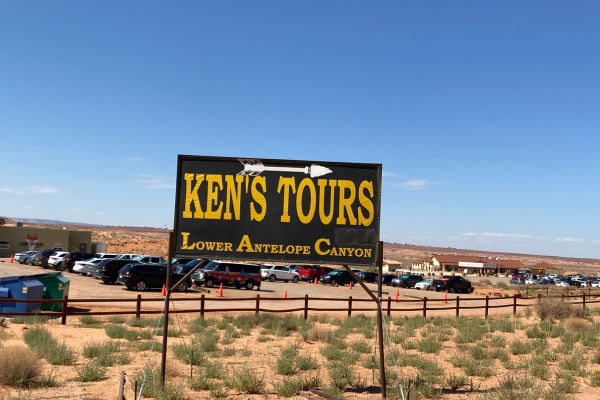 Lower Antelope Canyon is famous for its ever-changing beauty.  The photographs are simply stunning.  Here is what their website says:
Over the years, Lower Antelope Canyon has become a favorite gathering place for photographers, tourists, and visitors from around the world.
The views in Lower Antelope Canyon change constantly as the sun moves across the sky, filtering lights softly across the stone walls. These ever-moving sun angles bounce light back and forth across the narrow canyon's walls, creating a dazzling display of color, light, and shadow.
The Navajo name for Lower Antelope Canyon is Hasdeztwazi or "Spiral Rock Arches." Many years ago, herds of Pronghorn Antelope roamed freely in and around the canyon, which explains the English name. This incredible canyon has been created over millions of years by the relentless forces of water and wind, slowly carving and sculpting the sandstone into forms, textures, and shapes which we observe today.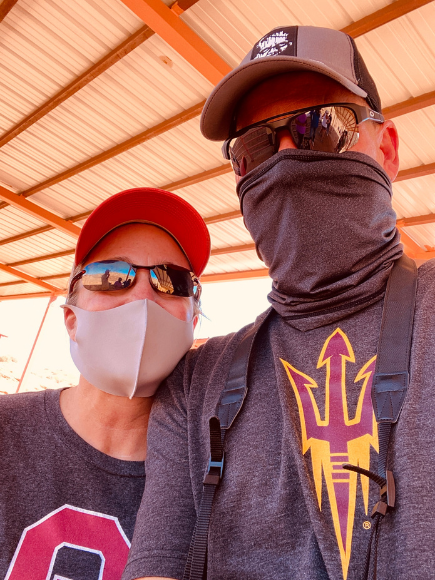 Masks are required as Navajo Nation has been hit hard by the pandemic. Group size is limited. We had six in our group plus a baby. We were not allowed to remove our mask; doing so would get us an immediate escort out back the way we came in.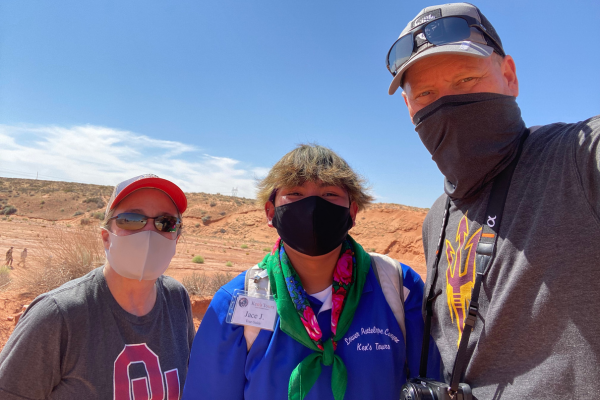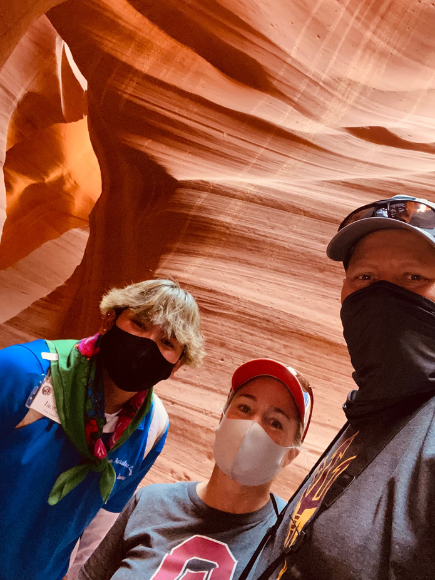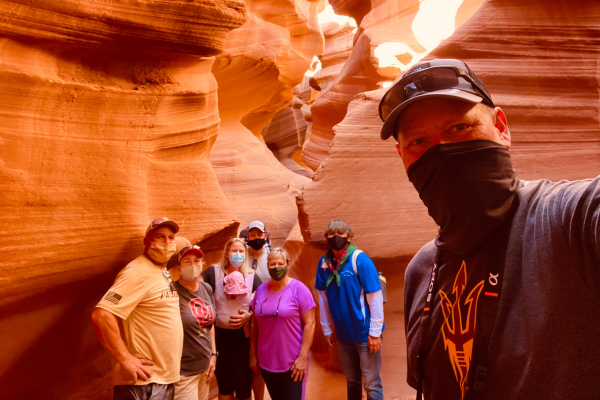 Our guide was Jace, a nice young man home from college to help his family. He's majoring in public administration so he can help in town after graduation. He smiled as he talked about his family and his town; through the mask you could tell he was smiling and his eyes brightened when he talked. He knew all the spots for the best pictures. For the most artsy ones, he often asked for our phones and cameras and took the perfect picture from the perfect angle.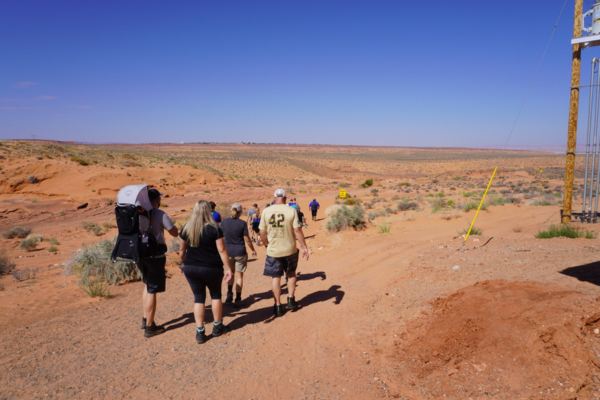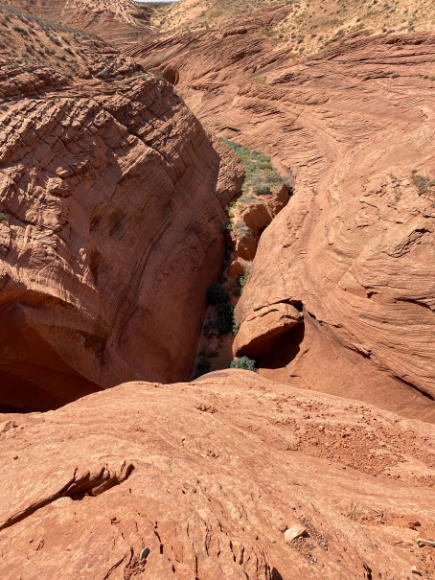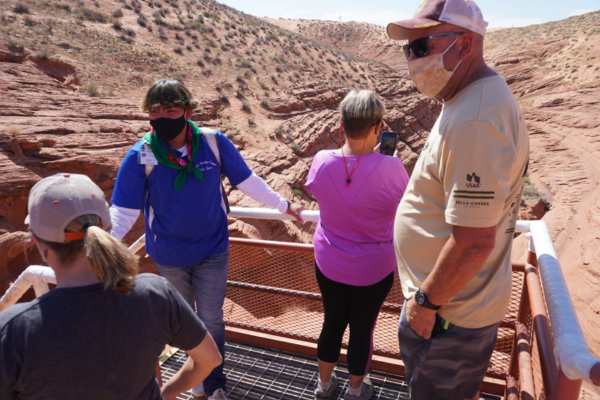 The tour started with us walking across the top of the mesa to an area with a shaded overlook just below the mesa top. There, we waited until groups ahead of us had cleared for safer distancing and we got a small glimpse of the beauty below.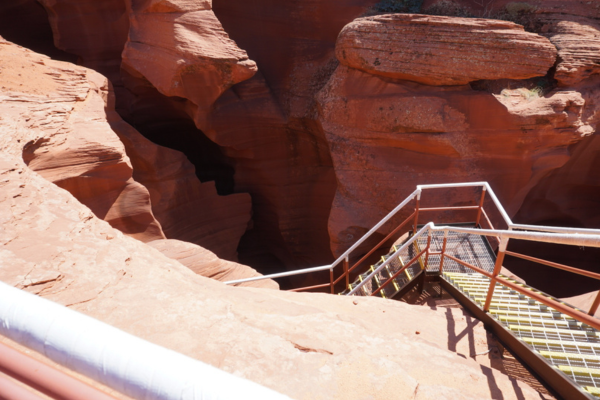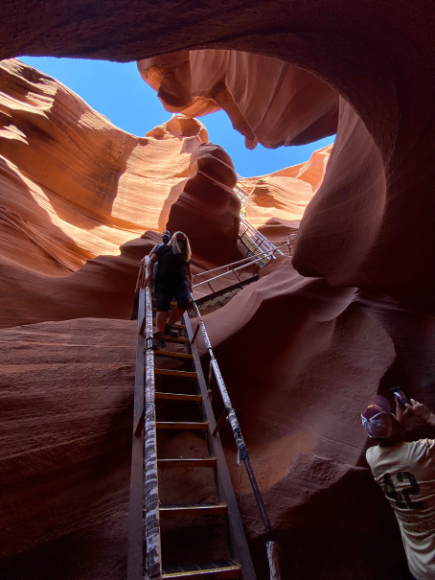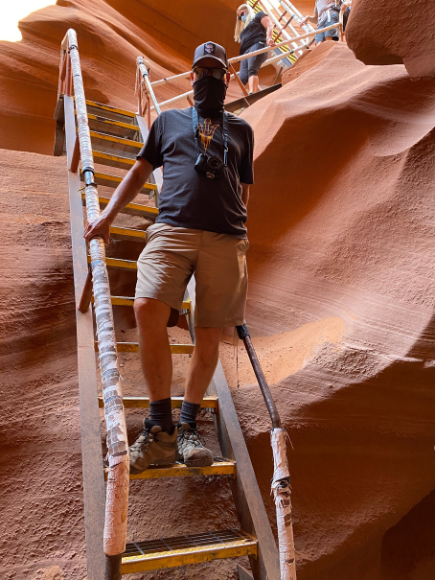 The stairs down into the canyon are steep; it was like walking down a ladder. When I got to the bottom, I let out a gasp at the beauty. Little did I know the new beauty that was around every turn.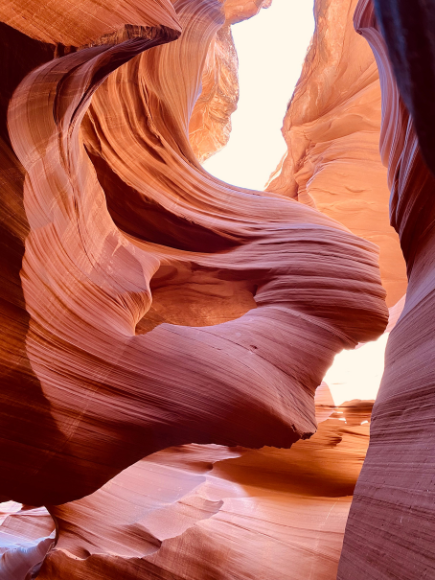 "Lady in the Wind" is very famous and also serves as the logo for Ken's Tours. A photo of her fetched over a million dollars at auction. I walked all around trying to see all the different angles. It is breathtaking to know that wind and rain created her.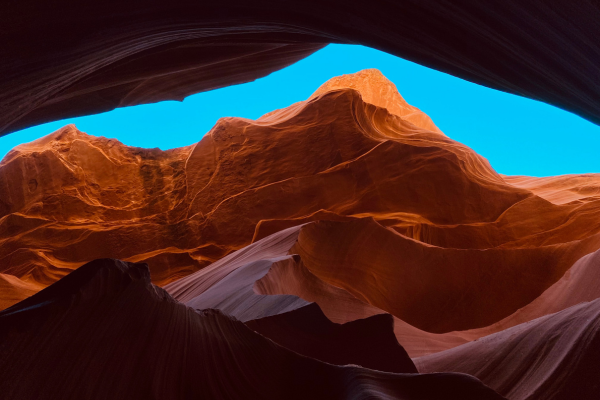 Sunset was another cool shot Jace made sure we got pictures of. There we were standing deep in this slot canyon; we looked up and it was like we were looking at a real sunset.
Howling Chief is another well-known spot on the tour. I got it at the wrong angle. It's almost as if he's barking orders to the tribe and looks ghost-like at the same time.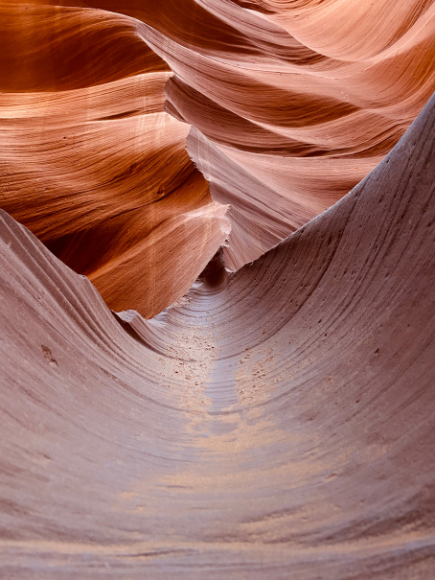 We reached a nondescript part of the canyon when Jace stopped and very casually pointed out the Microsoft desktop background. Huh? Sure enough, there it was. An old standard desktop picture was right in front of us.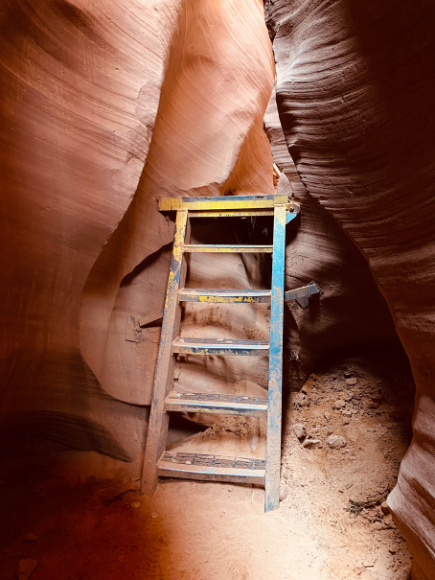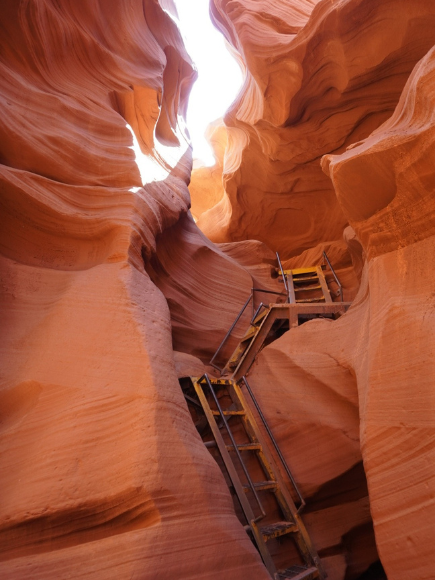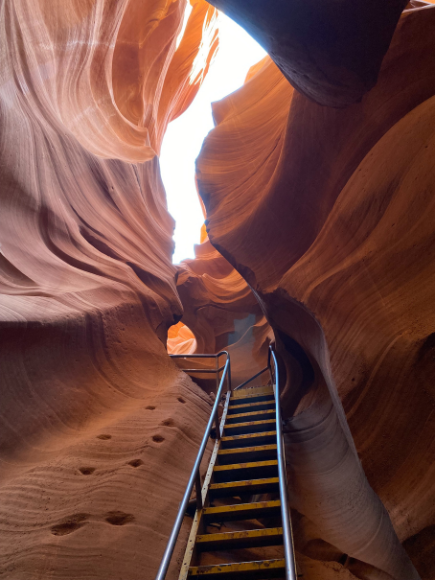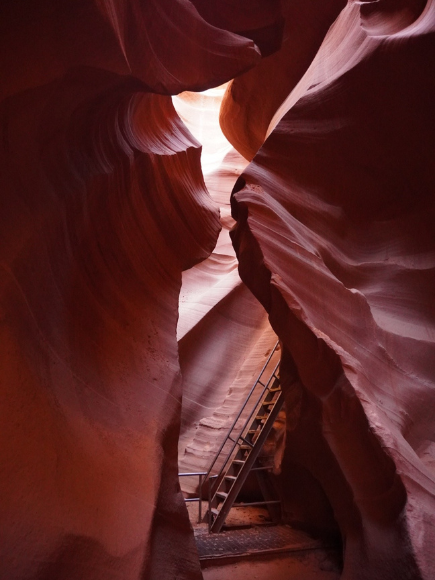 We got to climb smaller ladders as we continued the tour. The light makes them look almost ghostly. One set is where a great tragedy happened in August 1997 when 11 people were killed in a flash flood that ripped through the canyon. Jace told us that these sturdy metal ladders replaced the traditional wooden ones; you can still see where the wooden parts were anchored in the sandstone. I remember that flood. It was awful.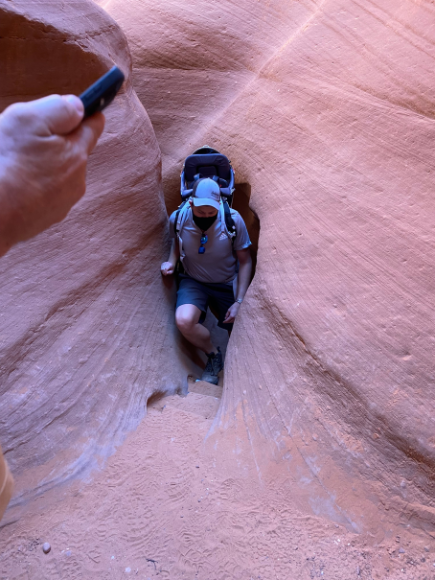 The beginning of the tour was an open space in the canyon. The end was about as narrow as could be. I was one of the first ones out and decided to take pictures of the others, I'm so glad I did. There is no way I every would have found this opening if I was just walking along the canyon top.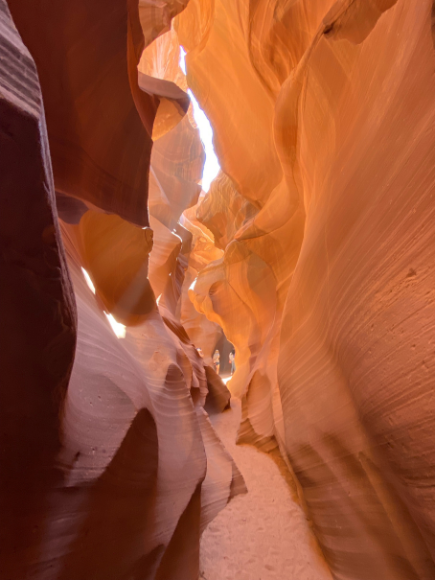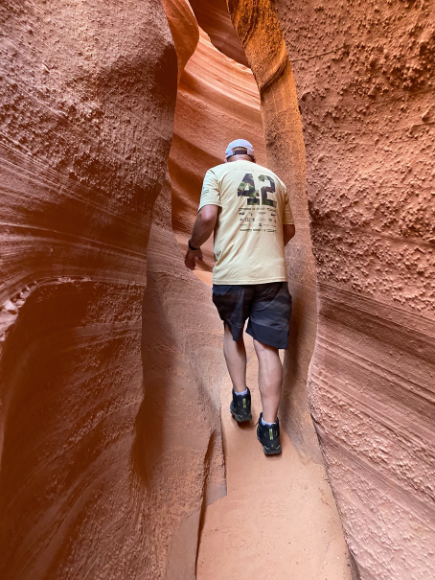 I'm so glad we were able to finally see God's beauty firsthand. 200+ pictures and I smile looking at them. It was better than I expected and I can't wait to take the tour again.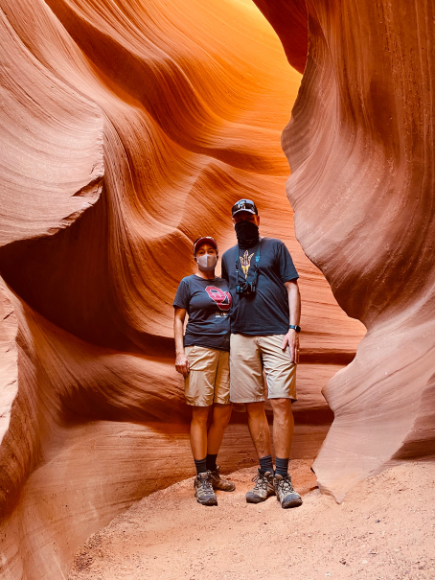 Meet the Family
I'm Maureen Milne, F446881.  Mark and I are becoming empty nest veterans and you know what, we enjoy it!  We are always on the lookout for the next adventure, our friends call us the X-Games family. We are avid hikers, cyclists and skiers (both snow and water).  Mark does triathlons and we run several races a year.  We've been RVing together since we were teenagers and we love traveling with our two grown sons.  I share our RV adventures, RV friendly recipes, wonderful campgrounds and more on my blog, M&M Hit The Road.  You can also find our fun on Facebook, Instagram, Twitter and YouTube.