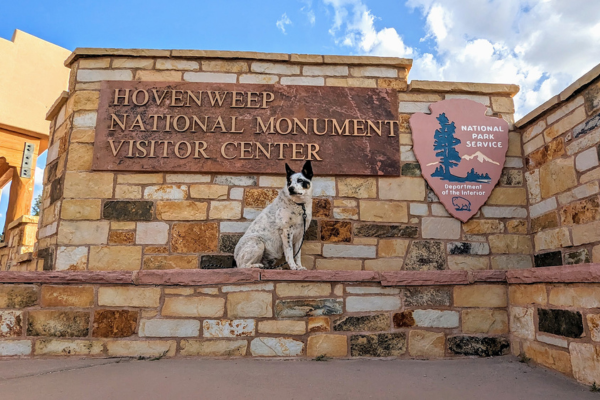 After a long winter it was finally time for our first van trip of the season! After weighing our options, we decided that based on weather, it was best to cross Hovenweep National Monument off the list!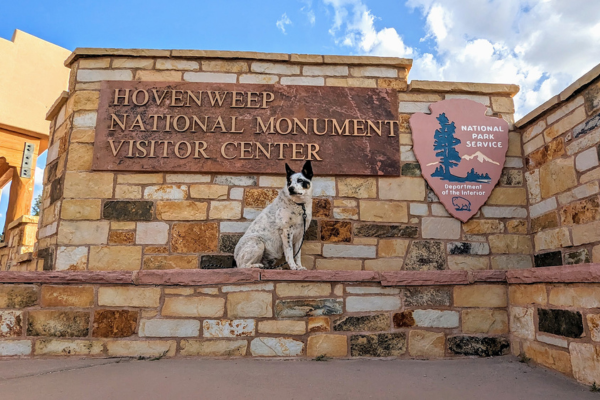 Living in the Four Corners region, we have been lucky to see so many ancestral ruins already, such as Aztec Ruins and Chaco Canyon and Hovenweep ranks right up there with them — plus, it's very dog friendly! The national monument is set up to protect a valley with 800-year-old ancestral Puebloan villages, and in contrast to Chaco, Hovenweep was more of an agricultural settlement than a gathering place.
We had read online not to trust GPS when driving to Hovenweep, so we printed out directions, but all in all it was easier to get to than we had expected. The primary roads you're supposed to drive there are all paved. Approaching from Cortez on County Road G, the road names and numbers don't match between Google Maps and National Park Service directions — between the two, one road had five different names and numbers — but the distances between turns work out perfectly, and the signage is well placed and visible. That County Road G route is also known as McElmo Canyon, and had beautiful scenery along the way.
Most of the other roads in the area are dirt, and especially north of Hovenweep in the Canyons of the Ancients National Monument  area the smaller roads are said to be high clearance only — something our van with batteries and generator under the chassis sure isn't. If you stay on pavement and plan your travels, you'll do just fine. Watch out for the potholes, though!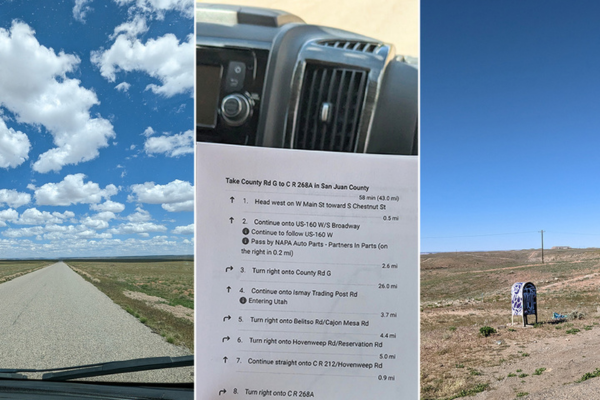 What we loved about Hovenweep is that dogs are allowed everywhere (except for inside the visitor center — but they sell Bark Ranger tags so make sure you go in and get one!).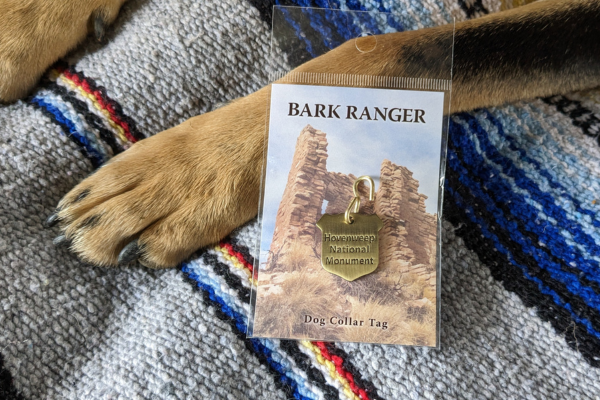 Hovenweep's ruins are largely undisturbed and not reinforced much, so the public can't walk into the structures like you can at some sites within Chaco Canyon. One plus to this is that anywhere you can go on a trail at Hovenweep, your dog can go too– as long as they're on a leash no longer than 6 feet. This means not having to take turns with another person to hold dogs while the other checks out a ruin.
Hovenweep has several structures still standing, but there used to be many more. The valley is thought to have housed over 2,500 people, and stored at least a year's worth of food for all. The buildings that didn't stand on rock surfaces have collapsed and are hard to make out with untrained eyes, but the brochures talk about how many of the houses you see were actually the upper stories of larger complexes built downhill, on soil that has since shifted. To preserve this harder-to-notice history for future study, you are required to stay on trails, to walk strictly between the rocks lining the trail.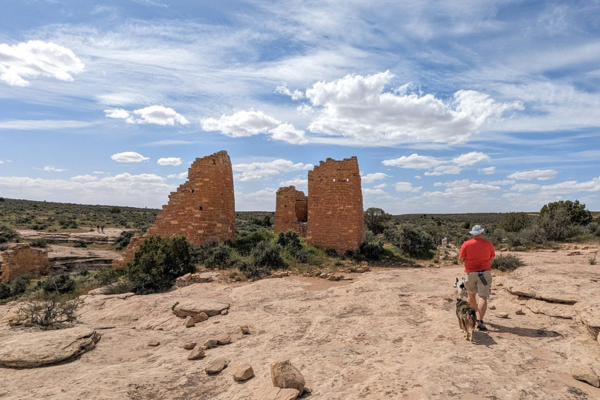 Our first order of business was getting a spot at the first-come-first-served campground. We had read on the Hovenweep Facebook page that in April they were averaging about 21 of the 31 spots occupied nightly. We arrived shortly after 1:00 p.m. on an early May Thursday, and there were probably 10 spots available.  By the evening, we counted about three unoccupied. Strangely enough, Friday night had way more availability! So, go figure. There are several RV spots that claim to fit up to a 36-foot vehicle. The rest are tent sites but can accommodate vehicles up to about 25 feet.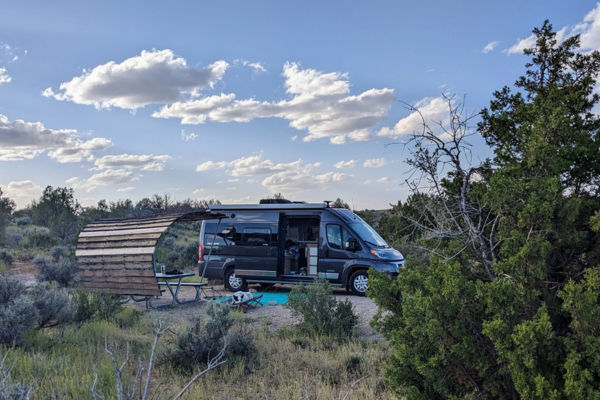 The largest RV we saw during our two-night stay was a Class C. No hookups, no dump station, no showers, and the campground has a 5-gallon/person/day limit for the shared water spigot. Flush toilets and sinks with running water are available, but the men's restroom only has one toilet stall so sometimes there was a line.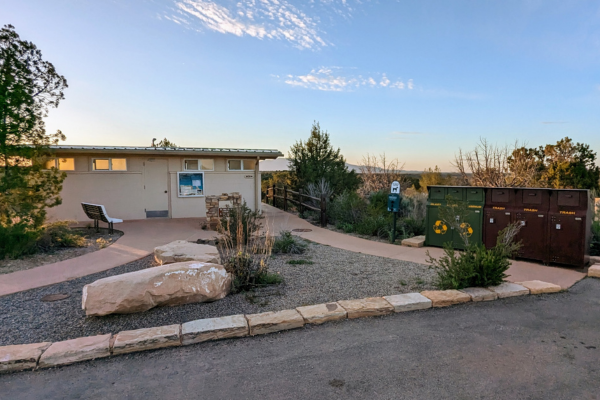 The website claims no internet, but we had about one bar of Verizon that worked pretty well. No AT&T. Camping is $20/night, paid to an iron ranger.
We spent our first afternoon walking the main trail at Hovenweep, which is a loop that takes you around the Square Tower Group.  Make sure to have the Little Ruin Trail Guide for background information; the trail is clearly marked, so you won't need a map just for walking.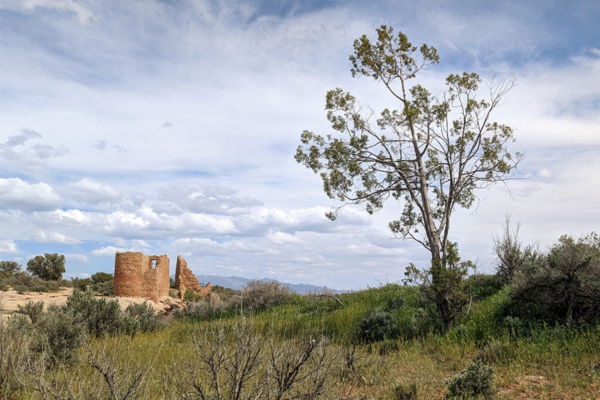 If you start from the visitor center, it's 1.5–2 miles in total (the Tower Point loop is optional), and it's a nice short hike that contains a lot of ruins. The ground is uneven, and at the north end of
the loop you descend to the valley floor temporarily, so there's some elevation change, but overall, this hike is relatively easy.  If you don't want to do the entire hike, you can take a 300-yard paved trail from the visitor center to overlook the canyon, and several houses are visible. If you're going to do the whole loop, make sure you bring plenty of water. You can also start the hike from the campground, which we did. It tacks on a little extra time and mileage, but if you're already at the campground it makes sense.
The next morning, we set off from the campground on the trail to Holly Group. This hike is 7.7 miles round trip, which is on the high side for our dogs these days, but the weather was great so we felt good about doing it.
Be warned: it gets pretty intense in the first few minutes! As you descend into the canyon from the campground, you need to walk through a very narrow slot between two boulders.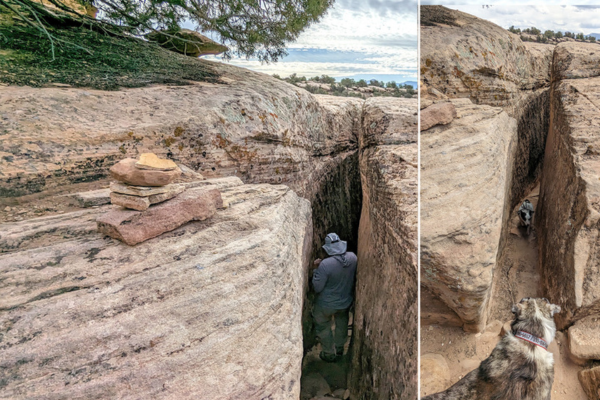 To give you an idea of width, I like to wear a wide-brimmed straw hat and my hat was too wide to fit.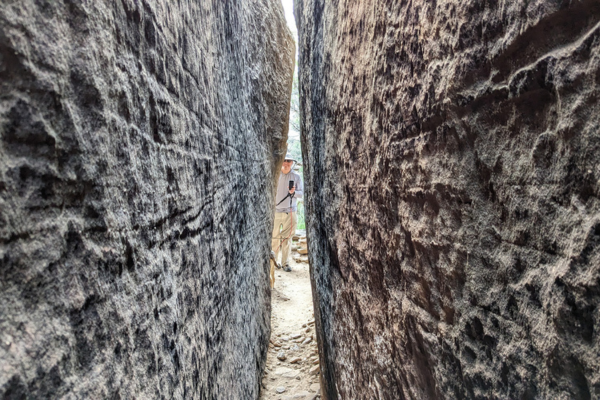 Our dogs are familiar with slot canyons  and are used to one person walking through so the dog has someone to run to. Since the slot had some large boulders to navigate in it, we sent one dog through at a time, with their leash tucked into their collar or harness. They're used to this, and it works well for us.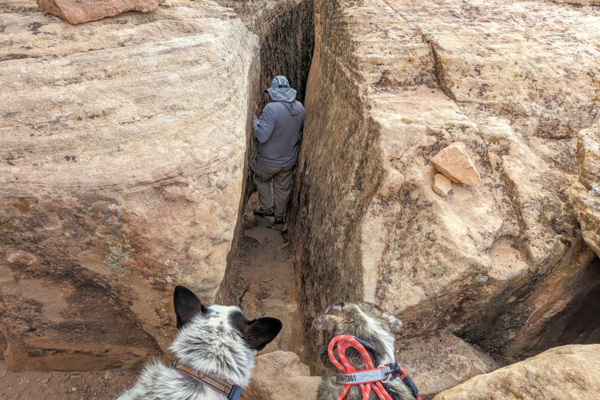 Once you're through that slot, the trail descends to the canyon floor, and you'll be walking mostly in a dry wash full of soft sand. Throughout this entire hike, and anywhere in this region, make sure you're scanning ahead of you on the trail for rattlesnakes.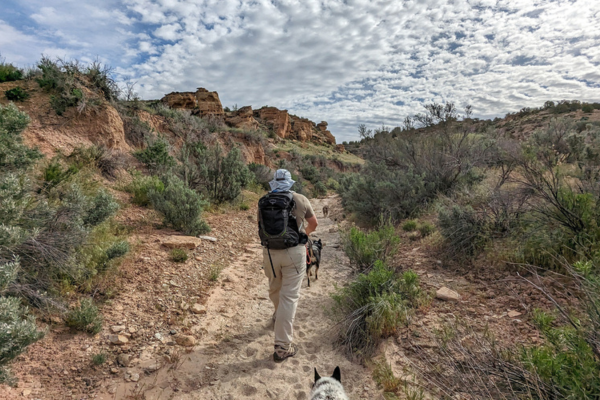 Soon after, you'll pass through a fence from Hovenweep to Canyons of the Ancients National Monument, which is managed by BLM with less strict rules. That means we could let Lily off leash, as she is good about responding to voice commands.
The trail is mostly well marked, with cairns and a few signs with arrows, and alternates between having you walk in washes and the sides of the valley floor. It's a pretty walk, and we found some shady spots every so often to take breaks in. Be warned though: this is not a hike to do on a hot day, especially with dogs.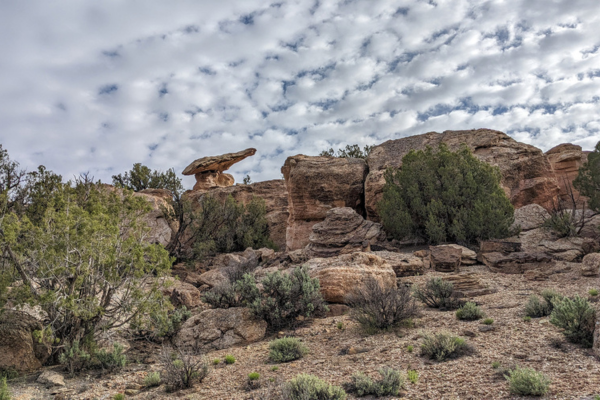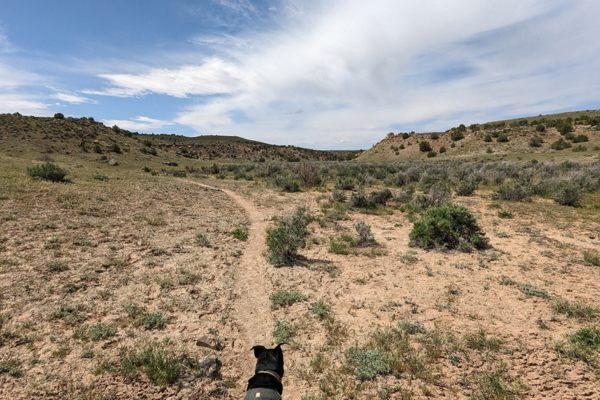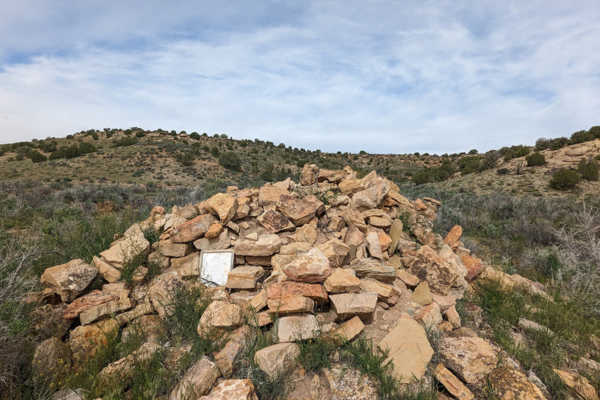 As you approach the halfway point you start to climb out of the canyon again.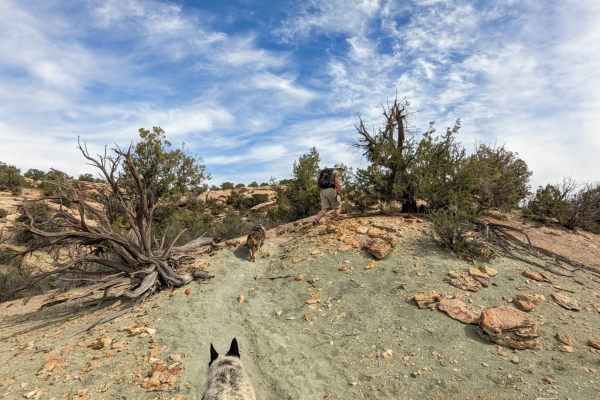 That means another slot to fit through!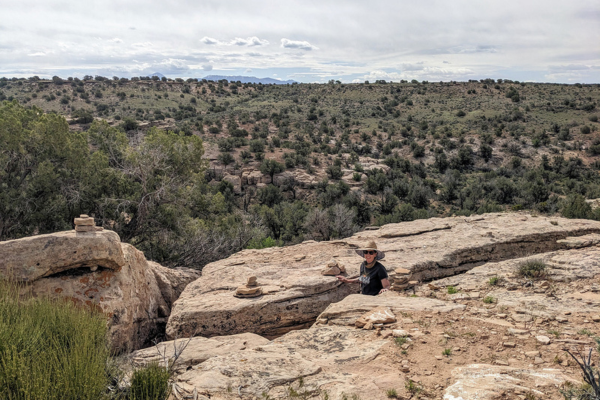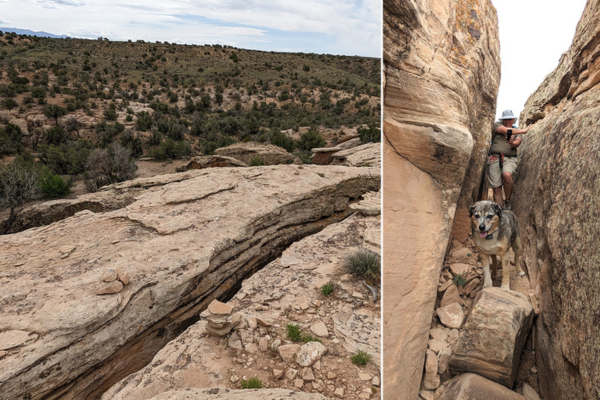 This one didn't feel as narrow as the one near the campground. At the bottom, there's a larger rock that made the dogs hesitate for a moment.
On top of the hill, you pass back into Hovenweep land with NPS rules, so back on leash Lily went.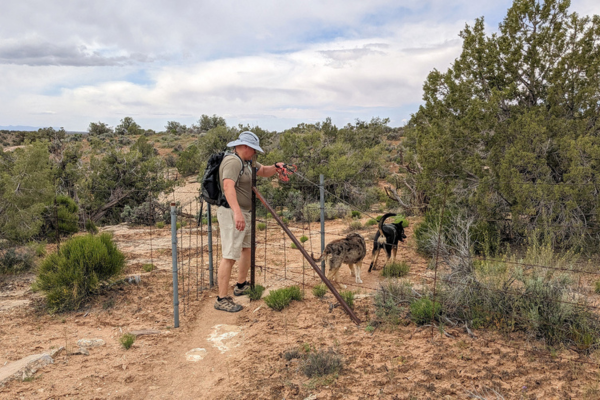 The ruins at Holly were similar to the Square Tower group, with one tower being our favorite, as it was perched upon a narrow rock and had a boulder "ramp" leading up to the entryway.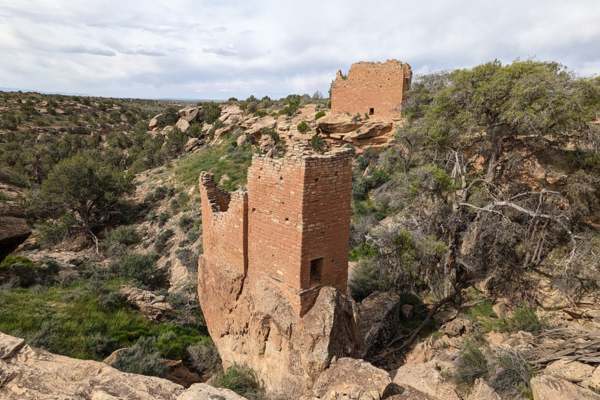 We ate some snacks, gave the dogs a break, and then started our 4-mile return, which included doing the two slots again! I think we were all happy to get back! We all took naps afterward.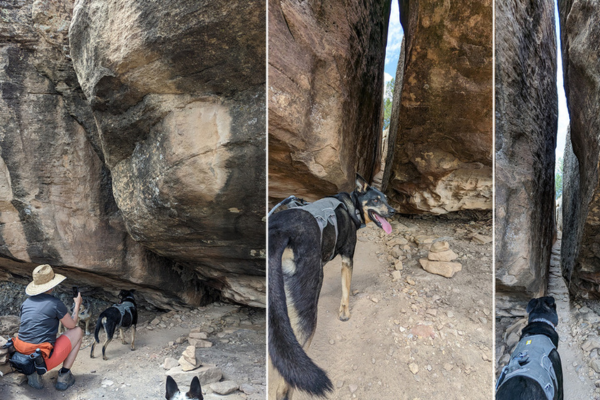 On our 8-mile hike to Holly, we only saw one group of two hikers. This is a remote hike so prepare accordingly.  Also, keep in mind that you can drive to Holly if you have a high-clearance vehicle, but you'll want to check in with the visitor center first to ask about road conditions — only go when it's dry. 
We left Hovenweep on Saturday morning, and on our way back to New Mexico stopped at the Sand Canyon trailhead (south end) in McElmo Canyon in Colorado.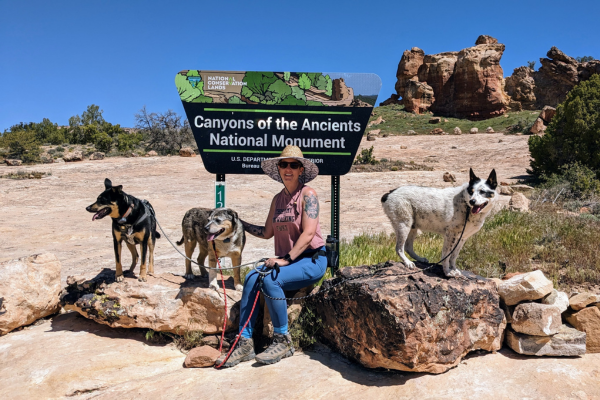 Sand Canyon is within the Canyon of the Ancients National Monument and was fairly busy.  This trail is used by hikers, mountain bikers, and equestrians (of which we saw all). It's 12.4 miles out and back. The north end of the trail is also vehicle-accessible, so you could stage a second vehicle at the one trailhead to cut the distance in half. At least the south trailhead had two large parking areas, so there should be space to park even when it gets a little too busy to be as pleasant of a hike.
Since we had just done an 8-mile hike the prior day, we only went about 1 mile in, did a little loop detour, and turned back. The scenery reminded us of Sedona, Arizona. Lots of prickly pear cacti and red rock. We'll have to come back one day and do the entire hike.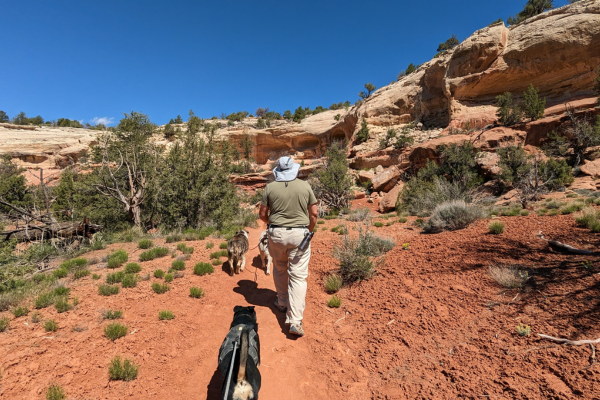 For our third and final night of the trip, we checked out a new-to-us campground at McPhee Reservoir in Dolores, Colorado. The House Creek campground had just opened for the season the day before and is first come, first serve only in the shoulder season. We didn't know what to expect but counted on being early in the season and the campground being quite remote. There were some day-use cars coming and going — there are boat ramps and fishing on the reservoir — but out of the 22 sites, we counted only two other overnight guests. We had our pick of sites and chose spot #8, one of the cheaper non electric sites — still pricey at $26/night. It seems pretty obvious that this campground is popular enough to be able to charge that while having sites reserved for at least every weekend of the summer. As usual, Tommi likes to gripe about campgrounds run by greedy concessionaire businesses.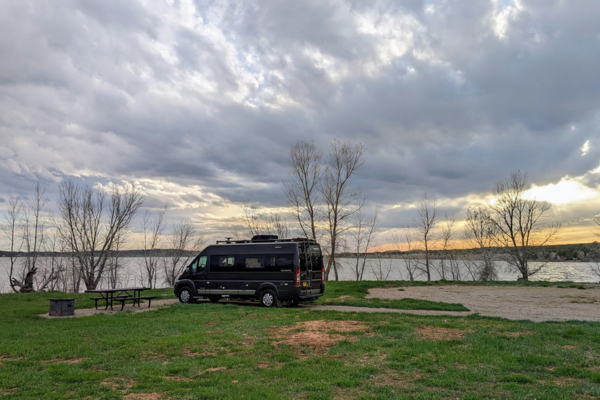 We stopped here mainly for Mushy, who can't get enough of water. He ran the shoreline, attacked waves, and spent the entire afternoon outside in the grass. We also did part of the McPhee Overlook trail  which sets off from the campground (look for the trailhead where the group campground road splits off, near the dump station). It's about 12 miles in total — we went less than a mile in, but it was great! If you have the time and the willpower, you can hike it all the way into Dolores and get some lunch! (But you'll probably want a ride back!)
We had a lovely stay because it was so quiet. I'm not sure what this campground would be like in the summer, but we would definitely come back on the shoulder seasons.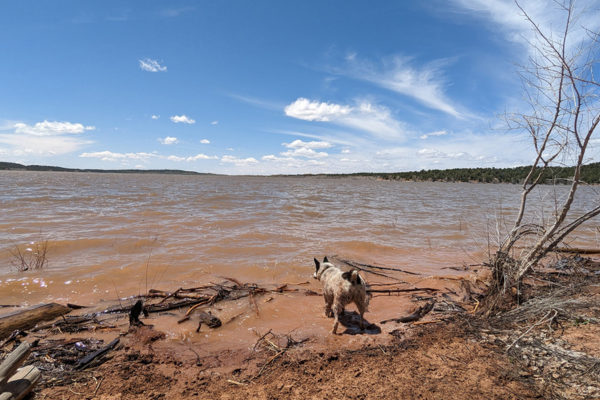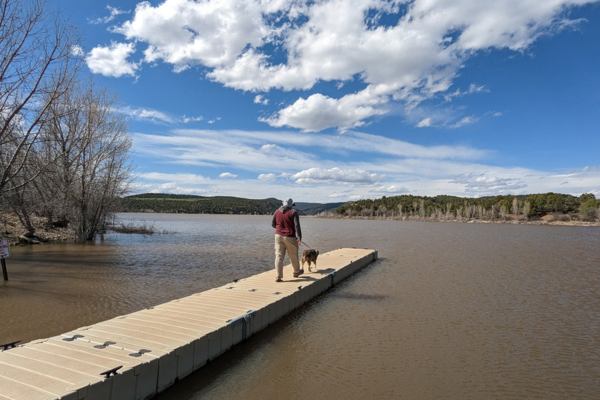 So, the first RV trip of 2023 comes to an end.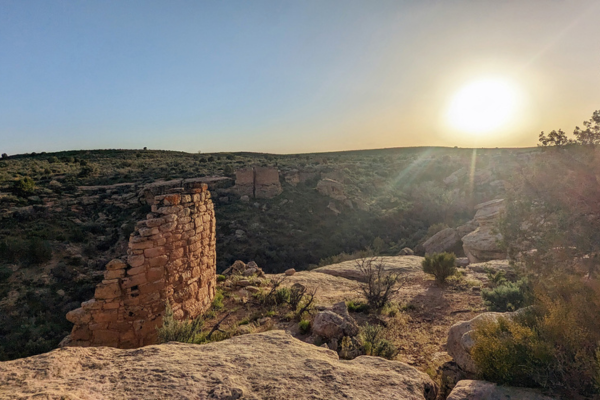 The dogs are very tired but had a great time.  Where should we go next?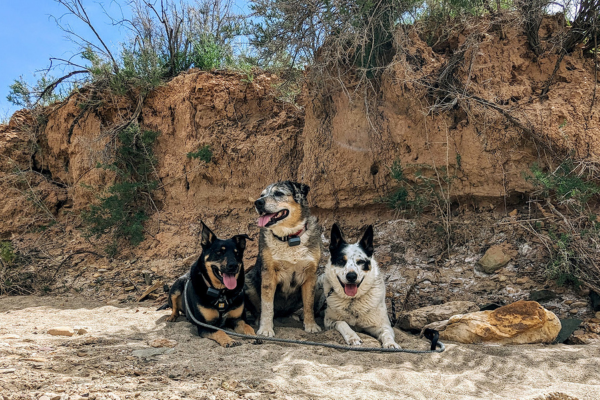 Ane and Tommi, F462447, of The Dog Is Driving love how RVing allows them to go on adventures with their rescue dogs: Delta, Mushy, and Lily Goodgirl. They were full-time RVers for nearly three years before transitioning to part-time RVing. Read their experiences and campsite reviews through a pet-friendly lens on Instagram and TheDogisDriving.com.